Toshiba's young engineers: Pursuing comfort through numerical values
2021/07/30 Toshiba Clip Team
A demo lab where engineers can experience their own products
Using science to numerically express and create comfort
Promoting collaboration with academia and environmental awareness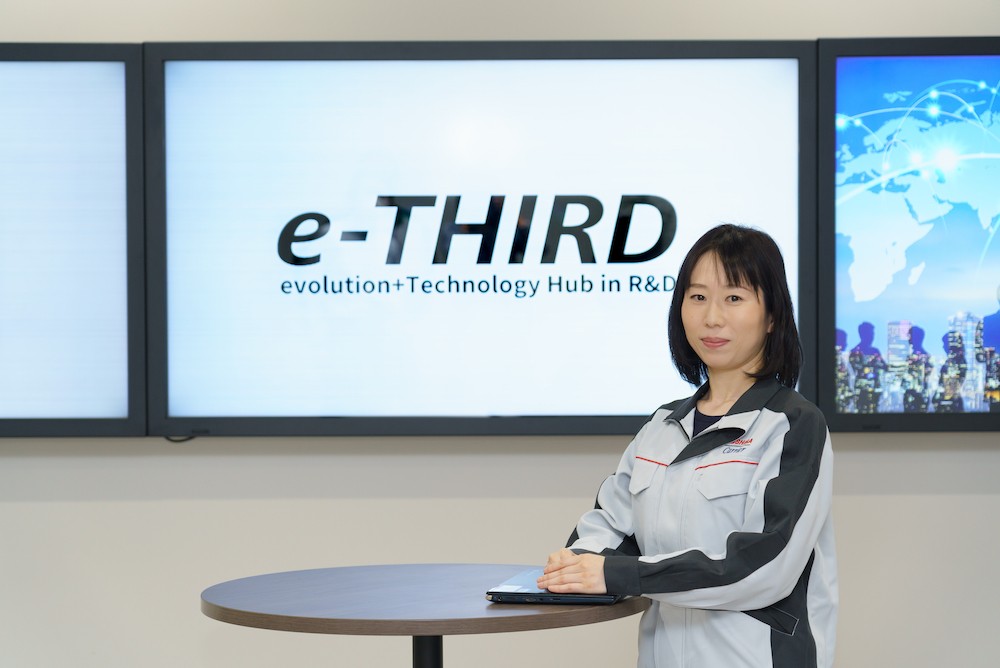 Savor a steaming bowl of something hot in a warm room in the depth of winter; relax with chilled fruits and air-conditioning in the heat of summer. Depending on the time of year, we are comfortable with different temperatures—warmth in the cold season, coolness in the hot season. However, even if you set a comfortable room temperature, it can gradually grow unpleasant, until you are freezing because of the air-conditioning; and if you put a group of people in the same room, you are likely to get a range of responses to the temperature: hot, warm, cool, cold… It can be really difficult to maintain an air-conditioning setting where everybody feels comfortable, at home and in the workplace.
A demonstration lab where engineers can experience their own products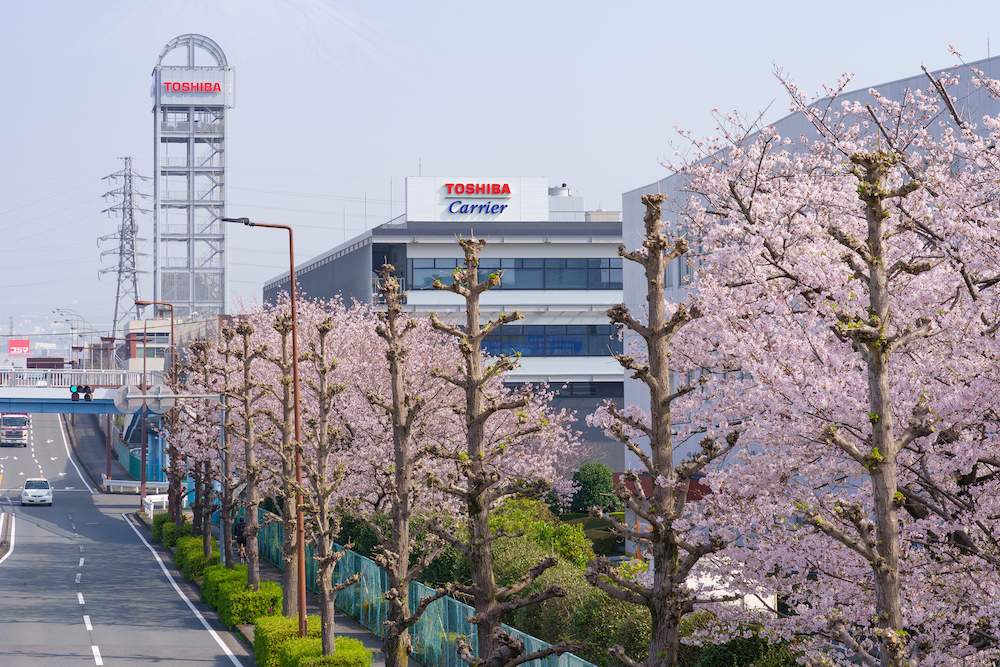 e-THIRD behind a row of cherry trees in full blossom
"The work areas are divided into blocks and used for comparative experiments with different air-conditioning systems. The aim is for our engineers to create comfortable spaces for our customers by experiencing the same conditions for themselves while working."
This insight is shared by Satoko Sugisaki, an engineer in the Core Technology Center, and the leader of a project to set up a demonstration lab in e-THIRD. She explains how the entire building functions as an experimental demo lab facility, with each floor individually designed to allow for a range of demonstration experiments. For example, on one floor, air-conditioning vents are installed in the floor itself; a radiant heating and cooling system*1 is installed on another floor; and a chiller*2 installed on the roof is used in experiments with outside air.
*1 Radiant heating and cooling system: A method of air-conditioning that use radiation of heat from a heated or cooled radiant panel.
*2 Chiller: A device that circulates liquid such as water to cool or heat it.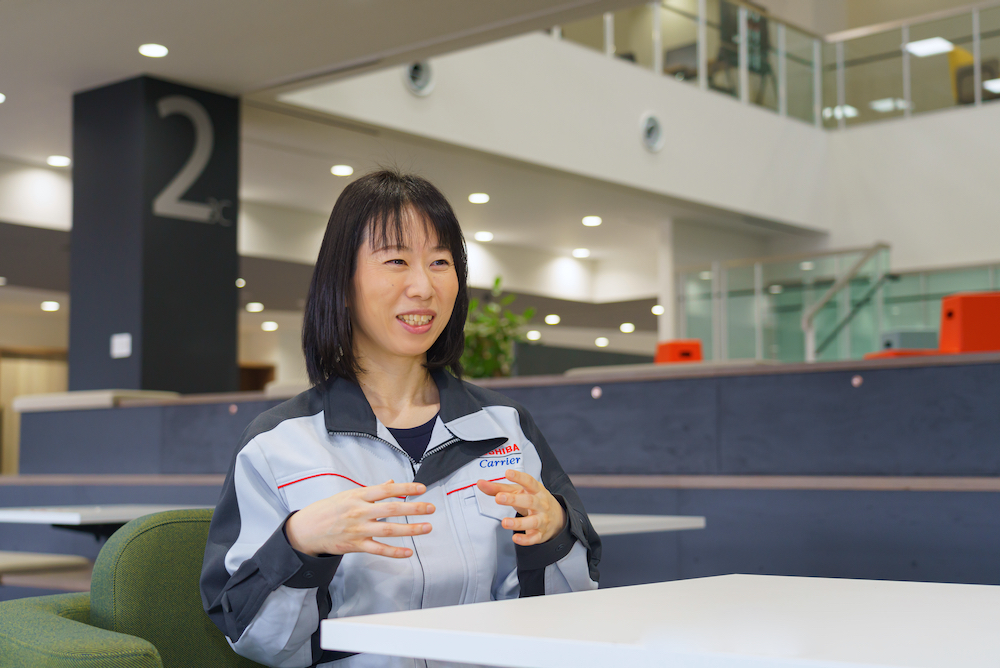 Satoko Sugisaki, a Specialist working on new fields and basic research and development
at Toshiba Carrier Corporation's Core Technology Center
"Data obtained from each experiment are standardized, so that they can be shared across departmental boundaries. By using it in this way, we want to create value and new solutions. On top of this, we use Toshiba's AI to analyze the collected data, focusing on mechanisms for providing feedback that realize optimal use of the equipment. I want to make the very best use of the company's strengths."
Toshiba Carrier's Core Technology Center is involved in almost all of the technologies and products developed by the company: from research into refrigerants, an essential technology for air conditioning equipment, to basic technologies like compressors*3 and heat exchangers, and on to cooperation with Toshiba Group on digital technology and more. The Center develops technology with a future horizon of several years
*3 Compressor: A device that compresses and circulates refrigerant in air-conditioning equipment.
"Expectations of air-conditioning have changed significantly, and with them the required functions," explains Sugisaki. "Now, in addition to providing comfort for the people inside the building, it must reduce loads placed outside of the building, the wider environment, by using energy efficiently. I'm not talking about something we have to deal with in the future, this is a problem we have to solve right now. At the Core Technology Center, we develop the technologies needed to handle these issues."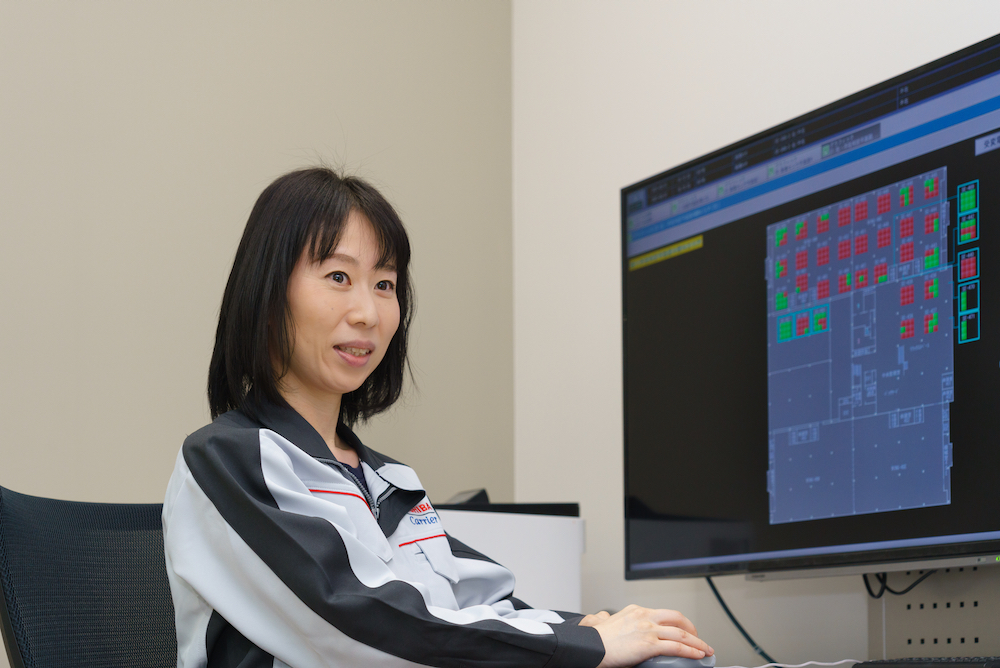 Although she has a hand in almost all products developed in-house, the demo lab project for the new technology building was a first for Sugisaki, and also the first time she ever came across architectural drawings. They were very different from the usual test equipment installations that had become familiar to her—and the building was unfinished, and they were all she had to rely on in considering sensor positions for gathering optimum data. The demonstration data measuring system had to be built out almost in lockstep with the completion of the building itself.
"It was tough, because we had only a limited timeframe for working on the measuring system, as it was put into operation immediately after the building opened for operations. The project was unprecedented, but we completed it because all of us owned the same big objective, and shared the value of "create together." And the experience of managing a major project in collaboration with numerous departments was a step forward in my personal growth. "
Expressing the relationship between technology and human sensibility with convincing numerical values
According to Sugisaki, the point where people feel comfortable is a complicated thing. For instance, if your feet are warm, you may well feel okay, even if the room temperature is low. If we can take advantage of these complicated elements, if we can find an efficient way to realize thermal environments where people feel comfortable, there is greater potential to save energy.
"Feeling comfort sounds like a very abstract thing, but in reality we all have a reliable built-in ruler, an intuitive sense. I try to design environments and spaces that can satisfy this feeling, but based on concrete data."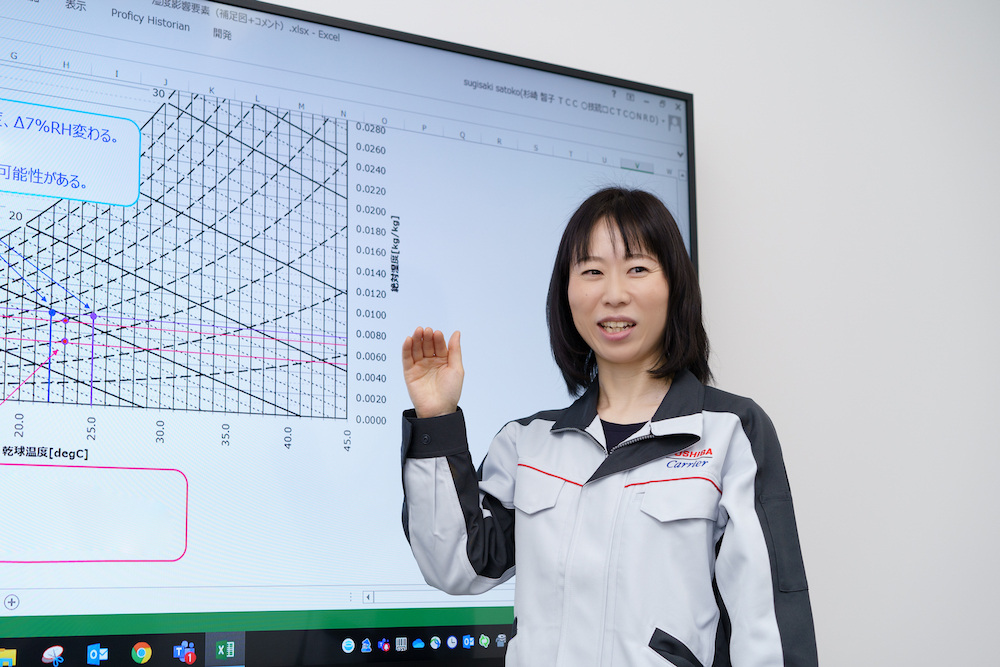 At university, Sugisaki majored in Living Environment Studies. She explains how she explored the environments we live in from the perspectives of both the humanities and science, and that from among a wide range of research topics, she chose to concentrate on the thermal insulation of buildings.
"There are different sides to building construction. There's the technical aspect of thinking numerically, and then there's the pursuit of comfort for the people who use the building. I think my research topic was a perfect fit for someone like me, interested in both the technology and the human sensibility. I wanted to use numerical values to realize comfort for people. In fact, one of the reasons why I chose Toshiba Carrier is because I wanted to that kind of engineer. "
During her second year at Toshiba Carrier, Sugisaki was responsible for developing technology for sleep control and skin care (airflow control) in home air conditioners. Her research found that changes in room temperature of only 1 to 2°C affect body temperature during sleep. This resulted in a technology that became a function of home air-conditioners.
"For a good night's sleep, it was necessary to control the room temperature in way that matched the body temperature rhythm during sleep." says Sugisaki.
Sugisaki's next concern was how to get customers interested in this sound sleep control function. The idea she came up with was to verify the effects through joint research with university researchers, an unprecedented approach for Toshiba Carrier at that time, and to publish the researcher's comments on the effects in the catalog. More recently, she's brought this challenging spirit to the demonstration lab project in e-THIRD.
"We didn't have any contacts with universities, so I made myself the contact person, and asked academics to participate in joint research and verification of effectiveness. Nobody else in the company was doing this, so I thought that the conditions were the same for me, in my second year at the company, as for anybody else. So I took it on and got over this high hurdle. Later, when I saw other companies starting to collaborate with universities in the same way, I realized the value of what I had done."
Surprisingly, Sugisaki recalls feeling really anxious about working as an engineer when she joined the company. Her co-workers were graduates from department of engineering or science and engineering, and their friends were also engineers. However, people around Sugisaki at university found jobs more usually associated with a liberal arts background, in sales or in fashion, and very few became engineers.
A regular career interview with her boss helped Sugisaki to maintain her motivation. It was a situation where she could be honest about her hopes for her career as an engineer. Looking back on it now led her to offer the following comments on the atmosphere in her workplace, and the interview itself.
"In our company, everybody uses the honorific "san" for superiors, not a more polite or deferential term. Since there are people with the same surname in the same department, some managers are called by their first name, along with san. In an atmosphere like that, it's easy to look for consultation and to discuss things without any reservations. Because I had that opportunity, I think I was able to see myself as an engineer."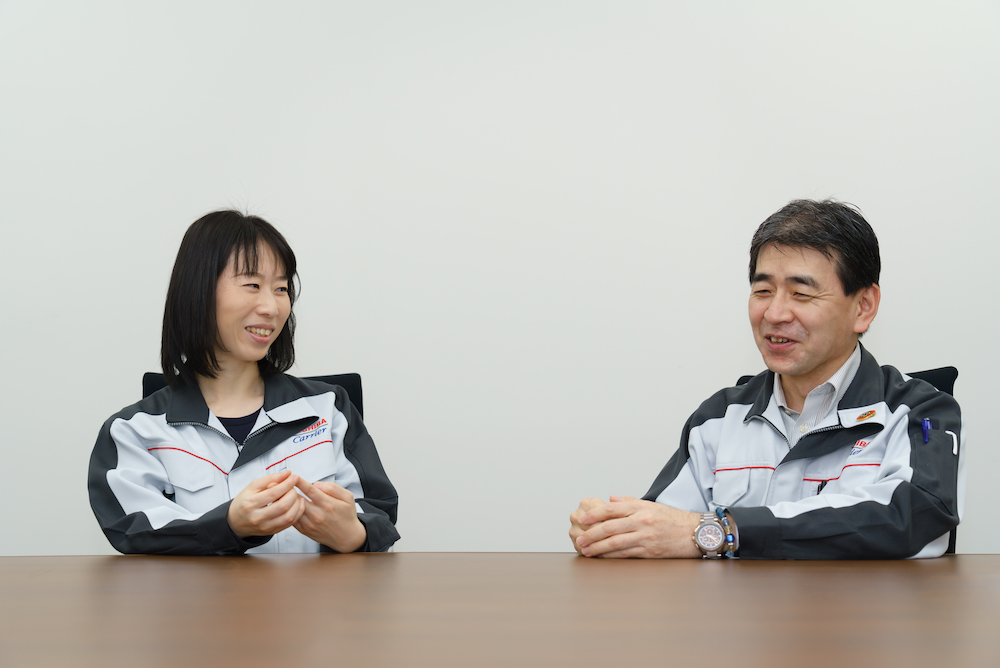 A dialogue with her boss in a peaceful atmosphere, about a career as an engineer
The Essence of Toshiba says that engineers should do the right thing, notes Sugisaki. She believes that applies not only to customers, but also to colleagues, business, and technology.
"I have been to Europe on business, to confirm the status of products installed locally, and I sometimes go to China to collaborate with universities there that are doing advanced research on air-conditioning. When I meet people working in our local sales companies in those countries, I feel that everyone is proud of the Toshiba brand. Their belief in Toshiba always renews me in my determination to be honest as an engineer."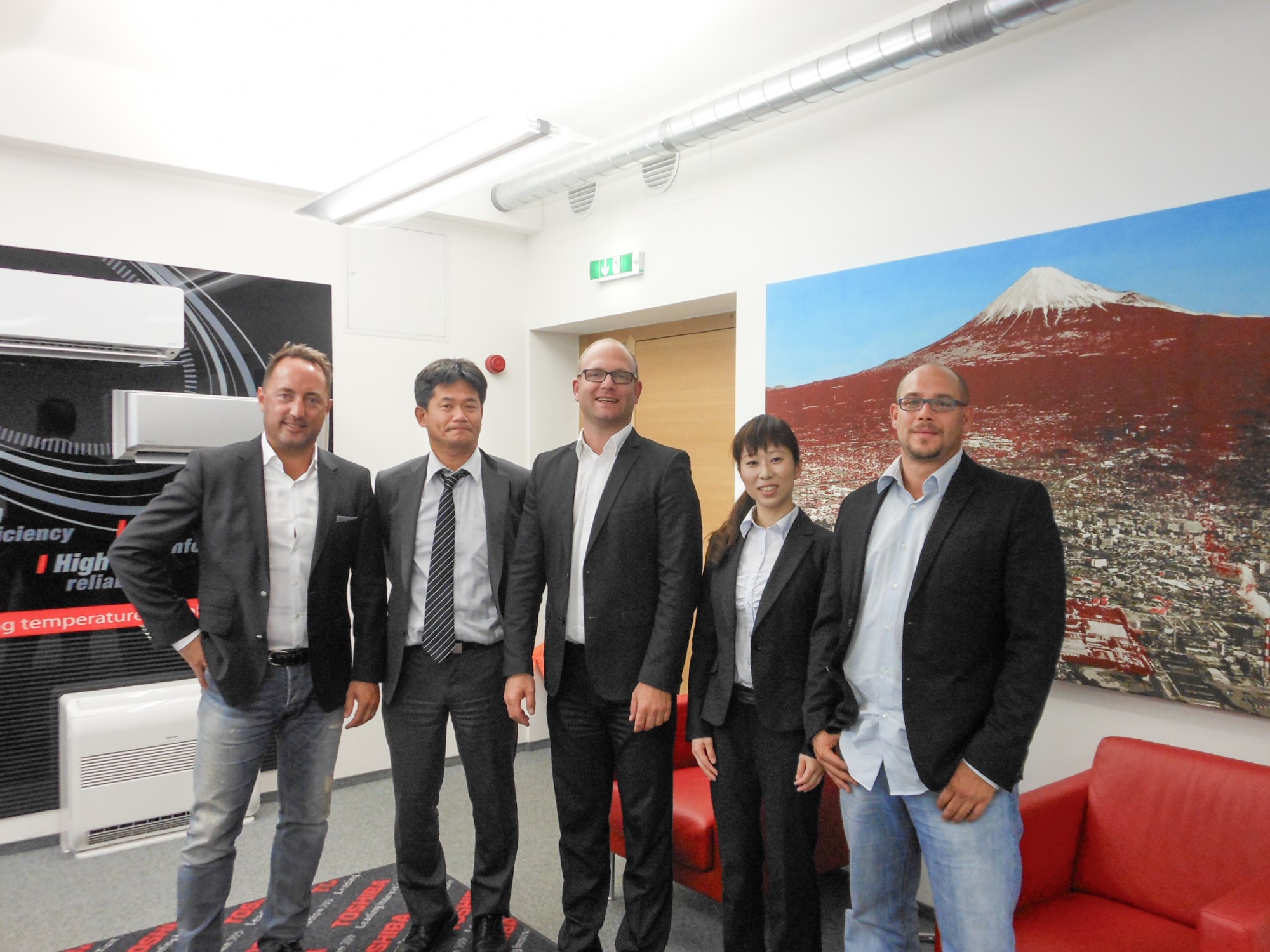 Meeting with engineers from an Austrian distributor, one aspect of improving understanding with sales
Sugisaki wants to pass on her extensive research on thermal comfort and related technology to as many younger engineers as she can.
"Express human comfort numerically, think numerically, and realize results numerically. I think that combining this approach with Toshiba's digital technology will lead to more efficient use of energy and help to protect the environment. I want to continue to contribute to society through technology, and to work with people who share the same goals. "
Related Contents