Toshiba's young engineers: Refining abilities to support infrastructure by working on-site
2021/12/22 Toshiba Clip Team
An earthquake teaches the importance of infrastructure
Fascinated by dam construction, resolved to create value on-site
Growing fast as engineer able to respond flexible to everything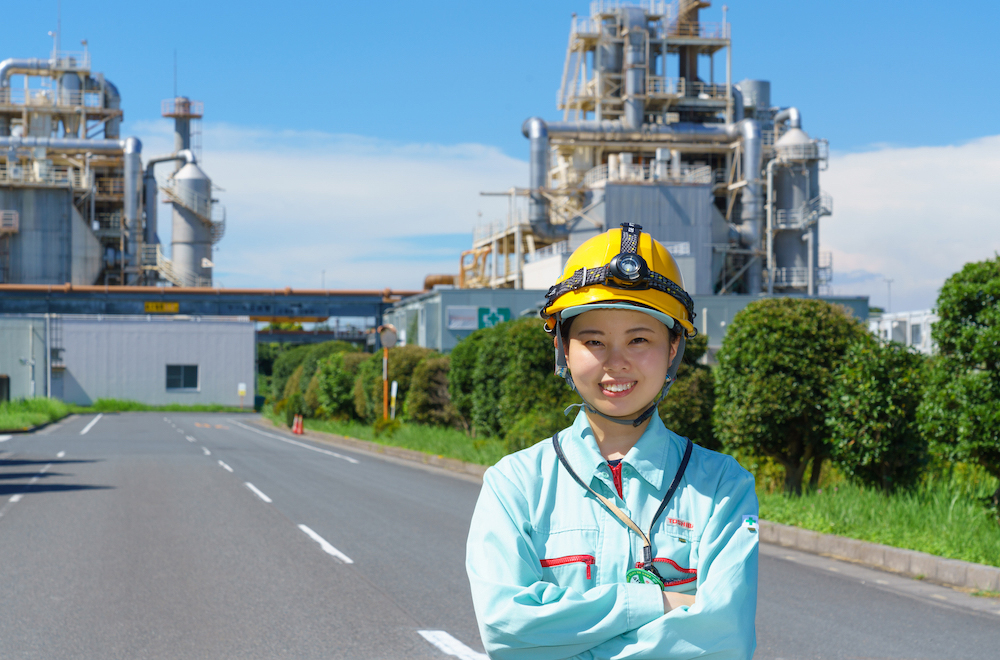 Warm water cascades from our showers and flows into the drain, taking with it the dirt and weariness of the day. Shower and drain. The two are very close to each other… But where does the water come from, and where does it go? We all know it's a long journey, but it's also one we don't really think about. However, there is a young engineer at Toshiba who is fascinated by the magnificent story of this infrastructure.
Lessons learned from experiencing a disaster.
"I was in my fourth year at university when the Hokkaido Eastern Iburi Earthquake struck," remembers Kanako Ujike, who today works in construction management for water and sewage plants at Toshiba Plant Systems Co., Ltd. "Until that day, I had a good idea of what I was going to work on for my graduation thesis, but I very quickly changed my focus."
Like her neighbors, Ujike was shook awake when the earthquake struck in the early hours of September 6, 2018, and like them she had to endure the damage and loss of power it caused. But as a student of civil engineering, in her final year of studies, she really wanted to understand its impact on people. She changed her thesis subject to focus on the disruption to lives from damage to essential infrastructure, and to understand that she surveyed about 5,000 of the citizens of Muroran, an industrial and port town in southern Hokkaido not far from the epicenter.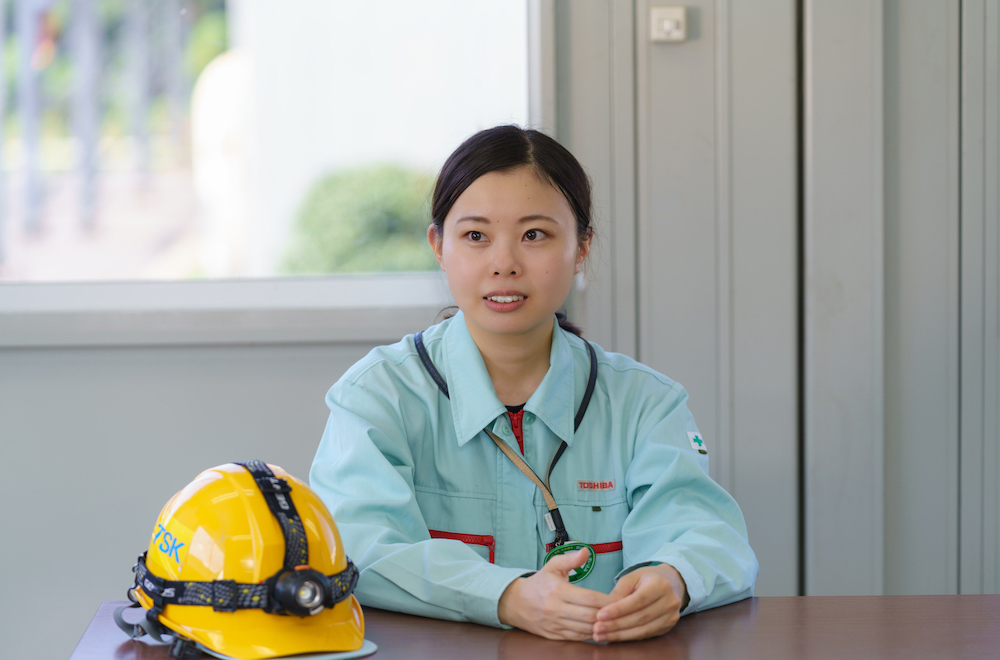 Kanako Ujike, Toshiba Plant Systems & Services Corporation
"The large-scale power outages triggered by the earthquake had a knock-on effect on other infrastructure, including the water supply," she explains. "My own experience and research showed me how this loss of infrastructure really impacts on quality of life."
From childhood on, Ujike had been fond of drawing, and when she started her studies at the Faculty of Engineering at Muroran Institute of Technology, she was intent on becoming an architect. In her first year, the architecture and civil engineering course had a shared curriculum, so she gained a lot of knowledge about civil engineering. And in the middle of all this came an event that changed her life.
"In class, I visited a dam construction site. When I was in elementary school, I used to go to look at a dam, but now I was in the Faculty of Engineering and had some knowledge of civil engineering and architecture, I could see a very different scene. The sophisticated technology connected to this huge dam supported our lives."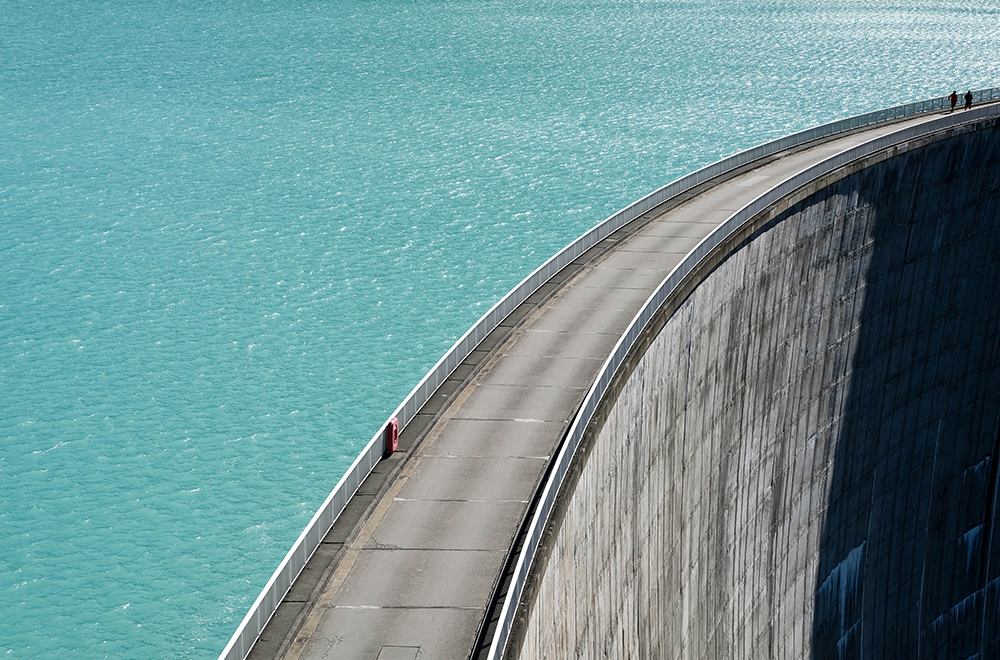 Ujike found herself astonished by the scale of this social infrastructure project. What really struck her was that the dam, this huge structure, was part of the epic story of the water cycle, and the water infrastructure that we usually take for granted. It was an epiphany realization that left her strongly attracted to the world of infrastructure construction and management.
"I knew then that I wanted to do work related to infrastructure. If possible, on-site. I decided my own path, and that I wanted to do work related to infrastructure maintenance."
Ujike went on to major in civil engineering, honing her knowledge, and in time began looking for a job that met the conditions she'd set for herself, chief among them being able to work on-site, and to do so for a long time. As part of her search, Ujike also did internships at some of the companies she found.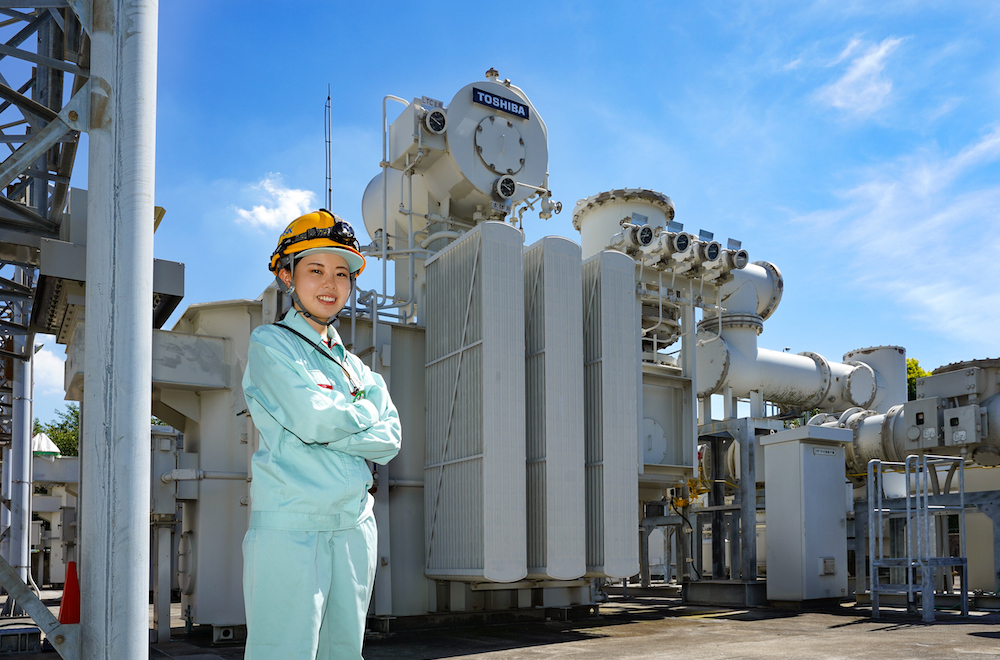 Being able to work on-sire for long periods of time was a major factor in company selection, says Ujike.
"Deciding factors for Toshiba Plant System included its substantial welfare program, plus Kurumin Certification by the Ministry of Health, Labor and Welfare for its maternity leave system, and being a company supportive of employees raising kids," explains Ujike. "But above all else was the strong sense of confidence I felt from employees only a few years older than me who I met during the internship. When they told me, 'Ours is a good company,' the words had a force that led me to expect that I could develop my powers of persuasion and capabilities."
Ujike says that when she started work the company had already thought about assigning her to software design. She thinks that was done in consideration of her expressed desire to work on-site for as long as possible.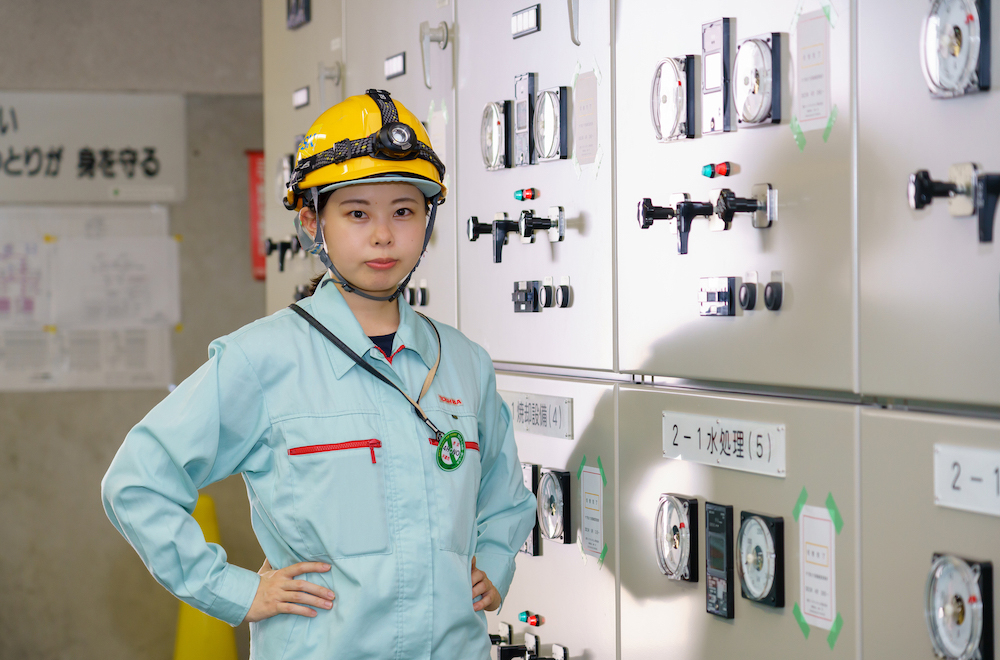 Experience that drives personal growth, that's the value of working on-site
Ujike is currently assigned to construction management at a sewage treatment plant where Toshiba Plant Systems is upgrading the transformers that receive power. It's a full EPC contract, and the scope of Ujike's work covers all three essential stages of the project: engineering, procurement and construction.
"On-site, I have to do everything, including engineering, ordering materials, meeting with customers and testing, so I really understand how important it is to build up a knowledge base and experience."
Ujike gets ready to start her daily site inspection
The workstyle at Toshiba Plant Systems is grounded in younger engineers learning the ropes from experienced chief engineers. Ujike understands this, and says she is aware that many senior engineers entrust work to her while supporting her from the shadows.
"I was really lucky to start my on-site work here," Ujike says on being entrusted with such a responsible job when she arrived to take on her new assignment. In retrospect, she says, to be given the power to survive in a workplace where experience speaks for itself was nothing less than a gift from senior engineers. With this, in her third year after joining the company, she became an on-site agent. This speed is quite rare, and can be seen as due to her rapid growth.
However, it was never a smooth road. A symbolic milestone was the creation of an operations manual with more than 100 pages, 10 times more than usual. The process of producing this is usually divided into two or three steps and for a fledgling engineer to do it all in one go was a major challenge, but one that Ujike was more than happy to accept, according to her superiors.
Ujike went around the site with her seniors, taking in everything she could absorb, down to the cable assignments for each machine. This became the basis for producing a huge number of documents, all subdivided by content. She says that she did it this way, including things a more skilled technician might not have noticed because her limited experience made her feel uncomfortable, "And this way made it easier to understand." It also worked well, as the finished document received a high evaluation. "I was really happy when the customer praised me for an 'easy-to-understand document,'" recalls Ujike.
While Ujike has just begun to walk the road that will make her an engineer who can create value on-site, she is clearly serious when she says, "I want to be like my seniors, adaptable and calm when dealing with problems, construction time extensions and the like, as soon as possible." Her growth as an engineer who can envision the future is sure to continue.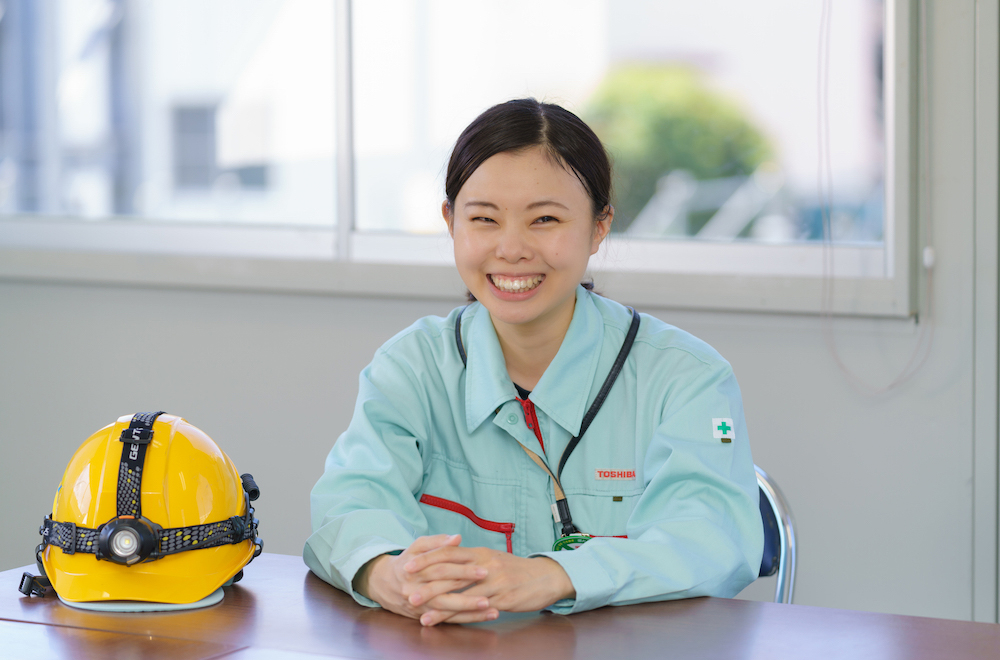 Related Contents