How are Toshiba contributing to enhanced and sustainable dining practices, Part 2 -Interactive training results in high quality!
2022/12/02 Toshiba Clip Team
What is the statistical perspective that underpins high quality and interactive training?
Every issue has a cause. At Toshiba, everyone discusses problems from the same perspective, regardless of seniority.
High motivation at work leads to high quality.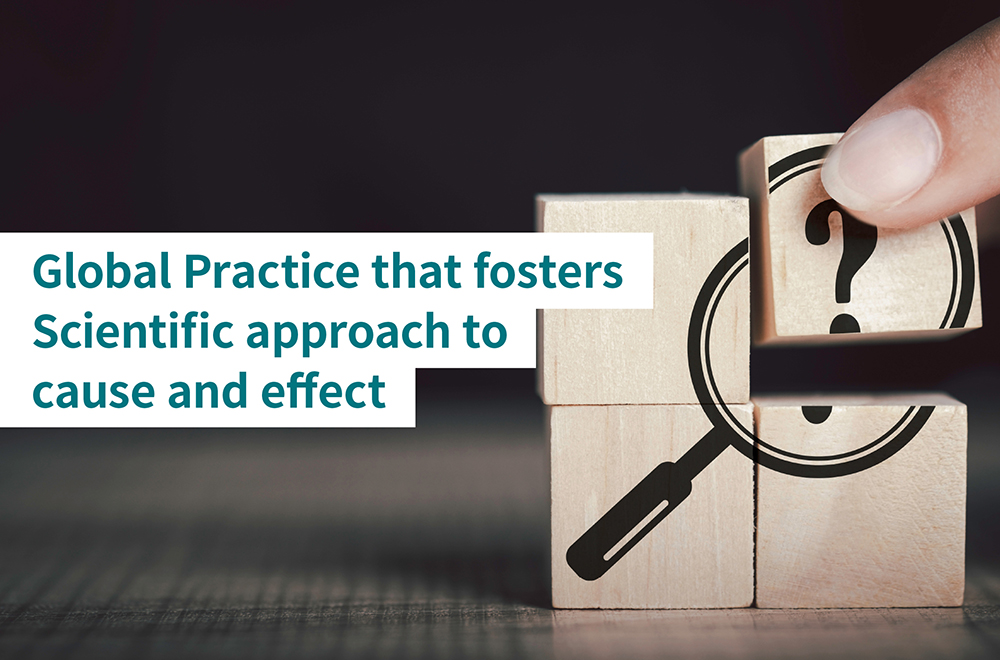 Demand for microwave ovens is increasing worldwide, driven in part by more meals being eaten at home because of the COVID-19 pandemic. Part 1 introduced Toshiba's role in manufacturing magnetrons, a core component at the heart of microwave ovens, and how this supports sustainable dining practices. One of the themes that emerged while exploring this topic was how quality manufacturing is embedded in Toshiba's DNA in Japan and Thailand.
In this Part 2, we will explain more specifically how the emphasis on quality manufacturing in Toshiba's DNA that links Japan and Thailand is evolving and permeating the culture. What kind of effort goes into building the equipment that enriches our cuisine? Making their appearance once again are two key players, Satit Wongchompoo (director of magnetron manufacturing) and Sarawut Krueganok (process engineer).
Pursuing Toshiba's mission based on the law of cause and effect
Toshiba Hokuto Electronic Devices (Thailand) Co., Ltd. (THDT) has long manufactured magnetrons, the "heart" of the microwave oven, while continuing to pursue high quality and high efficiency. One of the factors that has enabled Toshiba to consistently manufacture high-quality magnetrons is its rigorous global human resource training. In other words, sincere commitment to improving operational quality and productivity is deeply rooted in Toshiba's culture regardless of country or region.
At the core of these efforts are the Management Innovation (MI) activities that Toshiba Group implemented company-wide from 1999 through the 2000s. A unique culture has become established in the Japanese manufacturing industry in which frontline employees share their opinions with each other and continuously strive to make improvements for the sake of maintaining and improving quality. Rather than relying on the intuition and experience of individual employees, Toshiba has adopted Six Sigma,* an approach to improving quality in a precise manner using statistical methodology. More specifically, through this approach, employees 1) quantify the situation, 2) identify characteristics critical to quality among the system components, and 3) use statistics-based and other methods to optimize the system. This approach is still widely embraced by Toshiba
*Continuous quality reforms with the goal of reducing the probability of errors and defects to the level of 3.4 parts per million. Sigma refers to a standard deviation.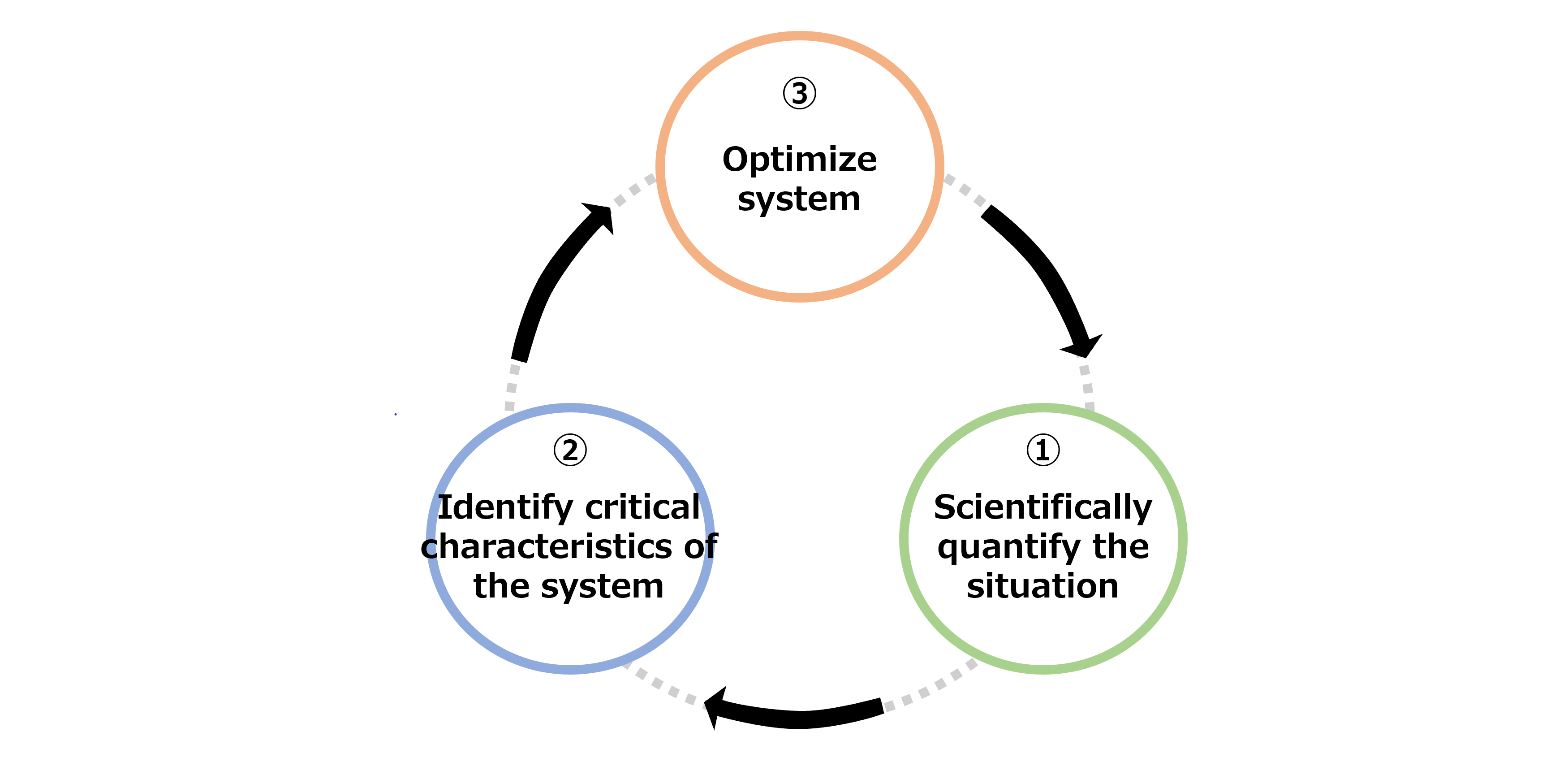 A scientific, statistical approach for maintaining and improving quality
Not only does Satit bring excellent quality management skills to the company, but he is also an expert in human resource development and has many years of experience in the field, including his experience as a MI global training instructor. There, he says, his emphasis was not on the one-way transfer of knowledge, but on engaging in dialogue with each individual to foster their own independent learning. Today, he uses this same approach to develop talent at THDT.
"Having a statistical perspective is fundamental to our work. In engineering, every event has a cause and effect. As engineers, it is essential that we strive to clarify the main cause of a situation through logical and quantitative verification. In human resource development, I teach employees the fundamentals of this process through their day-to-day work.
To accomplish this, I strive to create an interactive work environment where I can immediately communicate any cause-and-effect relationships affecting quality that I have noticed to employees, and where even junior employees can openly express their thoughts and opinions without hesitation.
This same dynamic applies to our relationship with Toshiba Hokuto Electronics Corporation in Asahikawa, Hokkaido, Japan, which is responsible for magnetron research and development. By openly sharing the situation that we find on the ground with them, they can engage in research and development to resolve issues and raise the quality of our magnetrons."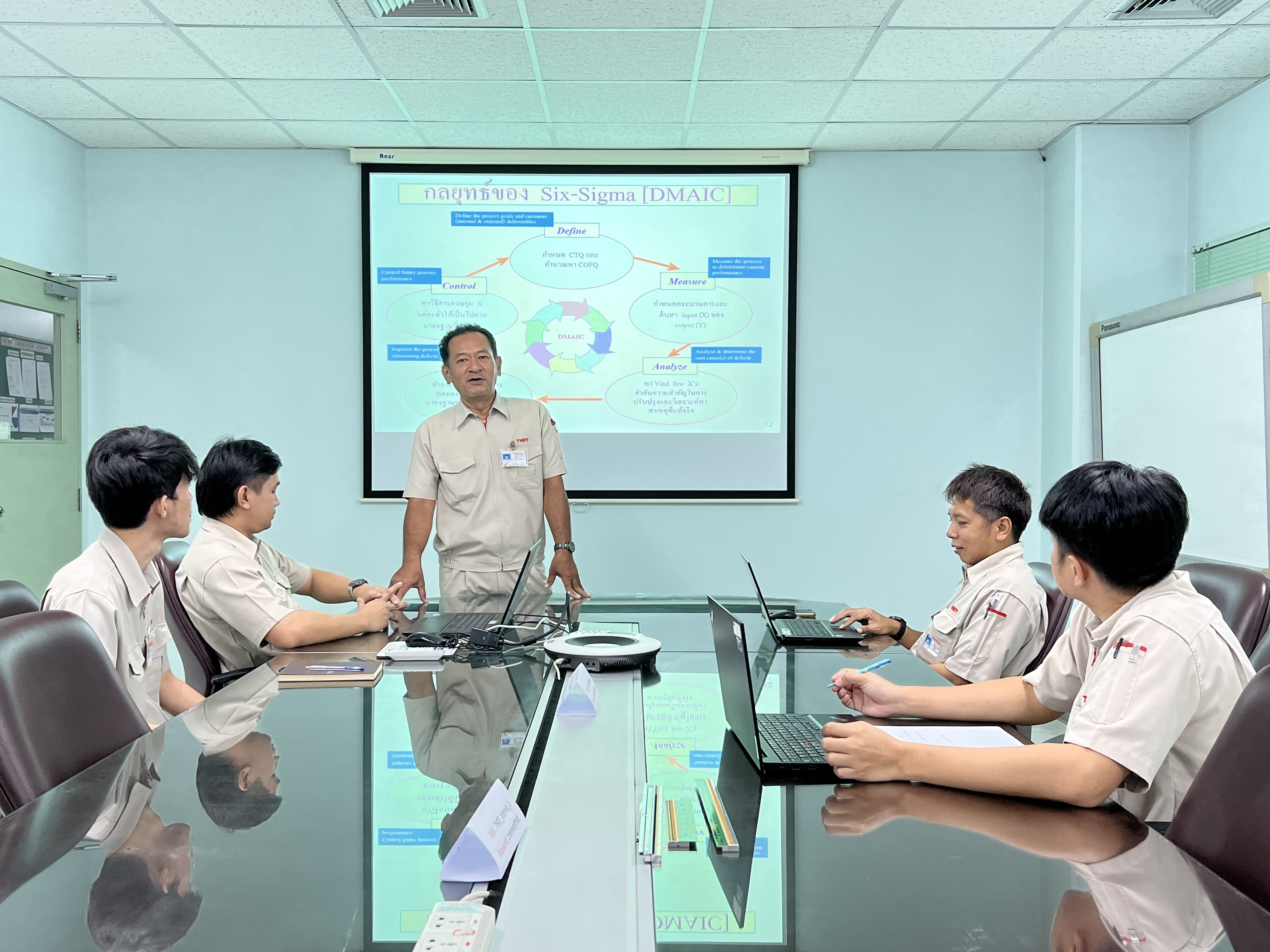 Satit Wongchompoo, Director, Toshiba Hokuto Electronic Devices (Thailand) Co., Ltd.
What can be accomplished by earnest national character
According to Satit, efforts to improve quality through voluntary activities, called "small group activities," have taken root at THDT as a matter of course. These activities seem to have naturally become a part of the company's culture due to the earnest national character of its employees.
"For small group activities to function well, it is essential for management to actively participate. At our workplace, we encourage everyone, including those in management, to participate in these activities without any restrictions. We make sure that all employees are able to freely propose and discuss their ideas and let them know that management supports their participation.
That said, I am not aware of doing anything in particular to get everyone to participate. We have been doing small group activities at THDT for a long time now, and they still continue organically. I would say that the practice is now an entrenched part of our corporate culture."
Middle managment employee Sarawut is one such individual who has acquired advanced knowledge of quality control under Satit's guidance. As a process engineer, he was certified as a quality expert (QE) leader during Toshiba's past MI activities. As a quality expert, he now leads improvement activities within THDT's magnetron manufacturing team.
"I, too, believe that every issue has a cause. My job is to address any concerns using engineering and statistical methodology. I have many opportunities to practice the DMAIC method,* which is a method of quantifying an issue in order to arrive at a solution. I personally enjoy using statistical methodology to resolve situations and believe that it helps me to refine my strengths.
Satit's training does not involve one-sided instruction, so we are constantly asking him questions. You can tell that everyone enjoys the training. Each employee brings their own unique experiences to the table, so we are able to learn practical knowledge through dialogue with each other."
*A method of quantifying an issue and identifying solutions through a five-step process: Define → Measure → Analyze → Improve → Control (DMAIC).
Sarawut Krueganok, Group Manager, Magnetron Manufacturing Engineering Group, Toshiba Hokuto Electronic Devices (Thailand) Co., Ltd.
Aiming to be a place where people look forward to working every day
THDT's proactive approach to improvement activities is increasingly gaining attention and recognition within the Toshiba Group. This is because the activities are steadily beginning to produce results, and manufacturing efficiency is improving. In 2021, Toshiba Electronic Devices & Storage Corporation, THDT's parent company, selected THDT as a Best Practice winner in a contest organized to recognize the efforts of its manufacturing sites.
THDT is Toshiba's main hub for magnetron manufacturing as well as a leader in improvement activities. We asked  Satit and Sarawut what kind of activities they wanted to pursue in the future in order to develop THDT further.
Satit responded, "In Thailand, working careers end at age 55. I am 54, so I only have one more year to go. What do I want to become during this time? I've already started to do this, but first I'd like to become a trainer or coach who helps to develop the next generation. I want to teach them things beyond engineering and push them to think about how to live their lives and enjoy their work. It's important to enjoy what you do but putting this into practice isn't easy by any means. For example, when you wake up every morning, do you think, "I want to work today!" This type of mindset will lead to more enjoyable work and better product quality.
Therefore, I want to work with all employees in a cooperative manner. What I mean by "cooperative" is being able to discuss things thoroughly without discussions leading to arguments. It means acknowledging the other party's rationale. Regardless of the person, if they convey a valid opinion about the cause of a concern, it should be acknowledged. Discussing the situation based on evidence is productive. I want to foster this type of workplace and encourage all employees to enjoy what they do at work."
Sarawut responded, "For the future of THDT, I personally think it's important to enhance our IoT skills. We need to use the power of data to make people's lives more comfortable, and IoT can help to make this happen.
Specifically, by leveraging IoT in the workplace, we can automatically collect and monitor all kinds of data from our manufacturing sites. This should significantly speed up the process of analyzing situations and their causes and resolving them. I want to deliver even better things to society than what we have so far. I believe that continuing to improve the quality of Toshiba's products will lead to greater happiness for people."
In addition to magnetrons for household microwave ovens, THDT is looking to produce magnetrons for industrial applications in the future. Satit and Sarawut are among the outstanding talents in Thailand supporting the company's technological capabilities. They are already nurturing a steady stream of excellent, next-generation human resources to succeed them at THDT. Going forward, they will continue to uphold the reliable quality of Toshiba's products.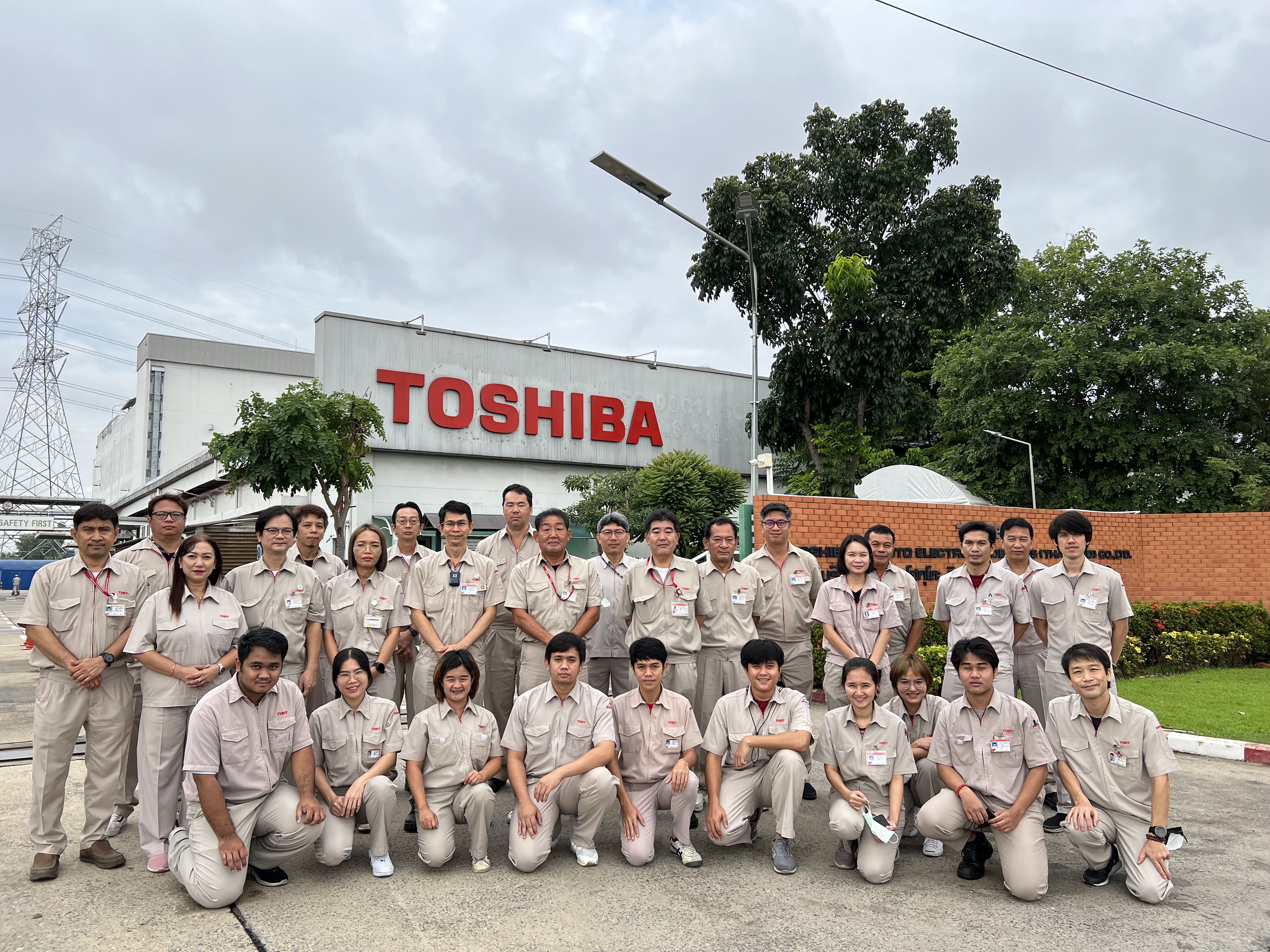 Related Contents