Profiles of skilled workers who take on social issues -The key to contributing to society is the human touch beyond AI
2022/12/12 Toshiba Clip Team
Who are the technicians supporting social infrastructure in a society where electric power is essential.
What are the thoughts of a young technician who has sharpened her senses to determine the hardness of metal and get a feel for processing?
As digitization progresses, a learning cycle that nurtures increasingly needed skilled workers.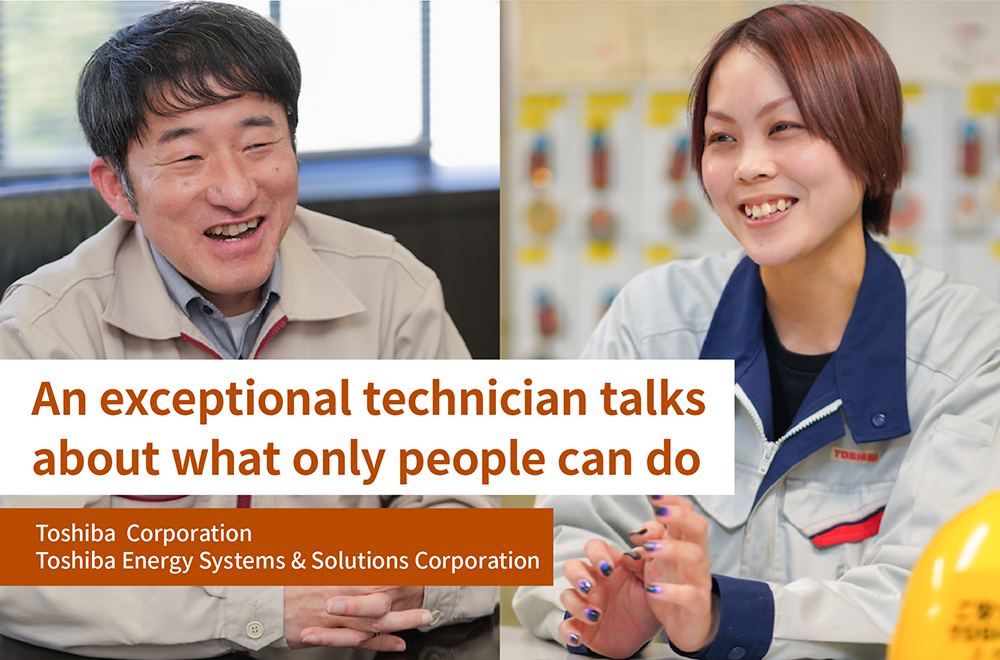 We tend to take social infrastructure for granted—electric power, gas, water and transportation—but problems can and do occur, like power outages that affect our comfort and negatively impact on the economy. Toshiba, whose strengths lie in the technological development and construction of social infrastructure, is stepping up initiatives and strengthening efforts to improve the skills of its technicians, the people who embody the know-how it has developed. How do these technicians, the bridge between technology and society, acquire skills and return them to society? Here we profile two of them.
Water, sewage, railroads, aircraft… Electric power is essential for our modern world.
As technology continues to advance, electric power is even more important in all aspects of our daily lives and business activities. Take waterworks. They use a lot of electricity in the basic processes of water purification, transmission and distribution, but today's facilities also have sophisticated control systems that monitor and manage water quality and distribution in real time. Electricity is essential for ensuring a stable supply of safe, high-quality water. The same is true for rail management and air traffic control system; they cannot function if the power supply is cut off. Simply put, most modern social infrastructure is sustained by electric power, and the behind-the-scenes work necessary to deliver, maintain and repair the equipment that ensures stable power supply relies on skills in the art of "monozukuri," manufacturing.
Who are the skilled technicians behind power plants, railroads, and aircraft control systems ……?
Kazuyoshi Nakajima, who works at Toshiba's Fuchu Complex, is a technician who has spent many years handling issues related to the electric power supply of equipment used in of social infrastructure. His contributions cover the manufacture of the power receiving and transforming equipment and control panels essential for many kinds of social infrastructure, including water supply and sewage systems, power plants, railroads, and air traffic control system. His top-class skills and knowledge have ensured that he is one of Japan's leading professionals in this field. Asked about the source of his strengths he says, "I think it is the ability take on many issues related to social infrastructure."
All social infrastructure integrates power receiving and transforming equipment and control panels used to manage and regulate high-voltage power from the grid and to deliver it throughout the facility. However, requirements can differ immensely from system to system, and while there are many technicians who specialize in one field or another, someone like Nakajima, who has built a career that covers a wide range of social infrastructure, is a rarity in the industry.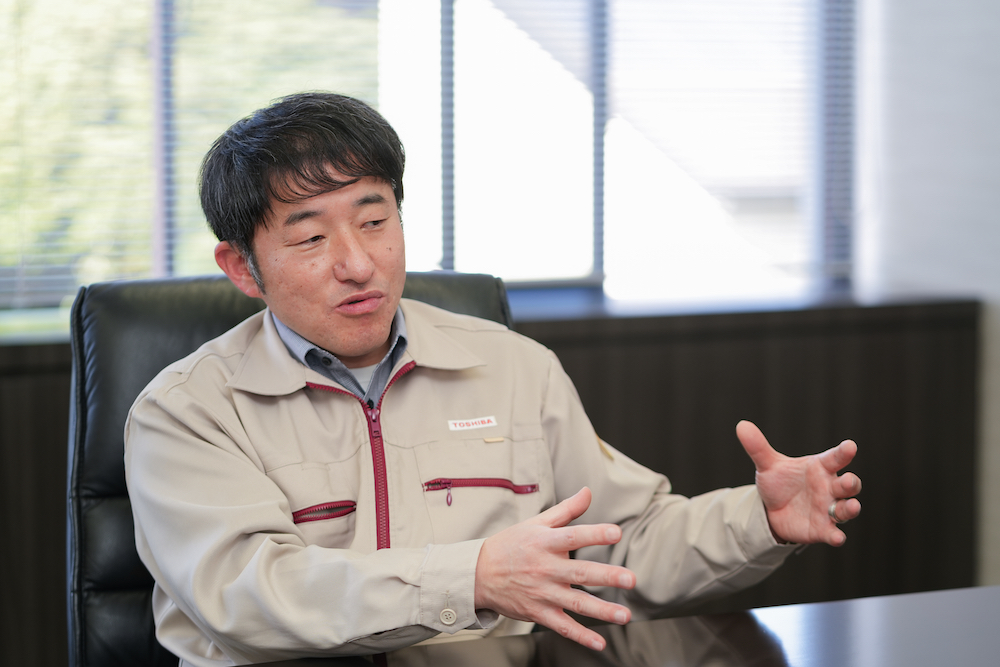 Kazuyoshi Nakajima, Expert, Administration Dept., Fuchu Complex, Toshiba Corporation
"The stable operation of social infrastructure rests on a wide range of requirement," says Nakajima. "For example, special piping is used to prevent short circuits from occurring and to make sure that electrical circuits function, even in the event of a major natural disaster. If a short circuit occurs, overcurrent can trigger dangerous overheating and sparking, which can lead to fire.
"It is also important to prevent noise, unnecessary electrical signals, that interfere with normal equipment operation. Measures must be taken to protect wiring, to separate circuits, and to prevent disturbances to electrical signals. On top of all this, there is a difference between the high-voltage and low-voltage power supplied to social infrastructure. If they are not correctly separated, equipment will malfunction, so we have to take measures to ensure correct wiring."
If you don't finish the work, you end up on the morning news…A world where every minute counts
Nakajima recalls the most difficult task he has taken on in his career to date: updating and refurbishing the power receiving and transforming equipment used on a railroad line. Train operations are completely shut down only for three or four hours late at night, and Nakajima and his team had less than two hours for hands-on work on the project.
Nakajima worked closely with the engineer in charge of the project, decided detailed procedures for updates and repairs, and led multiple rounds of image training before the day work started on the project. Even the slightest delay would have disrupted the next morning's train service.
Out of the public eye, they proceeded with the renewal and renovation work, making full use of their capabilities to get the work done in as short a time as possible. It's a battle where skilled worker are armed with knowledge, experience, and their pride as technicians. The stable operation of social infrastructure depends on the skills of Nakajima and technicians like him, each and every one of them.
"Projects like that need precise skills that can only be acquired through on-site experience," Nakajima explains. "As I see it, Toshiba is characterized by its commitment to thoroughly meet the needs of its customers, and a willingness to respond sincerely to proposals, even those with very difficult specifications. Some jobs require a lot of time and effort.
"Even with projects that other companies would shy away from, we meet with the customer and work with them to iron out the specifications, and gradually accumulate the skills that allow us to build optimal social infrastructure. I think this is what gives Toshiba its strength and underpins the long-term relationships of trust that we cultivate with our clients. Just now I said that that this is my strength, but it might be better to say that it is the strength of Toshiba as a whole."
The craftsmanship of technicians improves thermal power generation efficiency.
Naturally enough, the performance of power generation equipment is also critical to ensure a stable power. Keihin Works is Toshiba's main facility for the manufacture of turbines, the machinery at the heart of thermal power generation, and it is where Ayana Sugai manufactures a turbine component called a nozzle diaphragm.
During thermal power generation, steam produced in a boiler is fed into a turbine to drive blades attached to a rotor shaft. As the shaft turns, it produces rotational energy that a generator converts into electrical energy. In this process, the nozzle diaphragm, rings of airfoil-shaped vanes positioned at the rear of the boiler, controls the speed, direction and pressure of the steam that drives the rotor, and optimizes operating efficiency.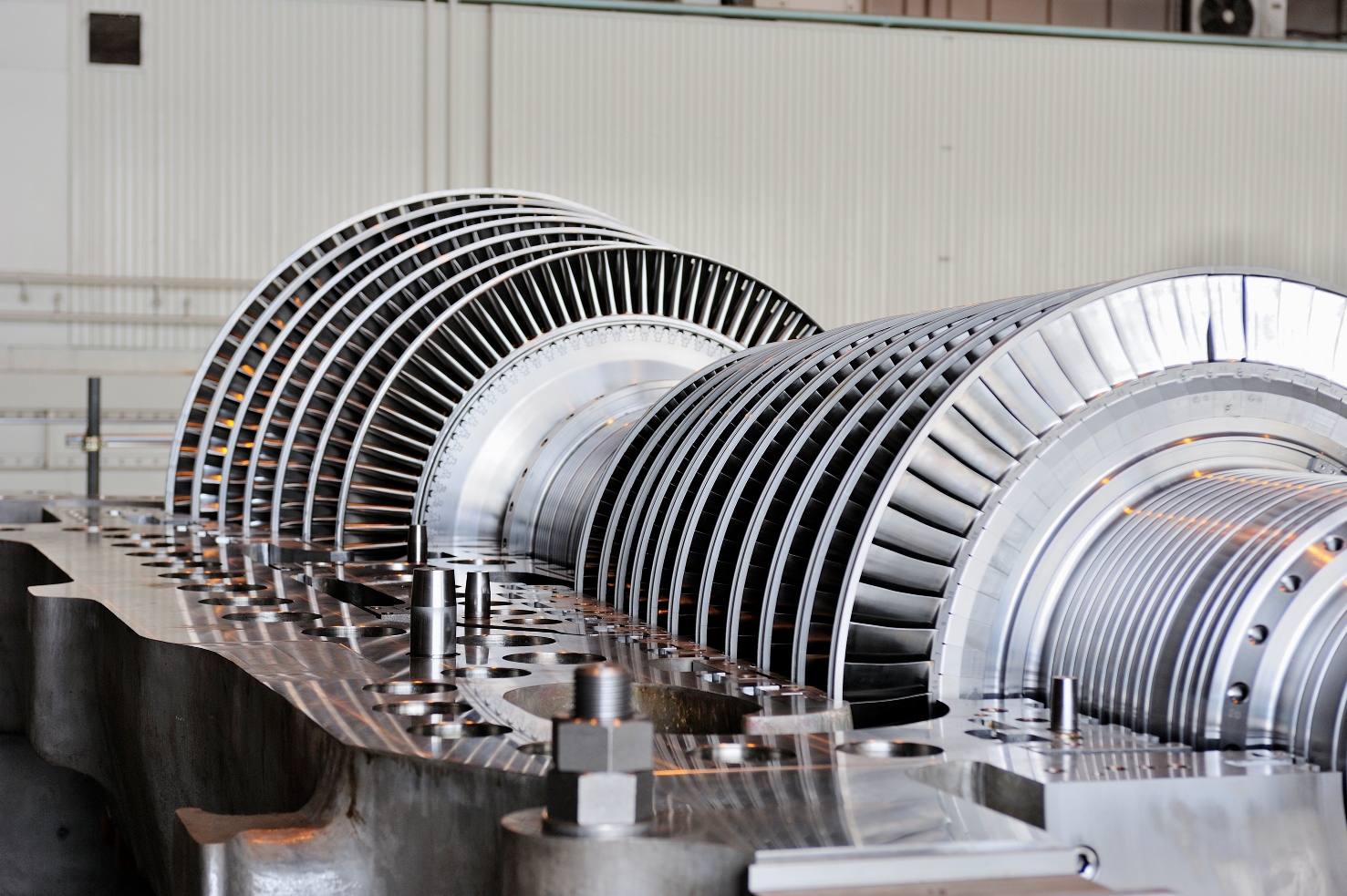 A steam turbine. Fixed nozzle diaphragms are positioned between each rotor blade and guide the flow of the steam through the turbine.
Among the different power generation methods, thermal power plays the significant role of providing stable supply. Renewable energy sources operate at the mercy of the weather, and thermal power remains the baseload power source in most parts of the world. That makes it even more important to follow the global trend toward decarbonization, and to improve thermal power generation efficiency. This is where the skills of people like Sugai come into play.
Formed from worked metal, a nozzle diaphragm can have a radius as wide as five meters, but the processing tolerances are as fine as 0.01 to 00.9 millimeters, and determine the efficiency of power generation. Sugai achieves these with a numerically controlled (NC) lathe and special tools that turn (shape) rotating pieces of metal into the required shape. As the name indicates, the machining is automated and follows programmed procedures, but as Sugai is quick to point out, this does not mean everything can be left to the machine.
"While it sounds like just one thing, nozzle diaphragms come in a variety of sizes. Even if the metal materials used are the same size and shape, each has a slightly different hardness and feel when processed. We bring all our powers of judgement to the processing, paying attention to the volume and shape of the swarf produced during turning, and to slight differences in the sound of the machining."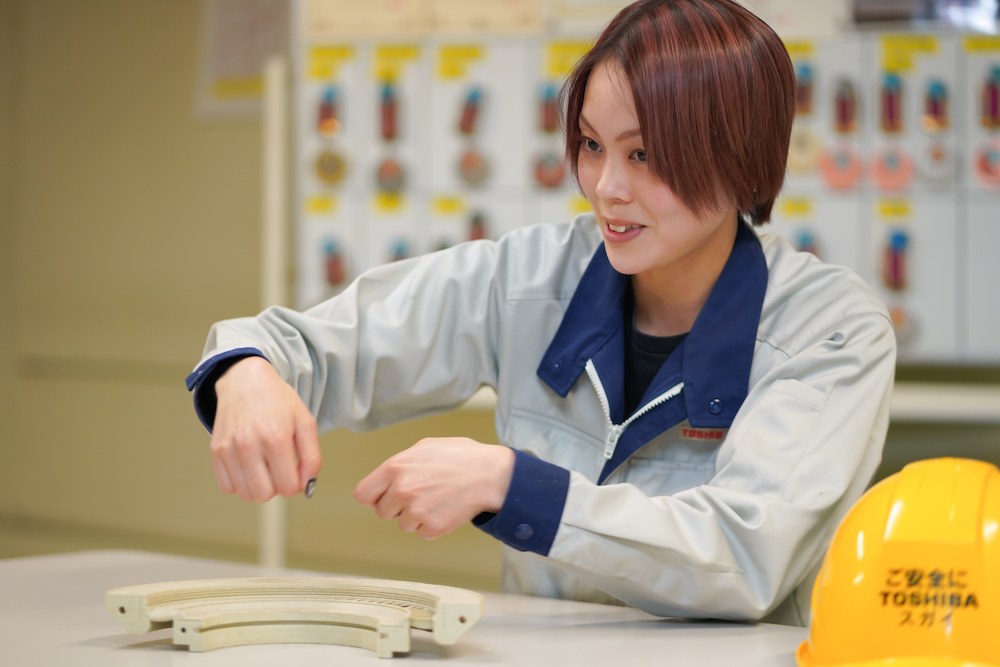 Ayana Sugai, Turbine Parts Manufacturing Sect., Machining & Welding Dept., Keihin Product Operations,
Toshiba Energy Systems & Solutions Corporation
Clearly, Sugai is a highly skilled worker who has honed her craft in an arena where experience and intuition are the key to success. And as she says herself, carelessness and overconfidence are not allowed.
"The cutter on an NC lathe moves on two axes. I always use point and acknowledge to make sure that there is no error in the direction of movement. I also doublecheck that the program is correct by doing my own calculations. You can never omit these basic operations just because you are very familiar with them. In this respect, it doesn't matter how tight the deadline is, the right and important thing to do is not to deviate from my own way of doing things."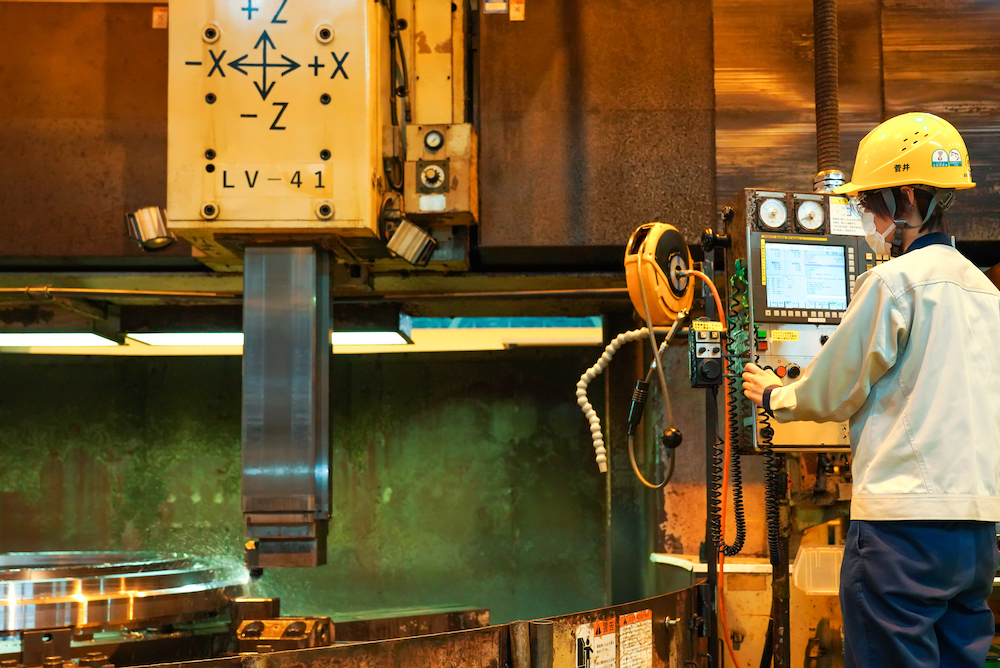 Ms. Sugai operating an NC lathe
Skills competitions lead the learning cycle to the next generation
Both Nakajima and Sugai number among Toshiba's top technicians. Even so, Nakajima is self-effacing about his achievements. "I am just a technician," he says, "I don't have the best artisanal skills in Japan." However, his outstanding skills and achievements in the assembly of switchboards and control panels have earned him the recognition of a Medal with Yellow Ribbon, an honor awarded by the Japanese government.
Sugai has also earned recognition, achieving Special Grade, the highest level in Japan's National Trade Skill Test (Machining). The pass rate for this difficult certification test is only around 10%, and it requires considerable work experience. That she did this when only 30 is amazingly fast.
Nakajima is currently busy nurturing people able to follow in the footsteps of highly skilled workers like Sugai. His theory of human resources development is that "people do not grow in a lax environment." This is grounded in experience dating from his third year with Toshiba, when he spent seven months at a power plant construction site in India, installing and repairing control panels. While there he mentored local technicians, people from a different culture who spoke a different language, and fond that he learned a lot himself by teaching other people. He also came to realize that diversity in human resources is itself a source of value.
One thing Nakajima is currently focused on is bolstering Toshiba's in-house skills competition, the Technical Contest (Tech-Con), which dates all the way back to 1952. Participation requires high-level skills, and the only way to rank high is if senior employees pass on their techniques and know-how. Competing in these intense competitions greatly enhances the skills of the participants, and it also leads to cross-divisional exchanges and deepens the diversity of human resources. Lessons learned from the competition go back to workplaces where they are applied and passed on to the next generation.
From Nakajima's perspective, the Tech-Con-centered learning cycle is crucial for highly skilled people but he is not entirely happy with it. "Tech-Con has a long history, but I am concerned that the learning cycle is not working as well these days. Looking to the future, we want to increase the range of competition and the number of events and introduce more and more innovations that will strengthen the cycle."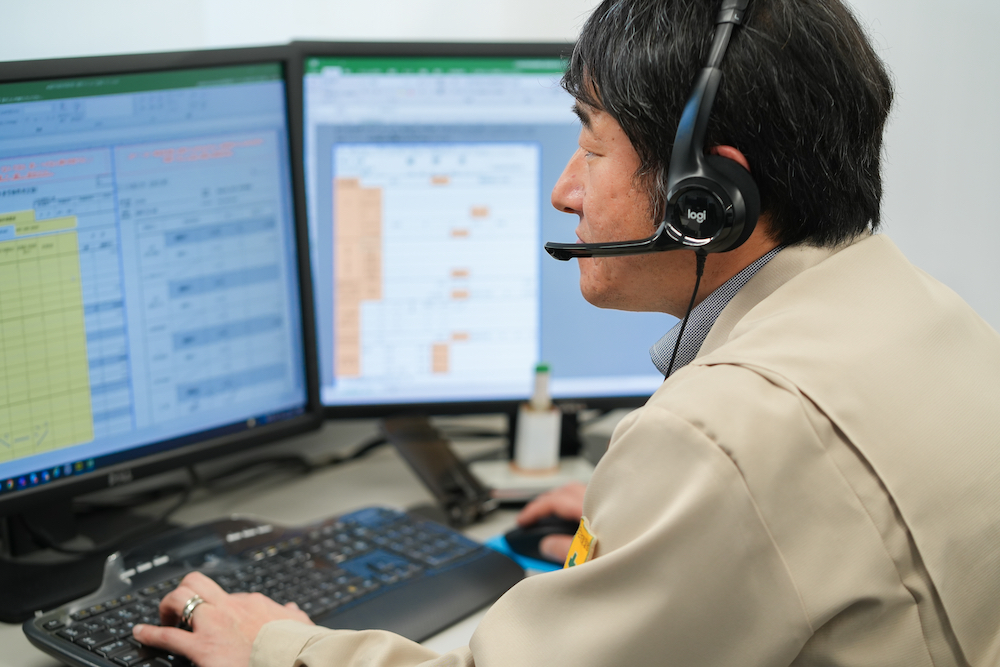 Nakajima participates in a Tech-Con planning meeting
Unique human skills that increasingly stand out in the midst of digitization
Toshiba currently aims to create value with cyber-physical systems. The idea is to solve social issues by fusing cyberspace technologies, such as AI and IoT, with physical, real-world technologies cultivated through manufacturing. At the end of talking to Nakajima and Sugai, we asked them how, as Toshiba technicians, they see this future.
Sugai says, "No matter how much technology advances and enters our manufacturing and processing domain, I think that determining final quality depends on the human senses. That is why we cannot be complacent about our current skills, and say things like, 'We've been doing it this way for a long time.' We need to be aware of the latest trends in machine tools and constantly make efforts to further improve machining accuracy.
"It is also important to have a broad perspective that goes beyond seeing things as a technician and to keep a daily eye on social issues. I think that if approaching work in that way will ultimately lead us to contribute to society."
Nakajima is certain that people remain central to the overall manufacturing process. "It doesn't matter how advanced AI and robots become, even to the point where they match human levels in manufacturing, they will not be able to go to visit the customer. Only people can take really understand customer needs and take full responsibility for the entire product process, from the specifications proposal and on through design, manufacturing, testing, and on-site adjustment. As workplace digitization progresses, we will still be responsible, and as long as we are, we need to be aware of this in our minds and bodies, and not just leave things to AI and robots.
"AI and robots are tools for people to use, and our ability to manage them will become increasingly important. That management ability can be demonstrated only after acquiring skills. For that reason too, we will strengthen our training to further enhance the abilities of young technicians."
AI and other technologies are already part of our lives, and we can no longer take the adversarial view of "AI vs. people." At a time like this, people with exceptional skills, like Nakajima and Sugai, will lead companies to competitiveness.
Related Contents