We Are Toshiba: We Seize Every Opportunity by Looking for a Better Way
2020/04/15 Toshiba Clip Team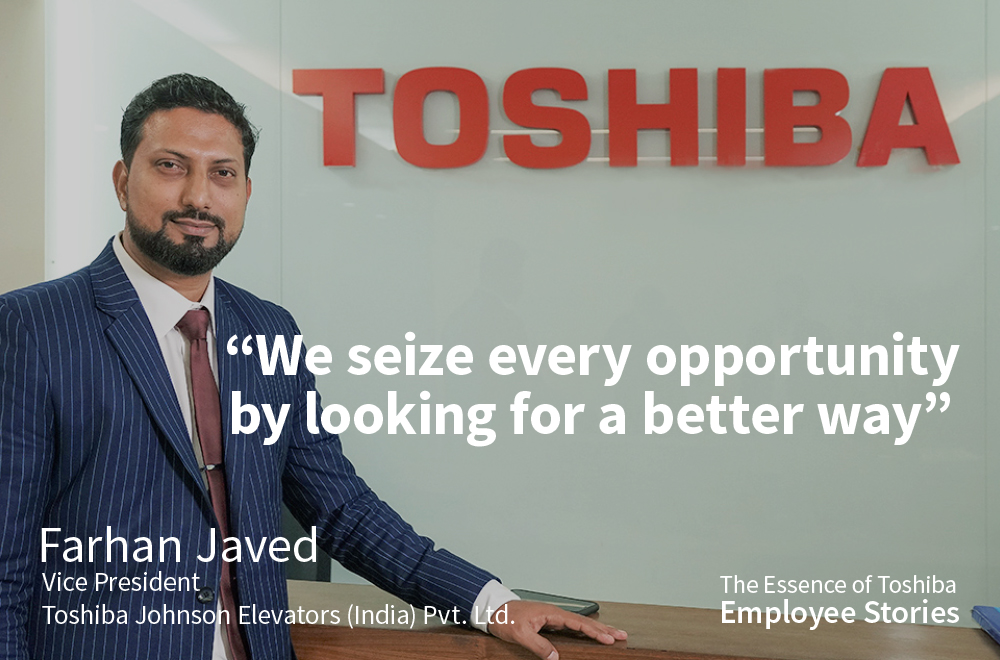 To learn about what the Essence of Toshiba means to our employees, Toshiba clip team reaches India. We have a rare opportunity to speak with someone who has been part of the business since its inception in India has recently been promoted as Vice President for Toshiba Johnson Elevators (India) Pvt. Ltd. – Farhan Javed. He's spent the last 9 years building the elevator business in India from scratch by following his heart and always "looking for a better way".
Name: Farhan Javed
Job title: Vice President
Company: Toshiba Johnson Elevators (India) Pvt. Ltd.
Workplace: Mumbai, India
Hi Farhan! Tell us about yourself.
I am Farhan Javed, and I'm the Vice President for Toshiba Johnson Elevator India, and I'm handling pan India operations. Today, I'm very happy and proud to see that Toshiba is one of the most respected elevator companies in India.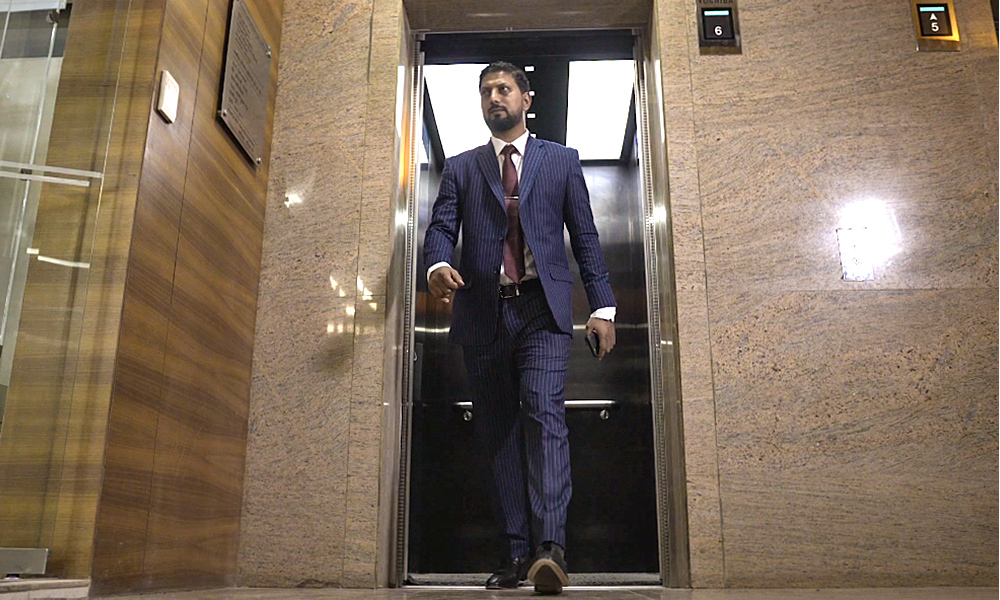 What encouraged you to join Toshiba?
During my initial years, I was very eager to learn everything about elevators and I even switched between the top elevator brands in hope of landing a challenging role. But working for elevators brand that were already established in India at the time, work quickly became monotonous. When Toshiba elevators entered India market, it was a respected brand in the global market but no one in India had heard of the business. It was a great opportunity for me to spearhead the on-ground operations and establish a market for its business in India. I took it as an anchor role for Toshiba Elevators India and I was excited to take this up. I started my Toshiba career in September 2011.
What motivates you day-to-day?
India is rapidly urbanizing with unique set of challenges and opportunities and Toshiba as a building solutions company has a substantial role to play in it. However, we have been a late entrant in this market, and we were required to have an accelerated approach towards business.
And that's exactly where my motivation comes from being able to spearhead Toshiba's business, or the Toshiba's journey towards expansion has been the greatest motivation factor for myself.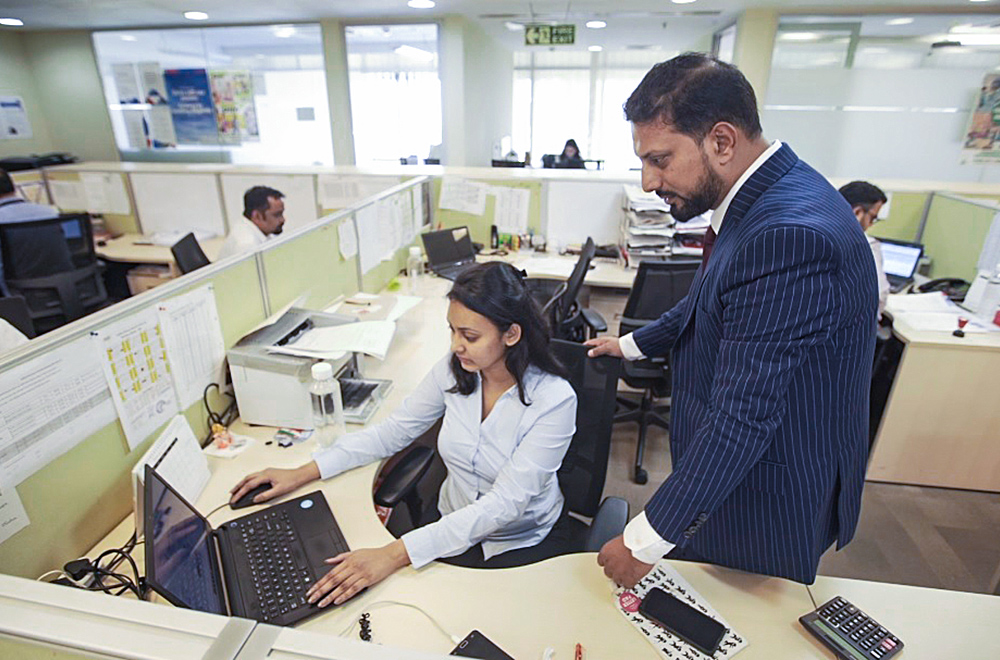 Is there a particular value from the Essence of Toshiba that inspires you, whether in your professional or personal life?
All of our values are unique and significant in their own ways, but the one that resonates the most in my mind is this – "Look for a better way". There was this first order with one of the most prominent developers in India, and it came with a lot of challenges. The project called for integrating the latest technology with bespoke and customized elevator designs. On top of that, we also had another challenge of delivering such high specifications in a very short span of time.
So we roped in Toshiba's top design team and factory management in China, and we had to adopt unique ways or alternate ways from our normal procurement system. We got into micro detailing, and we also got into phase-wise manufacturing and delivery system.
Typically, a project of this size would take about 24 months to conclude, but by looking for a better way, by breaking those shackles of a conventional procurement process, we were able to complete the project in a record span of 10 months. And we were lauded by the client's top management in a very big way and we were also awarded several other projects nationwide post that.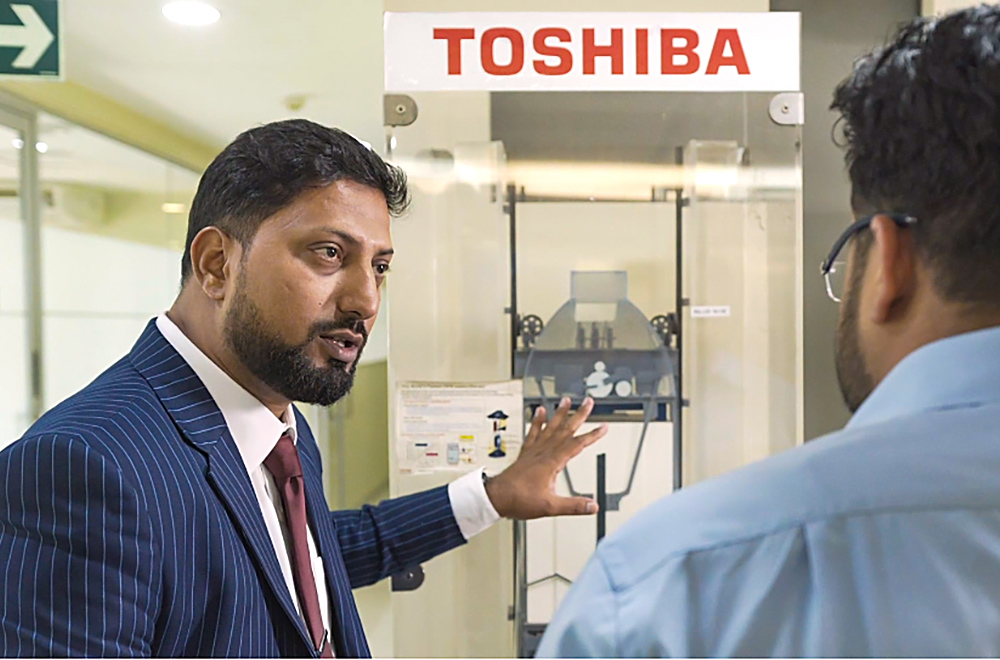 What's important when working with other divisions within the company?
We, as a social infrastructure company, have the expertise and the responsibility to offer our clients complete infrastructure solutions under one roof – from elevators, air conditioners, energy, batteries and railway systems, to wastewater management. For this, communication and teamwork are the most important things to factor in right from touching base with the client. Currently, our interaction is relatively higher with the branding team, and the business development team. And we are actively trying to connect all the different businesses in India through various initiatives. But we must definitely improve our connectivity and interactions with all the other Group companies as well.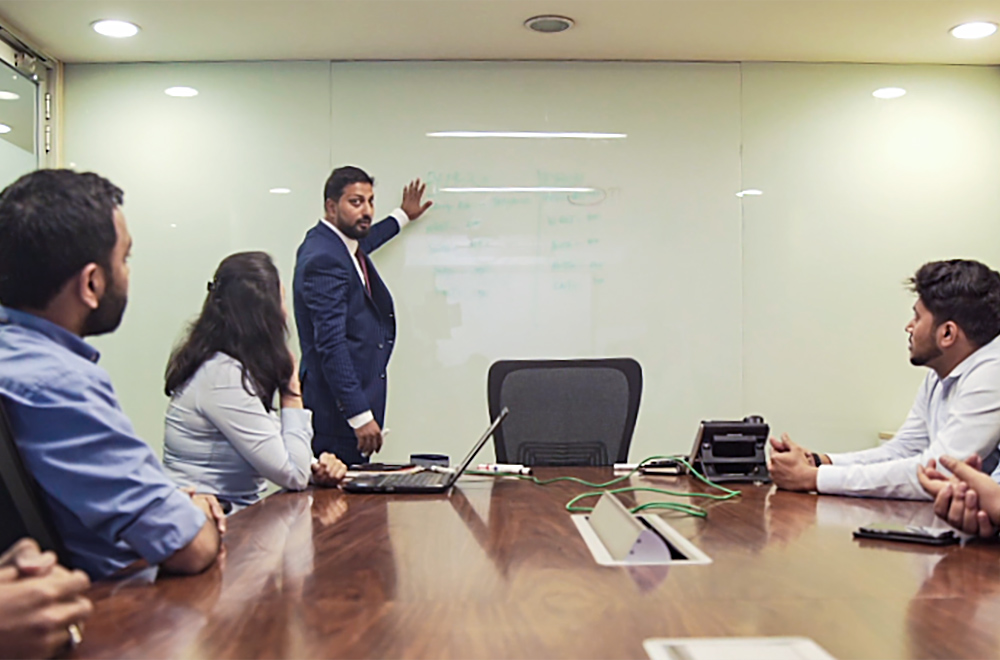 Any words of encouragement to your colleagues in Toshiba?
I always say this, never get frightened with the enormity of the tasks. Always narrow your focus, break your larger objectives into smaller multiple milestones, and go after each milestone with utmost focus and teamwork. Make an opinion, make your opinion count, because no idea is a bad idea. And go out, take those risks, but of course, calculated ones. We are one Toshiba, wherever we are. And together, we turn on the promise of a new day.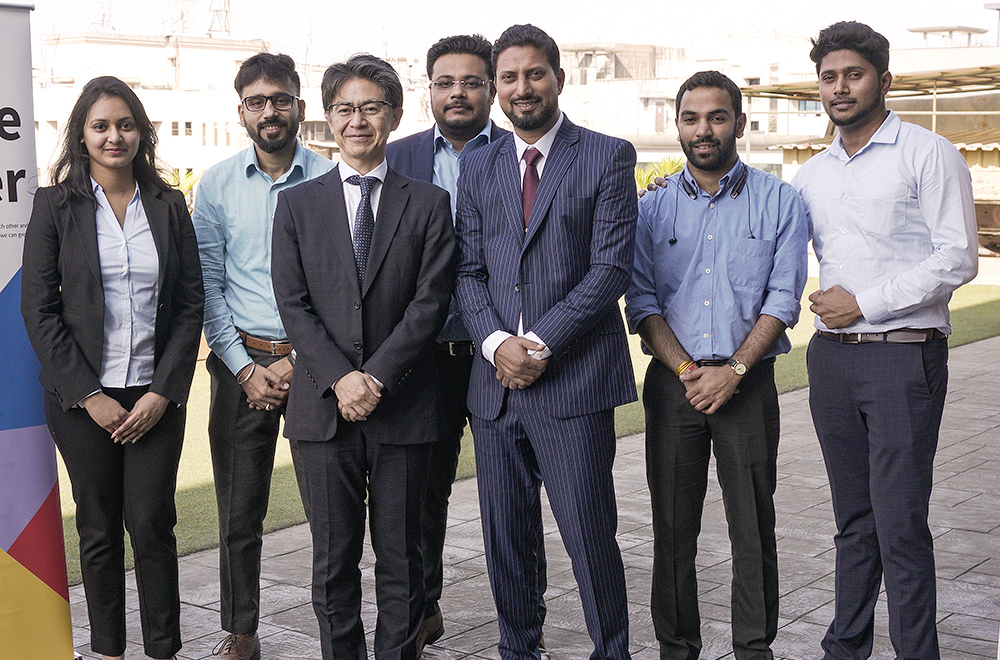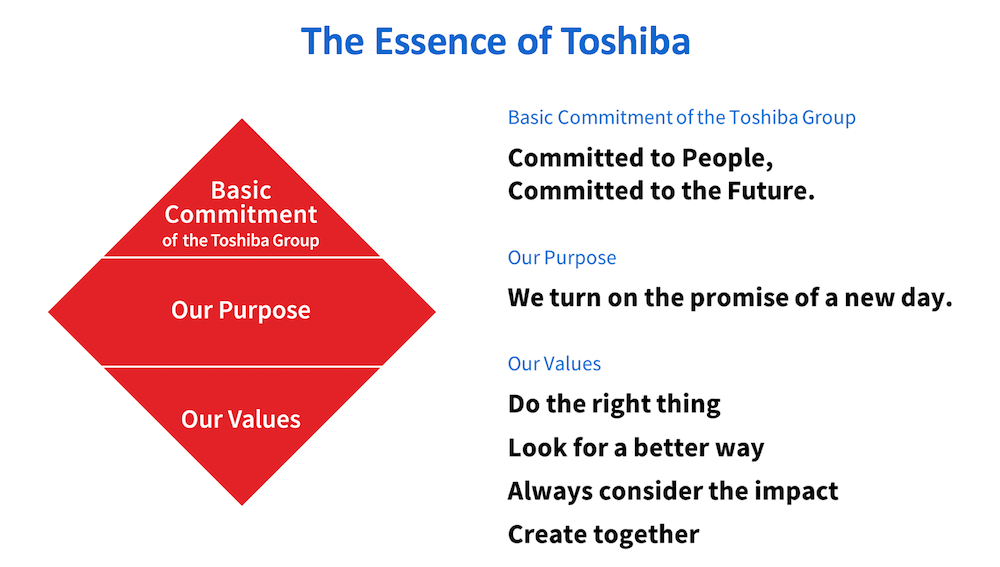 Related Contents