Creating a green, clean and comfortable Oasis in a Zoo with outdoor Air-Conditioning solutions
2021/03/22 Toshiba Clip Team
One of the missions of zoos is to be a place of rest and relaxation for citizens.
What is the spot/zone air conditioning system that can be used outdoors as well?
The possibilities of outdoor air-conditioning systems in a broad range of usage examples, from their use in event spaces to evacuation facilities and beyond.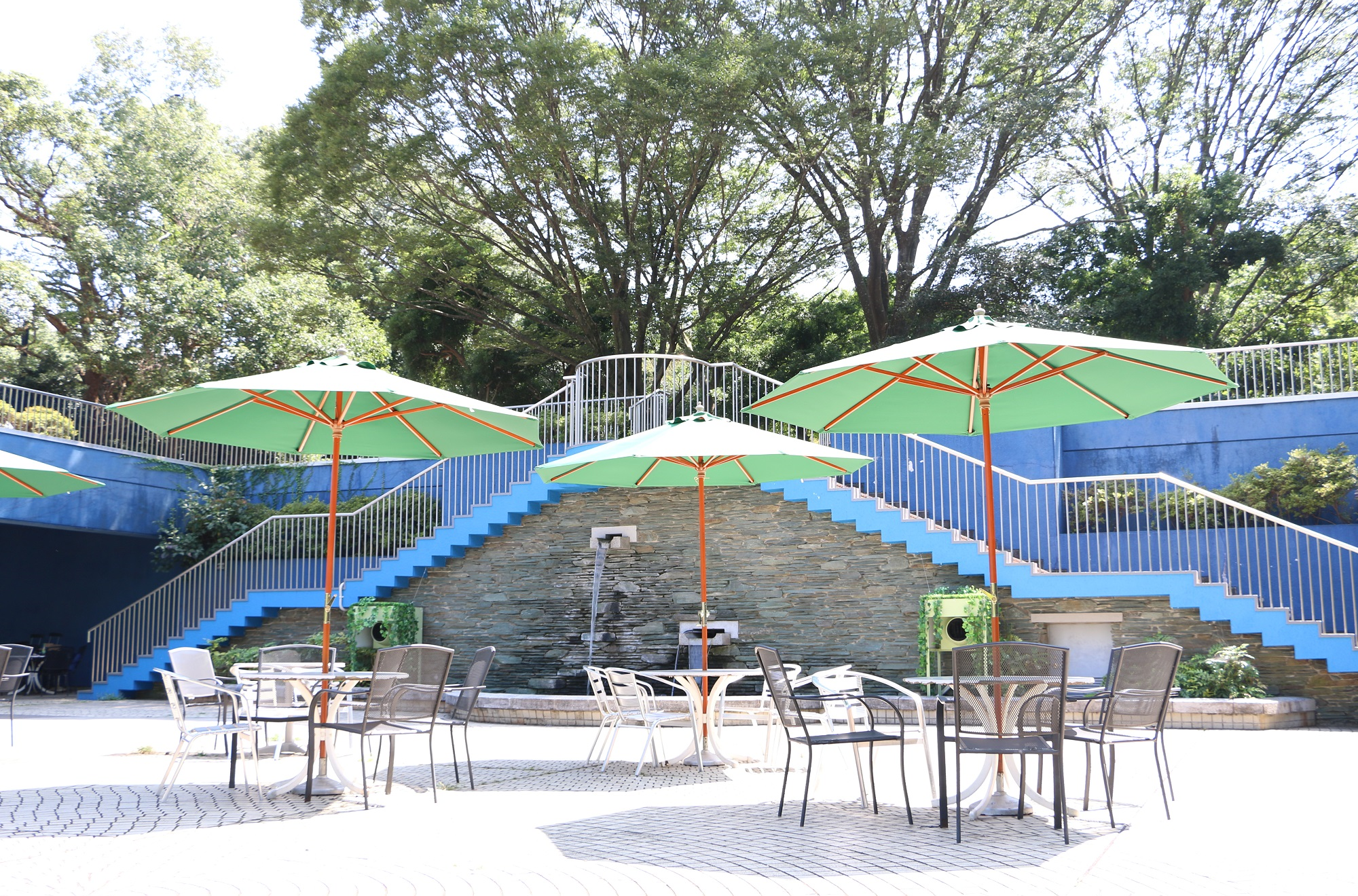 Zoological parks breed and exhibit a wide variety of animals brought together from different parts of the world and attract many visitors, regardless of the season. These parks are large and usually have many outdoor attractions as well, which makes it difficult to install air conditioning solutions to maintain a comfortable environment for visitors, for when the weather is too hot or too cold. Therefore, the challenge is to find ways to provide a comfortable environment to people who visit the park and the animals who live there, while keeping a check on environmental impact.
Chiba Zoological Park has made providing a place of rest and relaxation to the citizens one of its goals and is carrying out trials in the zoo to tackle these issues head-on.
The mission of zoological parks and their future vision
Chiba Zoological Park opened in 1985. It houses about 800 animals of 120 species in its vast area covering 340,000 square kilometers. It attracts visitors from within and outside the city. Many people might remember red panda Futa, whose ability to stand upright on his hind feet and cute figure made him a worldwide star in 2005. In July last year, a new exhibition area opened in the park with cheetahs and spotted hyenas from three European countries and Singapore. The park is also attracting great attention for "cheetah runs" that allow visitors to see cheetahs sprint at a close distance.
However, 35 years from its opening, the park is now facing reform issues in various aspects, including the aging of its facilities, methods of exhibition and measures for attracting visitors. To increase visitor satisfaction again, Chiba city drew up the Chiba Zoological Park Restart Plan in 2014 aimed at a renewal and is currently implementing various aspects of the plan. From 2019, it started exhibiting animals in a way that helps visitors make new discoveries by experiencing the "joy of knowing." One such initiative was to hold events showing the natural life of lions. These efforts have helped bring back visitors. The park is also introducing various initiatives aimed at a new concept of zoos, by launching new services that leverage ICT, visualizing the natural life of animals, improving management efficiency, whilst taking other measures to enhance the visitor experience.
One such initiative is the experiment of creating a comfortable space using an air flow system, currently being conducted jointly by Chiba Zoological Park and Toshiba Carrier Corporation.
Kazumasa Kaburagi, the zoo director at Chiba Zoological Park, says "in addition to carrying out the functions of a zoo, Chiba Zoological Park also plays the role of a park where people gather. It is important for the zoo to be a place of rest and relaxation for visitors in addition to fulfilling the missions of a zoo, which include preserving species, performing educational functions, conducting research, and providing recreation. However, summers have lately been severe, greatly affecting the animals and the visitors alike. That is why we started a new collaboration with Toshiba Carrier and a trial is underway to provide a comfortable environment using air flow systems."
Kaburagi previously worked at Toshiba as a person in charge of business planning, new business creation and other responsibilities related to the company's PC business. He was hired through a public recruitment by Chiba city based on his experience and skills, and has been serving as the director at Chiba Zoological Park since April 2019. His career is unique.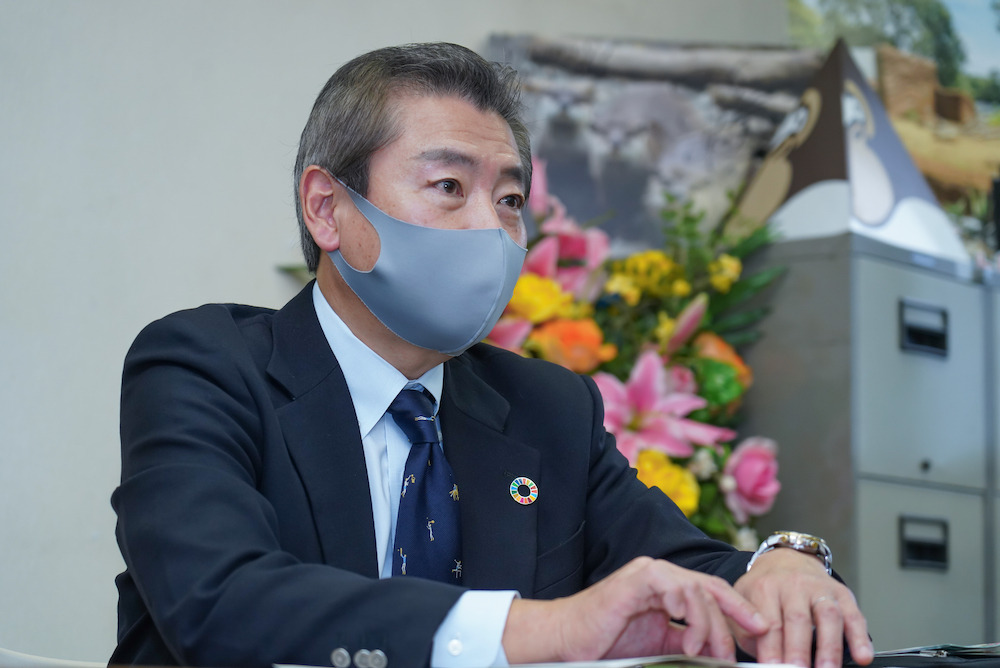 Kazumasa Kaburagi, Director, Chiba Zoological Park
The ongoing trial is an attempt to create an outdoor space that is cool in summers and warm in winters, by installing a low carbon and energy-saving spot/zone air-conditioning system -FLEXAIR2 at the observation deck. This is aimed at making the zoo a place of rest and relaxation in both summers and winters.
Spot/zone air conditioning system FLEXAIR2
The key to this experiment using FLEXAIR2 lies in a water sprinkler at the deck that uses well water. Shinobu Ofuchi of the Core Technology Center at Toshiba Carrier Corporation explains this mechanism.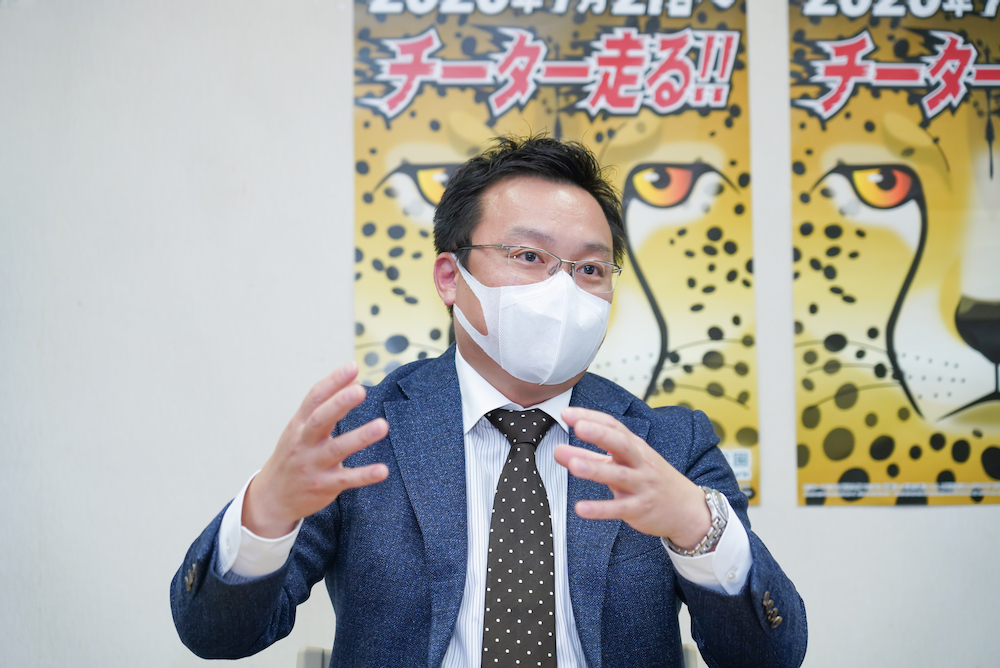 Shinobu Ofuchi, Core Technology Center, Toshiba Carrier Corporation
"FLEXAIR2 is a spot/zone air conditioning system that can partially adjust the temperature of a certain area even at outdoors where there is a lot of outside air. We focused on the well water being commonly used at the zoo for this trial. Since a certain temperature is maintained throughout the year in well water, we looked at it as a source for heat and installed air flow systems at the sides of sprinklers. They are maintaining a comfortable sensory temperature at the deck by generating a cool air flow in summers and a pleasant air flow in winters. This is a new initiative as there is no precedent of an outdoor air conditioning system using well water. A big advantage of this system is that it cuts CO2 emission to about 20% because it uses well water to provide a comfortable air flow to visitors without using any refrigerant."

*Air conditioners usually use refrigerants such as freon gas, but this system generates cool air by pumping cool well water up and sending air with a fan.
FLEXAIR2 can be easily installed at various places because there is no need for a ceiling duct. For the trial at the zoo, equipment has been installed on the pillars around a fountain, which was originally dead space. A naturally comfortable temperature can be maintained even outdoors because the vent louver automatically swings from side to side providing air to a wide area. Ofuchi says that he focused on coolness, comfort, and a sense of feeling immersed in nature for creating an oasis in the observation deck.
"The temperature of well water is maintained by underground heat. This makes the cool air generated from well water gentle for humans and the environment. The system received a lot of appreciation from visitors when the trial was carried out last summer," he adds.
Possibilities of expansion to event spaces and disaster evacuation facilities
The new challenges faced, and the basic data gathered during the summer and winter trials will lead to further expansion of the possibilities of outdoor air conditioning. FLEXAIR2 has enormous potential, and its only limitation is thinking of new applications for it. It can be used at outdoor venues for sporting tournaments, outdoor festivals, and other events.
Kaburagi recalls the strong typhoon that hit Chiba city last year causing severe damage and forcing many residents to take shelter at evacuation facilities. He thinks that the current trials may lead to an expansion in the applications of the system to evacuation facilities at the time of disasters or event venues with large gatherings, in addition to the application in the zoo. He expressed hope that energy-saving FLEXAIR will be used in various ways to improve both summer and winter environments.
Ofuchi says that they will continue to persist with trials using well water to achieve this. This focus on well water from the perspective of energy saving is completely aligned with Toshiba Group's value of "always consider the impact" in the interest of future generations.
"The temperature of well water may not be a sufficient measure for severe winters. For this reason, we plan to continue trials with a few additional ways in mind, such as heating well water using other heating systems developed by the company," Ofuchi adds.
It is a curious coincidence that the year 1985, when Chiba Zoological Park opened, was also the year that Kaburagi joined Toshiba as a fresh graduate. Kaburagi devoted himself for many years to creating new businesses in Toshiba's PC business and it is interesting how he started a new initiative with Toshiba Carrier from the viewpoint of protecting the environment through zoo reform.
"I consider it one of the responsibilities of zoological parks to raise interest in protecting the natural environment, including wild animals, and the earth, through exhibiting wild animals. Nothing can be more meaningful than having an opportunity for visitors to think about environmental issues from various dimensions through the ongoing trials," says Kaburagi.
Although the trials of using well water for outdoor air conditioning are meant to provide a comfortable environment to zoo visitors, humans are not the only ones seeking comfortable outdoor spaces. Exploring how an appropriate environment can be provided for animals as well, while reducing environmental impact, is likely to serve as a huge step toward considering the environment of the entire planet.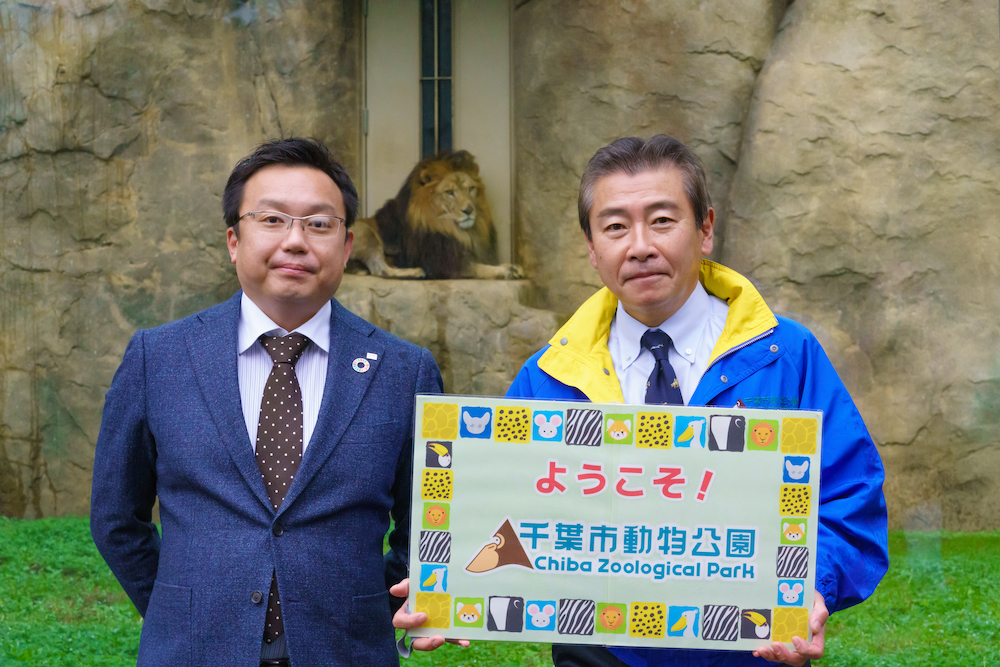 Related Contents