From Japan to the World: The Story of Toshiba's Electric Locomotives
2019/01/23 Toshiba Clip Team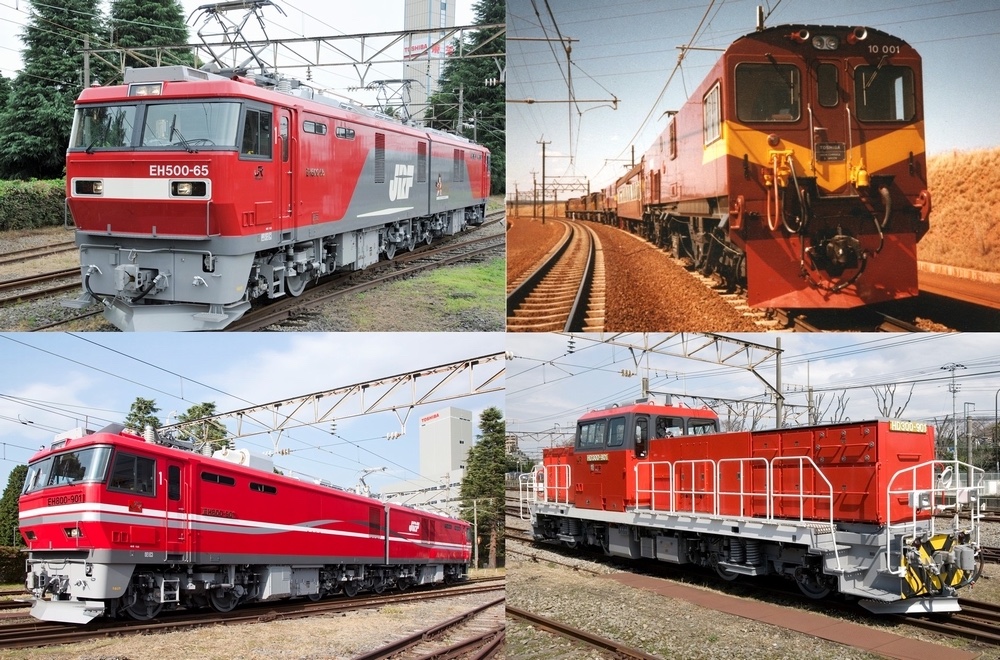 Our modern world relies on complex, ultimately global logistics—a jigsaw puzzle of all kinds of transportation systems. But there is one mode of transport that stands out for its unrivaled ability to deliver larger volumes of all kinds of goods and merchandise over long distance at low cost. The train.
Even as advances are made in other areas of logistics—from drones to electric trucks—rail freight still has a central role to play. Long-distance transportation on far-reaching networks realizes cost effectiveness that is hard to beat, and in recent years the advantages of rail freight in reducing environmental burdens has become even clearer. That's why many governments are promoting modernization of rail fleets and promoting a modal shift to train transportation; and why Toshiba is ready to help.
Toshiba manufactured it first electric locomotive in 1926, when the company was still known as Shibaura Engineering Works Co., Ltd. Today its locomotives can be found all over Japan and overseas, including China, India, Turkey, New Zealand, and South Africa. It's long been the company's main focus in transportation infrastructure.
We spoke to Akira Miyazaki, Toshiba's "Mr. Locomotive" and Masahiro Yamada, a leader in the design of next-generation locomotives, about the kind of growth electric locomotives have seen in the past, present, and future, starting from Japan and out into the world.
Akira Miyazaki (left), Railway Vehicle Systems Engineering Dept., Railway Systems Division, Toshiba Infrastructure Systems & Solutions Corporation
Masahiro Yamada (right), Transportation Systems Designing Group, Fuchu Complex Transportation Systems Dept., Toshiba Infrastructure Systems & Solutions Corporation
Design and Development in the Heart of Toshiba's Electric Locomotive Base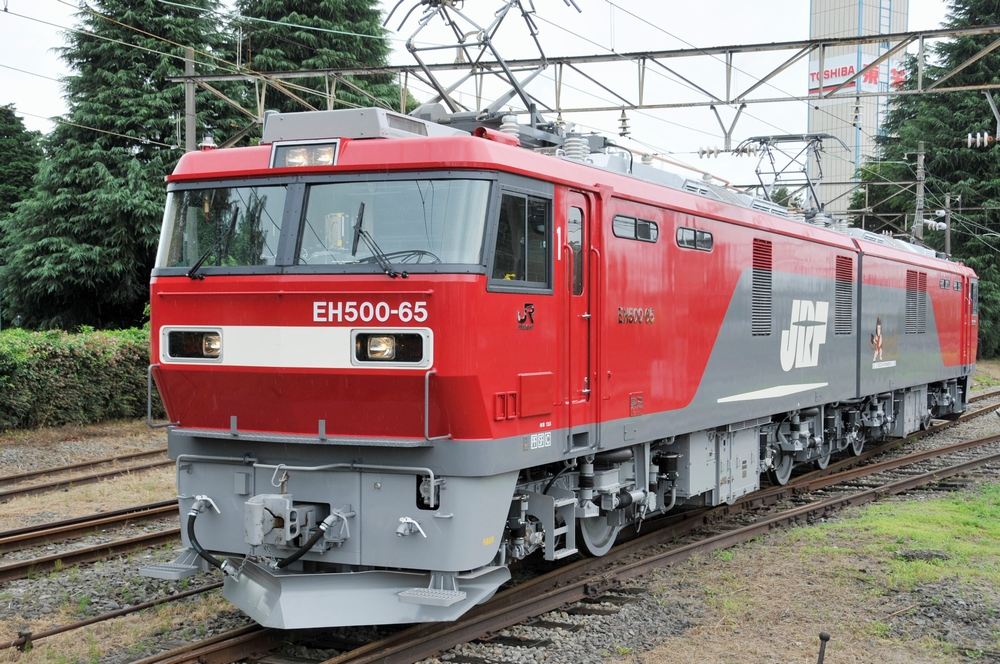 Type EH500 AC-DC dual system electric locomotive
Electric locomotives are pretty complex. They integrate control systems, converters, drive systems, brakes and circuitry, and all related mechanical systems. Since entering the business in the early 1920s, Toshiba has cultivated capabilities that allow it to handle all aspects of design and development itself, to both Japanese and overseas specs. As Yamada observes, building an electric locomotive from scratch requires a deep knowledge base, and a lot of experience.
"Here at the Fuchu Complex, we've built many electric locomotives," he explains. "Since I joined the company, locomotives I've worked on include the Type HD300 hybrid and Type EH800. Have you heard of 'ECO-POWER Kintaro'? That's a Type EH500 that can run on different power supplies, AC and DC, and it was designed to be able to run all the way from Tokyo to Hokkaido, without the train having to switch locomotives. The most recent locomotive I worked on was the Type EL120 we delivered to the Meitetsu Group in Nagoya.
Miyazaki also has memories to share. "Since I joined the company, my work has been in rolling stock systems and transportation systems, for trains like the Shinkansen. A lot of the electric locomotives we design and manufacture are for overseas. The most memorable for me was the Class 10E locomotive we delivered to South Africa, which we had to build to be powerful and durable—but then, we've built a lot of locomotives like that.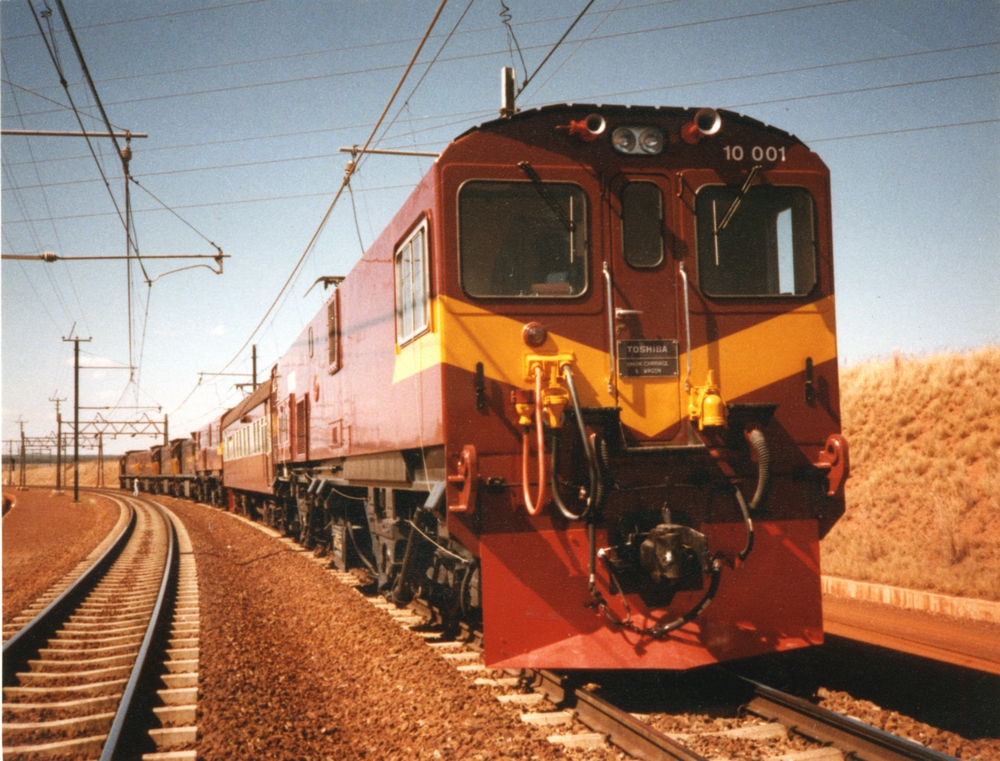 Class 10E electric locomotive for use in South Africa
Still running after 30 years
Hybrid, High-Power, 8-Axle: What It Means for Toshiba Electric Locomotive
The Type HD300 electric locomotive that Yamada worked on is a real milestone, Japan's first diesel hybrid with a drive system powered by a lithium-ion battery. Designed for shunting, putting together and taking apart trains in freight depots, it has to be powerful—but it's also a lot more.
"The hybrid locomotive is the eco-friendly locomotive of modern times," explains Yamada. "It helps to reduce CO2 emissions, and does this particularly well during the shunting process. Think about it in terms of cars, and it's probably easier to understand. Hybrid cars exhibit their strengths of low noise and reduced CO2 emissions not when you're speeding on the freeway, but when you're driving in the city, stopping and starting frequently." The hybrid locomotive is powered by a diesel engine, which is also the generator, and a storage battery, and is Japan's first hybrid locomotive with a lithium-ion battery.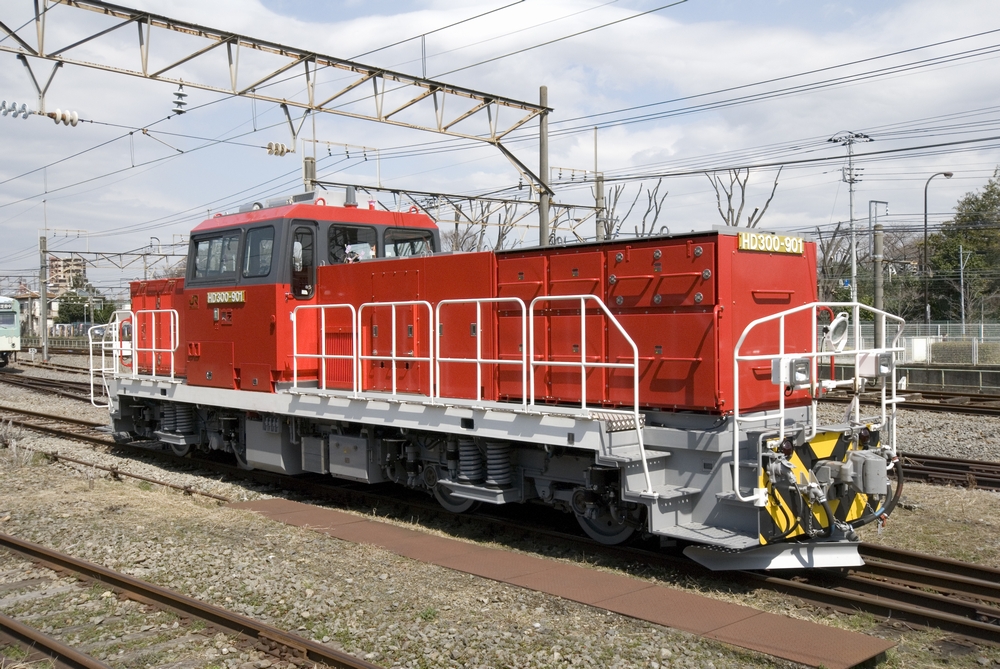 Type HD300 hybrid locomotive
It's not just eco-friendliness they're after. Toshiba developed the Type EH800 locomotive with Japan Freight Railway Company, when lines running through the Seikan Tunnel connecting Honshu and Hokkaido were modernized to take Shinkansen. The EH800 is the only electric locomotive that can run on the shared route. It is also an 8-axle locomotive, equipped with eight motors, and Toshiba is the only builder of such powerful locos for the Japanese market.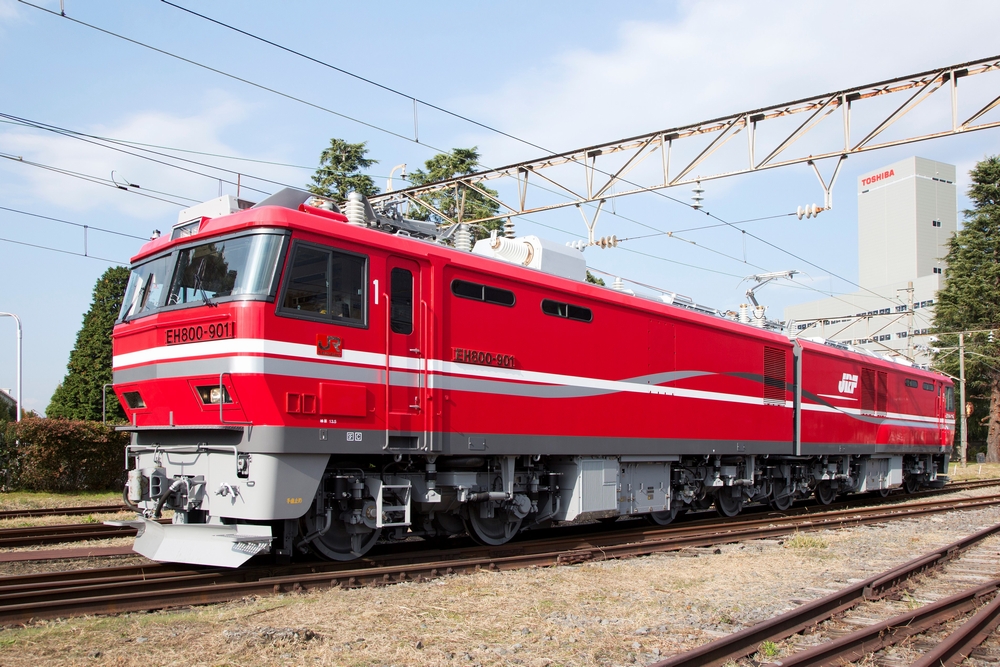 Type EH800 dual system electric locomotive
"For instance, the 4-axle Type EL120 weighs about 50 tons," says Yamada, "And the 8-axle Type EH800 weights over 100 tons. The more axles you have, the more motors you have, and the more power you can get. The fact that we're the only company manufacturing these 8-axle locomotives for the Japanese market means that we build the locomotives delivering the highest horse-power available in Japan right now."
But what about the electric locomotives built for overseas markets? According to Miyazaki, foreign clients will often focus not only on the power of the train, but also on the distinctly "Japanese" characteristics of the locomotives.
"I'm sure many of you have seen this on TV, but overseas, in countries like South Africa, it's not rare to see locomotives pulling freight trains that are connected six in a row, over 2 kilometers long. This requires an extraordinary amount of horse-power, but one thing you can't forget is capacity utilization. Capacity utilization directly affects the railway company's profits, and it's not uncommon for these companies to request a specific numerical level of capacity utilization as we're negotiating the contract. Our clients think highly of us because our locomotives don't malfunction very often, and even when they do, our follow-up is quick, and we have back-up structure that can immediately repair faulty locomotives and get them back into operation."
As interest in eco-friendly measures rises, and demand with it, there has been a growing focus overseas on hybrid locomotives, which supply both power and high capacity utilization. Toshiba's has a wealth of knowledge in this area from delivering hybrid locomotives to companies in Japan, and that is sure to be a great asset as this trend develops. There are, of course, still challenges to be faced along the way.
"In Japan, we already have the permanent magnet synchronous motor (PMSM)," says Yamada. "This highly efficient motor really reduces the energy consumption. It conserves power, and has a fully-enclosed structure, which means it doesn't require cleaning, and really cuts maintenance costs. We'll see a lot more of this type of motor in the coming years."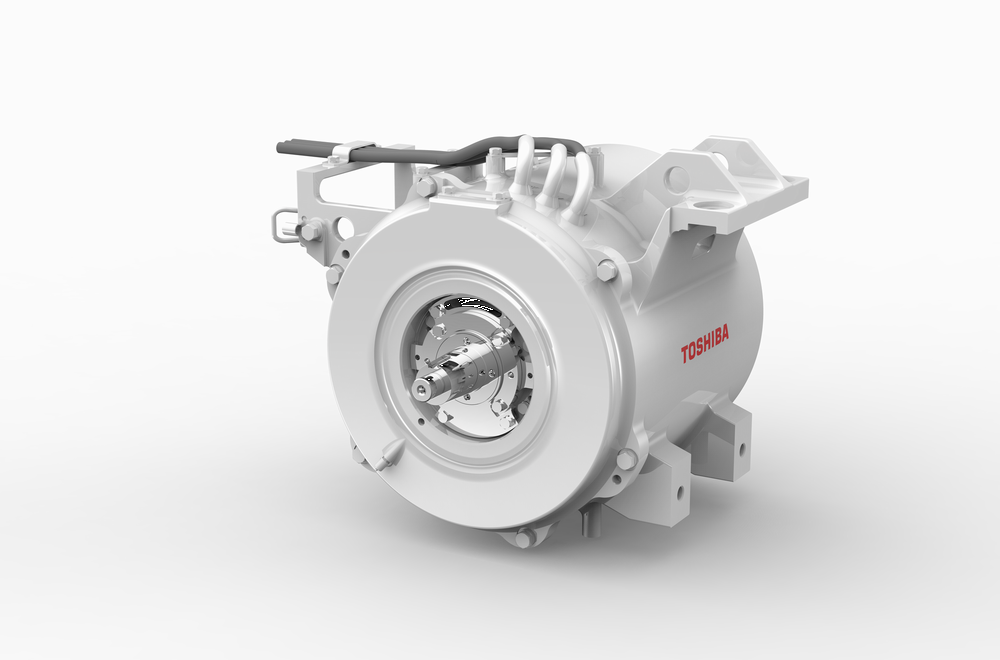 Permanent Magnet Synchronous Motor
Toshiba's work doesn't stop at next-generation motors.
Both Yamada and Miyazaki tell us about their resolve to work in sync with the market and their clients. Looking ahead, Yamada sees a lot of potential in what he calls the 'IoT-ization of railways'. "In future," he says "we'll continue incorporating the latest technologies and working alongside our clients to deliver our newest designs." Thinking about overseas business Miyazaki says, "Different countries have different needs with regards to electric locomotives". "We have to work to combine everything we have, from our products to our technologies and systems, to provide our clients with new value."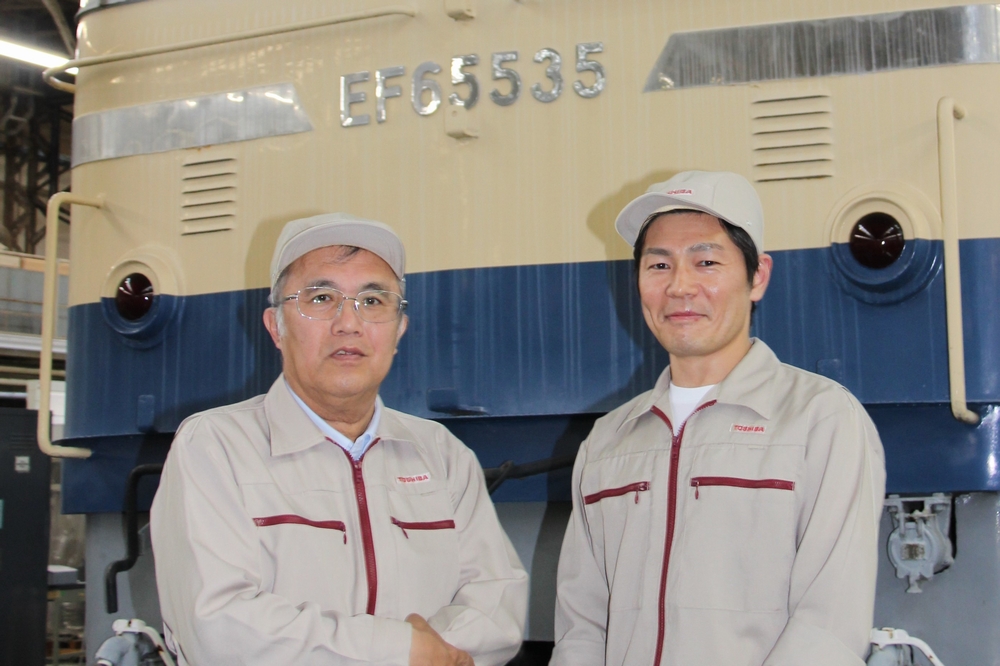 It takes determination and confidence to change with the times—and not just to foresee new trends and technologies but to lead the way, channeling experience, knowledge and know-how into new products. Fuchu Complex is bringing new technologies and innovations to the electric locomotive, and woven into every design is the pride, deep understanding and capabilities of its people.
Related Links
*This section contains links to websites operated by companies and organizations other than Toshiba Corporation.
Railway Systems:Business introduction | Corporate Information | Toshiba Infrastructure Systems & Solutions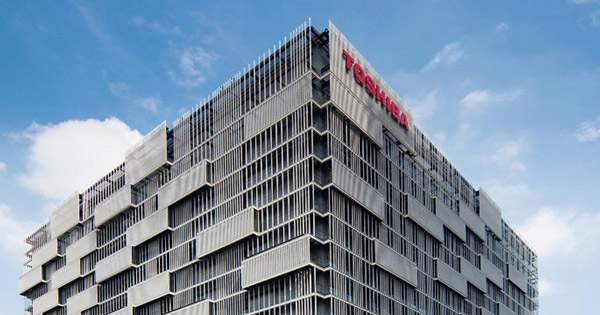 Electric Locomotives:Locomotive System:Information System | Railway Systems | Toshiba Infrastructure Systems & Solutions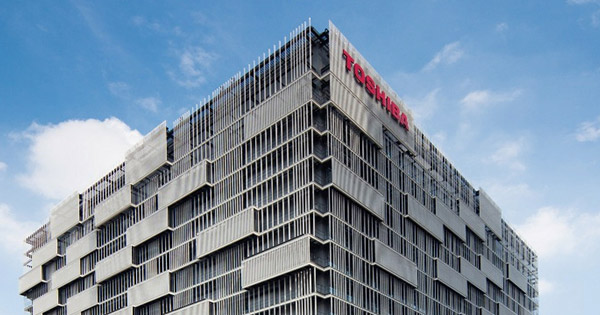 News Release (2 Mar, 2011): Toshiba Wins Major Order in South Africa for Electrical Equipment for L | News | Toshiba
Related Contents