So Your Child Wouldn't Focus on Eating? Toshiba's New Creative Foray into Food Technology
2020/06/10 Toshiba Clip Team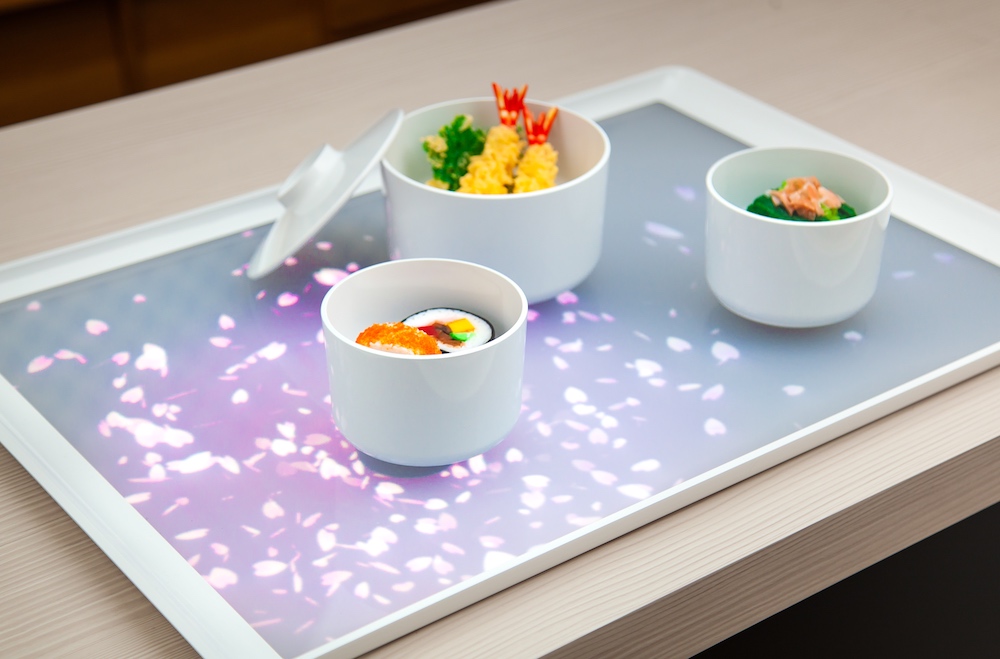 What is the one thing that many people struggle with? And how could Toshiba help solve it?
Well, one thing that everybody does is eat. And as any parent would know, it's sometimes hard to have children to sit down and focus on eating their food. That's why here at Toshiba, we've come up with "Sizzleful" system through an inter-divisional idea project. The aim of "Sizzleful" is to get children more excited about eating by playing sounds and music when they remove the lid of their bowl or take a bite of their food, and by showing visual effects on the tray—by appealing to various different senses.
The prototype was developed in approximately two and a half months, with the goal of submitting it for an exhibition at the world's largest-scale music/film/interactive event, "South by Southwest" (SXSW) in Austin, Texas in the U.S. Here, we look at behind-the-scenes of the joint development process.
"My child won't focus on eating," and the spark of an idea
At Toshiba, there is an inter-divisional project underway to come up with ideas which can be realized by 2020 to solve various needs which may arise in 10-20 years' time. These ideas are based on solving social issues, and are reverse-engineered from their possible applications in the future. Employees from different divisions come together to create and share ideas they've come up with through design thinking. This idea—the concept of a "society where parent and child alike can enjoy their meals"—was developed in FY2018 over the course of several months, by about 20 employees from seven divisions. It turns out that children not focusing on their food is an issue familiar to many people.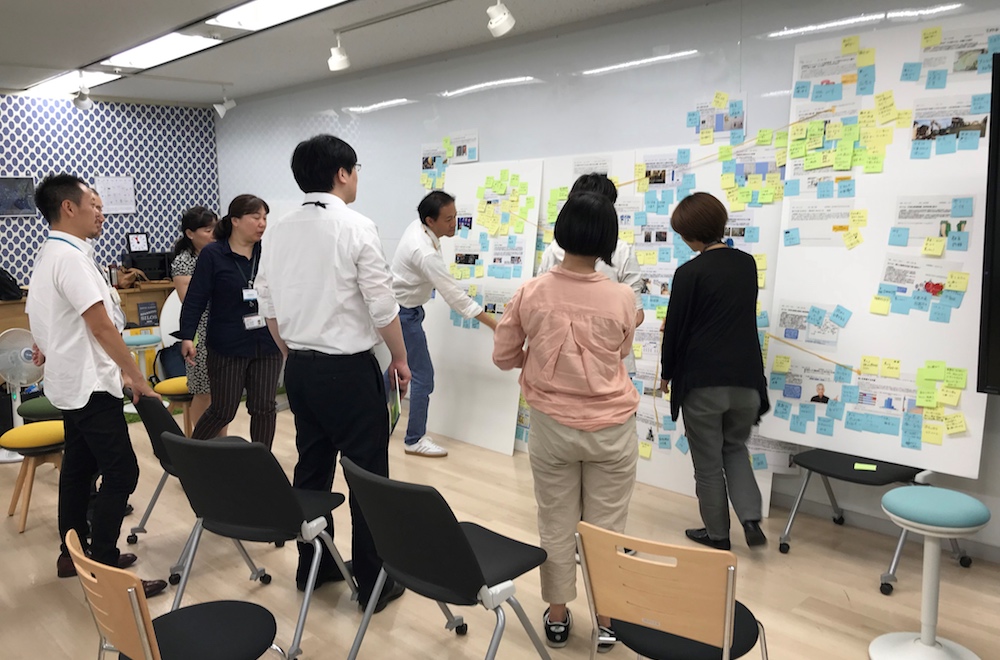 Brainstorming process for the inter-divisional project
One of the project members, Kaori Sawai of the Design Center at Toshiba Corporation, told us, "It was actually a really difficult process to decide on the concept. We came up with all different kinds of issues and ideas, but were having a difficult time coming to an agreement. The reason we were ultimately able to settle on this idea, in a situation that time-limited, was because of a comment from one of the members, who's a mother to three children. She was stressed out because every day, during mealtime, her children wouldn't focus on their meals—playing with their food, or taking a long time to eat. We all agreed that it'd be good for us to try to create a space where children could really focus on eating, and where their mothers and fathers could relax. And so we came up with this concept, a 'society where parent and child alike can enjoy their meals.'"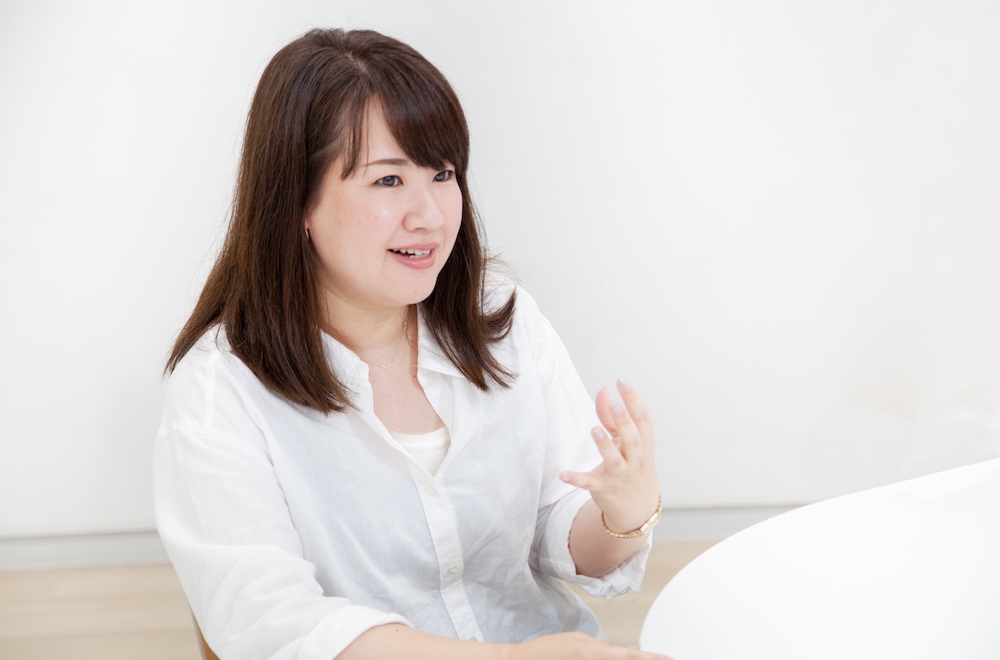 Kaori Sawai, Design Center, Toshiba Corporation
As they discussed on what they would create for the concept, they met a food specialist. And all of a sudden, they had an idea.
"I went to a lecture and heard food analyst Chie Tokeiji speak. That's where I learned about sensory education, which places emphasis on learning through the five senses. I knew instantly, 'this is it!' and I contacted her right away," said Sawai.
Tokeiji agreed to oversee the project, though her initial reaction was a bit unexpected.
"I was surprised at first. I wondered whether sensory education, which is already a fairly niche concept in food education, would translate well to business. I personally thought they should focus on a different theme, but I was struck by how sincere the sentiment was from the members—how much they wanted to make mealtime more fun for parents and their children. So I wanted to help as much as I could," said Tokeiji.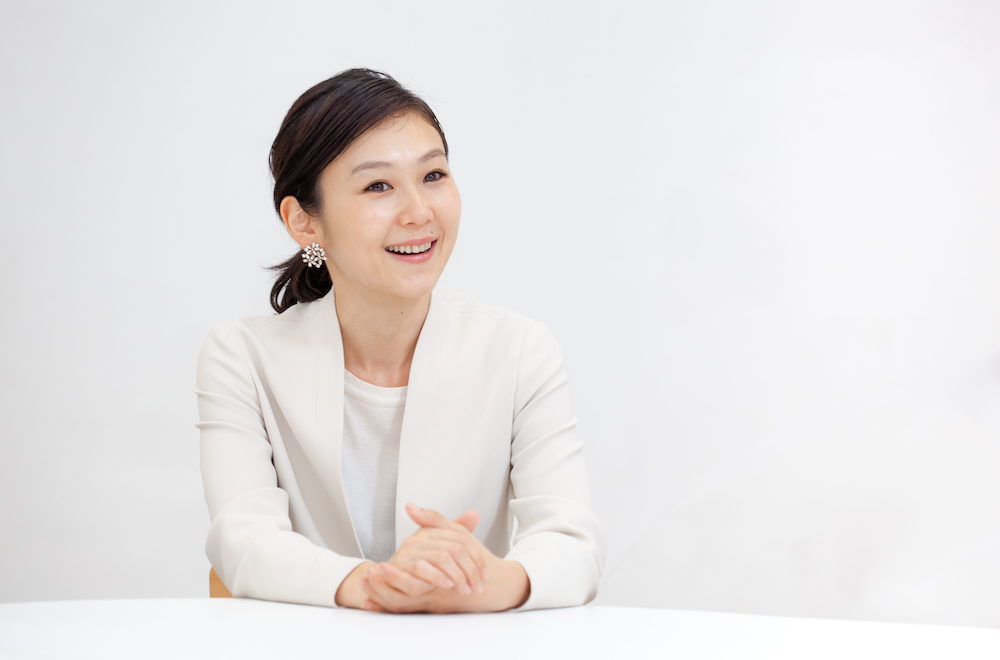 Food analyst Chie Tokeiji
"Sizzleful," and helping solve child mealtimes using sensory education
Sensory education, in a nutshell, is about teaching people to enjoy their meals using the five senses.
"Normally, when people think of food education, they tend to focus on things like ingredients, cooking methods, and nutritional balance. But with children and their likes/dislikes, it doesn't actually matter how many different types of food you put out—none of it matters unless they actually eat it. That's why I think there's a limit to nutrition-based food education with children. This may come as a surprise, but when we think something tastes good, only 10% of that feeling is based in our sense of taste. We 'taste' food with all of our senses—taste, obviously, but also sight, smell, hearing, and touch," said Tokeiji.
Once they're able to enjoy eating through all five of their senses, they'll gain more experience with food in general, and their sense of taste will expand. They'll start to think that all kinds of things taste good, and will think of eating itself as something fun. And of course, as a result, they'll be able to take in a wider variety of nutrients, and eat more healthfully in general.
"That moment of realization came when I heard Ms. Tokeiji speak came from the fact that sensory education is still something that's relatively unknown to society, and we could really apply our technologies at Toshiba in this field. I thought, if we're going to put this out as a Toshiba project, we should create new value—using our technology to have children experience the joys of eating, get them into healthy eating habits, and create a little bit of happiness for mothers and fathers everywhere," said Sawai.
Even in the more concrete discussions about the project, the opinions that really shone were those from the members raising children.
"There's still this unspoken belief in Japan that it's the mother's job to create perfect meals. There was a member who felt guilty when she'd take her children out to eat, since she felt she'd be judged for being lazy, or not doing things the right way. My hope is that the way we see childcare in society changes, to give parents the room to relax, take a breather. And to help make this happen, we wanted to create a product that would change the environment around meals, without necessarily changing the content of the food, to make mealtime a more enjoyable thing for children," said Sawai.
"With more and more dual-income families, I think there's a limit to trying to get the whole family to eat together in Japan. I think what becomes important is not who you're eating with, but whether you yourself are able to focus on your food, and think it tastes good. Eating alone is something that's also considered a social issue in Japan, but I think the real problem is in the fact that people don't actually truly experience their meals. Through this system, I want children to understand how fun eating is, instead of eating while distracted by the TV, or while going through their phones," said Tokeiji.
And so "Sizzleful" was born, to transform everyday meals into full sensory experiences. The name comes from the Japanese marketing term, "sizzle-kan," which refers to that feeling you get when you see food that really appeals to your senses, and that looks utterly delicious.
"We named it 'Sizzleful' because we didn't want to just make the food look good—we wanted it to appeal to all of users' senses, and give users the full sensory experience. You can only experience the sounds and videos that play on Sizzleful when you're using it, but I hope that through repeated exposure, children are able to really experience the joys of eating," said Sawai.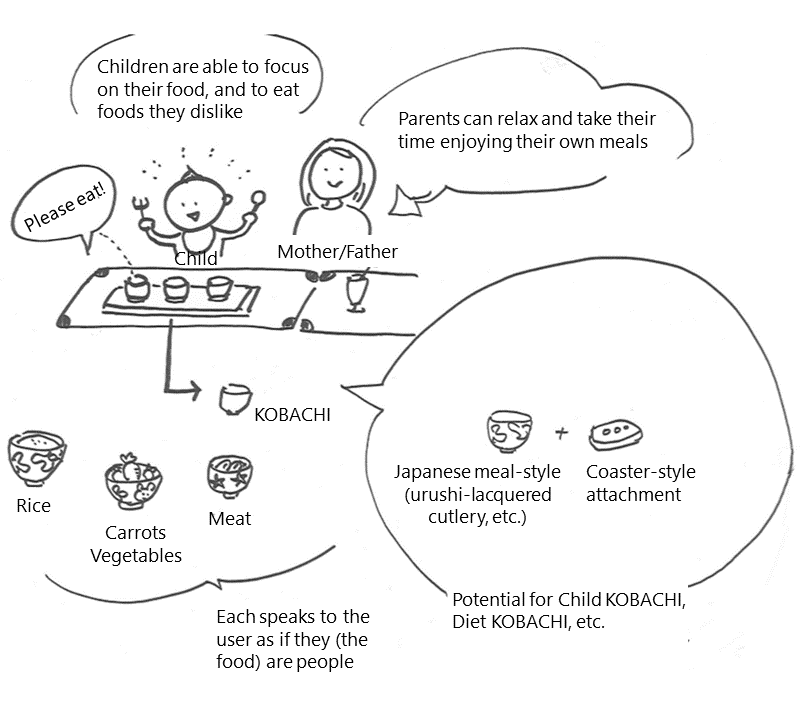 Initial brainstorm of idea
Trial and error and a race against time
It was in January when the idea came together, and the project began to move forward. At that point, there were only two months left to the SXSW event. It was a race against time. There were so many things they had to think about, so many things they had to do.
"First, we got together with Ms. Tokeiji, and discussed what kind of experience it should be, and what kind of demonstrations we'd need in order to show what we wanted to convey through the five senses. The members were divided into the Product Team and the Concept Team. The Product Team had worked to expand the interactive possibilities for the demonstration, and the Concept Team had discussed what designs would make the concept easier to understand for the users. We all contributed our own perspective, knowledge—making up for the gaps in knowledge in others—and worked as a team to create the demonstration. The whole process was just really exciting," said Sawai.
They decided ultimately to implement the visual and auditory effects onto the tray.
The various effects—the sound of tempura frying, the sound of cutting vegetables, the fireworks image, and even the timing and specifications of the various visual effects—were very carefully thought out. We asked Ryoji Nogami of the Solutions Center at Toshiba Digital Solutions Corporation, who had worked for the software development at the Product Team, about these effects.
"Our biggest struggle was with the testing process for the technology that we developed to sense and visualize chewing sounds. It was difficult for the technology to distinguish between when someone was chewing and when they weren't. One particularly memorable experience for me was munching on rice crackers in the middle of the night, as part of an experiment to figure out the difference between when someone was talking and chewing," said Nogami.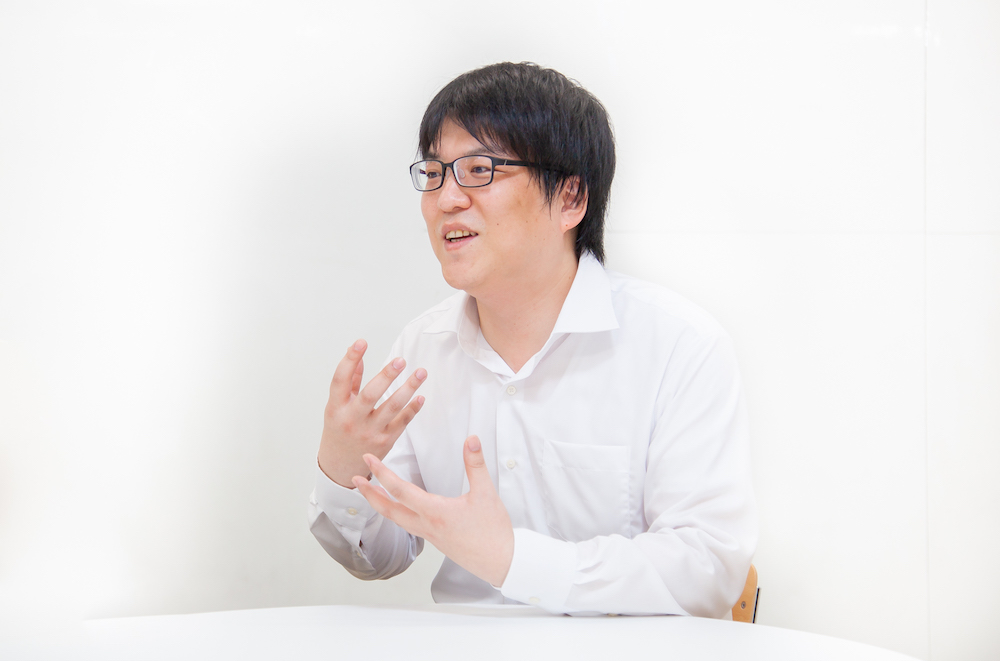 Ryoji Nogami, Solutions Center, Toshiba Digital Solutions Corporation
"The Product Team itself was divided into the Hardware and Software Teams, so the whole system was built fairly smoothly. It really felt like a creative process that developed as we combined each of our ideas together. Those working with the Toshiba communication AI service 'RECAIUS™' were trying out all kinds of sound and speech, and I personally found myself playing around with ideas I'd come up with, like visualizing the volume of the chewing noises with smaller or larger words, and having the other members tell me, 'Yeah, you should do that!'" said Nogami.
"We were able to create the concept and the technology at the Design Center and at the Technology Division, but we just didn't have the expertise regarding the theory and the principles behind the product. So when Ms. Tokeiji came in, the project really started to move forward. We were able to make the system more persuasive by backing it up with food education methodologies, and we were able to experience the power of co-creation and collaboration. I think this product is a result of the compatibility between Toshiba and Ms. Tokeiji's own unique methods, and the combination of our respective strengths," said Sawai.
This video was released on March 13, 2019.
Children generally do not like to sit still and keep eating
SXSW is an "ideas" exhibition where organizations are allowed to showcase concepts and products that are still incomplete. Because the projects and technologies are still at the conceptual stage, the team decided to determine the value of their specific idea through an open innovation process—one in which they'd put the idea out into the world, and see how it fared.
"We got a more positive response than we expected, and were really happy. A lot of people agreed with the message, and we received comments about what they would want if they were to use it," said Nogami.
The team was able to see that children refusing to eat certain things and playing with their food seemed to be an issue worldwide. Many of the visitors' questions, however, centered around whether the team had tested the product on children.
"I realized that the struggles of the parent generation are pretty much universal. This time, we weren't able to get opinions from people who had actually used it, so that's where we'll go next. Through this experience, we also realized the different ways this idea could be applied, like for meals for the elderly, or hospital meals for children," said Nogami.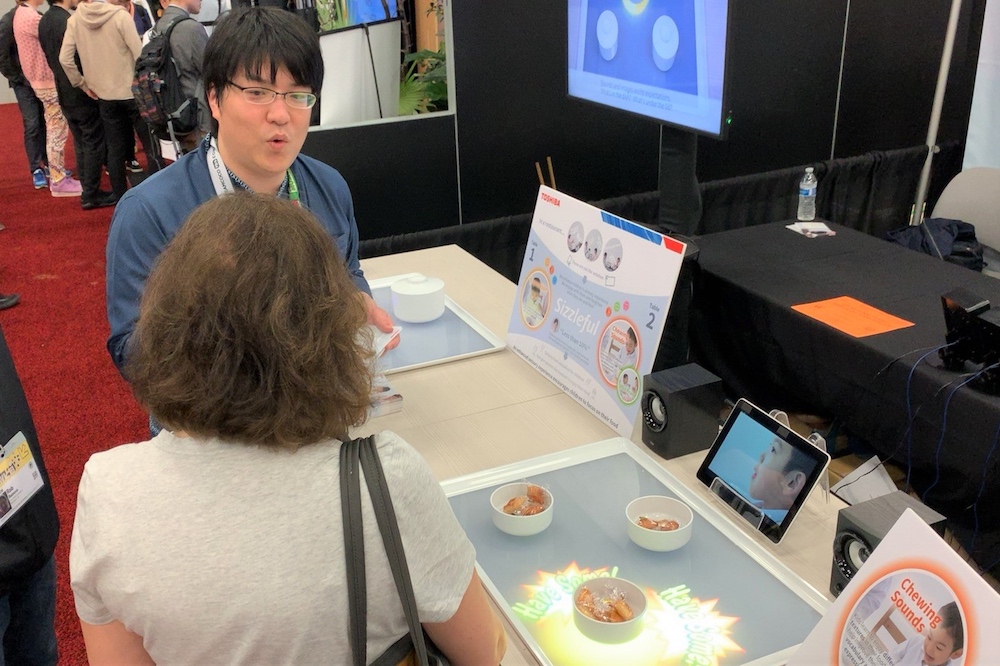 Nogami answering visitor questions at SXSW 2019
The next step in the process is turning this concept into a product. Based on what they heard at the SXSW, they are planning on bringing in users for testing, and incorporating users' opinions directly into the product. They are also discussing ways in which the concept could provide new value—for example, by refining the effects and visualization from the chewing sounds and sensing the amount or type of food the user has eaten, or even by connecting the product to a smartphone app. Toshiba is a company that is fueling the development of sensor technologies and cyber-physical systems. As such, another one of the team's goals is to get into food IoT that utilizes data acquired from child mealtimes.
"It'd be great in the future if we could work on expanding the 'food experience' in ways that utilize the data from child mealtimes. We want to utilize data gathered so that during mealtimes—which otherwise sort of just passes you by—is an actively enjoyable experience for everyone," said Sawai.
The technologies they are using may not be particularly special. Just like cooking, however, what's important is not only the ingredients, but how they're combined. This particular idea came out of questions like, "What technologies can we combine to solve this problem?" and "How will this impact society if implemented?" The more ideas that are created in this way, the more value we'll be able to create for the future. Toshiba's endeavors in Foodtech will only continue.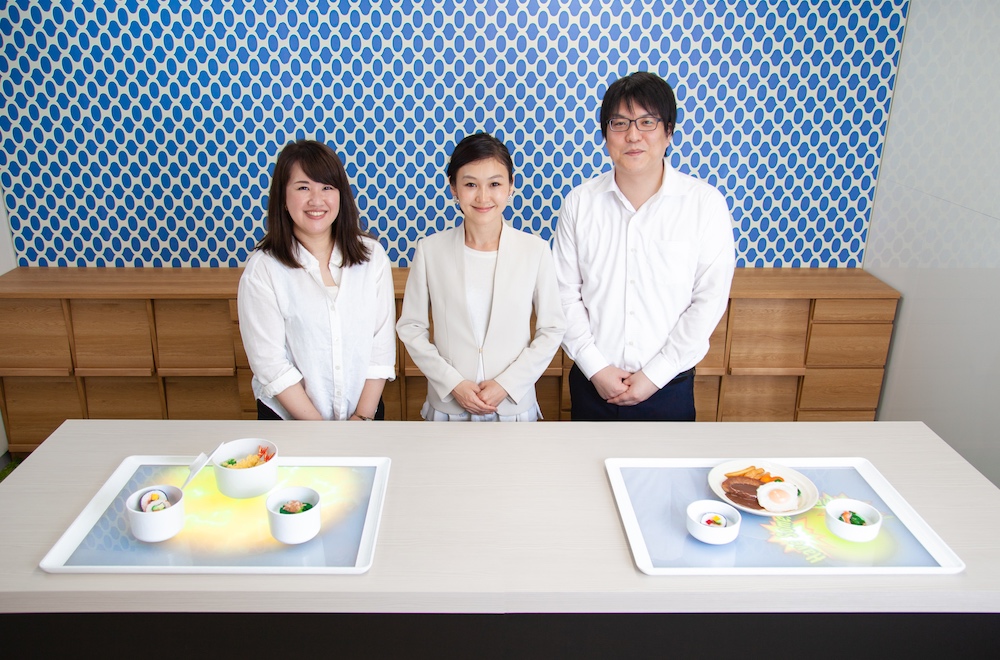 Related Links
*This section contains links to websites operated by companies and organizations other than Toshiba Corporation.
https://www.shinshokubigan.com/
Related Contents