90 Years of Turbines: The Heart of Power Generation
2019/02/13 Toshiba Clip Team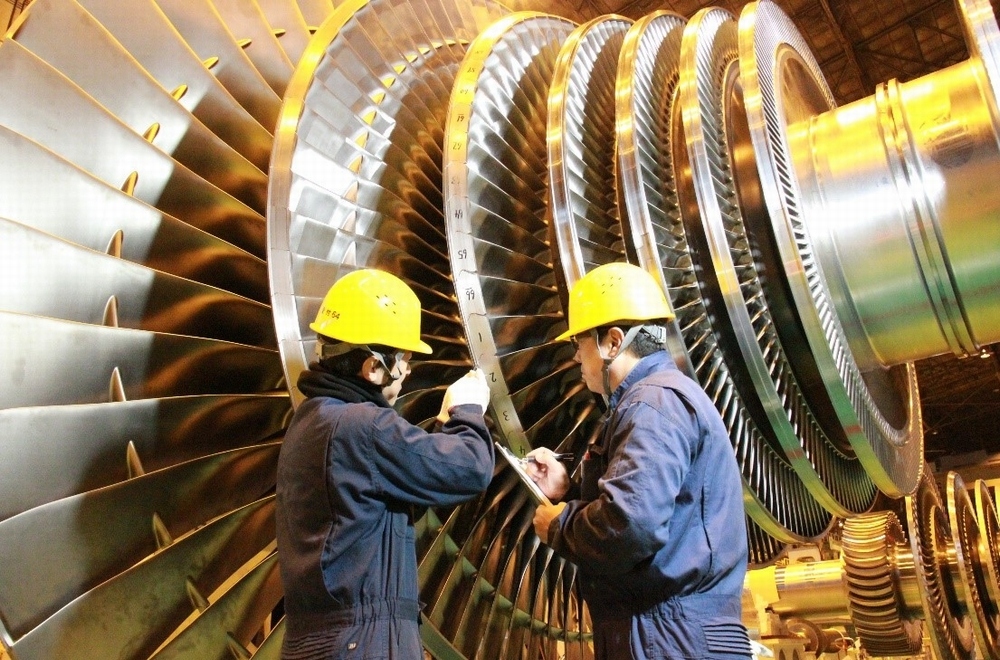 Electricity is an essential part of our daily lives, providing comfort and security for us all. While electricity can be produced in a number of ways, thermal power generation has consistently supplied stable and consistent power to the world for over 90 years. However, it is maybe the least understood form of energy production.
In Japan, demand for electricity increased rapidly with the development of the textile industry and electric railways. Around 1920, manufacturing began for fully developed power generation turbines. In the 1960s and 1970s, large-scale power plants were successively constructed to meet the exceptionally soaring power demand following the widespread adoption of color television services, the Japan World Exposition Osaka 1970, and inauguration of the New Tokyo International Airport, currently known as Narita International Airport. At that time, the readiness for larger-sized turbines was the key to turbine manufacturing technologies.
From its first 23-kilowatt turbine in 1927, Toshiba has been designing and manufacturing turbines for more than 90 years. In the 1950s, Toshiba began a technical partnership with General Electric Company and expanded our production facilities. Toshiba's Keihin Product Operations in Yokohama is a core facility and a symbol of Japan's smokestack industries. It has played a leading role in turbine manufacturing ever since.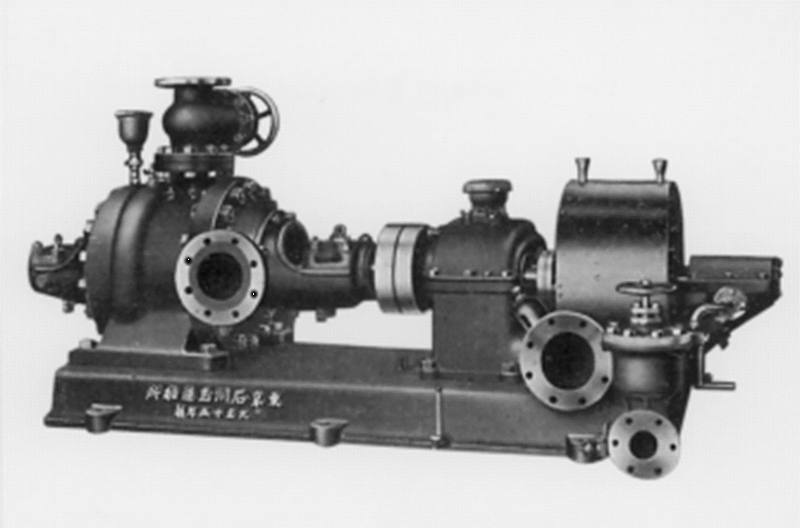 The first 23-kilowatt turbine, manufactured in 1927
At the heart of any thermal power generator is the turbine. This story begins with a focus on four turbine veterans at Toshiba's Keihin Product Operations, who unveil for us some of the secrets of turbines.
What are Turbines, and how do they work?
Essentially, a turbine is a device that transforms energy from steam and other fluid into rotational energy.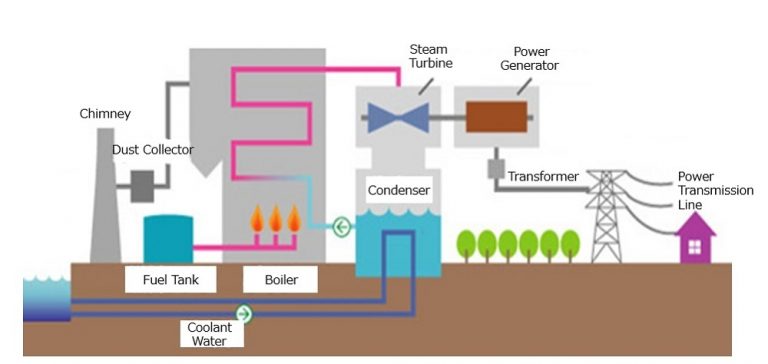 Structure of a thermal power plant
As can be seen in the diagram below, a turbine consists of a stator and a rotor. The stator serves as a stationary vane row that improves the flow of steam and the rotor is a dynamic vane row that receives the flow of high-temperature, high-pressure steam to rotate. While improving the steam flow, the stator supplies the high-temperature, high-pressure steam in the shaft direction to turn the rotor, which is how the driving force is gained for rotation. Toshiba's Keihin Product Operations is a facility that manufactures rotors.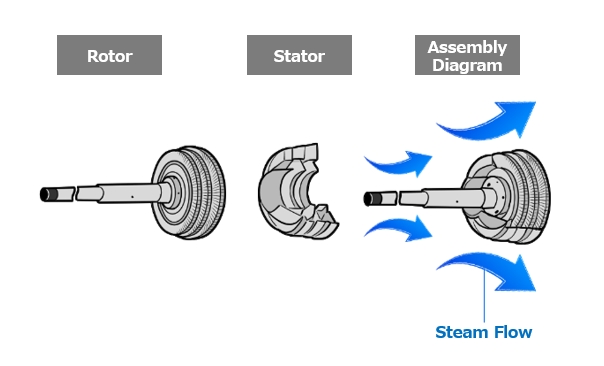 Anatomy of a turbine
Today, Toshiba achieved thermal efficiency of more than 62% in combined cycle power generation (*). This figure is one of the top global levels in thermal power generation efficiency. In 2017, the cumulative total capacity of turbines shipped from Toshiba's factories in Japan and in India reached 200,000MW.
*Combined Cycle Power Generation: A method of combining steam turbines with gas turbines in pursuit of high-efficiency power generation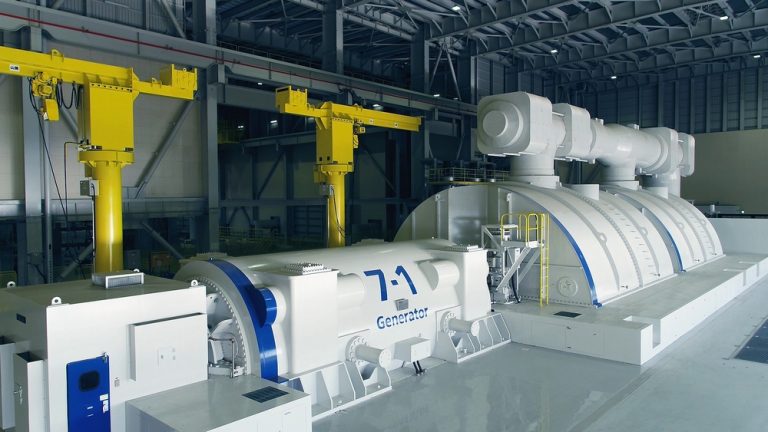 Combined cycle power generation at the Nishi-Nagoya Thermal Power Station of Chubu Electric Power Co., Inc. boasts one of the world's highest levels of thermal efficiency
Behind Toshiba's Manufacturing Scene: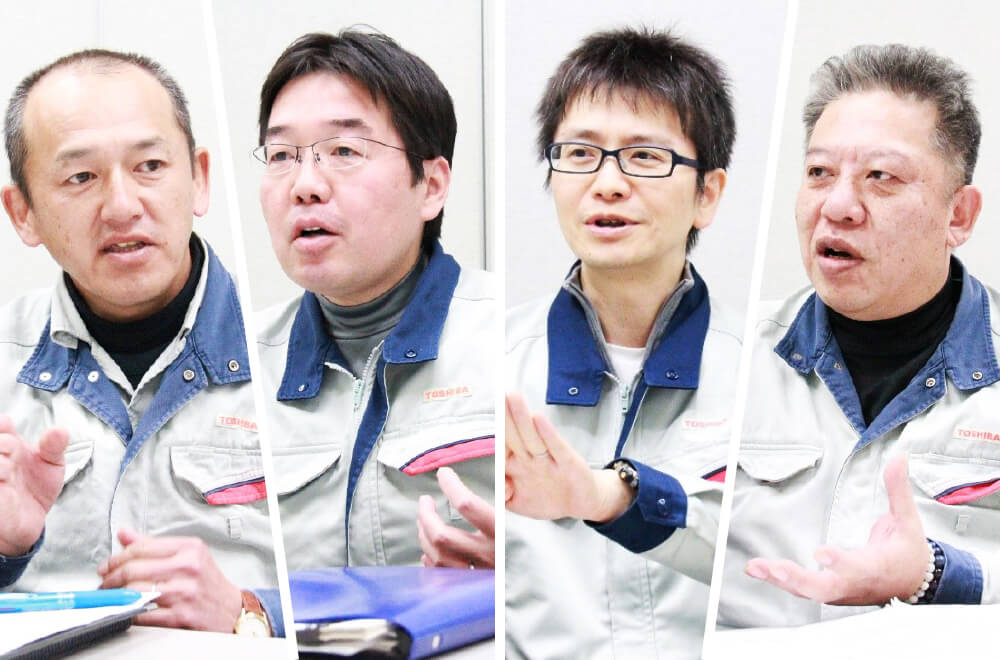 (From left) Yasuyuki Ichinose, Keihin Product Operations, Toshiba Energy Systems & Solutions Corporation
Katsuhito Kinai, Keihin Product Operations, Toshiba Energy Systems & Solutions Corporation
Atsushi Maeno, Keihin Product Operations, Toshiba Energy Systems & Solutions Corporation
Kanji Minami, Keihin Product Operations, Toshiba Energy Systems & Solutions Corporation
Katsuhito Kinai reminisced, "To respond to the growing demand of energy in the 1960s through 1970s the turbine production line at Keihin Product Operations was extended by 50 meters. At that time, domestic manufacturing equipment alone could not produce larger-sized turbines. We followed the cutting-edge technologies of the time owned by overseas manufacturers in a bid to reach global standards."
In the 1980s and 1990s, the trend of larger-sized turbines came to an end. From about that time to the present, increasing the efficiency of turbines has become the driving force.
This challenge requires advanced engineering and craftsmanship. Steam turbines must ensure high-speed rotation of the rotor while the high-temperature, high-pressure steam is retained inside.
"While designing the rotor, the difference between the upper and lower limits of tolerable range was only 0.05 mm. The smaller the leakage from the rotating rotor or the loss of thermal energy, the higher the generation efficiency. However, the rotor would not be able to revolve if there was no gap at all, which is why the perfect dimensions are required," explained Maeno.
"Toshiba's rotor gains high reputation for its stable operation without vibration" says Minami. But in order to realize this, we had to overcome tremendous difficulties."
The secret to turbine manufacturing: How to revolve a 150t object, 3,600 times per minute
The rotor has a diameter of 2 to 4 meters, a length of 6 to 10 meters and a weight of 3 to 150 tons. This huge chunk of iron revolves as many as 3,600 times per minute when generating electricity. In the factory, rotors undergo an inspection with the number of revolutions per minute raised to the impressive level of 4,320. No rotor is shipped unless it passes this test," said Minami.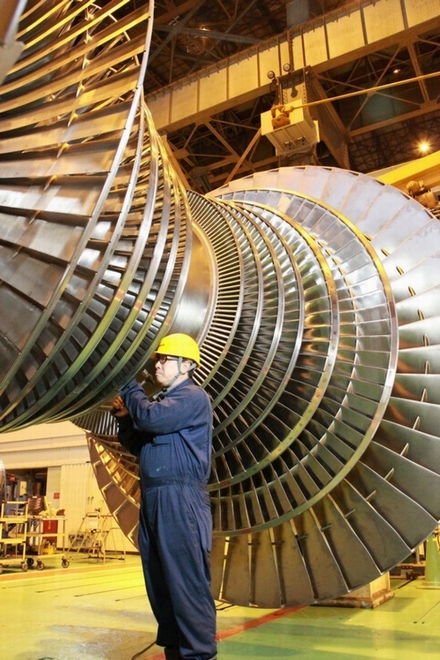 Fine tuning is essential to rotate the huge turbine
What is astonishing is not confined to the scale of the large structure revolving at a high speed. During the assembly process of the rotor, which weights up to 150 tons, its balance is adjusted in steps of 1 gram. No deviation larger than 0.01 mm from the standard gap is allowed in the assembly process.
Of course, the detailed structure of the turbine is not only produced by human labor. Programmed numerical control (NC) machining (*) is increasingly used.
*Numerical Control (NC) Machining: A method of numerically controlled turning using machinery
"Standardization will lead to growing needs for NC machining. However, each general-purpose machine (*) has its own small traits. For straight machining, manual fine tuning is required for general-purpose machines. While tolerable deviation in turbine machining is within 0.05 mm, we aim to confine it to 0.005 mm or less. No worker can fully perform without at least five years' practical experience. The world of craftsmanship remains here," said Ichinose.
*General-Purpose Machine: A machine without NC features that performs tuning based on measurement
Nowadays, high-mix, small-volume production is required and the lead time between development and manufacturing is becoming increasingly short. Accordingly, productivity throughout the whole process, from design to processing and assembly, needs to be improved. A combination of NC machining with professional skills is needed for attempts for higher efficiency in micrometric manufacturing.
Kinai said, "Up to today, we have shipped turbines globally with a cumulative generating capacity of 200,000 megawatts. This result is the accumulation of experience, technology and hard work for over 90 years."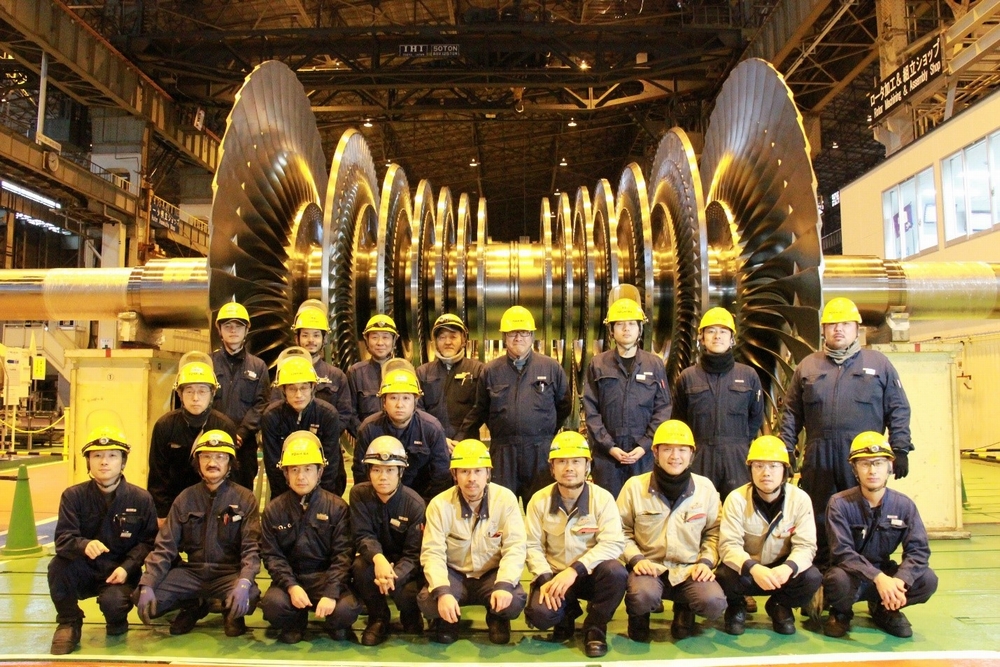 Skilled elites manufacturing turbines at Keihin Product Operations of
Toshiba Energy Systems & Solutions Corporation
Related Contents