The Strategic Map of "Toshiba of Technology"
―Accumulated R&D Will Not Let us Down
2022/02/18 Toshiba Clip Team
Toshiba Group directs high tech capabilities to social issues
An R&D ecosystem that promotes development beyond the company
Researchers and engineers with a venture spirit that will create the future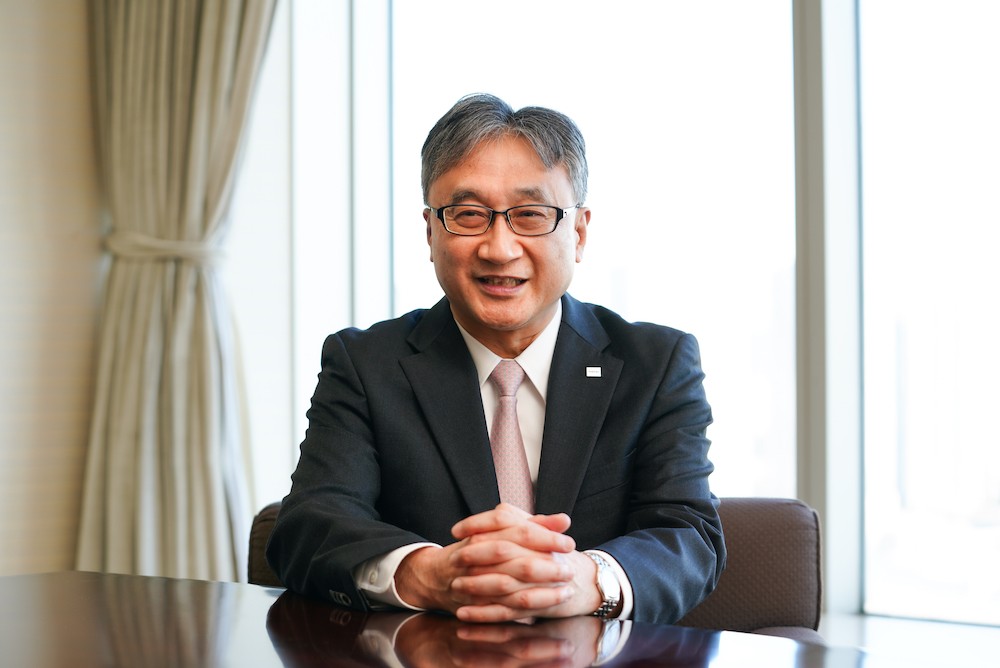 Numerous social issues confront us, including natural disasters amplified by climate change, and how to manage the new normal of COVID-19. Japan must also contend with the problem of a fast shrinking working population. For almost 150 years, primarily in the areas of energy and infrastructure, Toshiba has worked to find solutions for the times while envisioning the future yet to come. What strategic map does the company have for bringing together recent technological advances? To find out, we spoke to Hideaki Ishii, Toshiba's Chief Technology Officer (CTO), who explained how the fruits of strong fundamental technologies and the latest advanced technologies support Toshiba in shaping a unique technology strategy.
Channeling comprehensive technological capabilities into solutions to social issues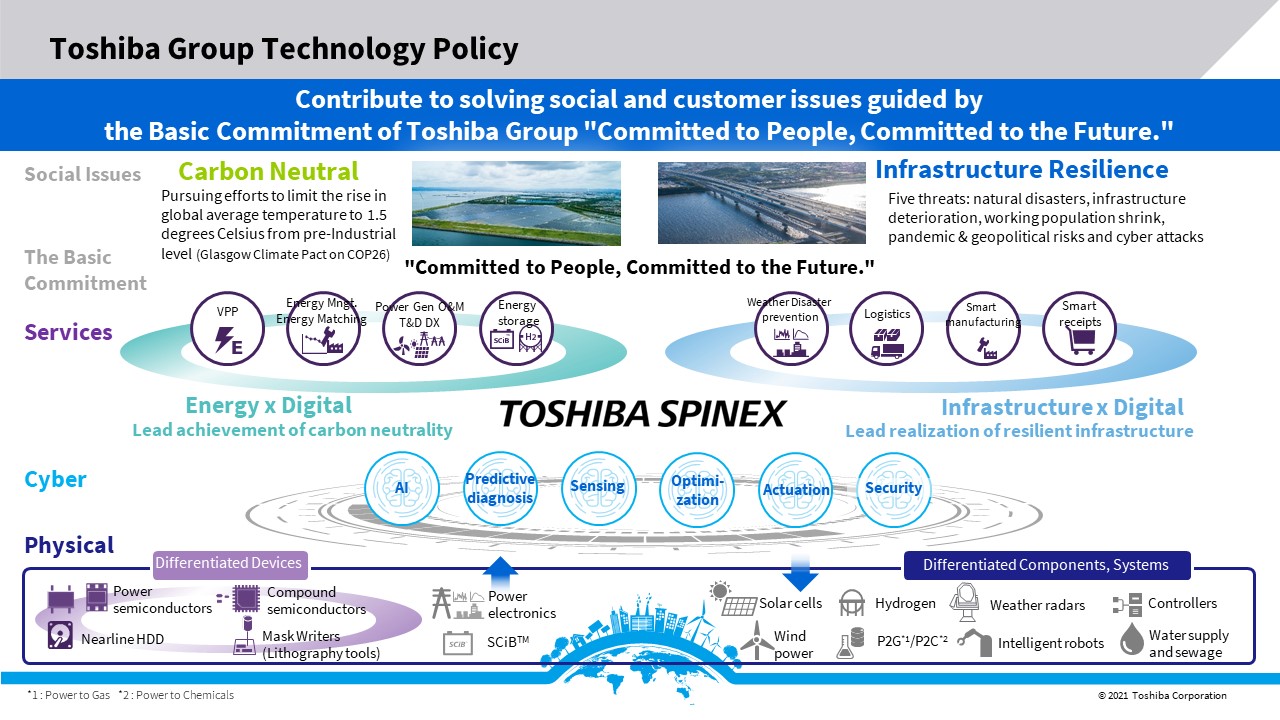 Technology strategy tied to the basic commitment of the Toshiba group
"Our world faces many social issues that we must overcome," says Ishii. "At Toshiba, we have identified and focused on carbon neutrality and infrastructure resilience as pressing issues. We are making full use of our cutting-edge research results and digital technologies to advance value creation in the energy and infrastructure sectors."
There can be little doubt about the urgency of many of issues that confront us. The Glasgow Climate Pact agreed at COP26 included the goal of keeping the rise in global average temperatures to within 1.5℃ against the pre-industrial levels. If we are to achieve that, we must advance decarbonization to achieve carbon neutrality at the global scale. We must also deal with natural disasters intensified by climate change, and aging social infrastructure, while Japan must also overcome a declining working population, and cannot ignore the need for resilient social infrastructure.
In providing energy-related technologies, products and services designed to take on the challenge of a carbon neutrality in Japan, Toshiba separates the business flow into four phases: generate, transfer, store, and use smartly. In the same way, the infrastructure business is responding to looming threats by organizing technologies and products under a resilience life cycle of prepare, find, protect, and maintain.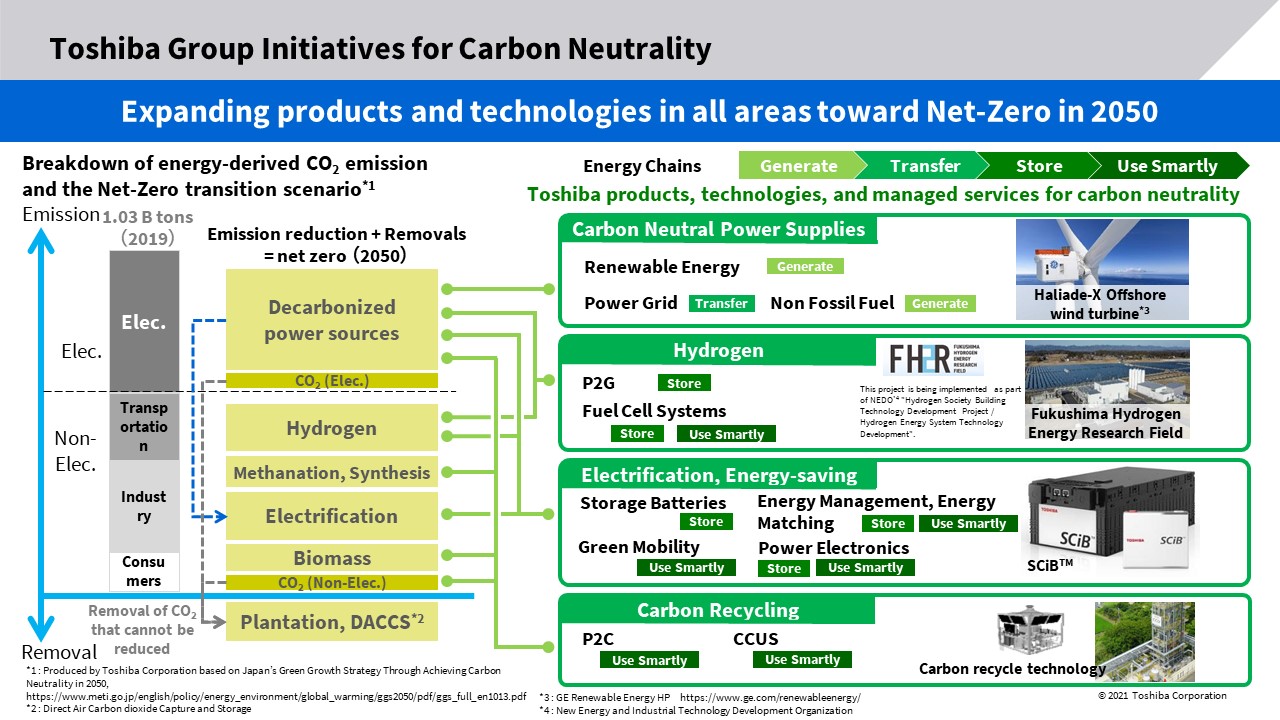 Providing technologies, products and services that contribute to carbon neutrality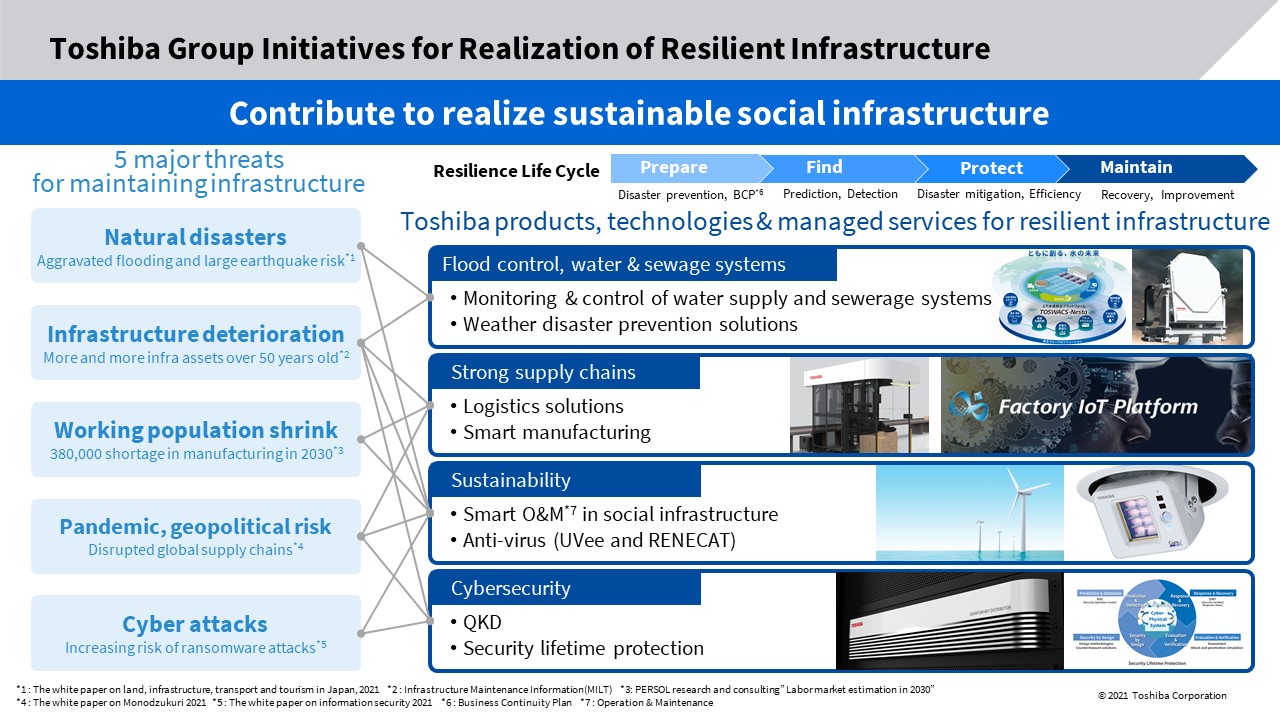 Providing technologies, products, and managed services that secure resilient social infrastructure
"There are not many companies in the world with capabilities that extend from 'generate' to 'use smartly', and from 'prepare' to 'maintain', and I am proud that we are one of them," says Ishii. "Toshiba Group researchers and engineers working in R&D are keenly aware of the social implementation of their work, and of how society can make use of their technology. As CTO, I am responsible for our worldwide research operations, in Japan and overseas, and I am also in constant discussions with each of our businesses, all engaged in fierce competition, toward drawing up the strategic map of the R&D that Toshiba needs to focus on as we move forward."
Achieving carbon neutrality and supporting resilient social infrastructure cannot be done without fundamental digital technologies. This is an area where Toshiba has long cultivated capabilities in AI*1, work that has realized powerful tools with an immense range of application. Advances to date include predictive systems that realize stable supply of renewable energy, and that streamline equipment monitoring and maintenance by recognizing operational anomalies; feedback from analysis of data generated on-site that secures stable power supply and more reliable social infrastructure; and operational enhancements to robots and cameras and other edge equipment.
*1 WIPO Technology Trends 2019, published by the World Intellectual Property Organization, found that Toshiba is #3 in the world in AI patent applications, covering various infrastructure, semiconductor manufacturing, etc., dating back to the world's first postal sorting machine (1967).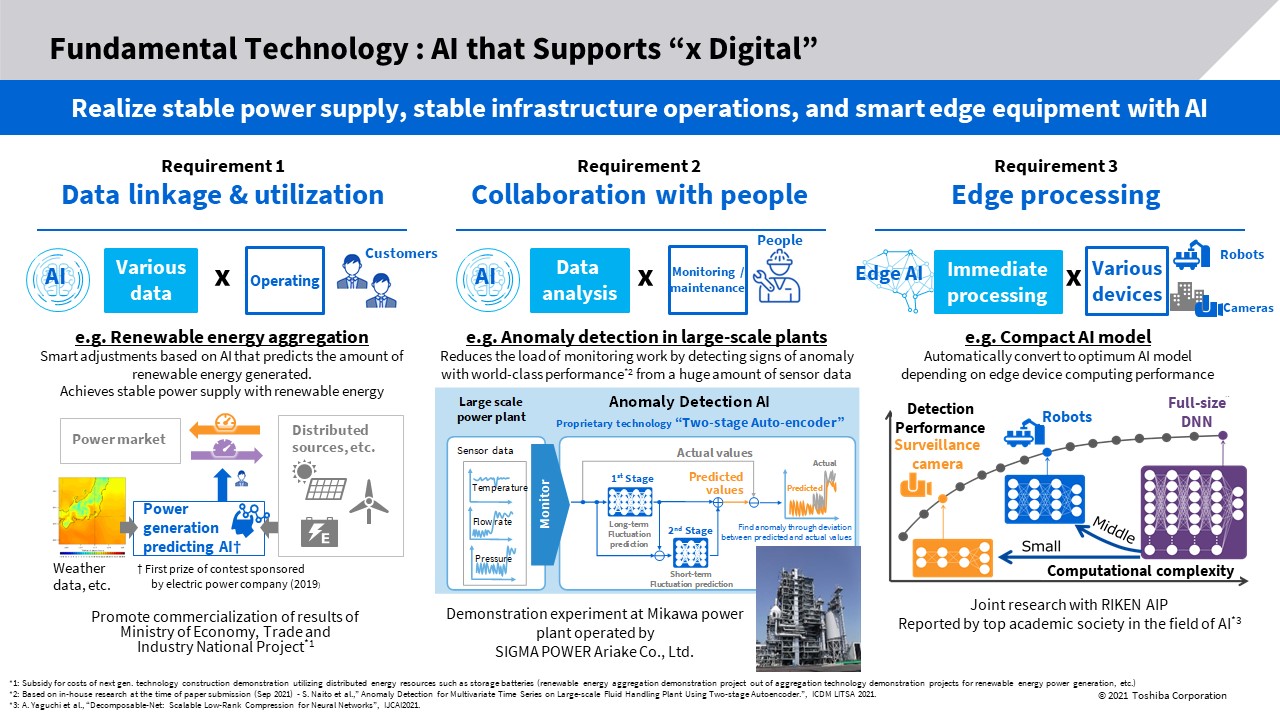 AI is the foundation for carbon neutrality and more resilient infrastructure
Any effort to make social infrastructure more resilient must cover a lot of ground, and consider aging infrastructure stock, natural disasters, a declining working population, pandemic and geopolitical risk, and the ability to withstand cyber-attacks. According to Ishii, the issue is how to promote R&D efficiently.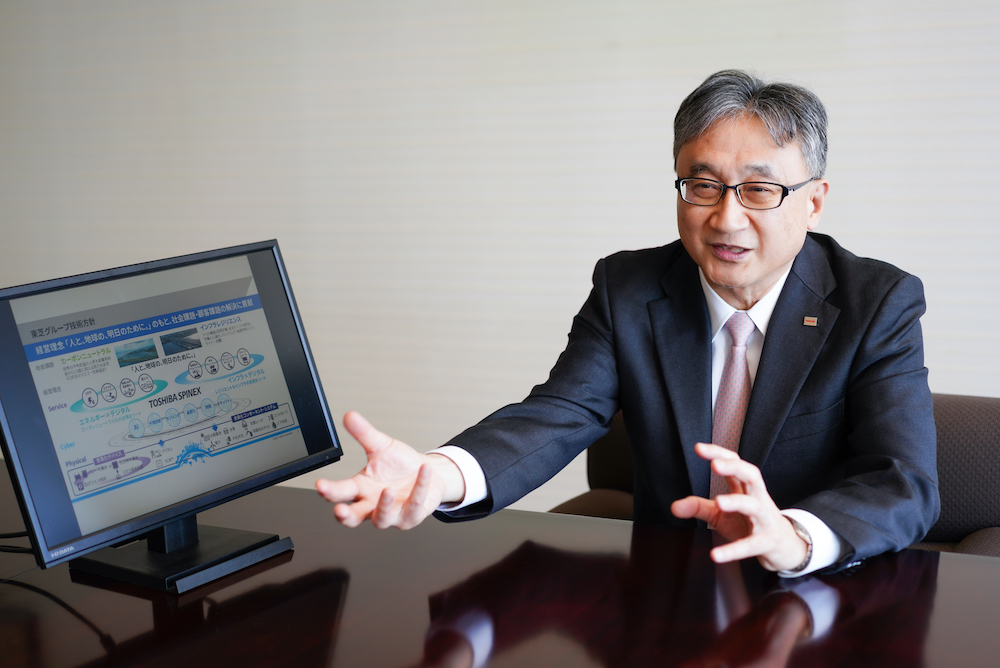 Hideaki Ishii, Toshiba's CTO
"We have a lot of experience in infrastructure," explains Ishii. "It's a sector where we have accumulated technologies and know-how that supports standardization, and by realizing joint ownership across different business areas we can eliminate the need to repeatedly start development work from scratch. For a specific example, we can look at device status monitoring and visualization, where we have technologies for system security and many other functions. What we have done is break them down and standardize each function, and develop them as microservices for on-site deployment. Doing this, and combining it with our know-how in each functional area, creates a virtuous cycle where original functions are upgraded."
Ishii then turns his attention to carbon neutrality, and the need to utilize data to the full to create value. He explains that the former can only be achieved by improving power efficiency, and that realizing the latter requires the digitization of social and information infrastructure. This is where semiconductors and storage have an important role to play, and he says he is determined to strengthen these businesses by "leading the evolution of social and information infrastructure."
"Power semiconductors are at the heart of the solution to some of our global issues, as essential devices for power conversion in electric vehicles, railways, and power transmission and transformation. Toshiba currently ranks third in the world, and we will continue to expand business scale and market share to support advances in social and information infrastructure. The challenges here are to further advance our technology and expand our production base.
"In the storage business, we see constant capacity increases in the hard disk drives (HDDs) we rely on for data storage. Today's market centers on data centers, and it is expected to grow significantly, and there can be little doubt that HDDs will continue to have a leading role. We are pioneering assisted recording technology that achieves very high recording densities, and we will continue to bring large capacity nearline HDD to the market."
Measures are already well underway to boost production of power semiconductors. Kaga Toshiba Electronics is readying the launch of Japan's first mass production line of 300mm wafers for power semiconductors, to better meet vigorous demand for power MOSFETs*2 and IGBTs*3. Naturally, the larger wafers will yield more semiconductors and improve manufacturing efficiency, and the deployment of AI alongside the latest process technology will contribute to improved performance and quality. Latest reports confirm that work on the line is making fast progress, and operations are scheduled to start in first half of fiscal 23.
*2 A type of transistor suited to low power, high-speed operation.
*3 A transistor that achieves low saturation voltage and relatively fast switching characteristics.
A key technology for increasing the capacity of HDDs is microwave assisted magnetic recording technology (MAMR), which uses microwave energy to increase recording density. In February 2021, we brought to market the industry's first drives with magnetic flux control MAMR, a technology originated by Toshiba. Now we are working to develop a magnetic resonance MAMR method that will further improve recording density.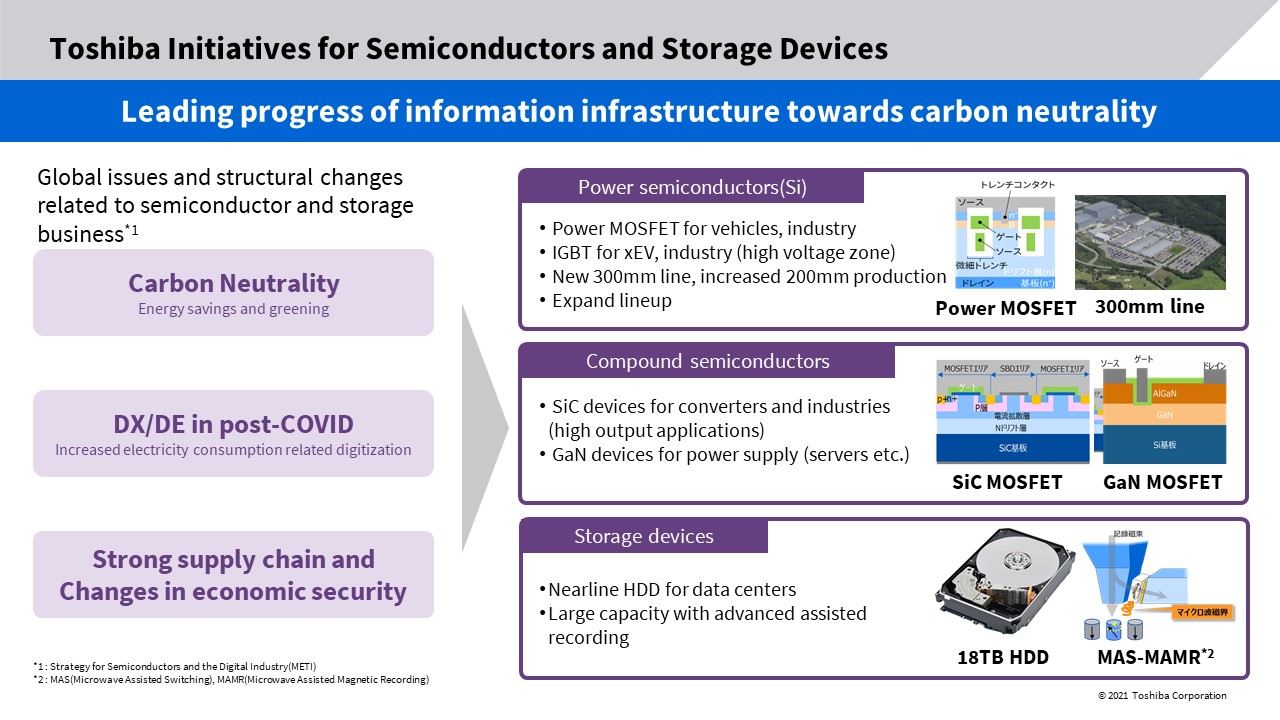 Helping to solve global issues by focusing on semiconductor and storage development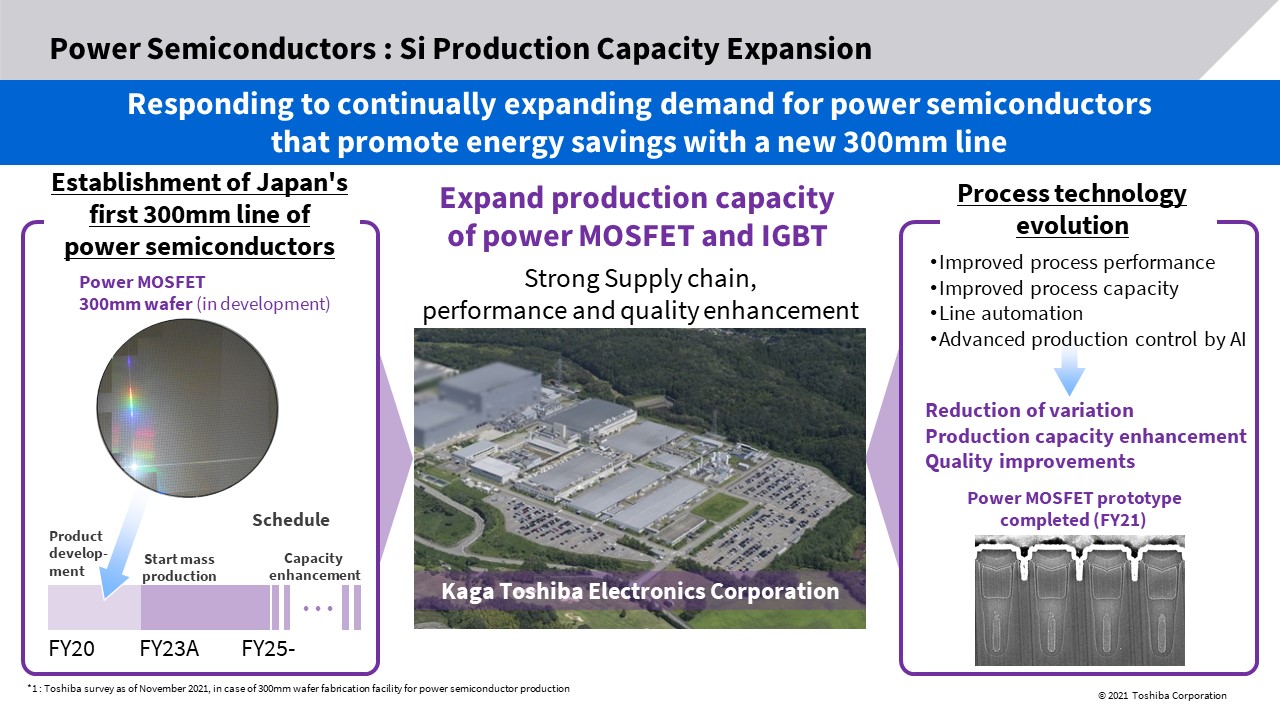 Boosting power semiconductor production with construction of Japan's first 300mm line
Strengthen development power through an R&D ecosystem that extends to third parties
Throughout its history, Toshiba's technology and knowledge base have supported value creation that fits the times. These continuously accumulated technologies form strata that today support the energy, infrastructure and devices businesses. As CTO, responsible for oversight for all of Toshiba's research organizations, Ishii has brought a global perspective to his work, seeking to facilitate cooperation and communication between organizations, and to allow the group to demonstrate its technological and development capabilities to the full.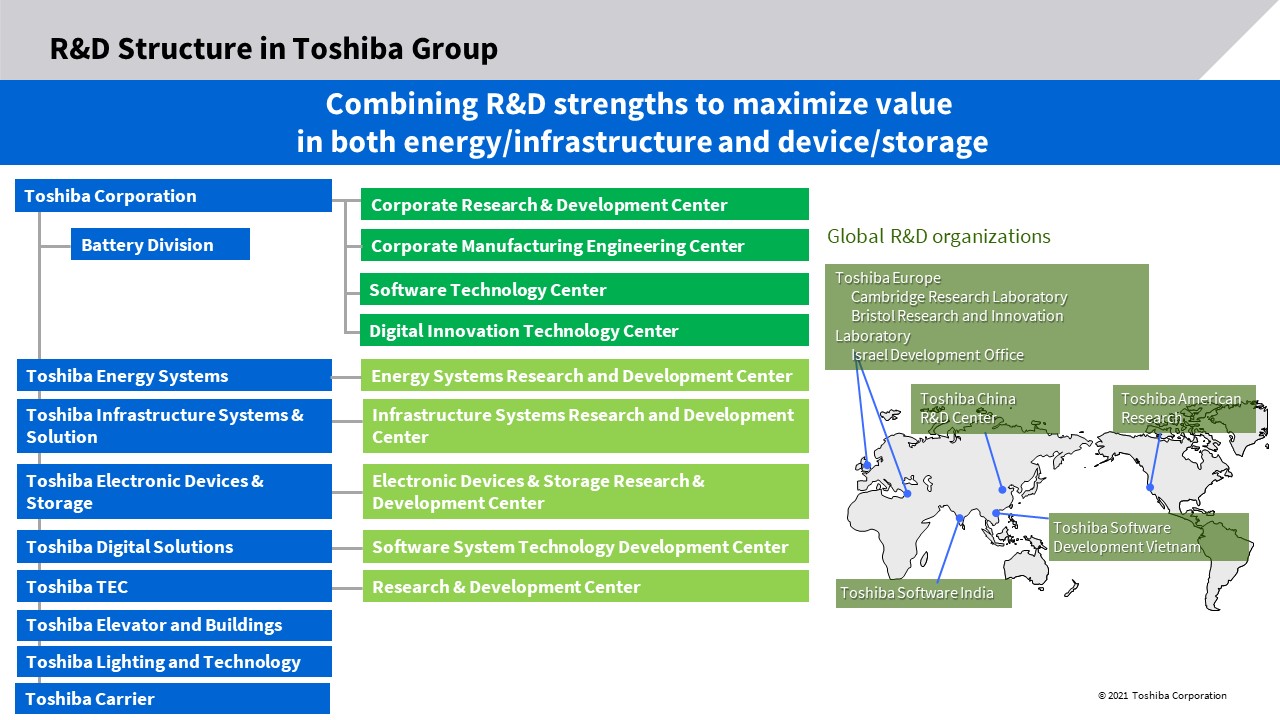 A global R&D system, built with the cooperation of key group companies
Toshiba operates a Corporate Research & Development Center and other labs that make up its corporate labs, shown in dark green in the chart above. Key group companies all have an R&D division, like the Energy Systems Research and Development Center, shown in lighter green. The labs all work closely together to promote multi-faceted research work.
"Company R&D divisions are directly connected to a business, and promote research that will be implemented in society in two to three years or so. The corporate labs do fundamental research in areas such as AI, and their R&D has a much longer time horizon. I used to work in design in a business division, and I saw how plans for new products emerge from close communications with labs at both levels. That brought home to me the importance of an R&D system that advances development by bringing together different perspectives, in a good way. It really allows researchers and engineers to put their heads together and share ideas and opinions, including people involved in manufacturing on factory lines. This is where Toshiba's venture spirit makes itself felt, and puts us on the path to results."
"The thing about Toshiba is that, whenever the business portfolio changes, whenever the shape of the company changes, we have in place an R&D system that pushes our competitiveness in our focus areas. Right now, I'm concentrating on global collaboration. For example, in the UK, our Cambridge Research Lab. has a strong presence in quantum cryptography, allowing us to accelerate development work in that area. Researchers at different sites interact with each other, and this encourages an awareness that continued studies lead to technology advances. All this has convinced me that Toshiba has a unique organization that ultimately produces results."
An important part of this is that everyone is free to share ideas, with no concern for rank—free and open R&D makes progress with technology as the common language. Like many other people who work to support Toshiba's technology, Ishii wants to build on the achievements of his predecessors, which means no compromises when it comes to technology, advancing through free and thorough discussion, and not being over-concerned with self-sufficiency. To illustrate this last idea, and the importance of an ecosystem that extends beyond Toshiba Group, Ishii turns to carbon neutrality.
He explains that Power to Chemicals (P2C) is a promising technology that converts carbon dioxide into carbon monoxide, which can be recycled as a raw material for fuels and chemicals. It is an area where Toshiba has strong technology, and aims to build an ecosystem for sustainable aviation fuel (SAF), working with other companies on a supply chain that delivers services extending from manufacture to use in flight. He is sure that if it can clearly state the value that can be delivered, and to whom, Toshiba will realize strong cooperation with influential outside partners.
"We aim to advance carbon neutrality by incorporating technologies from outside Toshiba, by making use of the functional capabilities of other companies, and filling in necessary pieces in the energy chain. Toshiba can do this because we have technologies that give us a strong hand in energy."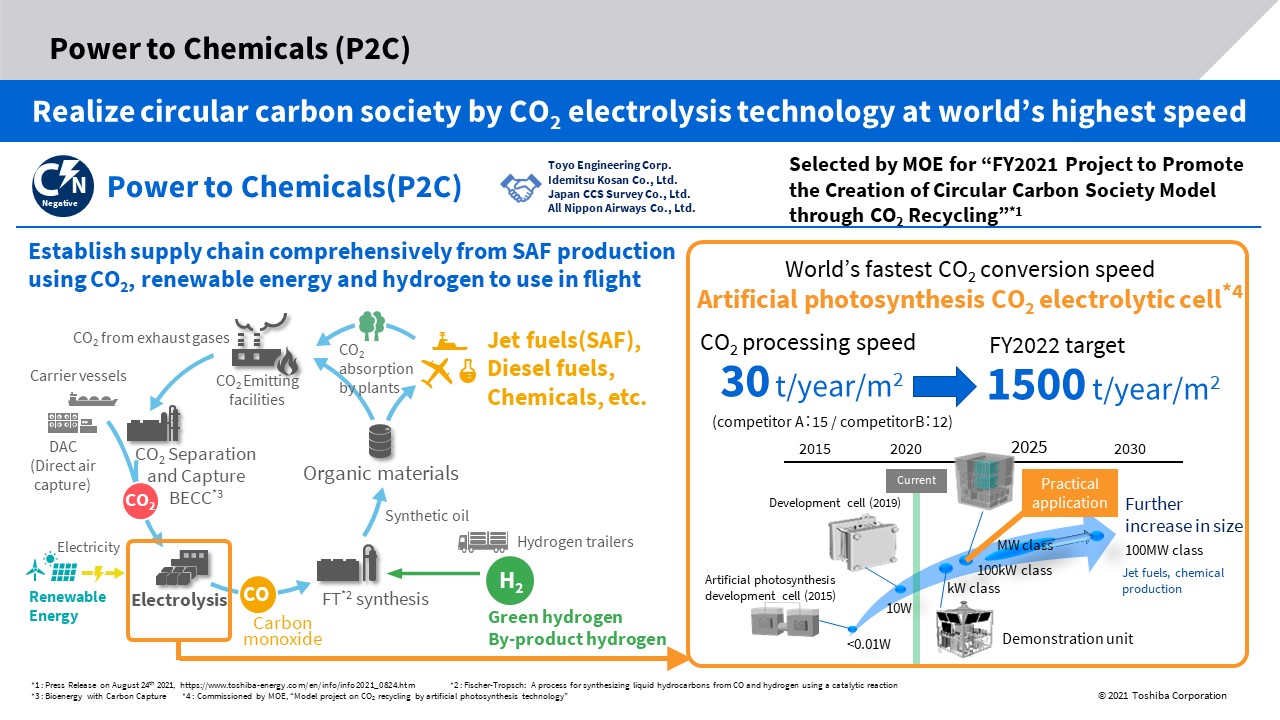 Draw up an ecosystem for carbon neutrality, build the technology and framework for its realization
A constant and unchanging venture spirit that inspires engineers
Toshiba recognizes working to solve social issues as one of its missions, and proactively invests in R&D. In fiscal year 2022, the group's R&D budget will be equivalent to 5.5% of sales, at 180 billion yen, and will be further increased in the future. Ishii welcomes this commitment, and strongly believes that "technology is the source of Toshiba."
"We look at social issues like carbon neutrality and resilient infrastructure and ask how Toshiba's technology can contribute to solutions," Ishii says. "In answering this, we go back to Toshiba's basic commitment, and purpose, and from that we decided to further reinforce our R&D budget. We also want to motivate our employees to take on the problems faced by society and our customers. The number represents our commitment as a management team.
"Toshiba has plans to form new companies that will focus on the energy and infrastructure businesses and devices and storage businesses, respectively, but the work done by researchers and engineers will basically be the same. Clearer domain specialization will allow changes that make it easier to channel our energy into individual areas. What we need to continue is co-creation, both within the group and outside it, as this is one of our characteristic strengths.
Once the new companies are established, we will continue to cooperate. Through (an) agreement, organization building and the environment, we will continue collaboration. In power electronics, in realizing synergies between systems and devices, and in areas that require business cooperation, as well as in the development of shared fundamental technologies, such as AI, IoT, security, materials, production, and software. I will make every effort to promote this."
Toshiba will continue to refine its accumulated expertise, and work to solve problems facing society and its customers. The venture spirit that its engineers have inherited since Toshiba's beginnings still provide its foundations. As CTO, Ishii hopes that more researchers and engineers, in Toshiba and its collaborators, will share these aspirations and apply technology to the solutions to global issues.
"Something I value highly is seeing researchers and engineers demonstrate their venture spirit, and I am determined to protect and improve a culture that lets them be their very best. Toshiba has constantly evolved as an organization by changing its form to suit the time and the societal environment. We will continue to provide high value-added products and services that solve social problems, and while methods and approaches may change, our determination will remain firm. As CTO, I respect current colleagues, and those who join us in the future, who share and sympathize with these sentiments. Working with our customers, through innovation, co-creation, and through synergies that support the emergence of new ideas and technologies, we can and will create a better future together.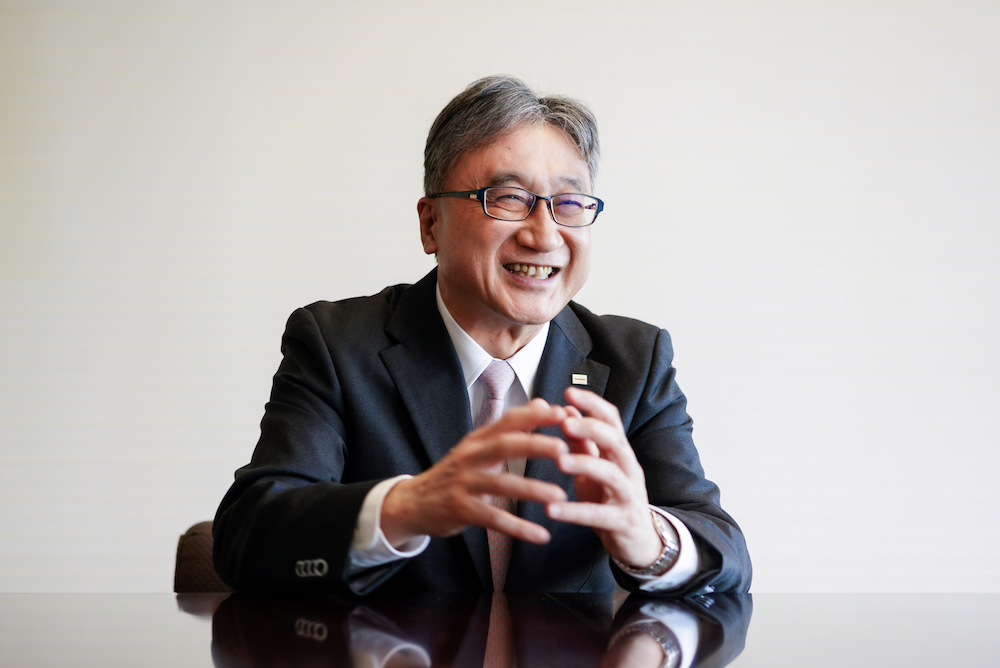 Note: This article is English translation of Japanese article posted on Toshiba Clip Japanese website on 11th January, 2022.
Related Contents