What's Happening on the Front Lines of Weather Radar Technology
2019/10/30 Toshiba Clip Team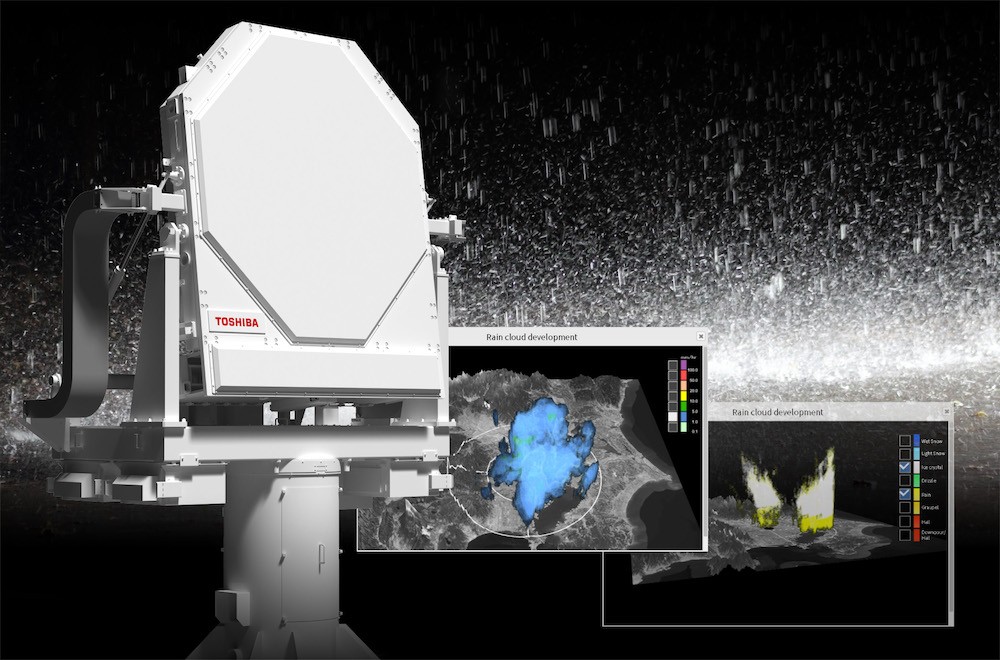 Summers in Japan have always been hot, but recently it feels like the dial has broken, the temperature rises and rises every year. And it's not just the heat. There's also what are called "guerrilla rainstorms," which come on suddenly and force citygoers to duck into nearby buildings. These sudden attacks of rain, a form of extreme weather, are a common sight in recent years, but they can actually be very dangerous, capable of causing serious accidents that put human lives in danger. These rains are very difficult to forecast, and the risk they impart very difficult to avoid, even if you keep constant watch over the weather report. More and more, we're realizing that we need new disaster risk reduction methods to combat these risks.
This is where SIP(*1) comes in, and their program for the "Enhancement of Societal Resiliency against Natural Disasters." Here at Toshiba, we participated in this program as a member of the research group, and played the important role in developing the world's first(*2) practical-use Multi-Parameter Phased Array Weather Radar (MP-PAWR). Simply put, this radar is expected to help us reduce the risk of disaster in the case of guerrilla rainstorms.
It does so by combining the strengths of the conventional type multi-parameter and the conventional type phased array weather radars, and more swiftly and accurately recognizing signs of guerrilla rainstorms and other weather patterns before they occur. The question remains, however—how will this new-and-improved weather radar help everyday people in our everyday lives? We asked specialists at Toshiba this and other questions, including the features of the radar and its development background and goals.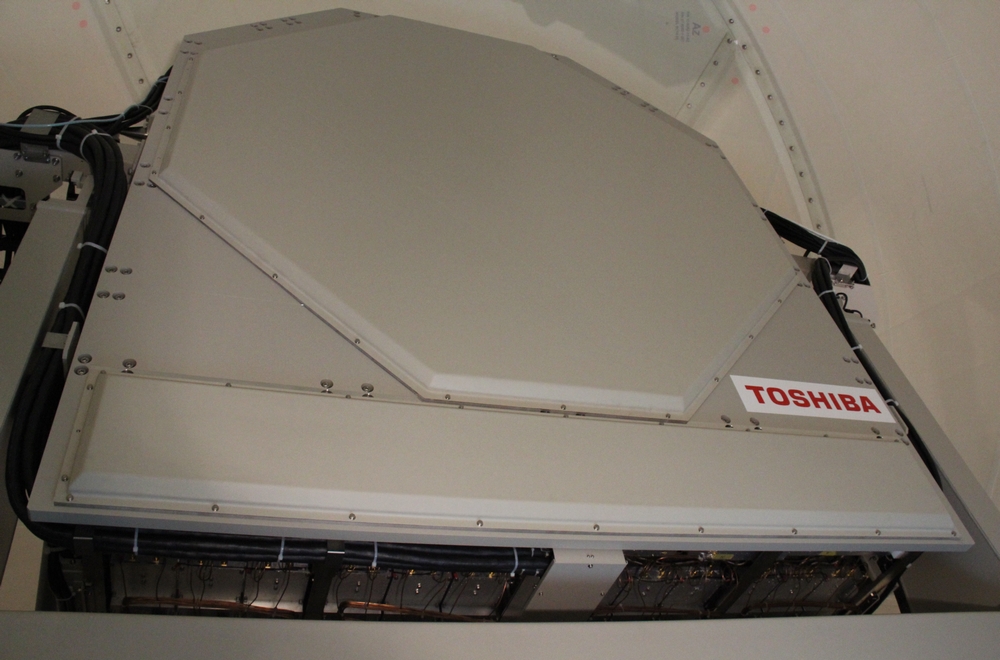 Multi-Parameter Phased Array Weather Radar installed on the grounds of Saitama University
*1: SIP
Cross-Ministerial Strategic Innovation Promotion Program. A program established by the Cabinet Office and the Council for Science, Technology and Innovation (CSTI) of the Japanese Government in 2014, in order to drive innovation in the fields of science and technology.
*2: world's first
World's first weather-specific phased array radar that is dual polarized (capable of transmitting and receiving horizontally and vertically polarized waves simultaneously), and equipped with real-time processing of DBF (digital beam forming) technology that can observe ten directions at once.
Before we get into the new-and-improved weather radars, we should describe the ones that have been used thus far—the multi-parameter and phased array weather radars.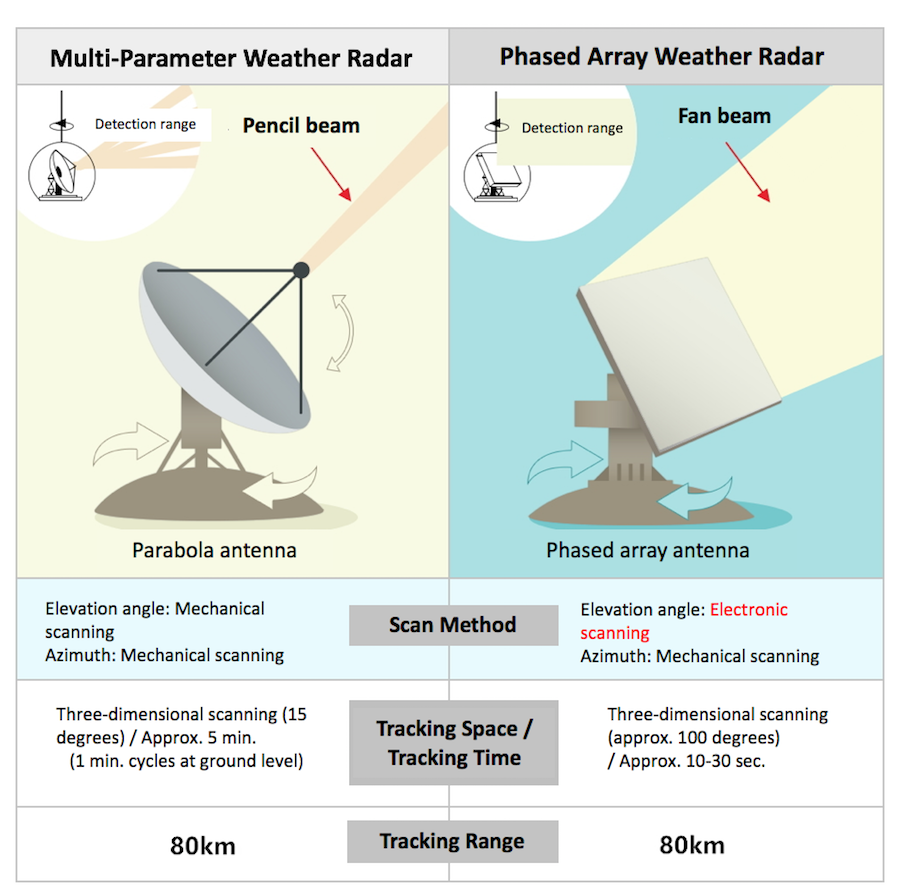 Comparison of features between multi-parameter weather radars and phased array weather radars
Multi-parameter weather radars (MP radars) are dual polarized, meaning they can transmit and receive horizontally and vertically polarized waves simultaneously. This allows them to track precipitation down to the size of the raindrops, and allows them to make accurate observations as to rainfall amounts. It has its drawbacks, however. Its dish-shaped parabola antenna means it can only transmit and receive electromagnetic waves from the direction the antenna is facing. To observe rainfall amounts, you would have to shift the angle of the antenna upward, and have it emit pencil beams while rotating the whole antenna approximately 20 times, level to the ground. This means it can take 1-5 minutes to observe rainfall distribution near the ground level, and more than 5 minutes to observe precipitation on a three-dimensional plane.
Phased array weather radars (PAWR), on the other hand, are flat antennas with a multitude of small antennas placed on the surface, as in the eye of a dragonfly. They also allow you to control the timing at which the waves (fan beams) are emitted. Its structure allows you to change the direction of the waves instantly, without needing to move the antenna itself up and down. It can also track data in all directions, instantly, since the signals that it receives are digitized and combined with multiple other signals. This kind of radar allows you to transmit and receive waves (from the ground to the sky level) almost instantaneously, and observe the spatial distribution of rainclouds with a single rotation of the antenna, level to the ground. This makes these radars very useful in the early detection of guerrilla rainstorms and other weather patterns.
80 km in a minute: A single radar, working to defend a city
"The Multi-Parameter Phased Array Weather Radar combines the strengths of these two types of radars. Rotate the antenna once, and if it's a space that's less than approximately 15 km from ground level, and within a radius of 60 km, it takes only 30 seconds to track rainclouds—a minute if the radius is within 80 km. It also makes use of the high-accuracy precipitation tracking of multi-parameter weather radars, and is much more accurate in terms of measuring precipitation amount. These features will most likely allow this radar to catch signs of guerrilla rainstorms and their rainfall amounts with a higher accuracy than the conventional type phased array weather radars."
Video of three-dimensional observation with the Multi-Parameter Phased Array Weather Radar
(Actual observation data from July 11-12, 2018)
*This video was made public on August 1, 2018.
So says Fumihiko Mizutani of Toshiba Infrastructure Systems & Solutions Corporation, who was in charge of development for this radar.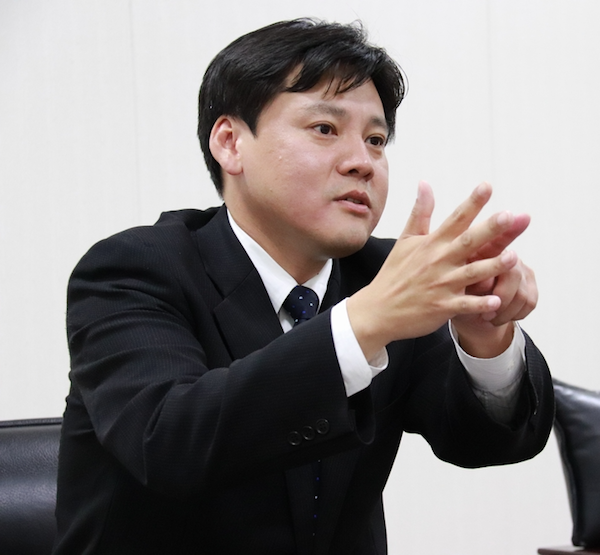 Fumihiko Mizutani, Radio Application Systems Engineering Department, Toshiba Infrastructure Systems & Solutions
This new type of radar thus allows for three-dimensional tracking of rainclouds in 30 seconds—a speed equivalent to that of conventional type phased array weather readers —while also observing precipitation amounts with as high an accuracy as multi-parameter weather radars, using what's called a dual-polarized patch antenna. Combining these two features, however, was not an easy task.
"With the conventional type phased array weather radars, we found it difficult to obtain an accurate observation of precipitation amounts. But with the Multi-Parameter Phased Array Weather Radar, we're now able to observe rainfall amounts at the same level of accuracy as multi-parameter weather radars. It took a lot of trial and error, but ultimately we were able to combine the two features—swift tracking of rainclouds and accurate observation of rainfall amounts—into a single radar."
This Multi-Parameter Phased Array Weather Radar has already found a home on the grounds of Saitama University, where it was installed in December 2017.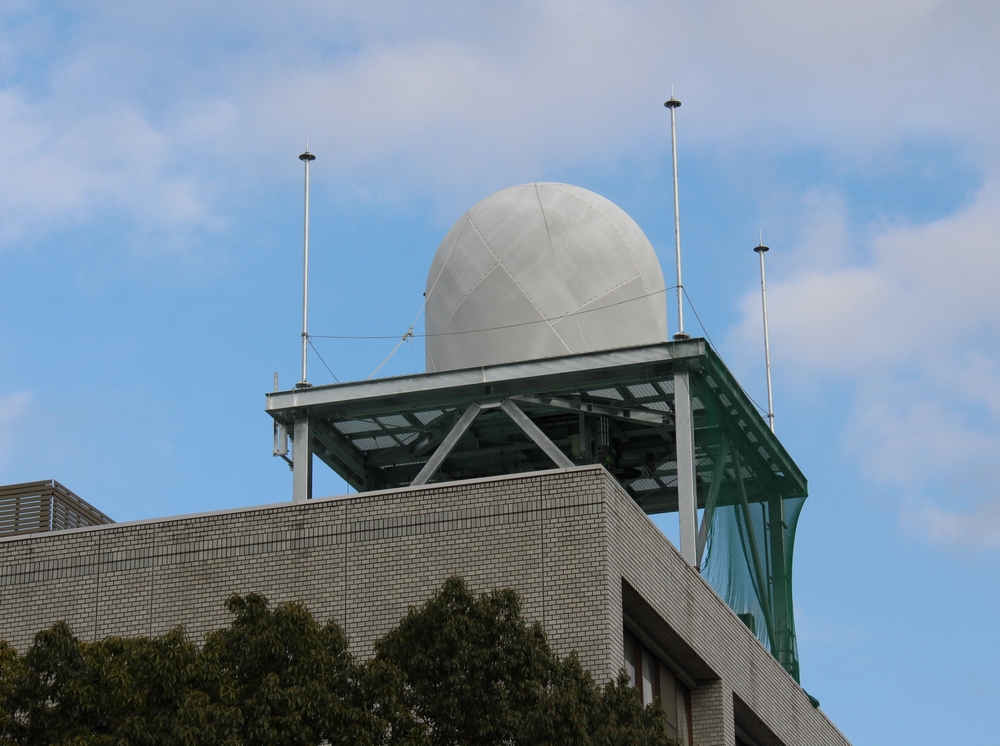 Multi-Parameter Phased Array Weather Radar, installed on the roof of a building on the Saitama University campus
The maximum observation range of this radar, with the university at the center, is 80km, meaning it covers almost the entire Tokyo metropolitan area. Its location was determined based on its practical use in the future. For instance, it could be used to determine whether outdoor sports events, concerts, etc., should be held outside as planned, or suspended/resumed, and could allow venues to guide concertgoers, etc., to shelter before the weather takes a turn for the worse.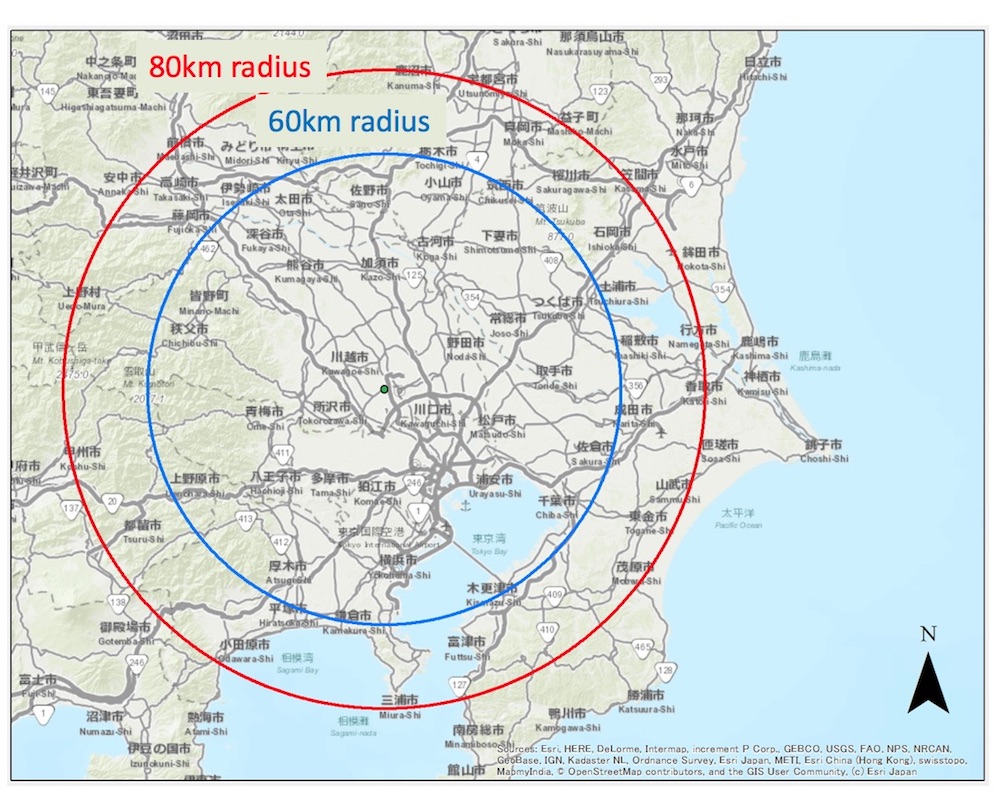 Observation range of the radar, which is located near Tokyo
The drive to reduce accidents caused by extreme weather
There is a reason why there's been an acute demand for higher observing accuracy in the weather radars we have in Japan—the recent increase in weather-related disasters in the country.
In 2008, children playing in a river in western Japan were killed when a guerilla rainstorm hit an area upstream. Society as a whole was shaken by the suddenness and destructiveness of these rainstorms, especially as they were almost impossible to forecast at the time. And it hasn't been just rainstorms. In 2013, a tornado in a different area of Japan caused a multitude of injuries.
"Recently, in japan there's been a trend of putting parks next to riverbanks, and people are becoming more and more afraid of floods and water-related damage in general. That's where the Multi-Parameter Phased Array Weather Radar comes in, and we believe it will take on a broad range of roles in the future. This whole process has been a collaboration between industry, academia, and government, centered around SIP. For instance, the data recorded on the radar in our verification tests is analyzed at Tokyo Metropolitan University, who is one of our partners in the project. We're going to be seeing more and more guerrilla rainstorms during the summer months, and I believe we'll be able to acquire data that will help us improve the accuracy of our our predictions," says Mizutani.
Mizutani tells us that the observation data they are getting now have already been useful in their predictions. It is exciting to think how much more accurate this technology can get with more data, in the prediction of strong winds, tornadoes, floods, landslides, and more.
The trial for the verification of the SIP project included public institutions, private companies, and private residents, with the goal being its practical use in society. The observation data acquired by the Multi-Parameter Phased Array Weather Radar was analyzed by the National Research Institute for Earth Science and Disaster Prevention, then passed on to the Japan Weather Association for predictive calculations. These results made prediction information available to private residents on smartphone apps and other easily-accessible platforms, so that people can keep one step ahead of rainstorms.
The end goal of the trial is to be able to deliver these predictions, which are based on acquired/analyzed data, to people precisely when they need them. This extends not only to the general population, but also to people in a wide variety of areas, from those in sewer management, in charge of lifelines, to railway companies, construction companies that have to keep their workers safe at high elevations, and the various organizations that manage the parks and underground marketplaces that residents use on an everyday basis. If we could get advance knowledge of guerrilla rainstorms, we could keep one step ahead, and it would be easier for us to keep ourselves and others safe. It would elevate quality of life by allowing us the freedom and security of knowing when things could get dangerous for us in our everyday lives.
We can't wait for the Multi-Parameter Phased Array Weather Radar to go into practical use, and help defend us all against everyday weather-related inconveniences and, more importantly, disasters.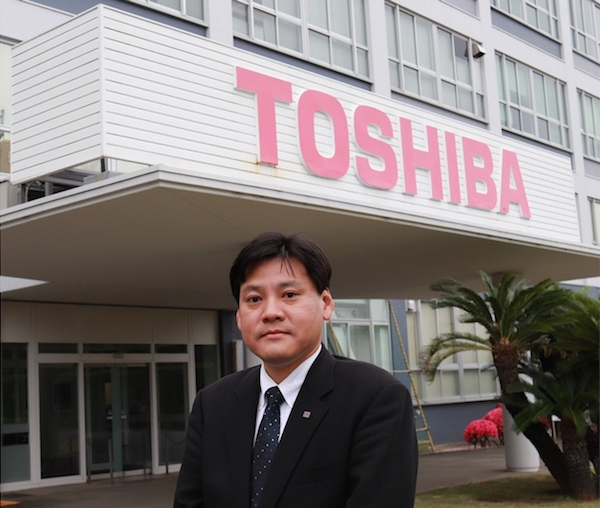 Related Contents