Young Technicians on the Frontlines of Manufacturing Hone Their Skills in the National Skills Competition Japan – Skills Required in the Digital Age
2023/07/05 Toshiba Clip Team
The National Skills Competition, the peak of manufacturing skill competitions, tests and inspires technicians.
Looking for craftsmen who think independently, not just do what they are taught.
Technicians making the future must be multi-skilled, digitally aware systemic thinkers.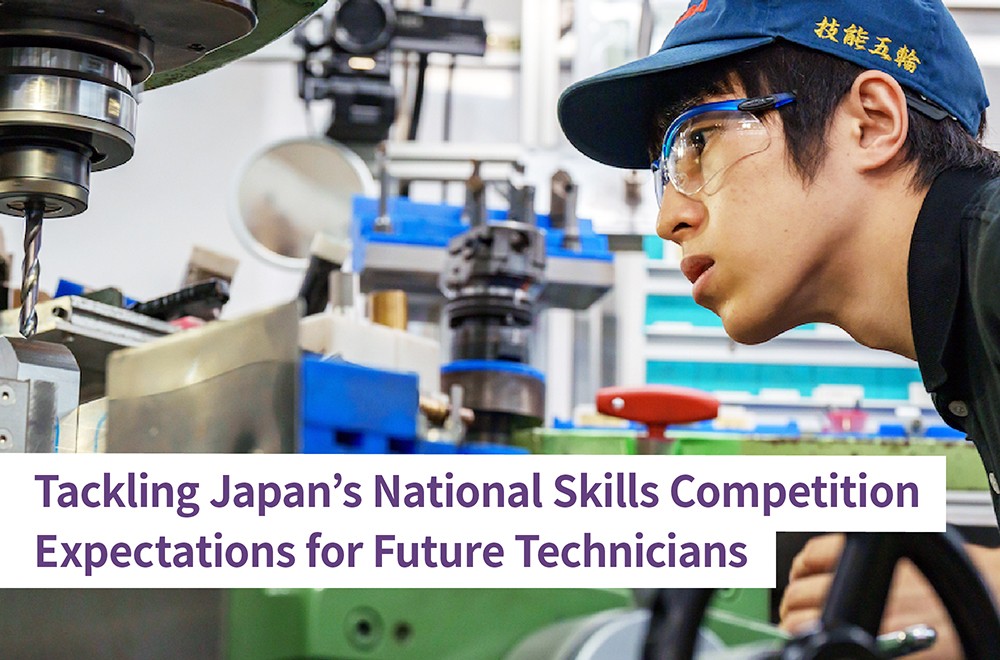 With the advance of digitalization, it has become commonplace to do everything from communicating to shopping and operating electronic equipment digitally. Digitalization has many advantages, such as enabling automatic operation of various products, so it is only natural for it to be embraced in all fields. However, we must not forget one important thing: the fact that the digital world is made possible by physical objects (hardware) and that our current lifestyles depend on this hardware.
Among the different types of hardware, social infrastructure such as electric power equipment, which Toshiba is responsible for, must be highly reliable. Such hardware is made possible by technicians who hone their skills on the job. The goal of young technicians in training is to win a medal at the National Skills Competition Japan. Experienced technicians and instructors who support them are striving to enable them to reach even one higher level of achievement. What do they think about each day that they train, and what are their aspirations beyond medaling? Furthermore, what kind of vision for manufacturing does Toshiba's top management have for its technicians in an age of digitalization? We investigated the reality on the ground.
Toshiba's under-23 team prepares for the National Skills Competition Japan, the gold standard among manufacturing skill competitions.
At Toshiba's Yokohama Complex, young technicians are quietly honing their skills. Tension hovers in the air as they hunch over the work in their hands, preparing for the National Skills Competition Japan under the supervision of experienced technicians. The National Skills Competition Japan is a technical skills competition for young men and women aged 23 or under to compete to be the most skilled technicians in Japan. The competition covers a wide range of areas, from metal and mechanical systems to information and communications, services, and fashion.
Among those competing in the Manual Milling event is Shoma Ota, who is in his third year with the company. As part of the process of training young technicians, Toshiba has set up a guidance system that pairs each trainee with a veteran instructor and a recent OB of the competition. In Ota's case, the latter is Masato Yaguchi, who had the following to say: "Those selected to compete in the National Skills Competition Japan end up training for up to two years. This year will be Ota's last chance to compete, and it will also be my third and final year as an instructor. I volunteered to become an instructor because I enjoy looking after others by nature. Being an instructor is extremely rewarding for me because providing practical guidance and conceptualizing strategies allows me to experience just how much I have grown."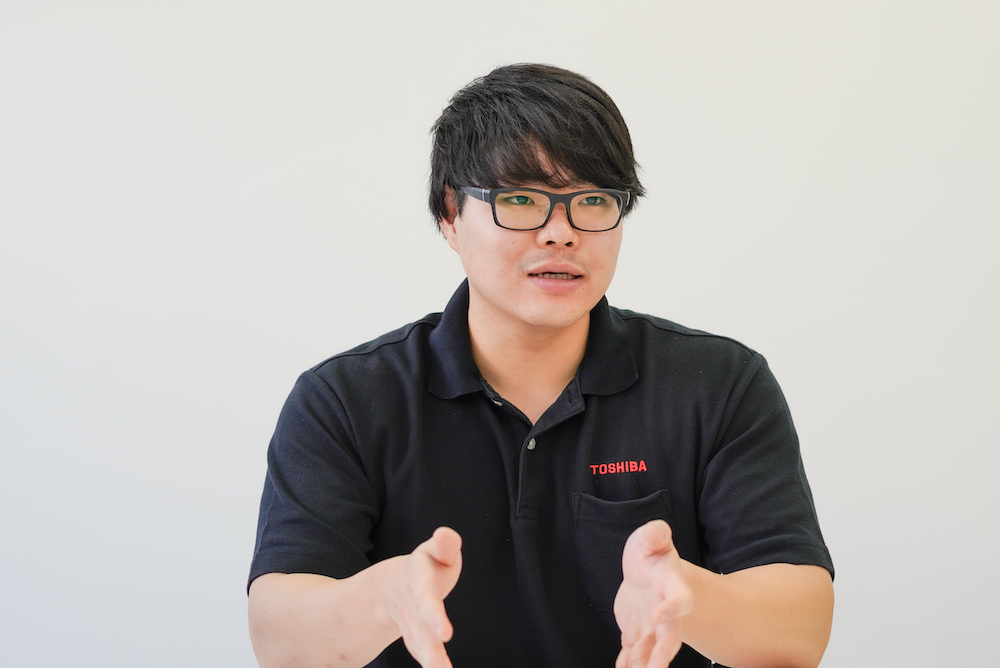 Masato Yaguchi, Turbine Parts Manufacturing Sect.,
Machining & Welding Dept., Keihin Product Operations, Power Systems Div.
Toshiba Energy Systems & Solutions Corporation
Ota previously failed to qualify for the National Skills Competition Japan, and this year's competition is his long-awaited chance to shine.
"I became interested in mechanical work as a technical high school student and wanted to work for Toshiba because the company demands high-quality manufacturing skills," says Ota. "Toshiba Industrial Products and Systems Corporation, where I now work, has four veterans of the National Skills Competition Japan, and the entire workplace comes together to support me in tackling this competition. I am very grateful to be in this environment, and I feel a strong bond connecting technicians here."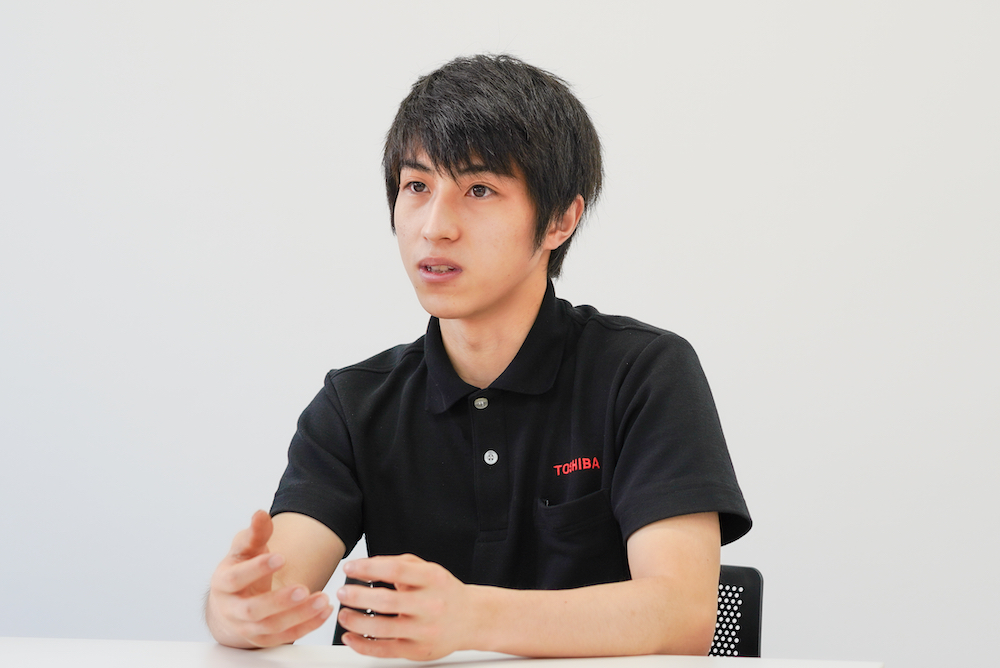 Shoma Ota, Motor Machining Sect., Motor Drive Manufacturing Dept., Motor Drive Div.,
Toshiba Industrial Products and Systems Corporation
The milling machine that Ota will be operating in the competition cuts and processes metal to produce parts for equipment such as motors and thermal power plant turbines. In the competition, competitors receive a production drawing (the assignment) and must produce that part on the milling machine. The 2022 event was held from October 30 to November 2, and the assignment was made public on September 6. In the two months leading up to the competition, Ota and Yaguchi conducted a series of production simulations to establish a machining process and improve its accuracy. We asked Ota about how practice was going.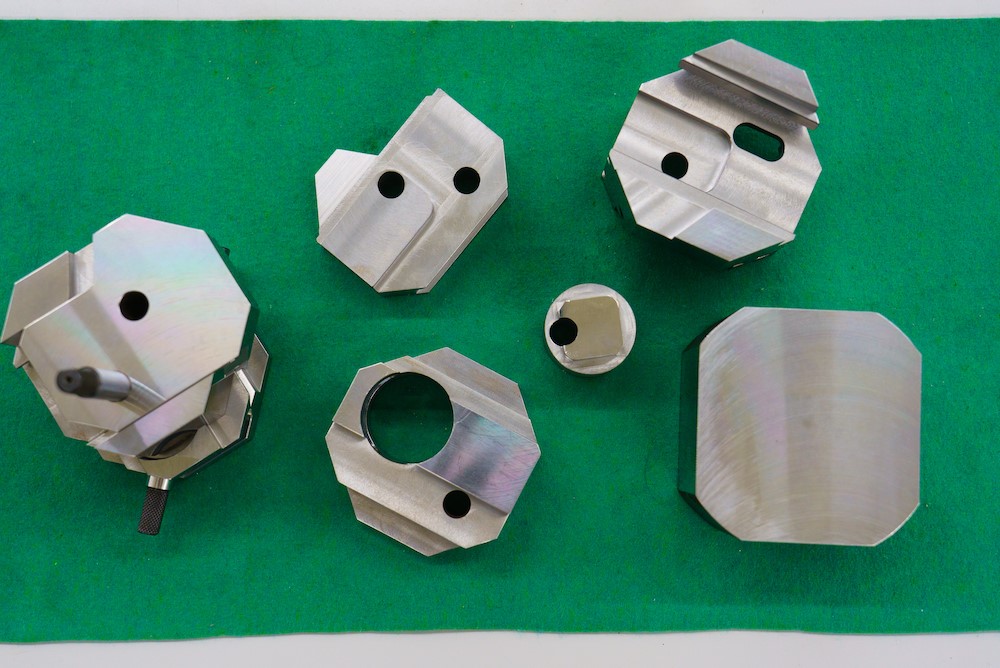 The assignment at this year's competition. These parts must be fabricated and assembled from a block of steel within the time limit.
"The time limit for the National Skills Competition Japan is about five hours. To finish producing a complex assignment within this period, a competitor must utilize calm judgment, swift and fluid movement with no waste of energy, sustained concentration, and physical strength.
"After the assignment was announced, I spent Wednesday practicing individual skills and discussing strategy, then used the rest of the time to work on the exact processes I would use in the competition. This consumes a lot of energy, so I practiced and reviewed over and over with Yaguchi while making sure to relax on my days off."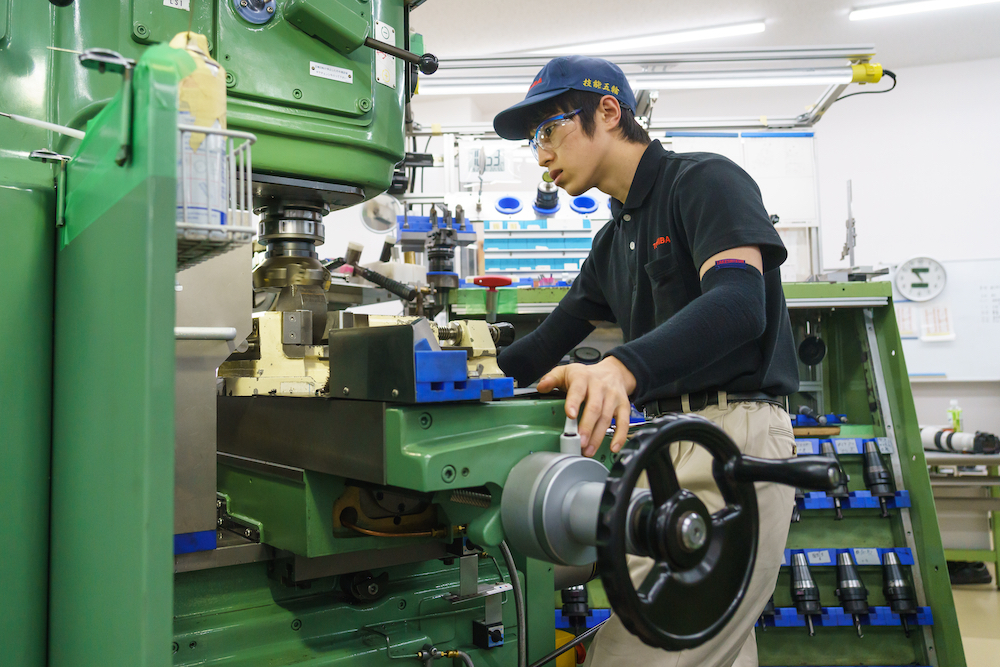 Ota training for the National Skills Competition Japan. Every minute or second of wasted movement can be fatal.
Manufacturing and skilled technicians are needed more than ever in this age of digitalization.
How are aspiring competitors in the competition nurtured in the first place? Many of the new technicians who join Toshiba undergo a year of training at the company's Technical Training School. Individuals are selected from this pool of talent to compete in one of four events at the competition, including Manual Milling. While enrolled in Technical School, Ota says he was astonished when he witnessed competitors in the competition.
"I was overwhelmed by their quickness of movement. I wanted to be like them, and that's how I got into competing," says Ota.
Unfortunately, he did not have the skills to become a competitor during his first year. Then, when he was assigned to his current workplace and was just about to give up, he was unexpectedly asked if he was interested in participating. Not about to miss this opportunity, he jumped at the chance.
Seeing his determination, Yaguchi said: "Of course, being highly skilled is important, but the most critical factor is the competitor's own determination to do it. Competitors must concentrate on the assignment for more than five hours at a stretch, and the amount of training it takes to be able to do this is grueling. To be honest, it's very tough. That is why the most decisive factor is whether they themselves are willing to do it or not."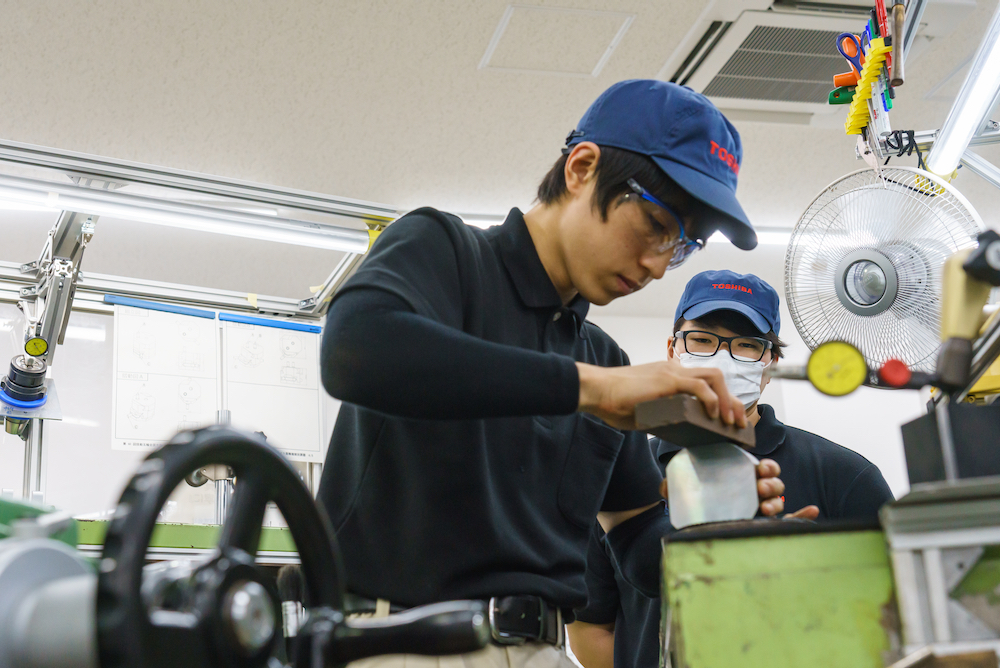 Yaguchi watches Ota's movements during training
Although Yaguchi has experience in competing, instructing someone else is a different story. One person's way of doing things does not necessarily work for someone else. Instructing others is difficult precisely because everyone has different strengths and weaknesses. Looking ahead to what happens after the National Skills Competition Japan, Yaguchi says: "I was good at machining things using my own power, but since Ota's physique is different from mine, I had to be creative in teaching him how to make the most of the tools. When using tools, it's necessary to pay attention to your own senses and the amount of strength you are using while machining. This intuition must come from within, and the only way to acquire it is through rote practice.
"The competition sets new assignments each year, and some of the project dimensions are determined on the day of the competition. Therefore, the competition tests how well competitors have mastered the skills and made them their own, not just superficial competence. That's why I want competitors to have ideas of their own. Instead of taking our guidance for granted, I want them to stop and ask, 'Is that really the best way to do it?' I want them to grow up to be future leaders who can think for themselves and argue against something if they think differently."
Meanwhile, Ota practices hard with the aim of winning a medal. When we asked him about what he hoped to achieve he replied: "Of course, medaling is important, but more important is the feeling that I have done my best. Because the skills the National Skills Competition Japan tests are so advanced, I will not be using them directly in the field, but I hope to apply the techniques, tactile perceptions, and other experience I have gained in my future career."
This comment is characteristic of Ota, who is not overly obsessed with results, but rather concentrates on the task at hand and works diligently to improve his skills.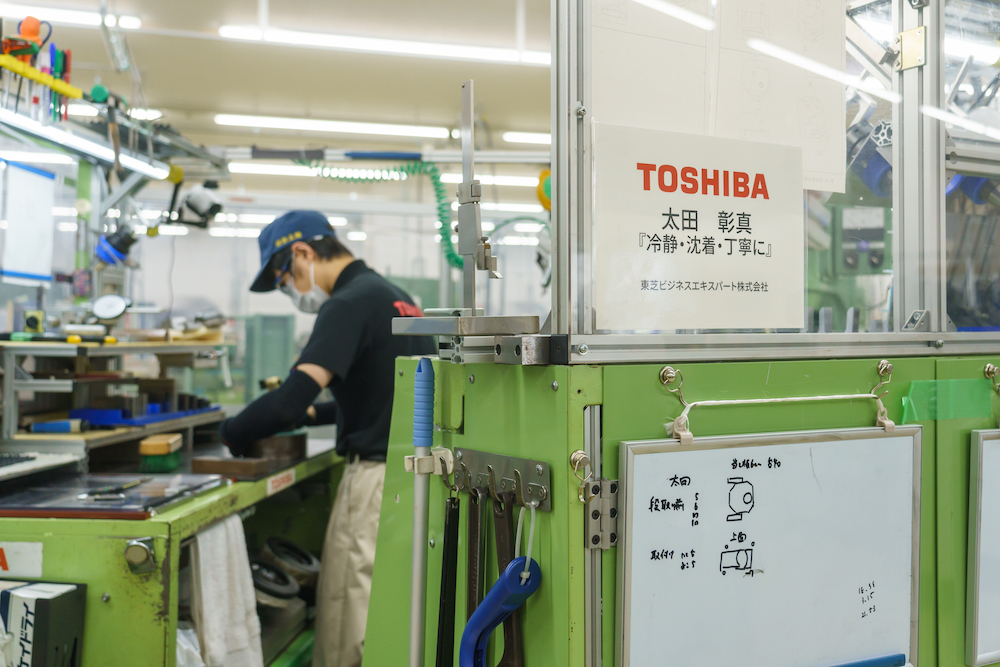 Ota's personal motto is "calm, composed, and careful," qualities he values in his day-to-day training
There is a bright future for multi-skilled technicians who are digitally aware systemic thinkers.
Combined with the shift of production bases to overseas and a shrinking workforce, Japan's manufacturing industry now stands at a crossroads. We asked Kenichi Muramatsu, Vice President, Corporate Production Planning Div., Toshiba Corporation, who oversees these technicians, why Toshiba is focusing its efforts on the National Skills Competition Japan.
"With the advance of digitalization, software and applications are drawing more attention in the manufacturing world," Muramatsu explains. "For example, Tesla, a leader in the automotive industry, updates the software in its cars like a smartphone in order to improve performance. However, what's important during these updates is the reliability of the automobile as a piece of hardware.
"How can we connect hardware to software in order to utilize a variety of applications while ensuring the reliability of the hardware, so that we achieve the target values and objectives? This is called 'Software Defined,' and Toshiba is committed to providing social infrastructure based on this concept. Software and applications cannot run without data from hardware. Since quality hardware is key to achieving increasingly complex systems, hardware is also becoming increasingly important. The National Skills Competition Japan, which raises the skill level of technicians who support hardware, is an indispensable field for us to develop human resources."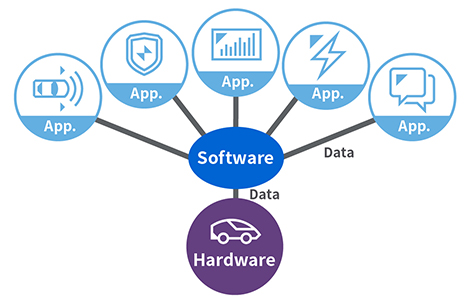 General concept of software defined
Going further, Yaguchi, who is in charge of instructing the technicians, spoke about the future vision that technicians should aspire to in our increasingly complex world.
"From now on, technicians need to be multi-skilled, or able to work in a variety of fields beyond their specialty. In the future, I myself would like to become a technician who can create a product entirely from scratch when given a drawing. To do that, one must be able to interact with technicians in other areas of specialty to learn new skills, then look at the options objectively to decide which one is the best fit.
Technicians need to ask, 'How can we do this faster and make it more efficient?' They need to harbor a passion for change and develop the habit of thinking for themselves. I want to maintain an open workplace environment that encourages people to express themselves honestly when they have a different opinion," Yaguchi says.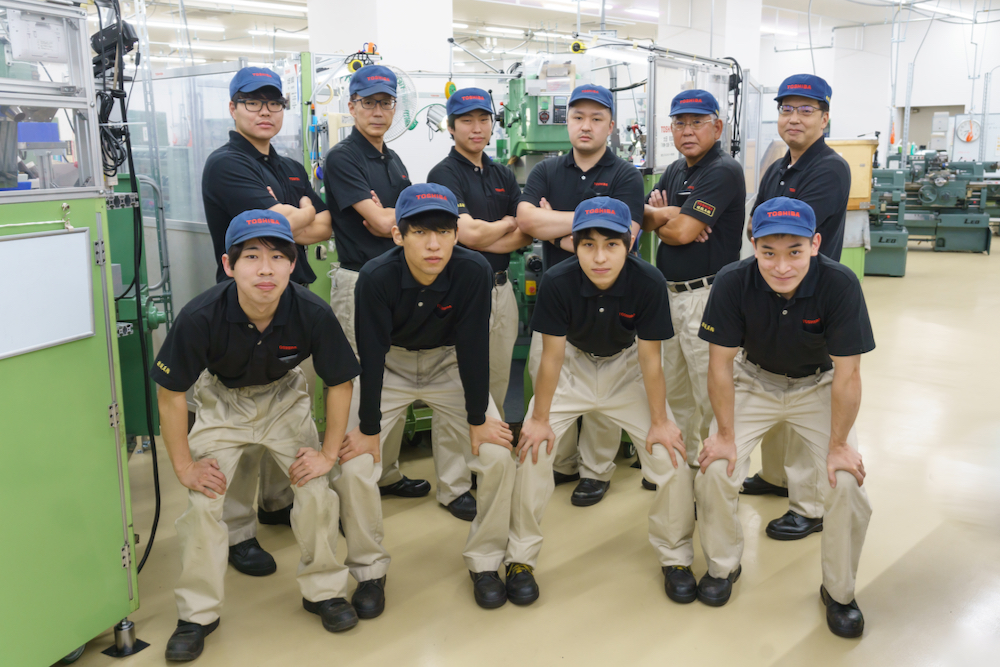 Competitors and instructors competing in the 2022 National Skills Competition Japan. Yaguchi: top row, first from left; Ota: bottom row, second from right.
In addition to being multi-skilled, as Yaguchi mentioned, Muramatsu says that being a systemic thinker is another important quality.
"Technicians are responsible for fabricating a part of a larger product that works as a system. They need to see themselves as someone who helps society to function and think about how their work affects society as a whole. If they can hone their skills with this kind of systems thinking, it will open up new perspectives.
"As more technicians become systemic thinkers and start to see society as a whole, they will find that they will need to be digitally aware. It is important for future technicians to be imaginative and able to envision how hardware should work with software. At Toshiba, they can develop this awareness. Using the National Skills Competition Japan as a starting point, technicians will hone the skills they need to solve social issues. We have high hopes for the competitors devoted to their training, and for the instructors who accompany them with enthusiasm."
The future society that these young technicians envision and create will eventually lead to the realization of Toshiba's Basic Commitment: "Committed to People, Committed to the Future."
Related Contents