It's a Light…It's a Camera…It's a Light with a Camera! Toshiba's Newest Surveillance Solution
2020/12/18 Toshiba Clip Team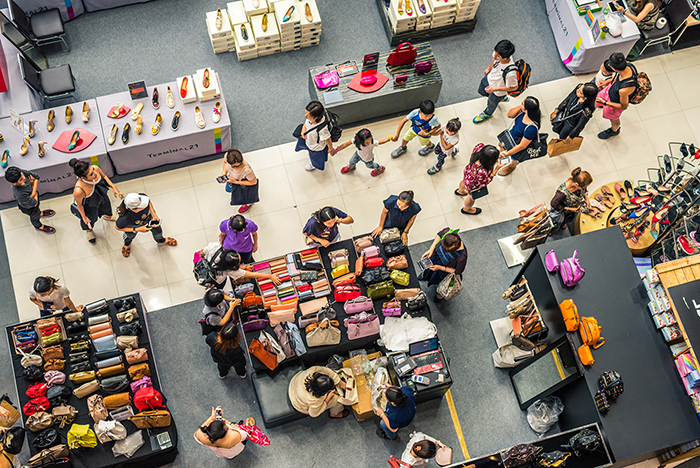 If you're a store owner, you may want to invest in security cameras to provide your customers with a safe and secure shopping experience. However, you may not want to make them feel like you're monitoring their every move. This is a dilemma faced by many business owners and companies in recent years: a rising need for video recordings to ensure safety and security, along with an awareness that consumers view security cameras negatively, which limits their widespread use.
To address this dilemma, Toshiba Lighting & Technology Corporation recently developed ViewLED. This product features a new concept: incorporating cameras within lights. While the concept may be new, the basic structure of existing lighting fixtures can continue to be used, which ensures convenience. What's more, ViewLED doesn't look nearly as intimidating as regular security cameras, which can ease the psychological burdens placed on consumers. The development team is also thinking of linking the recorded data to a cloud service in the future, making ViewLED a product packed with potential for creating new social value.
We sat down with project team members to understand more about ViewLED's development process and the impact it will make on society in the future.
ViewLED builds on the comprehensiveness of lighting fixtures
"Engineers in the field of lighting products have been single-mindedly pursuing energy efficiency for a long time now. But with the rise of IoT in recent years, consumers are now looking for new added-value. In that sense, one of the greatest strengths of lighting products is that they are directly connected to the power supply. So it's easy to install various sensors by dividing the electric lines. With this advantage in mind, we set our eyes on adding a camera function to lights and began our research. What we discovered were several instances of people wanting to install security cameras to prevent mischief, such as in an apartment's parking lots or garbage disposal spaces, but not being able to secure a power line or afford the added electricity bills. This led us to conceptualize ViewLED."
So said Masaru Inoue, a member of the Cyber Physical System Department at Toshiba Lighting & Technology Corporation.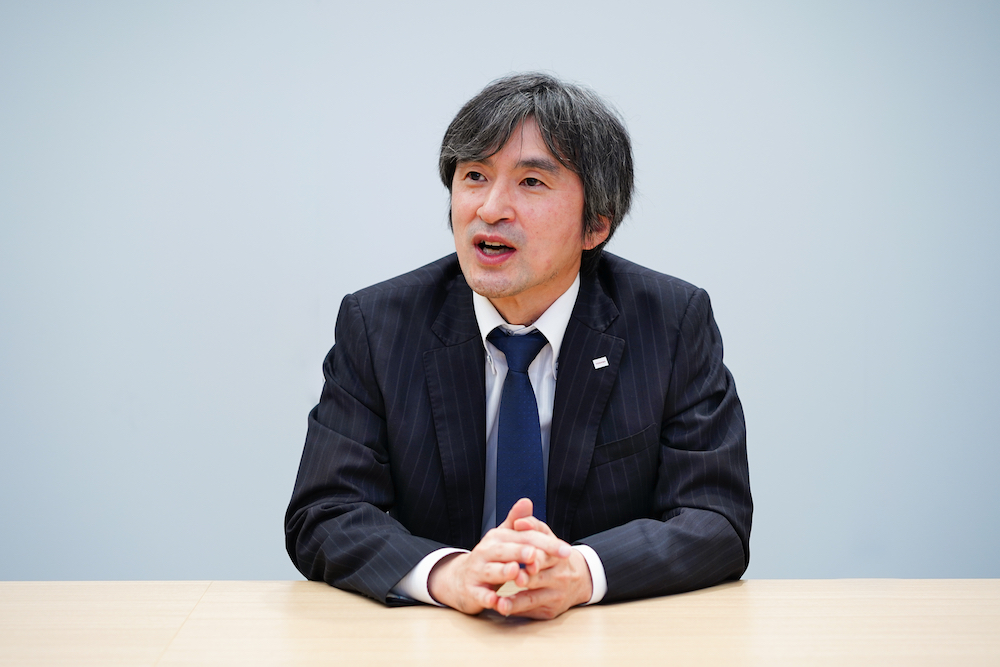 Masaru Inoue, General Manager, Cyber Physical System Department, Toshiba Lighting & Technology Corporation
The digital camera is one of the most commonly known sensors. That made it the ideal item to work with to create new value with a product that integrates lights and cameras. It goes beyond just enhancing the features of lighting products on their own. In this way, the project took shape around September 2018.
The first obstacle, however, was to identify partners with the expertise in camera development.
"Instead of getting hung up on developing everything in-company, we decided to prioritize bringing new value out to the world as quickly as possible," said Inoue. "So we entered a partnership with a company that possesses outstanding camera technologies. Meanwhile, the camera manufacturer was also struggling with lighting, so this partnership that brought together lights and cameras benefited both companies."
This co-creation with a business in a different field gave birth to ViewLED, a product that created a new solution while keeping the basic lighting structure in-tact. It was a completely new challenge for Toshiba Lighting & Technology Corporation, which until now had been exclusive in its role as a lighting manufacturer.
An aesthetically pleasing design won high praises
After identifying the technology behind the product, the next challenge for the development team was to address the negative sentiments people associate with regular security cameras.
As Inoue put it, "Installing new security cameras makes people uneasy because they feel like they're being watched. But the purpose of an IoT camera is solely to have video records on hand in case something happens. Its real value is optimizing a business's management operations in that area. A major challenge for us was getting across to consumers that ViewLED's purpose is different from the purpose of security cameras."
That made it all the more crucial to incorporate the camera into the lighting product as naturally as possible. In other words, its design matters.
"We did not want a design that reminded people of security cameras, like having parts of the camera seen," Inoue said. "What's more, we needed to make sure that the light's shape didn't block the camera's view. So to make all that happen and integrate the camera into the light's body as naturally as possible, we took a lot of time preparing and discussing different design sketches and models in advance. Our efforts turned into a very happy surprise when we won the iF DESIGN AWARD (*1) and the Good Design Award (*2), which were first-time achievements for Toshiba Lighting & Technology Corporation."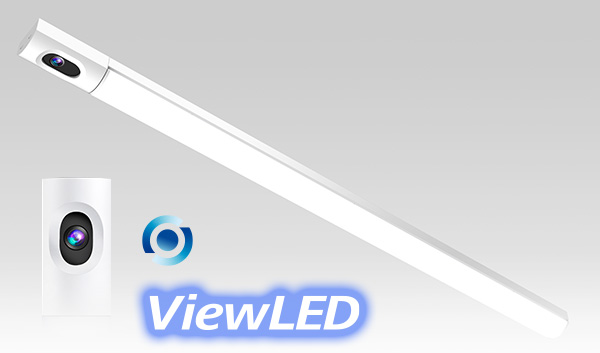 ViewLED is highly praised for its design
Furthermore, Inoue and his team needed to dispel the negative impressions that people had of video recordings, including those involved in the project. They did this by showing them the actual recordings, visually pointing out the benefits of bird's-eye-view images and illustrating how this angle can create new value.
Take factories and commercial facilities as examples, companies can use ViewLED to help them analyze people's movements and improve work efficiency, user efficiency and even safety. This can lead to various improvements in the facilities. The development team's efforts paid off and people became more receptive about installing these cameras.
(*1) iF DESIGN AWARD: one of the three most major design awards in the world, organized every year by iF Industrie Forum Design Hannover
(*2) Good Design Award: the sole comprehensive design award in Japan, organized by the Japan Institute of Design Promotion
The possibilities of a new ceiling solution
The ViewLED development project was bolstered behind the scenes by new working forces too. Last year, Yuka Ishimaru was assigned to lead the product's digital marketing operations just four years after joining the company.

Looking back, she said, "ViewLED is a new product line at Toshiba Lighting & Technology Corporation. So to raise its degree of recognition, we focused a lot on online marketing. This was an uncharted territory for me and I had to learn from scratch. But it was rewarding to see our efforts reflected in numbers, so it was a worthwhile process to improve our performance gradually through trial and error."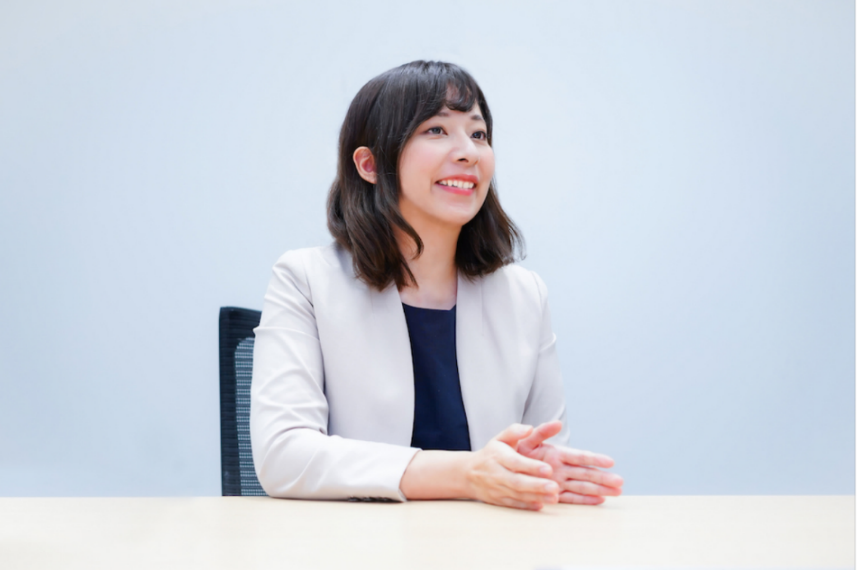 Yuka Ishimaru, Corporate Sales Department, Corporate Sales Group1, Toshiba Lighting & Technology Corporation
As a salesperson, Ishimaru said she used to focus on pitching a product's energy efficiency or lighting impact. But with a product that features both lighting and a camera, she made proposals that included scenarios and values that would come into play even after installing the fixture. It was a brand-new experience for her.
As consumers came to know more about ViewLED, they even helped the development team discover new purposes for the product.
"For example," said Inoue, "we learned that stores which display many products in limited spaces are faced with the dilemma of wanting to install a security camera but not having the space to do so."
There is no doubt that the more ViewLED is recognized as a ceiling solution, the more unforeseen needs will come to light.
A company-wide survey led to choosing "ViewLED" as the product name
Toshiba Lighting & Technology Corporation channeled dedicated resources to bring ViewLED into the market. Since this project was entirely new, Inoue said they needed to actively get the entire company engaged.
He said, "The name 'ViewLED' was one of over a hundred choices. We narrowed them down to a few and encouraged all employees to vote for their preferred choice. Choosing the name together raised everyone's motivation to make this innovation as a company-wide effort. One of the key strengths we have at Toshiba Group is that we offer not only lights but also a wide range of other solutions for buildings, like air conditioning and elevators. So I believe raising ViewLED's recognition will work favorably in our future business strategies."
Such strategies are rooted in the Toshiba Group's basic commitment of co-creation and the value of creating together. Ishimaru, said, "I was involved in this project without having any prior knowledge or connections, so I couldn't have made it without the help of my colleagues and partners."
She continued, saying, "ViewLED is equipped with three main functions: to light up, to see and to discover. That means it can discover new values that weren't visible until now by setting it up in places where security cameras didn't use to exist. My role going forward is to spread this value even more and contribute to solving social challenges like productivity and safety."
The Toshiba Group is already working on a new concept that aims to link the product to cloud services. ViewLED will become a new piece of infrastructure to enhance society. This hope for a better future is the driving force behind this project.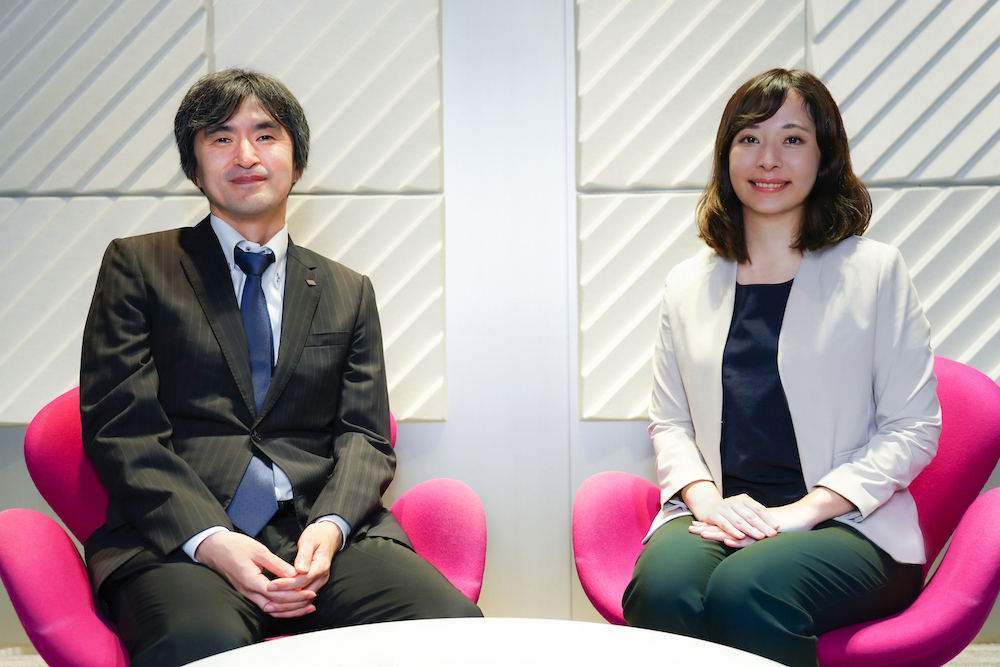 Related Contents