Unified Vision: How Toshiba's Digitization Team Works toward a Common Goal
2020/06/24 Toshiba Clip Team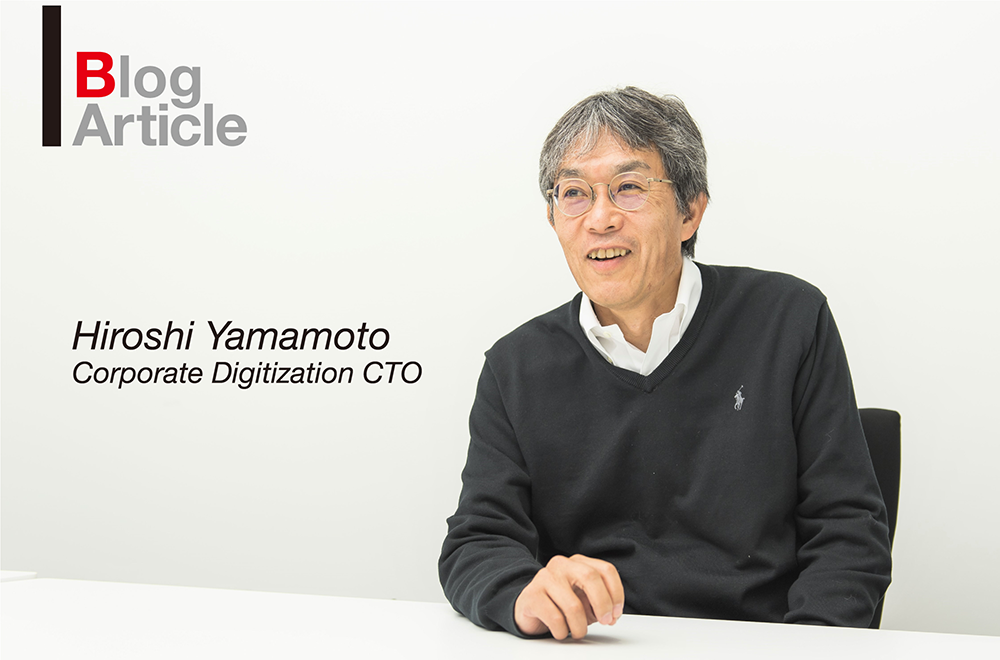 Teamwork.
Without the collaborative effort of a dedicated group of people, it is impossible to effectively and efficiently complete a project or achieve a common goal. Today, there is no greater evidence of the power of teamwork than the efforts of healthcare workers, government leaders and everyday citizens in fighting to overcome the global coronavirus pandemic.
I'm proud to say that solid, productive teamwork is evident here at Toshiba, too. For the Toshiba Corporate Digitization team in particular, I believe my primary role is to outline a clear vision and then give my team the guidance—and freedom—to work together to reach our goal.
Teamwork is critical for my group, as we are providing the foundation for the company's cyber-physical systems (CPS) infrastructure, which is helping from the basis of emerging and future smart services in such vital fields as manufacturing, energy, social Infrastructure and logistics. Ultimately, these CPS technologies will vastly improve the quality of human life in numerous ways.
This work is extremely important and that further amplifies the critical role of teamwork. I learned the importance of leadership and teamwork through nearly two decades of working side-by-side with customers. To meet and exceed their expectations, I learned early and often the essential requirement of teaming up.
In March, thanks to the Corporate Digitization team's outstanding collaboratively work, we released a suite of 12 Toshiba Enterprise IoT services through our TOSHIBA SPINEX program. These services are using our Toshiba hardware as a data source to analyze, visualize and manage the assets involved, and carry out such critical programs as preventative maintenance.
The main reason I designed the Toshiba IoT Reference Architecture (TIRA) was to enable all Toshiba engineers and researchers to use—and share—a common design pattern. As a result, all team members had visibility to the work of their fellow collaborators and were able to more easily explore technical options and next steps.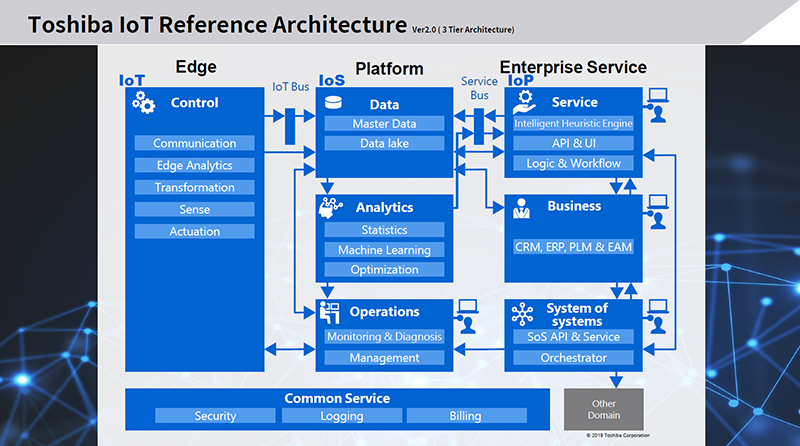 Toshiba IoT Reference Architecture (TIRA) decides the basic framework for developing CPS
A key member of that team is Josh Kataoka, the Senior Manager of our Digital Innovation Technology Center. A talented and experienced software engineering researcher and strategist, Josh has been an invaluable leader as we established the vision and direction for Corporate Digitization, and in building a likeminded team.
Here is Josh's perspective on how we have unified in working towards a common goal:
• Getting started. "We needed to establish a team that could bring Hiroshi's digital transformation technological concept to life. It required a lot of discussion to identify the vision, mission, objectives and requirements for the team. It took a half year before we started the Corporate Digital Innovation Technology Center because we had to get it right."
• Setting goals. "With Hiroshi's guidance and pace-setting, we have focused on goal setting that is always aligned with the corporate-wide goal to make Toshiba one of the world's leading CPS technology companies. This helps everyone understand what must be done and gives us credibility as we pursue this overarching goal."
• Being consistent. "To lead a team effectively requires consistency. I think it is one of the most important points for leadership, especially with a new and highly strategic initiative such as CPS. By reinforcing our overall plan and vision, every person—from the CEO to a front-line engineer—understands the concept and what is needed to achieve."
• Respect. It is important to respect every team members' technological abilities and encourage them to develop their skills and knowledge. One of Hiroshi's important decisions was introducing a 48-hour study program for every member, both technical and staff. Moreover, he encourages them to develop their technical skills and knowledge. Some are taking seminars to learn the cutting-edge technology, while others are going to language schools to improve their English skills. This show that we respect each person as an individual and give them the tools to grow.
• Purpose. I believe digitization is a form of biological evolution. Through the book "The Singularity Is Near: When Humans Transcend Biology," by Ray Kurzweil, my understanding of singularity is that AI is another layer of the brain system. Therefore, companies also need to evolve by digitization. I am very excited that I got this chance to implement the brand-new "Digital Toshiba." We have a great team of many distinguished people, across a number of divisions and business units. I don't think there could be a more exciting time to be at Toshiba.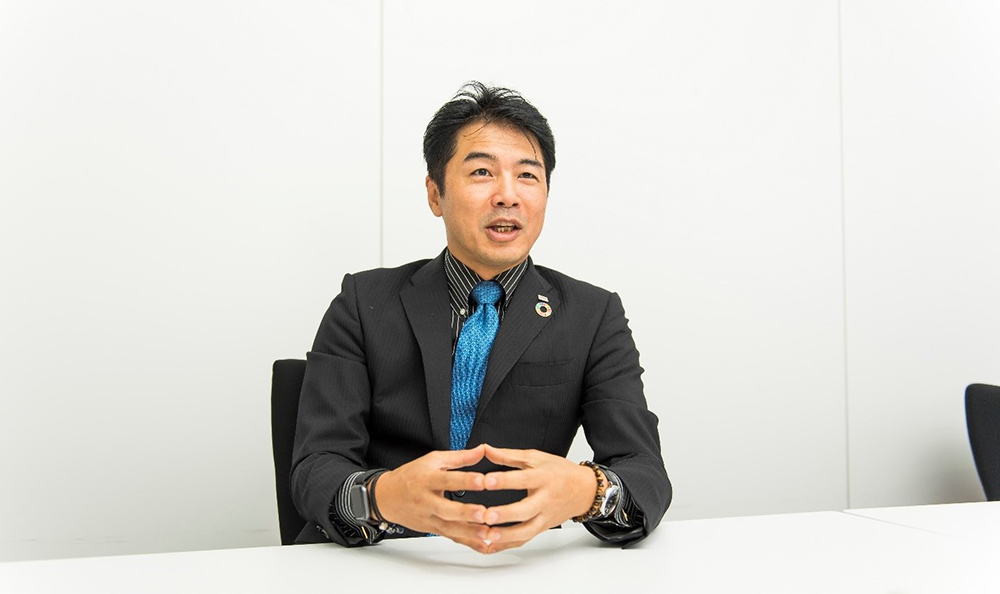 Josh Kataoka, the Senior Manager of our Digital Innovation Technology Center
I share Josh's enthusiasm. As he articulated, the power of collaboration is invaluable for Toshiba and a great source of pride as we move forward.
With a unified vision, a common goal and the power of teamwork, we are well on our way to making Toshiba the world's leading CPS company.
Related Contents