Generating the perfect partnership to provide powerful Data and intelligence to Tackle Climate Change (part 1)
2021/12/22 Toshiba Corporation
Predictive detection of power plant failures boosts operational efficiency and helps reduce CO₂ emissions
Toshiba is accelerating its shift to being an infrastructure services company by acquiring plant monitoring system EtaPRO™
Communication between technical teams was the decisive factor in the decision to join forces as one company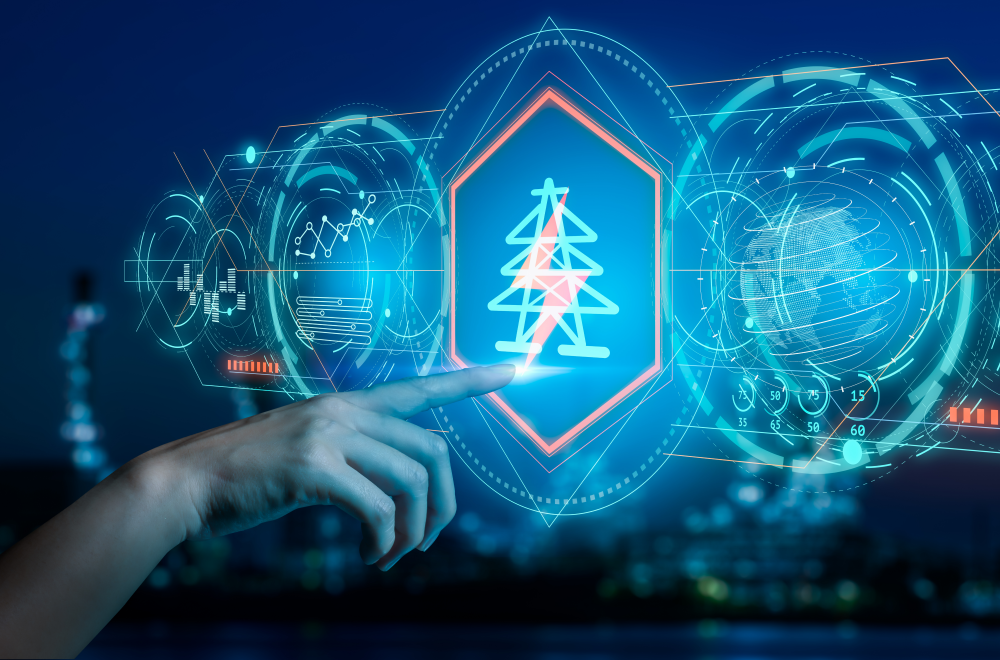 Solar power, biomass, wind power. With global warming showing no signs of slowing, companies are jostling to get a piece of the action in renewable energy. But it's not always smooth sailing—the renewable energy power supply fluctuates widely dependent on the weather. Currently propping up the spread of renewable energy is thermal power, which offers a stable power supply. The key to reducing CO₂ emissions is more efficient thermal power supply and distribution with optimized loads to adjust to changes in electricity consumption.
Toshiba supplies a wide variety of energy sources, from renewable energy to thermal power, hydropower, and nuclear power. The company has recently applied a new solution to the challenge of regular and stable energy supply: acquiring plant monitoring system EtaPRO™. We met with some members of the acquisition project team to hear about the objectives behind the acquisition.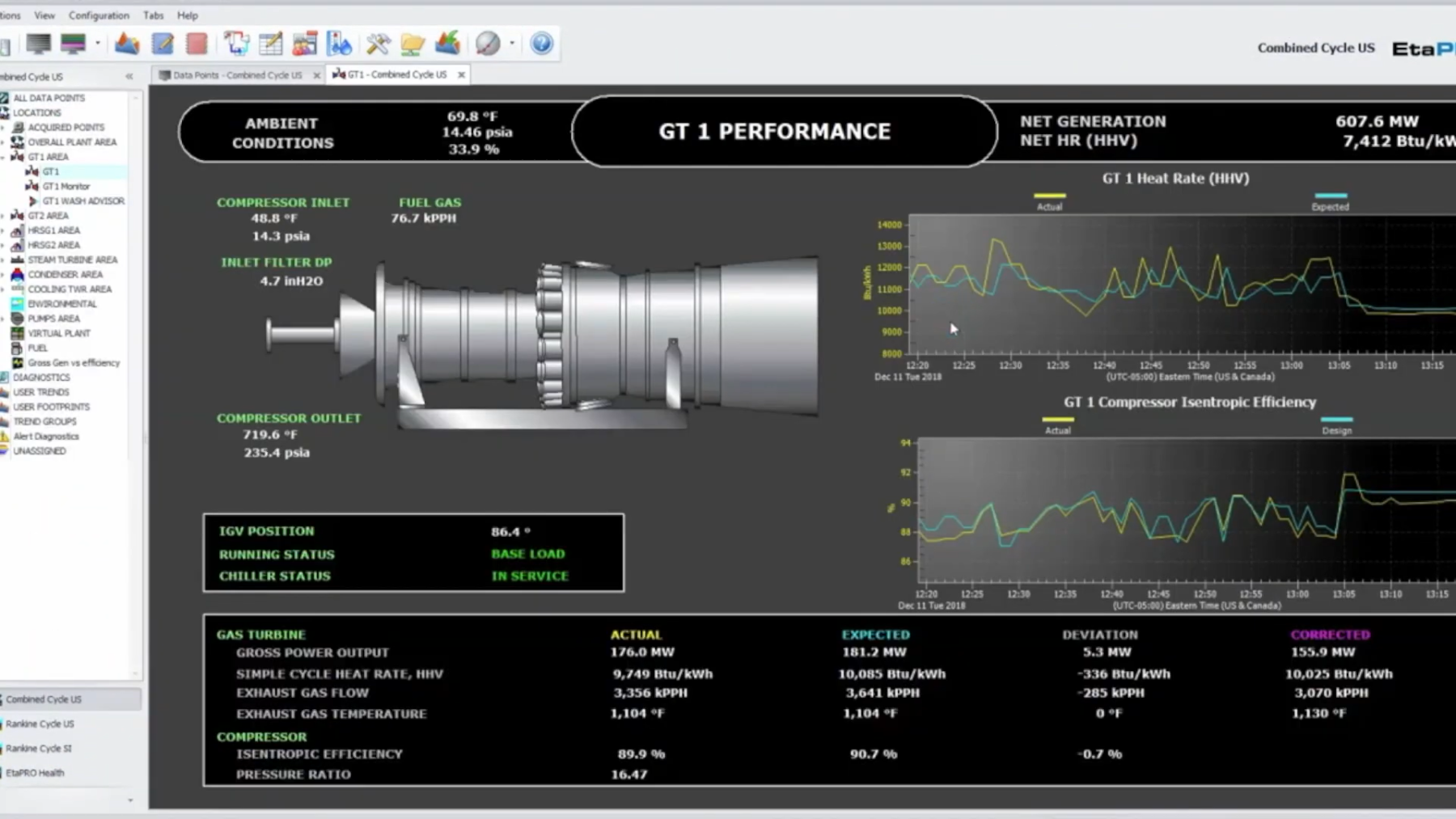 EtaPRO™ keeps track of operational status and monitors the various equipment at power plants
Just one power plant outage can take months to recover from
The Paris Agreement, adopted in 2015, pushed renewable energy firmly into the spotlight. With close to 200 parties signing the accord, the agreement indicates a framework for climate change countermeasures for 2020 onwards, with goals to limit the average temperature increase to 1.5°C above pre-industrial levels. Environmental activist Greta Thunberg also got people talking with her address to the 2019 UN Climate Action Summit. "How dare you," she thundered in her emotionally driven speech.
Some readers will be wondering why a monitoring system for thermal power is important at a time when companies are shifting gears toward renewable energy. Before getting to the main topic, here's what our team have to say about the relationship between CO₂ reduction and thermal power plant maintenance.
There are concerns about stable power supply when it comes to renewable energy. Sometimes, renewable energy just cannot cover the whole energy demand. That's where thermal power comes into play—its stable operation is needed as part of the baseload power supply. But many thermal power plants around the world are unable to operate efficiently, and they emit more CO₂ than they technically need to. This is because power plants lose power generation efficiency due to the aging of equipment, dirt in heat exchangers and other equipment, and clogged filters. With monitoring systems, it is necessary to keep track of the status of devices and carry out maintenance and renew facilities in a timely manner. Generating power stably and efficiently with little energy and avoiding energy loss from device breakdowns or power plant shutdowns all helps to reduce CO₂ emissions.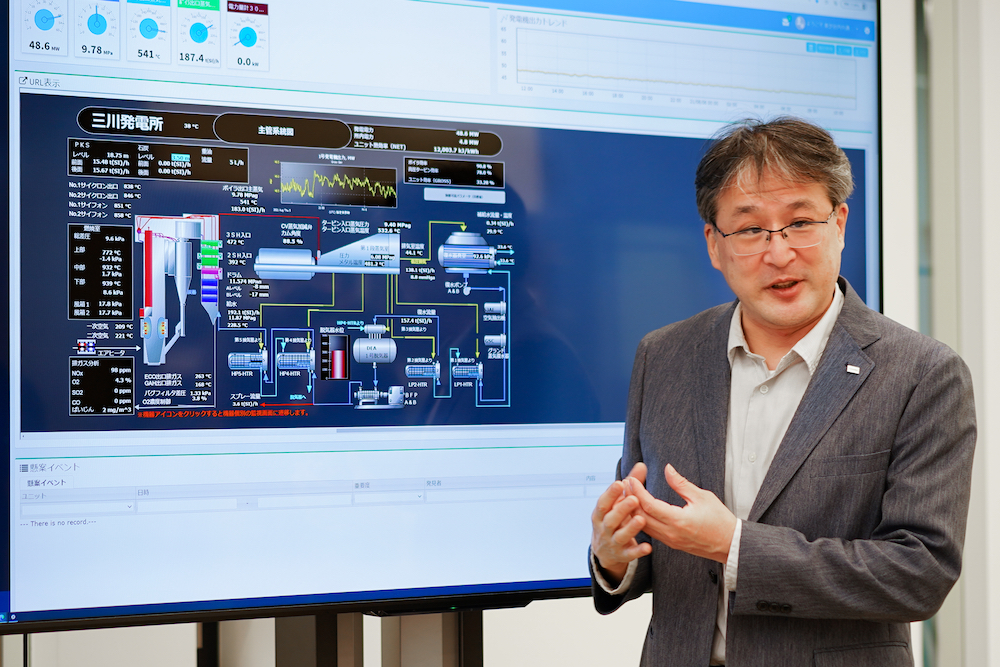 Akimasa Nakai, Technology Executive Digitalization, Toshiba Energy Systems & Solutions Corporation
"Power plants in many countries do not monitor performance and detect failures to the same extent as we do in Japan," explains Akimasa Nakai, who leads power generation technology at Toshiba Energy Systems & Solutions. Japan has advanced skills in power plant operation and has a solid and stable power supply at a level rarely seen worldwide. For proof, just look to how rare power outages are in the country—they typically only occur during typhoons and other disaster situations. But overseas power plants face different circumstances. Device failures cause unpredictable outages, and it can take time to get back up and running. Readers who have experienced a power outage while travelling abroad should be able to imagine this situation.
Toshiba Energy Systems & Solutions recently acquired the EtaPRO™ business from U.S.-based GP Strategies Corporation. EtaPRO™ develops and provides software with outstanding capabilities in solving the sort of power plant challenge described above. EtaPRO™ comprises four core technologies: operation, management, engineering, and maintenance. The system's most notable features are its power plant performance monitoring and detection of anomalies through operational data.
"Detecting anomalies before a failure big enough to cause the whole power plant to go down is key. That's why EtaPRO™ has been met with such high praise internationally," says Nakai. He goes on to explain that just one failure could take down a power plant for months, causing huge inconveniences to daily life as well as economic loss. This means that overseas power plants have a high, pressing need for performance monitoring and anomaly detection.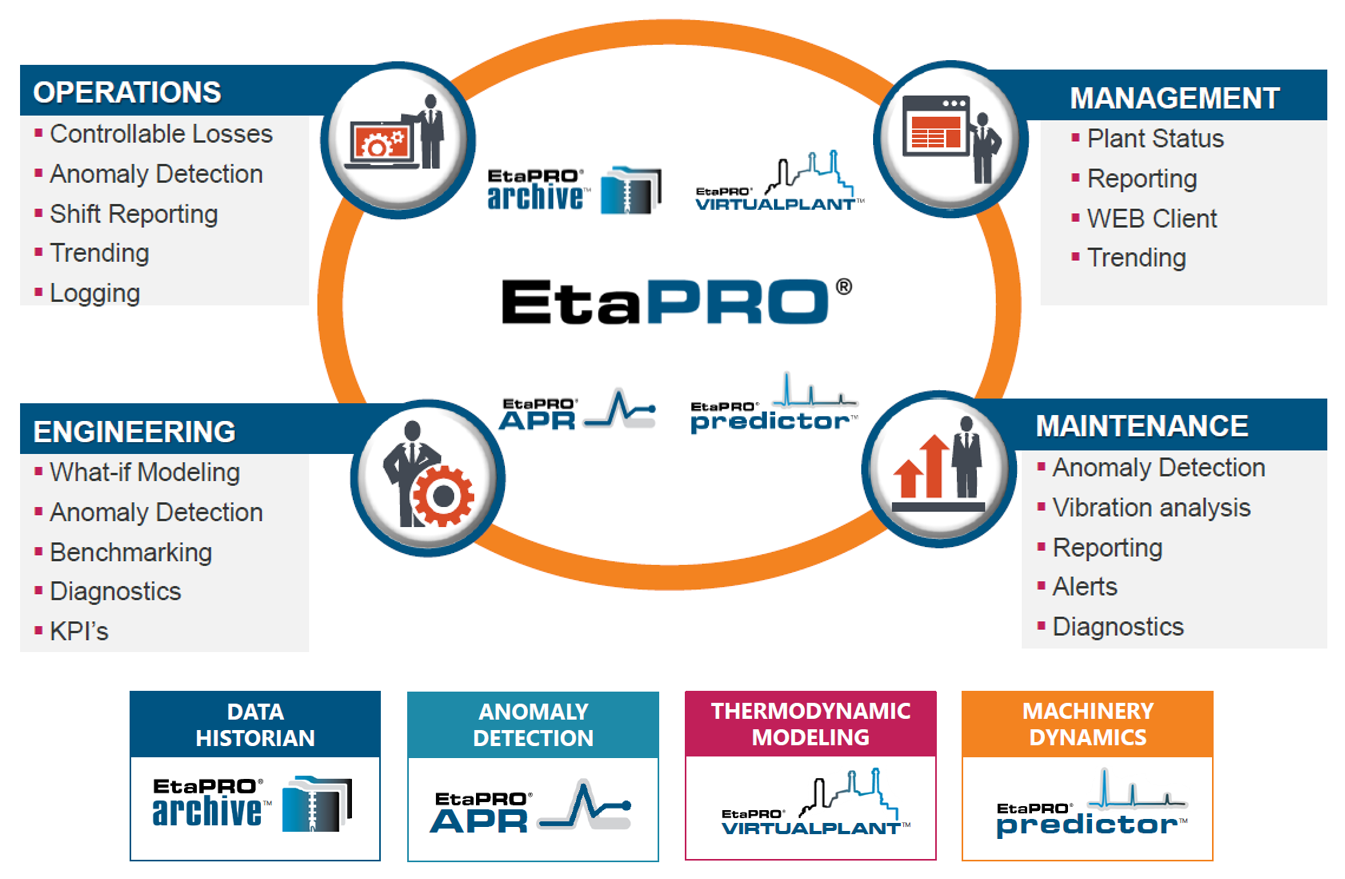 The four core technologies and functions that make up EtaPRO™
"Efficient operation is also important. Simply improving power efficiency by just 0.1% has a huge impact on profit. But it's extremely difficult to achieve power efficiency in real time. With EtaPRO™, you can check fuel consumption and performance efficiency as it happens. This is information that everyone from power plant owners to operators need," explains Nakai.
From supplying systems to providing services
Progress in IoT in recent years has seen an increase in interest in anomaly detection software for power plants. Manufacturers such as GE from the United States, Siemens from Germany, and Mitsubishi Heavy Industries from Japan have been developing in-house products that compete with EtaPRO™. Sometimes, they obtain such technology through acquisitions. They supply these products to customers along with their key devices at the time of delivery.
Compatible with the products of any manufacturer, EtaPRO™ is software from an established brand that has leveraged its strengths in anomaly detection to survive this fierce competition. Takehiko Matsushita, who works on energy-related products at Toshiba Energy Systems & Solutions, retraces the company's relationship with EtaPRO™ back before the acquisition.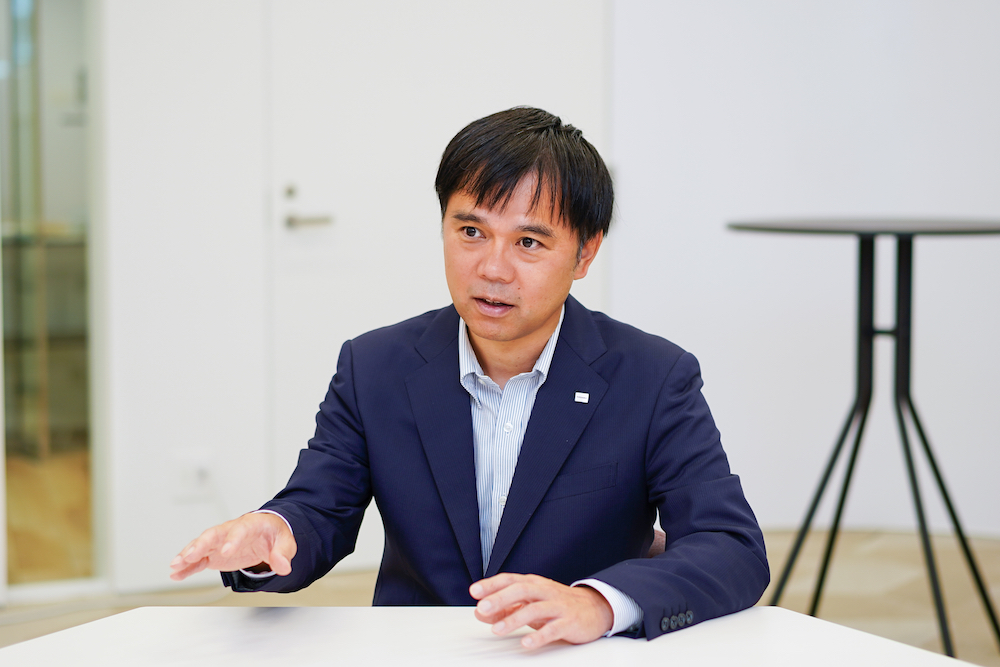 Takehiko Matsushita, Overseas Business Unit Manager, Power Systems Division, Toshiba Energy Systems & Solutions Corporation
"EtaPRO™ is long-established software provider with a rich history and an impressive track record. The outstanding performance of EtaPRO™ caught the eye of the Toshiba Energy Systems technical team. Our relationship with the business dates back before the acquisition, to when we signed a sales contract in Japan and India in 2016."
The relationship began when Toshiba introduced EtaPRO™ to provide high added-value services to customers who bought equipment such as steam turbine generators. Many power generating companies are highly impressed by the track record and high market share of EtaPRO™, which has been purchased by around 2,000 power plants around the world.
That being said, the relationship was nothing more than a business partnership at first. The Toshiba Group's "Toshiba Next Plan" played a significant role in the acquisition. Here's what Matsushita has to say about the objectives behind the EtaPRO™ acquisition.
"Going forward, Toshiba will be stepping beyond simply supplying infrastructure to bolstering its infrastructure service lineup. Beyond that, we hope to make proposals that benefit our customers by gathering and analyzing data generated by infrastructure," says Matsushita.
"In the infrastructure supply business, once a power generation turbine is delivered and set up, the customer carries out all the subsequent operation and management, so there are few opportunities to provide advice and services. Our goal is to provide advisory services when there is a drop in performance as well as services to prevent significant failures that lead to shutdowns. We started seriously thinking about acquiring EtaPRO™ in order to provide new value by connecting physical spaces (infrastructure) and cyberspace through data, and transforming that data into knowledge that can easily be utilized."
Matsushita also says that the acquisition is expected to expand Toshiba's energy business. To date, Toshiba has delivered 118 turbine units to North America, but this only accounts for a few % of the region's market. In contrast, EtaPRO™ boasts high name recognition, having been installed in 50% of North American power plants, and is used extensively around the world. EtaPRO™ makes the perfect partner to Toshiba as it looks to expand its North American market presence.
"Cold canvassing just doesn't work for power generation facilities. EtaPRO™ has given us the opportunity to approach North American customers. We will also drive sales of EtaPRO™ in regions where Toshiba has an established customer network, namely the Asia Pacific, Africa, and Middle East regions," says Matsushita
Communicating and building solid trust through technology
Why was Toshiba able to acquire a business with as impressive a track record as EtaPRO™? It all started when GP Strategies, which owned EtaPRO™, had a CEO transition. Founded in 1966, the company operated a wide range of businesses encompassing everything from organizational and human resource development consulting to engineering and training program development. But it changed its management policy under the new CEO and launched a strategy of specializing in HR education systems.
This meant that the company was looking to sell EtaPRO™, despite the software's high reputation among power plants worldwide. Naturally, there must have been other companies that would have jumped on the chance to snatch up EtaPRO™. Why was Toshiba Energy Systems & Solutions chosen over multinational giants? Matsushita looks back over the acquisition.
"I believe that GP Strategies did want to sell EtaPRO™ for as much as possible. Selling it to an investment fund would have been the quickest way of doing that. But it became apparent they wanted Toshiba to further improve on the mature software they had developed, and provide value to society at an ever-faster pace"
Contributing to the success was the positive relationship of trust built between the technical teams through the sales alliance. EtaPRO™ members are said to have been very eager to join forces with Toshiba. Newly appointed EtaPRO™ president Koichi Kitaguchi, who headed the Toshiba acquisition team, speaks about the win-win acquisition made possible by the companies' strong relationship.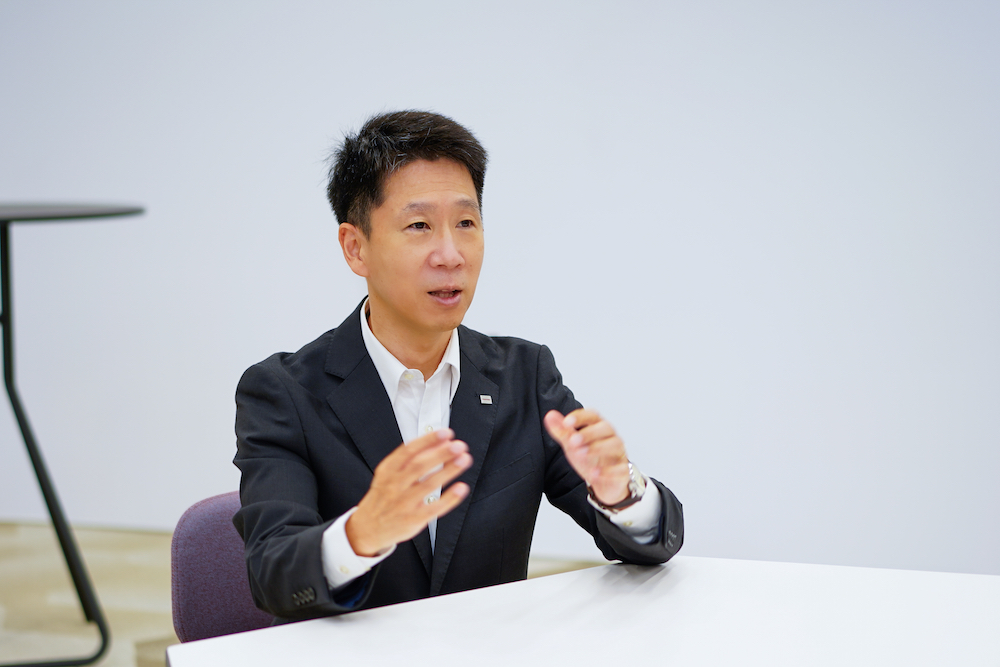 Koichi Kitaguchi, Director, President and CEO, EtaPRO™ LLC
"I believe that GP Strategies didn't reach out to other manufacturers. During our two to three months of due diligence, GP Strategies was always very sincere with us. Ever since Toshiba and EtaPRO™ started working together in 2016, we've built a positive relationship on the back of a sense of mutual respect for each other's technologies. I could feel this in every aspect of communication during the acquisition. The depth of our trust was a hugely decisive factor."
Just how was this trust built? Nakai recalls the time when he proposed the sales alliance with EtaPRO™ from his position as a technology executive. At the time, GP Strategies had sales alliances with various companies, but they never lasted for more than a year and there was a sense of distrust. GP Strategies felt that Toshiba was different to other companies. Based on this belief, the company successfully expanded into the Japanese market after managing to introduce its technologies at Tohoku Electric Power and Hokuriku Electric Power Company, winning trust through both business and technology.
"We visited GP Strategies several times to suggest improvements for EtaPRO™, which deepened our technical communication. We even made the Japanese-language version of EtaPRO™. The software was available in other languages, but it is very difficult to translate specialized power plant terminology into Japanese. So we stepped in to cover that need," says Nakai.
There is also a sense of compatibility between the two companies. It's not unusual for negotiations to break down in Merger and Acquisition (M&A) projects before the acquisition is complete. One of the reasons is differences in values. GP Strategies knew that Toshiba would not only see EtaPRO™ from a business perspective, but also respect it on a more fundamental level. This feeling came through in the acquisition. It is also true that the company believed that combining Toshiba's solutions with the performance of EtaPRO™ would enable major global expansion.
M&A's are generally described as a way of buying time—it's faster to acquire a company with an established customer base and technical capabilities than it is to launch a business from scratch. But this acquisition is different. It is based on many years of partnership and an established relationship of trust. Competition in this field is fierce: generating new value is essential for the company's survival. "Speed will be everything," says Nakai. A business with speed is a business with a future. In part two, we will take a behind-the-scenes look at the EtaPRO™ acquisition.
Related Contents