An Entire Factory in Cyberspace? : Creating Optimal Worksites through Simulation
2019/11/20 Toshiba Clip Team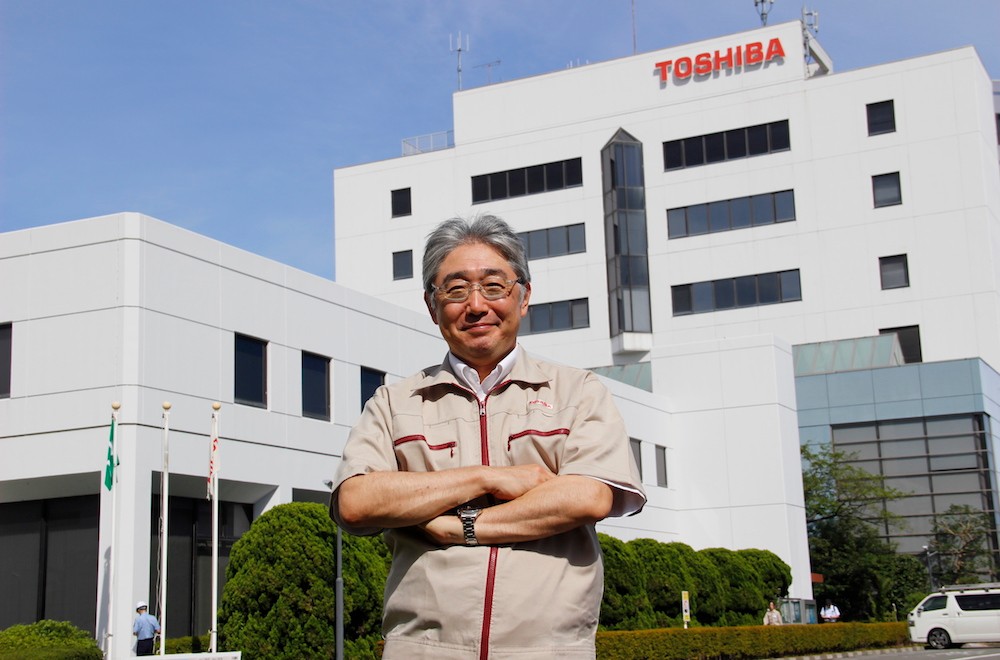 Hisashige Tanaka and Ichisuke Fujioka—the founding fathers of Toshiba, were two people who made an enormous impact on the history of modern technology in Japan. Here at Toshiba, we offer two in-house awards named after these two innovative leaders. One of the awards is the Ichisuke Fujioka Award given to employees that have made meaningful contributions to society and towards enriching people's lives—a fitting award for a man that was nicknamed "the Edison of Japan." We asked Yasutada Nakagawa who works at the Toshiba Corporate Manufacturing Engineering Center and a recipient of the award in 2019 for his work in manufacturing process simulation technologies, about his thoughts on the development process.
"The struggle is the best part"
Nakagawa's work is in manufacturing process simulation technologies. This technology is used to visualize how materials change through the manufacturing process of things like electronic devices, heavy electrical machinery, etc. The visualized data is shown on the computer, and used to solve issues and improve efficiency at the manufacturing site.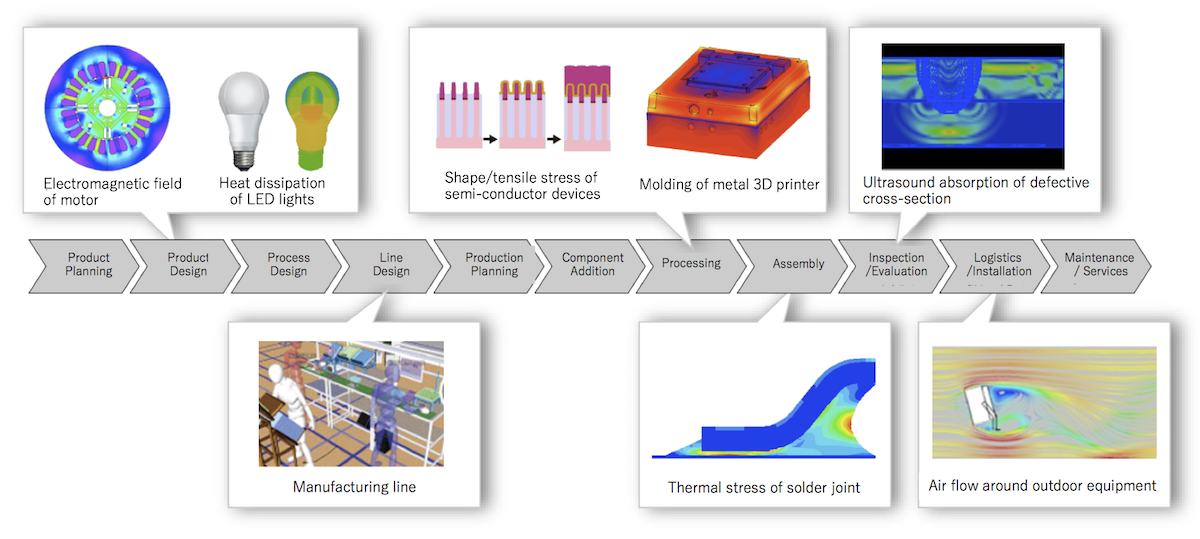 Toshiba's simulation technology allows you to recreate various aspects of the manufacturing process, and conducts analyses
"Most of our work involves modeling various phenomena at the manufacturing site, and simulating these phenomena using the tools we've created," said Nakagawa.
In other words, the engineers take the actual physical phenomena happening in the manufacturing process, model them, and simulate them on the computer—in cyberspace. In this sense, manufacturing process simulation technologies are a direct embodiment of CPS (cyber-physical systems), which makes up the core of the Toshiba Next Plan, a five-year plan for company-wide transformation.
While modeling these phenomena, they often come across instances where they're unsure how different physical phenomena affect each other. In these cases, they will go to the actual worksites and shadow the workers, observing and analyzing the phenomena as they occur.
"There's no textbook for simulating manufacturing processes. The best part of this work—what makes it so fun—is struggling to find the optimal solution based on all kinds of information, including the information we gather at the sites," said Nakagawa, with a smile on his face.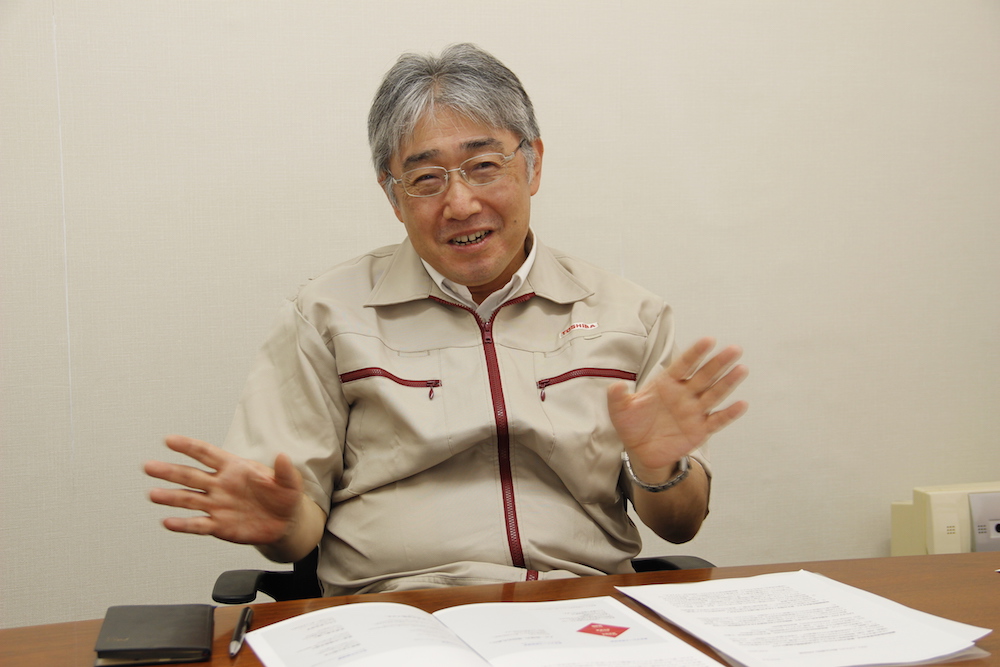 Yasutada Nakagawa, Chief Fellow, Corporate Manufacturing Engineering Center, Toshiba Corporation
A behind-the-scenes passion for reform
When Nakagawa first started working for Toshiba, this simulation technology was not considered promising because design and drafting were seen as more important during those days. Nakagawa, however, believed in the potential of this simulation technology, and devoted himself to developing it.
"We had to convince our factories to adopt this technology, and we were also facing very tight schedules based on their requests. However, we knew that if we were able to provide relevant solutions, we would garner more support and ambitious people to work with us. Our goal is to address the manufacturing needs and contribute to the success of other factories. So we need to show them what we can do, one step at a time," said Nakagawa.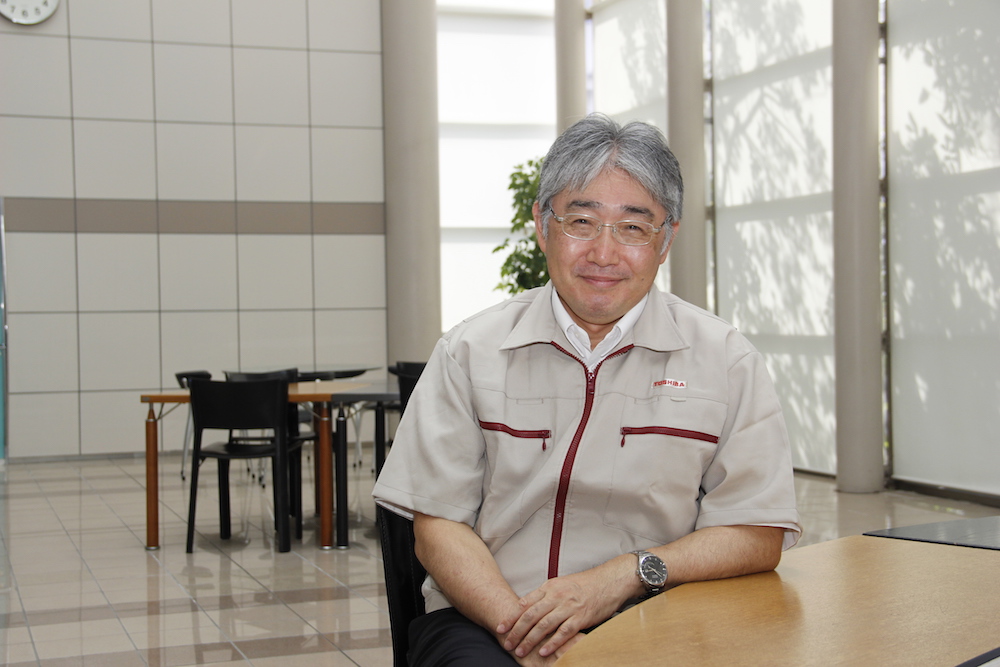 During the course of their work, they'll also come across knowledge and expertise at the sites that haven't been documented. Indeed, another important part of their job—and something only they are capable of doing—is turning "tacit knowledge" (individual knowledge) into "formal knowledge" (transferable knowledge), and collecting and analyzing the often unseen data at these manufacturing sites.
"When we visualize these processes, we can begin applying them to other areas of work, and the manufacturing capability of the entire Toshiba Group is elevated as a result," said Nakagawa.
Nakagawa considers his work at the Manufacturing Engineering Center to be "behind-the-scenes support" for Toshiba, and as such, tends to avoid the limelight. Even when there's a topping-out ceremony for a new site he designed, his mind is already thinking ahead of the simulations they'll create for the next site.
We take pride in working behind the scenes to provide quality products however, it's important for young people to interact with many people early in their careers, in the factories and other places, to understand the industry needs and build a record of success—success in the sense of getting the results people want, and making them happy."
Nakagawa also says that developing simulation technologies for manufacturing processes requires specialized knowledge of the various fields related to the processes. "When you work with other engineers in related fields and create together—I think that's something that will build your expertise to be a better engineer as well," said Nakagawa.
Simulations, which allows us to reproduce various work processes and phenomena on our computers, is fast becoming an essential technology in the industry. Nakagawa hopes that young engineers working on this technology look for a better way and that they believe in its enormous potential—no matter how "behind-the-scenes" their work may feel now.
The Manufacturing Engineering Center is celebrating its 50th anniversary in April 2020. Every engineer at the center shares a certain DNA, a drive to contribute to Toshiba's businesses through advancing manufacturing technologies including simulations.
Nakagawa adds, "We'll continue to pass down this DNA and work towards the growth of the Toshiba Group, with newer and more ideas and innovations."
Related Contents