We Are Toshiba: "Do the right thing" leads us to think about best solutions for our customers and employees
2022/06/29 Toshiba Clip Team
He believes his role is to promote safety and improve morale in the workplace, provide high quality manufacturing and services to our customers.
Embodying one of Our Values, "Do the right thing" is doing what is best for customers and employees.
He works with motivated team members and they are "Committed to People, Committed to the Future." to make a better world.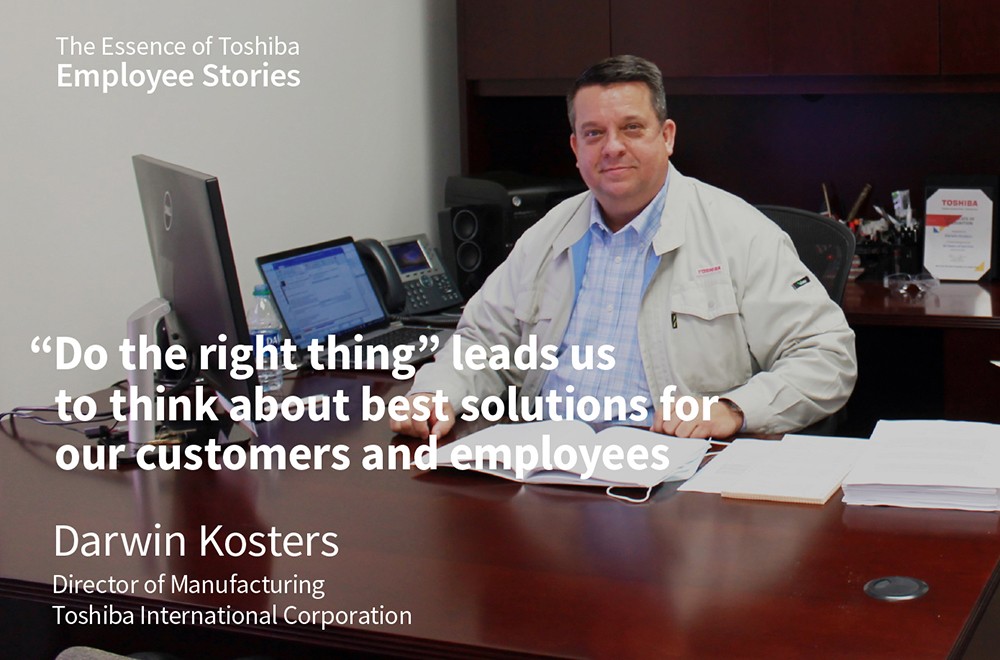 The Essence of Toshiba comprises the following three elements: Basic commitment of the Toshiba Group, our purpose and our values. Our brand purpose is "We turn on the promise of a new day" and we encourage our employees to keep this in mind as they contribute to bringing about positive change at Toshiba. Today we will spotlight an employee who exemplifies these values and inspires others to do the same. Darwin Kosters, who was recently promoted to Director of Manufacturing on October 1, 2021, is our EoT employee of 2022. 
Name: Darwin Kosters
Job Title: Director of Manufacturing
Company: Toshiba International Corporation
Workplace: Houston, TX – USA
Tell us a little about yourself.
"I have been married to my wife, Tami, for 25 years and we have 3 kids and 3 grandchildren. We will host a foreign exchange student from France in 2022 for one year. My hobbies include gardening, hunting and fishing. I completed my Bachelor of Science degree in Business Management & Business Administration at University of Phoenix."
When did you join Toshiba?
"I joined Toshiba in 1990 in Field Service, which was a great foundation that familiarized me with many of the products that we produce. I then went into Production Planning where I became the Master Production Scheduler for the Power Electronics Plant. This value-added position of service support for our customers and how this relates to continued business enabled me to expand my understanding of factory/sales/supply operations in these roles. I then became the Plant Manager of the Power Electronics Plant for 4 years before I moved over to the Control Plant. Here I assisted with 50-90 project in the Medium Voltage Drives growth. It was a very unique time in which we essentially were the leaders in North America for Medium Voltage Drives. I was then promoted to the Plant Manager of the Control Plant and I took over both PE & CP. Today I am serving as Director of Manufacturing." 
Darwin realizes the most significant problem we face in our TIC (Toshiba International Corporation) factories today is related to three areas of workforce management: employee recruitment, training and development and retention. He works continuously to solve these difficulties by partnering with his HR Business Partner and factory managers to attract and recruit new talent, train and develop our employees and develop a succession plan to create a relationship of trust with everyone. He believes his role is to promote safety and improve morale in the workplace, provide high quality manufacturing and services to our customers and increased revenue and profit to our business. The technical skills he's learned throughout his career are key factors in his current role.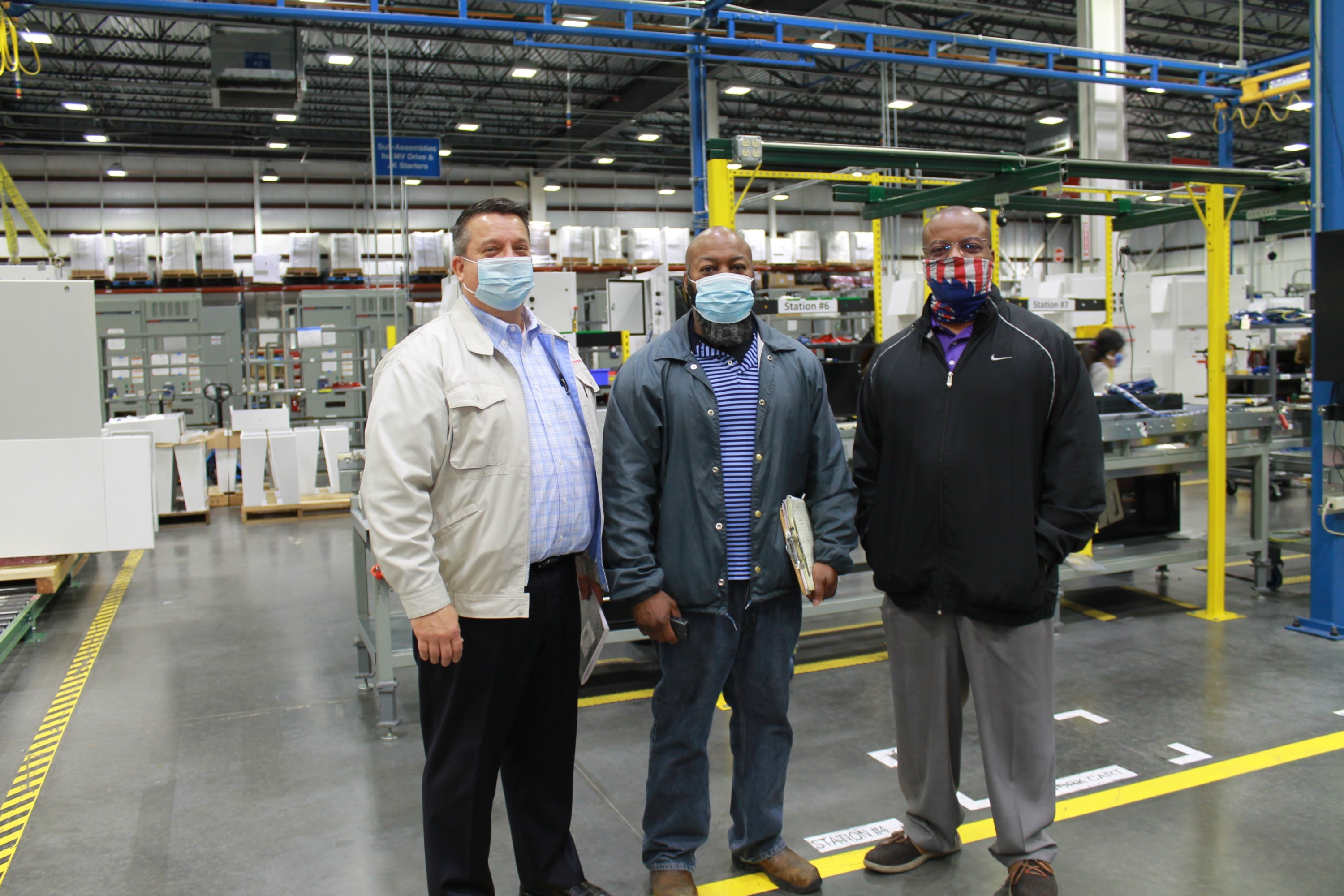 Darwin in CP South pictured with Baron Drayton, Production Manager – CP Assembly and Larry Tucker, Production Supervisor III – CP Assembly
Is there a particular value from the Essence of Toshiba that inspires you, whether in your professional or personal life?
"The one Toshiba value, I believe, that is the single most important is "Do the right thing." It applies to doing what is best in the interests of the TIC organization and for our employees. In this business, many of the challenges we face require us to think outside of the box to resolve problems and it's also forced us to rethink our strategies. In order to make profit, we are obliged to manage to figure out a way to resolve the problem. Then we need to think how we can reduce the cost. How can we become more productive to produce our labor percentage? How can we dual-source or find a cheaper supplier for some of the components we are using to save money? Furthermore, the COVID-19 pandemic was a very painful experience for the TIC organization. It forced us to quickly enact policy changes to assure manufacturing/ shipment continuity of products to our customers. The COVID mitigation policies TIC leadership implemented created a stressful environment, but the results of efforts served to protect our employees while the factories continued to operate. Despite the threat of the virus and the economic impact, the attitude of our factory workers and leadership members was one of "do the right thing" – meaning, working in a safe manner while remaining focused on customers."
What motivates you at work?
"I love working for TIC. After 32 years, I still enjoy coming to work each day and I love the people. Toshiba is an exciting company. Like many companies, we have challenges, but I'm convinced that our greatest strength is our employees. Their commitment on safety, quality, our customers and future growth, in both sales and production, showcase their desire to make a difference. Their willingness to try different approaches regarding process improvement exhibit their many capabilities. We've seen that time and time again not only in the Control Plant, but in all of our plants. I'm also inspired to work around a management team that is driven by continuous improvement, which is what I thrive on. During 2011-2013, we recognized significant growth in the Motors & Drives Division (primarily MV drives and motors). We understood the importance of this growth and that we would recognize continued business for years in expanding our customer base. Supporting these levels of manufacturing growth while expanding factory/ warehouse space was a daunting task. It was a true reflection of TIC leadership and factory employee dedication working together to accomplish greatness."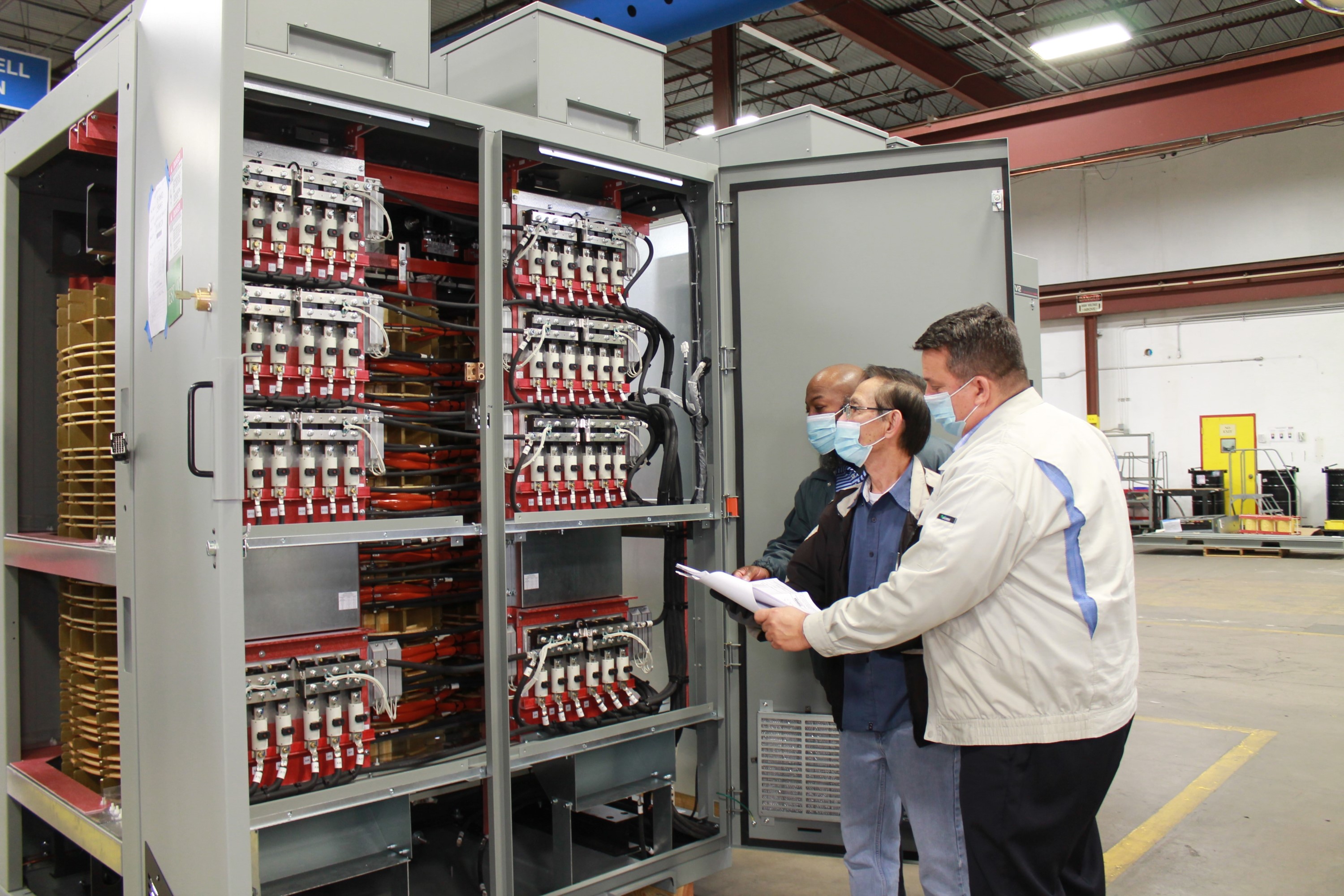 Darwin referencing schematics with Baron Drayton and Mihn Nguyen, CP MVD Lead
In what way do you see your role at Toshiba contributing to our purpose or perhaps bringing about positive change at Toshiba?
"It is always on my mind to make sure I'm doing the right thing to keep employees engaged and let them know that they have significance and are making a difference. They need to understand where we are going and know they have job security. In our current environment, our biggest challenges will be both supply chain management related and inflation related. Trying to remain competitive in a period where we are immersed in challenges each day, we must come up with strategies to secure and manage inventory so we aren't dealing with late deliveries. We have excellent employees that are 100% dedicated to overcoming these challenges. I thrive on the energy from our Senior Leadership team and the passion they bring each and every day to work. Being surrounded by a management team like this is what really drives me."
What is your message of encouragement to your fellow colleagues in Toshiba?
"I encourage Toshiba employees to remain focused on the core competencies, our customers, and first and foremost, safety. I want to keep our employees engaged and committed to TIC and our customers, even as our markets, technologies and social issues are constantly changing. It appears we are now emerging from the COVID-19 pandemic and we are beginning to understand the challenges we face in 2022. This will require continued vision, innovation and commitment from everyone working together for a better future. I am happy to be at work each and every single day and I thoroughly enjoy what I do and who I work with. It is challenging at times, but very rewarding. When we are "Committed to People, Committed to the Future," we should make and do things that lead to a better world."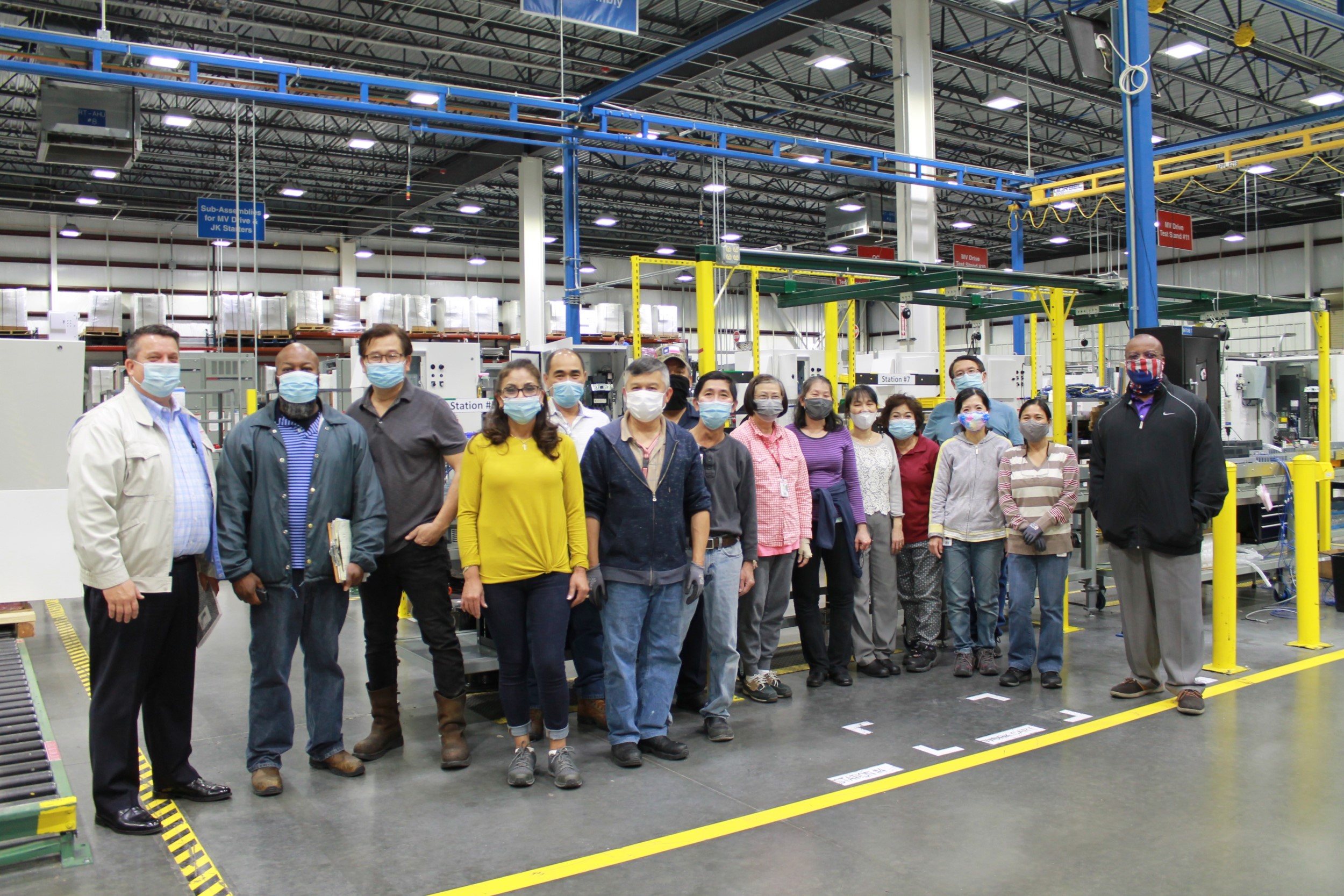 Darwin Kosters, Baron Drayton, Larry Tucker and the ASP Production Assembly Team in CP South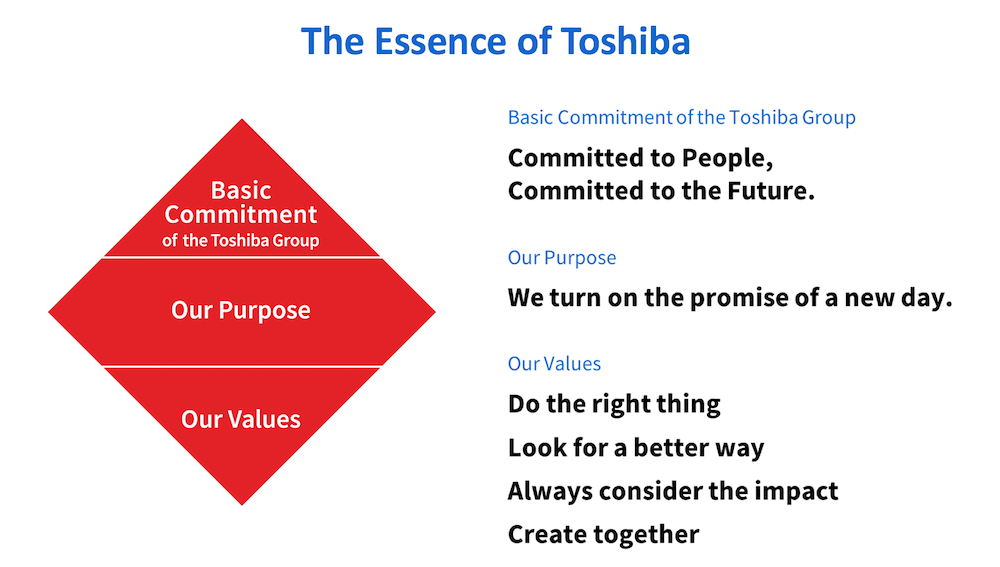 Description
Darwin Kosters works as Director of Manufacturing at the TIC plant in Houston, USA. He takes great pride in this job, which allows him to work with motivated and passionate members of the Toshiba team. He is committed to one of Our Values, "Do the right thing". He says that it applies to finding the best solution for customers and employees. In this article, he shares his thoughts on his work.
Related Contents