Leafony, a platform aiming to democratize IoT, that enables everyone to easily utilize small coin-size IoT devices.
2022/08/29 Toshiba Clip Team
Exploiting data from things effectively by assembling IoT blocks
Immense technological capabilities embedded in a small IoT block
Democratizing IoT to solve global issues and create a marvelous future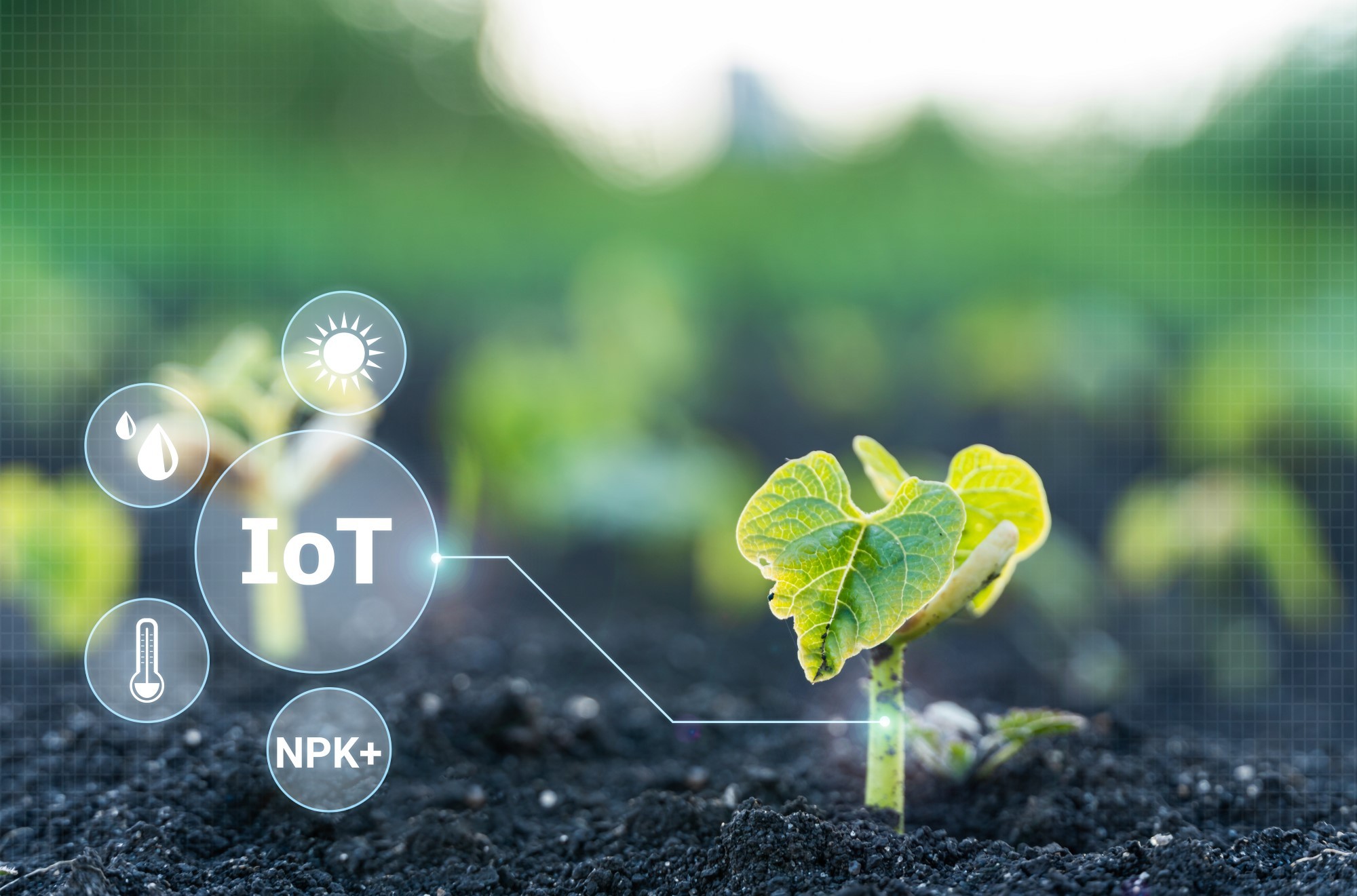 We have become use to remotely setting our air conditioner with an app, and arriving home to a comfortable temperature. Connecting things like home appliances to the internet opens up possibilities, and enriches our lives. This is the internet of things, IoT, and as the use of sensors to collect data becomes more widespread, its range of application will continue to grow more.
Unfortunately, we are not yet at a point when anybody can easily apply IoT to create new solutions or devices; the reality is that it is still something that only universities and companies do. However, there is a platform that aims to change all this, to democratize IoT and make it accessible and easy for everyone. It is called "Leafony," and it has been proposed by the University of Tokyo and developed by forming a team with companies such as Toshiba. This article explains how the co-creation team was guided by the value of "creating together."
Assembling blocks of IoT to make full use of data from things
"A 2020 estimate put the number of IoT devices in operation worldwide at about 50 billion, and estimates for 2030 foresee one trillion devices. Applications are wide ranging, from agriculture to medical care, but in all scenarios the IoT devices must be small and light, able to operate with small batteries, and controlled with an app."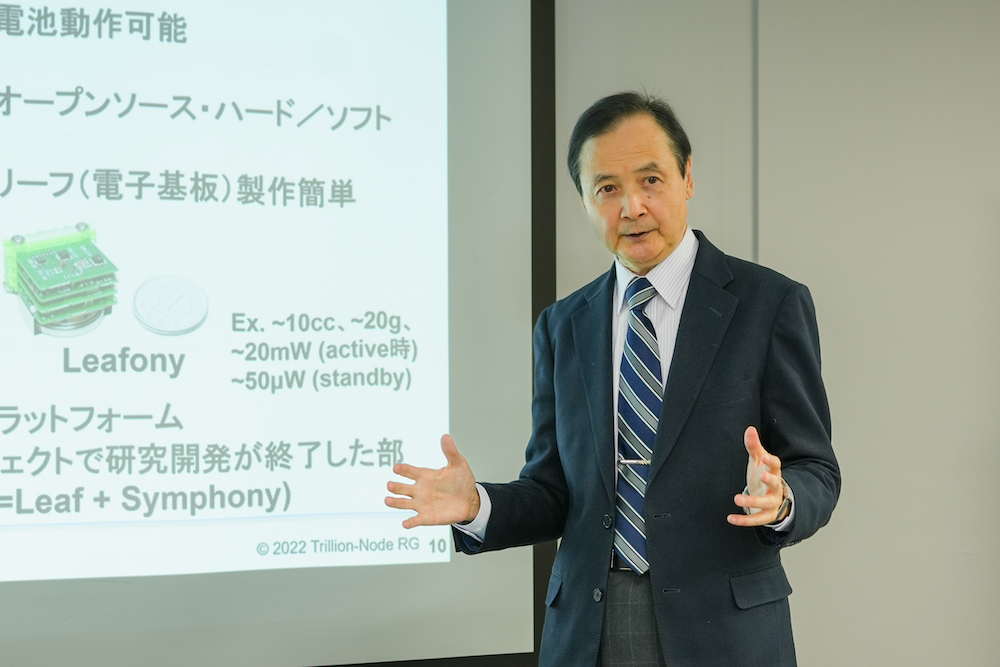 Takayuki Sakurai, professor emeritus of the University of Tokyo, representative of the Trillion-Node Study Group
The source of this information is Takayuki Sakurai, professor emeritus of the University of Tokyo. He goes on to explain that the way 1-trillion IoT devices will be reached as 1 million types x 1 million units of each. Which means we are not looking at low volume production of a wide range of devices, nor mass production of a small range, but mass production of many kinds of products. We will also need apps to control this exponential growth in devices. Until now, this deficiency in the IoT ecosystem development has not been broadly discussed, or indeed addressed.
The challenge was taken up by the University of Tokyo, along with a team of companies: Toshiba, SUSUBOX Corp., D-CLUE Technologies Co., Ltd. and ZUKEN Inc. The first step was in 2016, when Japan's New Energy and Industrial Technology Development Organization (NEDO) committed a project to develop an open platform, the Trillion-Node Engine, aimed at supporting the easy manufacture of IoT devices. When the year 2019 came, Leafony started to be delivered to people for social implementation of IoT blocks (devices). As the name suggests, these blocks make use of the nodes in the trillion-unit.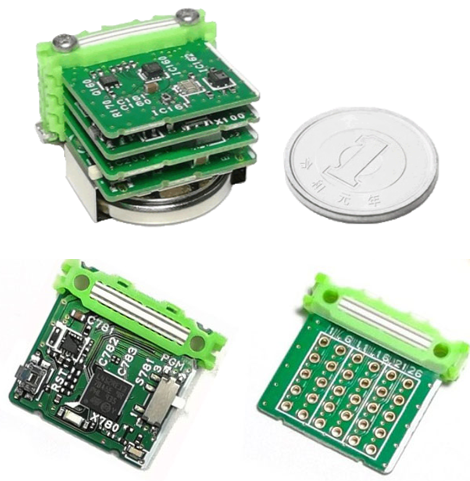 Leafony – IoT devices are realized by stacking typically 2 cm x 2cm IoT blocks.
The essential features of Leafony is that it is "ultra-compact and easily assembled", "the IoT block is easy to manufacture", "powered by button-type batteries" and "the hardware and software specs are in the public domain". Individual blocks are 2cm square, the same as a Japanese 1-yen coin and a fraction larger than a US cent. Each of its component functions—sensor, communications, microphone, battery, etc.—is independent, mounted on its own printed circuit board, and it is easy to combine them in an IoT device to handle a specific function. In a Leafony device, for instance, a sensor board can be set to react to envelopes and packages arriving in a mailbox, and a communication function board can then send a message to a smartphone, ending the need to check the mail every day.
There is huge potential here. If everyone can easily develop IoT devices, and find new combinations of IoT blocks according to his or her own problems, it will really create value in our everyday lives. Of course, if the blocks are not robust enough for everyone to handle them, or if they do not operate reliably, we will not be able to use them with confidence, and they will not have a social penetration. In that case, the question is what kind of technology and ingenuity we need to overcome the problem. To learn more, we spoke to Kenichi Agawa of Toshiba Electronic Devices & Storage Corporation, who worked on the Leafony initiative, and he informed us about the technology embedded in the IoT block and device.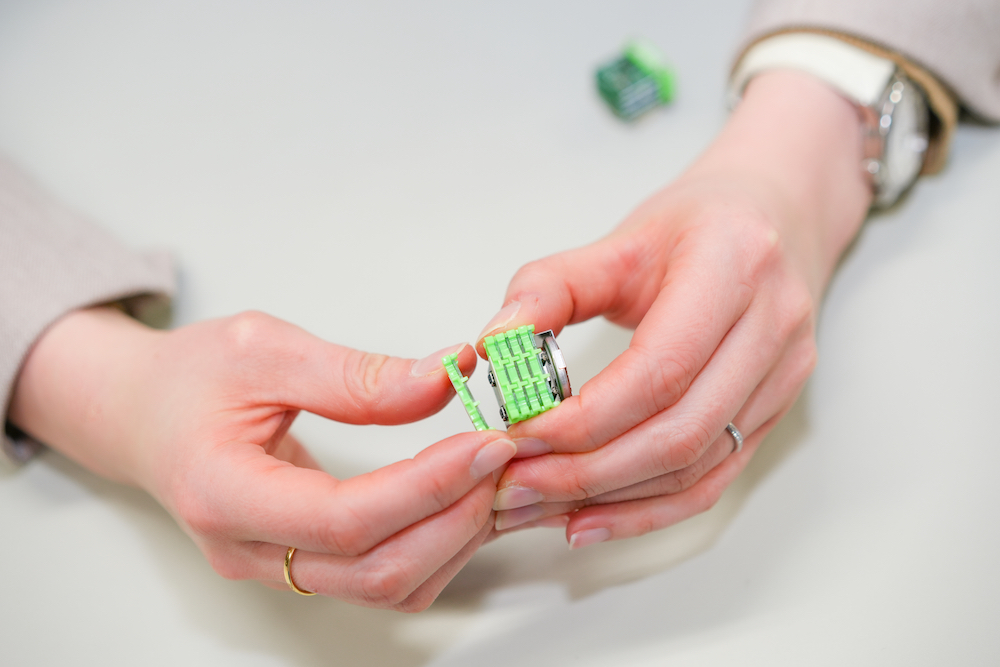 IoT devices that snap each IoT blocks like playing with a block toy.
Enormous capabilities in a small IoT block and device
"We can easily assemble the IoT blocks because we employ a special conductive rubber that conducts electricity for connection between IoT blocks," explains Agawa. "Conventional connectors are large. They prevent the miniaturization of IoT devices and limit their use. In addition to this, they have to be soldered in place, and you need special soldering tools. However, if you use the conductive rubber along with a holder devised by the University of Tokyo, it's easy to assemble and reconfigure blocks. You just snap them in by hand, and you can make the small IoT device. This advance in miniaturization is the result of collaboration between industry and academia."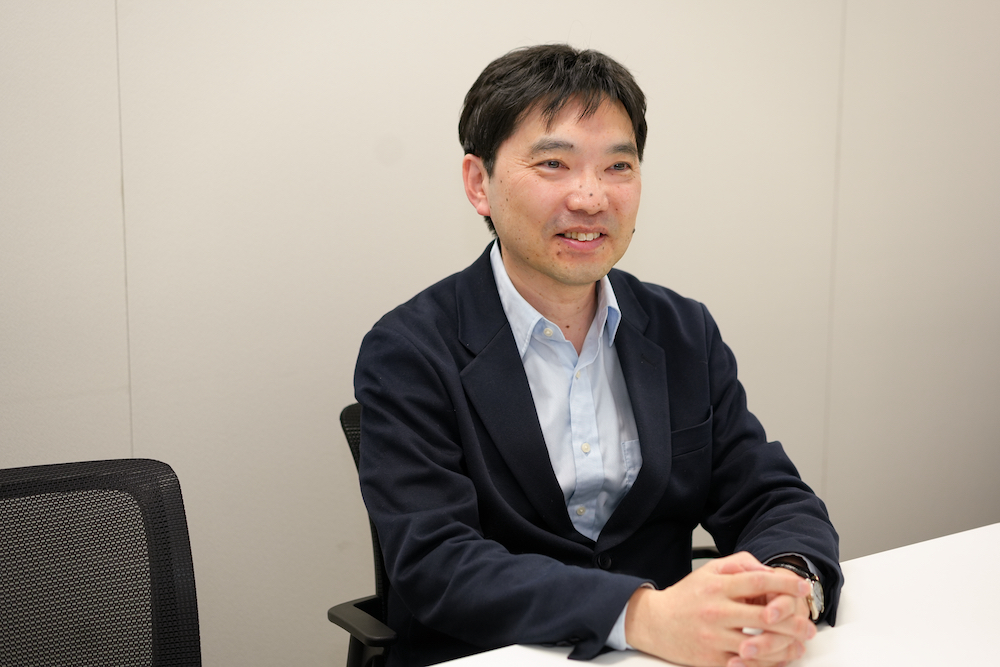 Kenichi Agawa, at the research and development center of Toshiba Electronic Devices & Storage Corporation
The stability and reliability of the connection using conductive rubber was tested in high temperature and humidity environments. And the technology evaluated by Toshiba was not limited to conductive rubber. Something that is easy to assemble by hand also has to be strong enough. Even if blocks are repeatedly assembled and disassembled 200 times or more, the resistance value of the circuit board connection does not change. It is a practical design that can withstand use. In order to achieve this in the "Trillion-Node Engine" research and development project, Toshiba drew on its accumulated technology to provide more than 60 connector proposals, and repeated verifications to finalize them.

The conductive rubber (left) and the holder, spacer and nut are assembled like playing with a block toy.
Agawa continues to describe how things have panned out. "So far, we have not had a major complaint about the IoT blocks created by the Leafony team. That's because we did a lot of testing—including drop tests and impact tests to confirm they can stand up to practical use. I discussed this with Mori-san of Sakurai Laboratory, and we decided to focus on temperature cycle testing that repeatedly cycles from extremely low temperatures, well below freezing, to scorching hot high temperatures. Rubber expands and contracts with temperature, so this test was a really thorough check of the connection.
In the testing, we made use of Toshiba Group's testing equipment and knowhow in semiconductor quality analysis. Universities are good at concepts and idea, but companies like Toshiba have data analysis skills. This small IoT block is packed with full of all kinds of technologies and know-how: the university's research in electronic devices and ultra-low power design technology and Toshiba's technology in HDD mounting, signal connection of system LSI (Large Scale Integration) design, IoT device design, and more."
Currently, Toshiba Group is making increasing use of this small IoT block and device in research and development for its own products. The background here is that Toshiba, which has strengths in LSI design, thinks that it is important to get users to understand products, so they will more lively to use them. With Leafony as a strong business tool, it is easy to build an LSI demo system, which makes it more likely that the products will be accepted.
An IoT platform democratizing IoT devices—that aims to solve global issues
Leafony has been launched as an open source IoT app platform, and is beginning to establish itself across the world. Its specifications, circuit diagrams, pattern layouts, application examples and software are all open and available free of charge, and blocks can also be purchased individually, from as few as just one. The platform is also software compatible with Arudino, which gives users access to tens of thousands of software units that can be downloaded for free, so the hurdles to software development are low. Educational institutions will accelerate research and training in how to use IoT blocks, companies will consider new services built around them, and demonstration experiments will take place. There are also people who create their own apps. It really does look as if Leafony has the potential to democratize IoT by making it easily accessible to everyone.
The technologies that the University of Tokyo and Toshiba contributed to the Trillion-Node Engine Project were well accepted in the selection meeting for "the 2021 IEEE Electronic Components and Technology Conference (ECTC 2021)," a welcome opportunity to publish a paper and present the technology to a wider audience. High evaluations from third parties in ECTC 2021, including leading American companies, major manufacturers in Asia, and a European research institutes, are all helping to advance the spread of the Leafony IoT platform and its real-world implementation. For Toshiba's Agawa, another positive aspect of the initiative are the benefits gained from collaboration between industry and academia.
"Sharing the actual work of research and production with the University of Tokyo and other companies gave us an opportunity to review our technological capabilities. It was truly stimulating to interact with and exchange ideas with people from companies with strengths in CAD* tools and engineer training and start-ups that are constantly working to sophisticate their technical capabilities.
Other positives came from the appropriate scale of the team, its strong sense of unity for the organization. I was glad to be involved in the planning of the overall project, and I gained insights into things like the significance of the research. I also found it very easy to see and understand the relationship between the needs of IoT users and research and development. Sakurai-sensei took the lead and has been discussing the research and development of the project with various companies. Participation in this initiative will give a boost to Toshiba's technological and human resources base."
*Computer Aided Design tools that supports design work on computers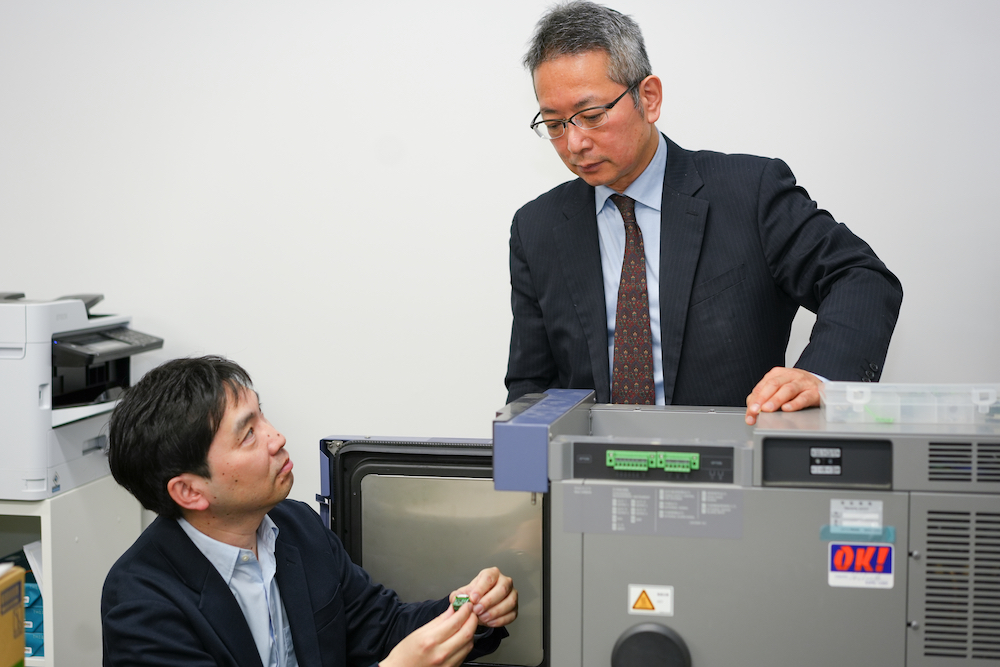 Tokihiko Mori and Kenichi Agawa place sample Leafony blocks in the temperature cycle test equipment
When research and development are closed within a particular organization, it is difficult to get a bird's-eye view of the wider field, and researchers and engineers do not get the opportunity to develop a wide range of skills and knowledge. For companies and universities to confirm the strengths to be gained from working together, it would be very useful to get a bird's-eye view of the wider social implementation of the IoT block.
"I have been working with Toshiba for more than six years, in the hope of democratizing IoT," says Professor Emeritus Sakurai. "In that time, I have come to recognize its comprehensive strengths and reliability as a manufacturer. When we are together as a team, and exchange opinions, Toshiba has provided important technologies and knowledge aimed at putting ideas into practice, and that has accelerated our efforts. Leafony is a comprehensive technology that had to be refined in terms of both its hardware and software. That wouldn't have been possible without Toshiba's wide-ranging track record in advanced areas."
The co-creation team worked together to realize a better future for the world and its people. While Japan faces a shrinking working population, a fact highlighted by a declining birthrate and aging population, energy problems that require solutions, and the need to become a more resilient country. In this context, the development of Leafony and its implementation has real significance. There are great hopes for Leafony as a platform that makes it easy to manufacture IoT devices—even if you are not an engineer with specialized knowledge.
"Of course, there's no need to stress how important training in programming is," says Professor Emeritus Sakurai. "However, Japan has long honed skilled craftsmanship, and specializes in solving real-world assembly and implementation. The more connections there are between companies and academia, the better the future that will open up for Japan, and not just Japan but the world, too. That's the intention behind Leafony."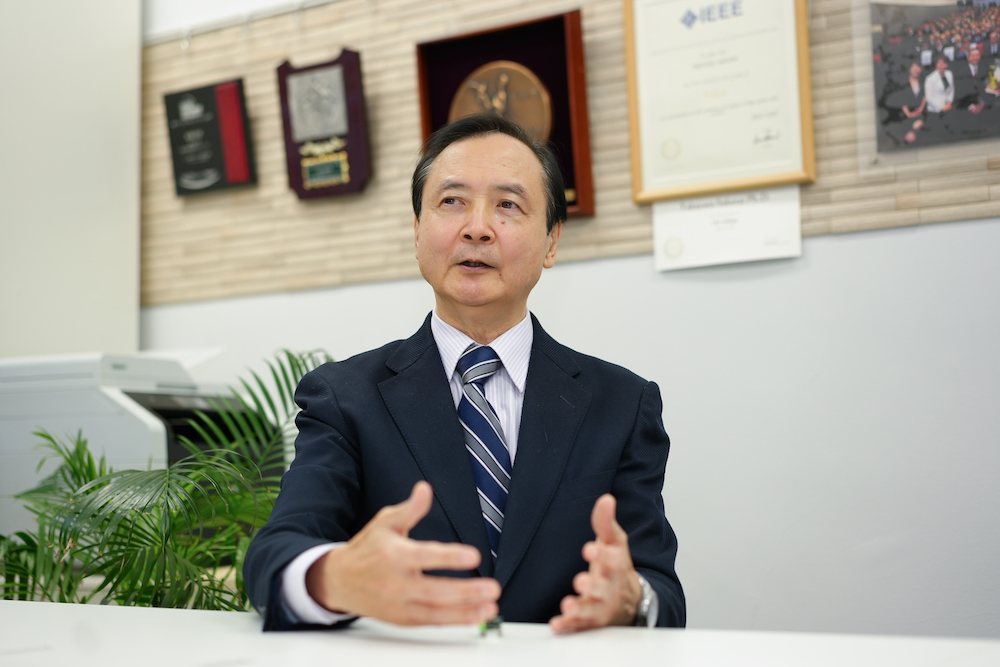 Professor Emeritus Sakurai explains his hopes for Leafony
Toshiba Electronic Devices & Storage Corporation Technical Reviews, "Novel Connector Mechanism Using Anisotropic Conductive Rubber for Trillion-Node Engine as an IoT Edge Platform" (03/2022) View More
Toshiba Electronic Devices & Storage Corporation Technical Reviews, "IoT Edge Platform Trillion-Node Engine Project" (07/2019) View More
Related Contents