Toshiba's Commitment to a Carbon-Neutral Future
2022/10/28 Toshiba Clip Team
Carbon neutrality is essential to counter climate change
Advancing carbon neutrality in energy "Generate," "Transfer," "Store" and "Use Smartly"
Toshiba's technologies for reducing CO₂ emissions that can contribute to carbon neutrality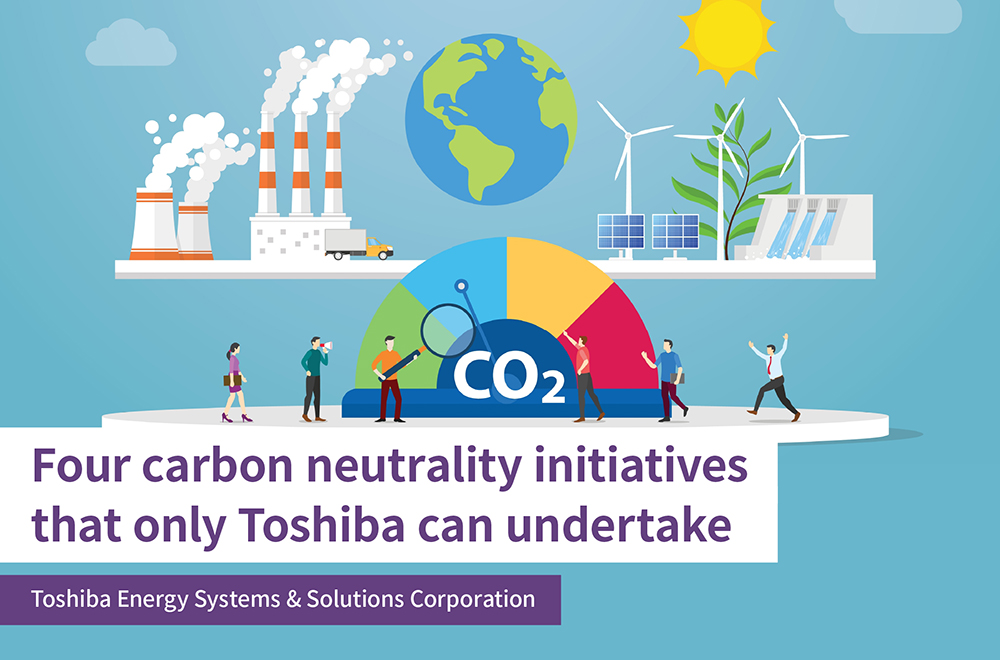 Efforts to counteract the global issue of climate change have brought carbon neutrality—reduction of greenhouse gases to zero—into the mainstream in Europe and around the world. At the same time, driven in part by the rising impact of energy security risk, there is fast growing interest in renewable energy sources that do not emit CO₂ and that countries can supply for themselves.
Toshiba is working for a carbon neutral future with initiatives in four key areas…
Development of power generation methods that reduce CO₂ emissions (generate energy)
Power transmission and distribution, energy supply and demand adjustment and matching (transfer energy)
Storage (store energy)
Efficient use of energy, without waste (use energy smartly)
In this article, we look at what is happening in each area.
From Generate to Use Smartly. Contributing to carbon neutrality in many areas
Carbon neutral means that emissions of greenhouse gases, starting with CO₂, and excluding the CO₂ absorbed in carbon sinks like forests, totals zero. As consumers, the easiest way for us to think of energy conservation and reducing CO₂ emissions is in terms of switching from gasoline-powered to electric vehicles or avoiding frequent use of air conditioners. However, Toshiba's scope is much wider, with business coverage extending from the generation stage, through to where we use energy, in industry and transportation and other ways, and it is possible to cut emissions in many different areas. Toshiba has defined four key phases where it can take action: "Generate," "Transfer," "Store" and "Use Smartly."
The first to consider is Generate. We separate and capture CO₂ from the flue gases produced in power generation, even with thermal power. Our aim is thermal power generation that emits no CO₂, and to provide nuclear power systems that do not produce CO₂. Beyond this, we are promoting renewable energy businesses, wind, solar, hydro and geothermal power, all of which emit almost no CO₂.
Renewables must be promoted more if we hope to achieve carbon neutrality. At present, they account for only about 20% of Japan's power mix. Looked at from the global perspective, their introduction in Japan is making slow progress. One reason for this is that supply from solar and wind power can be unstable, because output levels depend on the weather, and so, alongside increasing the output of renewable sites, we also have to adjust for output fluctuations to ensure users can receive stable supply from renewable sources.
This concern means that, in the Generate phase, it is also necessary to generate power with stable generation sources, such as thermal and nuclear power, and from sources like hydropower, where it is easy to adjust power supply to meet changing demand. We are developing power generation equipment and solutions in all of these areas.
In addition, in the Transmit phase, we are developing technologies for matching supply and demand that brings electricity to users who need it, and power transmission technologies that reduce power loss.
In the Store phase, our SCiB™ rechargeable lithium-ion batteries provide a solution for short-term storage of surplus power, and as a longer-term solution Power to Gas technology converts surplus electricity into hydrogen, which can both be stored and transported to where it is needed. We have used these technologies to develop solutions for handling and adjusting unstable power output.
One of our objectives in Use Smartly is to help to realize a society where there are no emissions of CO₂, and toward this we are promoting electrification by installing SCiB™ rechargeable batteries in public transport. Beyond this, we have also developed Power to Chemicals, a technology that can recycle CO₂ captured from thermal power plants and other facilities, for use as fuel. Toshiba strengths lie in this ability to contribute to carbon neutrality in multiple fields, and moving forward we will introduce Toshiba technologies specifically for each phase of Generate, Transmit, Store and Use Wisely.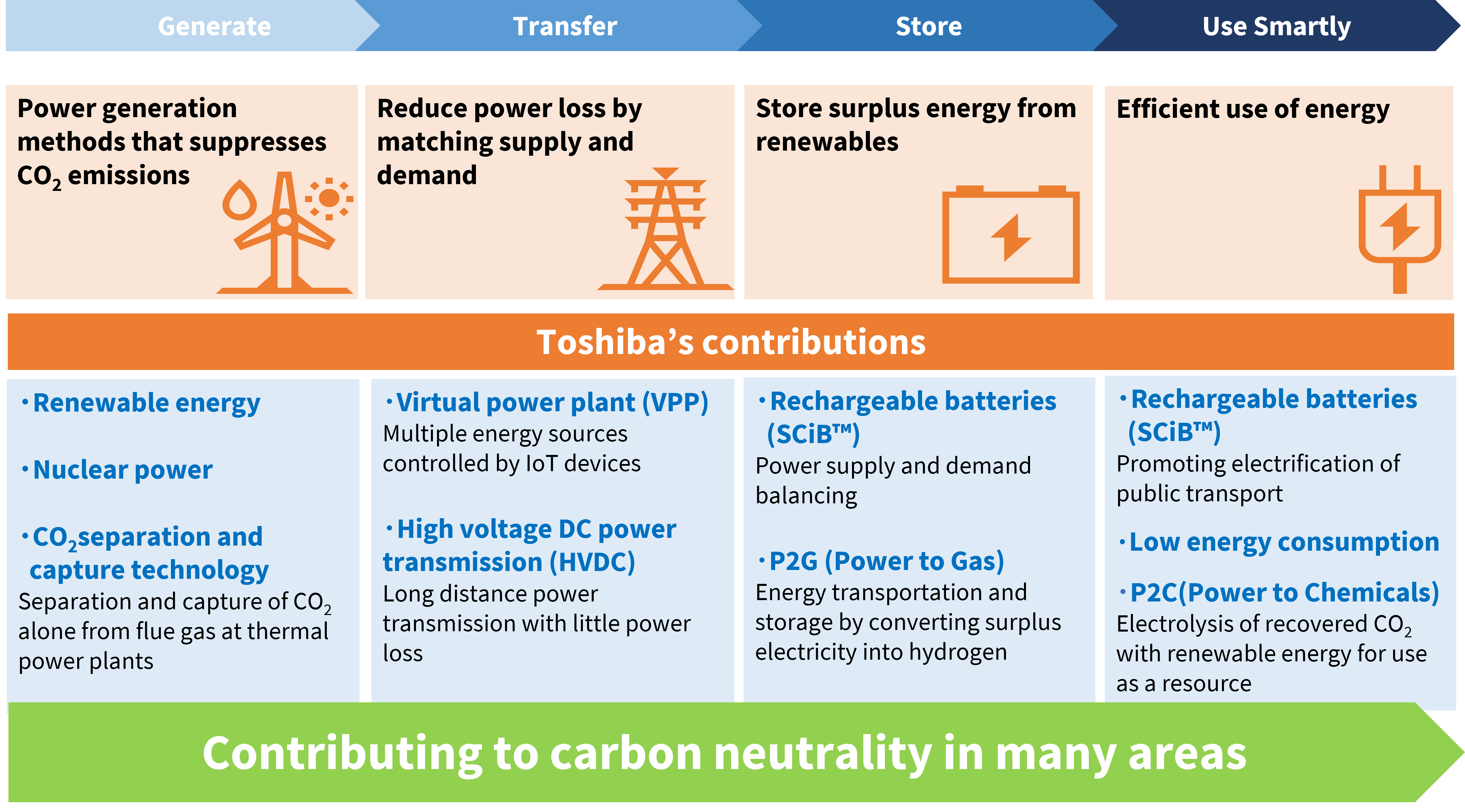 Generate: Achieving carbon neutrality with wind power
Offshore wind power generation initiatives, 1: A strategic alliance with GE
Among renewables that contribute to carbon neutrality, wind power is a generation method that can be relied on to produce steady energy supply, regardless of time of day. Offshore wind power generation involves installing generators in the ocean, to take advantage of stable, larger volumes of offshore wind to produce power.
Japan's offshore generation capacity is expected to see significant increases. We are contributing to market growth through a cooperative partnership with GE, the US energy systems company, which has extensive experience in operating offshore wind turbines, and in engineering and project management for offshore wind projects. Toshiba will contribute to the offshore wind power market with domestic production, highly skilled engineers, high level expertise in the energy sector, and deep insight into the offshore wind market.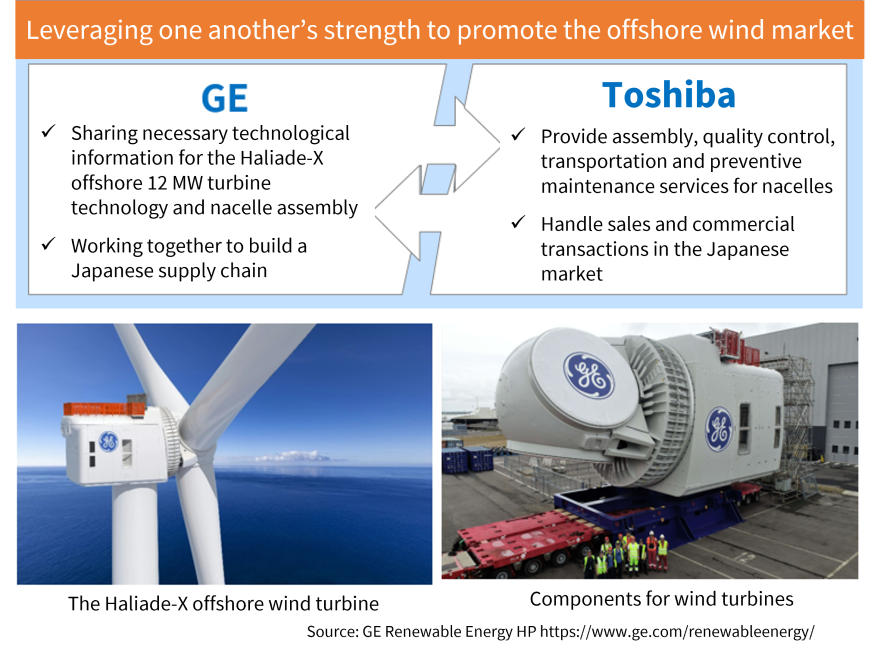 Offshore wind power generation initiatives, 2: Wind condition analysis technology and O&M cultivated in onshore wind power generation
There can be large differences in wind power output, depending on where wind turbines are installed and how installations of multiple turbines are arranged. Toshiba is combining knowledge gained from onshore wind power generation with the latest digital technology to identify optimal installation sites and realize more efficient offshore power generation. Using our proprietary analysis technology, we will investigate the effects of wind turbine wake, a phenomenon that increases the turbulence of wind that passes through a wind turbine, and sea surface temperatures. This will support proposals for optimal locations, layouts and operating conditions.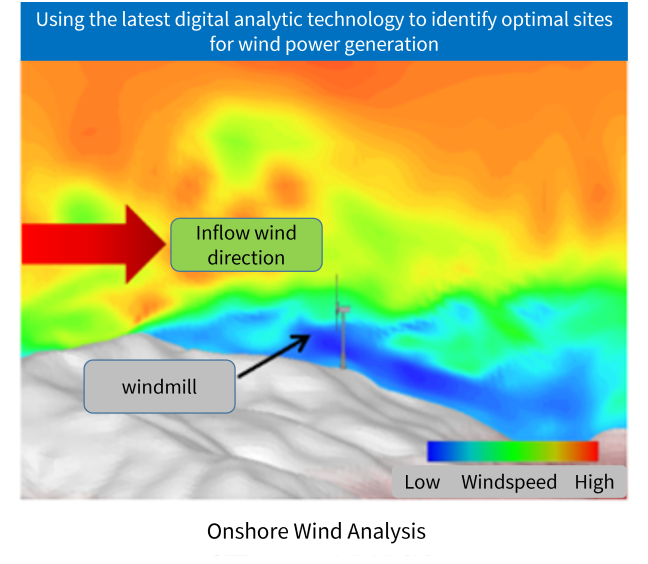 Like other power plants, offshore wind turbines need daily control and maintenance to ensure stable operation. However, stationing engineers at offshore facilities is difficult, as are frequent visits, which makes remote operation and management necessary. At Toshiba, we have digitized data from the turbines, and realized visualization and analysis that improves operation and maintenance (O&M) efficiency, and made it possible to detect anomalies and defects immediately. 
Transfer: VPP supply and demand adjustment and matching technology
When energy is produced with technologies that cut greenhouse gas emissions, Transfer technology is required to ensure efficient delivery to where it is needed, a must for carbon neutrality. Here, technology that digitizes the control status of power generation and transmission systems—technology that Toshiba has worked on over many years—and technology that reproduces in cyberspace the status of facilities that supply power and those that require power are contributing to carbon neutrality.
To be more specific, new virtual power plant technology (VPP) is being applied to solving the renewable energy problem of output instability due to dependence on the weather. A VPP controls diverse distributed energy sources, such as renewable used in the Generate phase and storage batteries in the Storage phase, using IoT devices for remote monitoring and operation, to function like a single, unified power plant. By accurately predicting electricity demand and the amount of electricity generated, it becomes possible to adjust the power supply and demand balance, and to deliver stable use of renewable electricity. This is a technology that can be used to promote the large-scale introduction of renewable energy and the realization of carbon neutrality.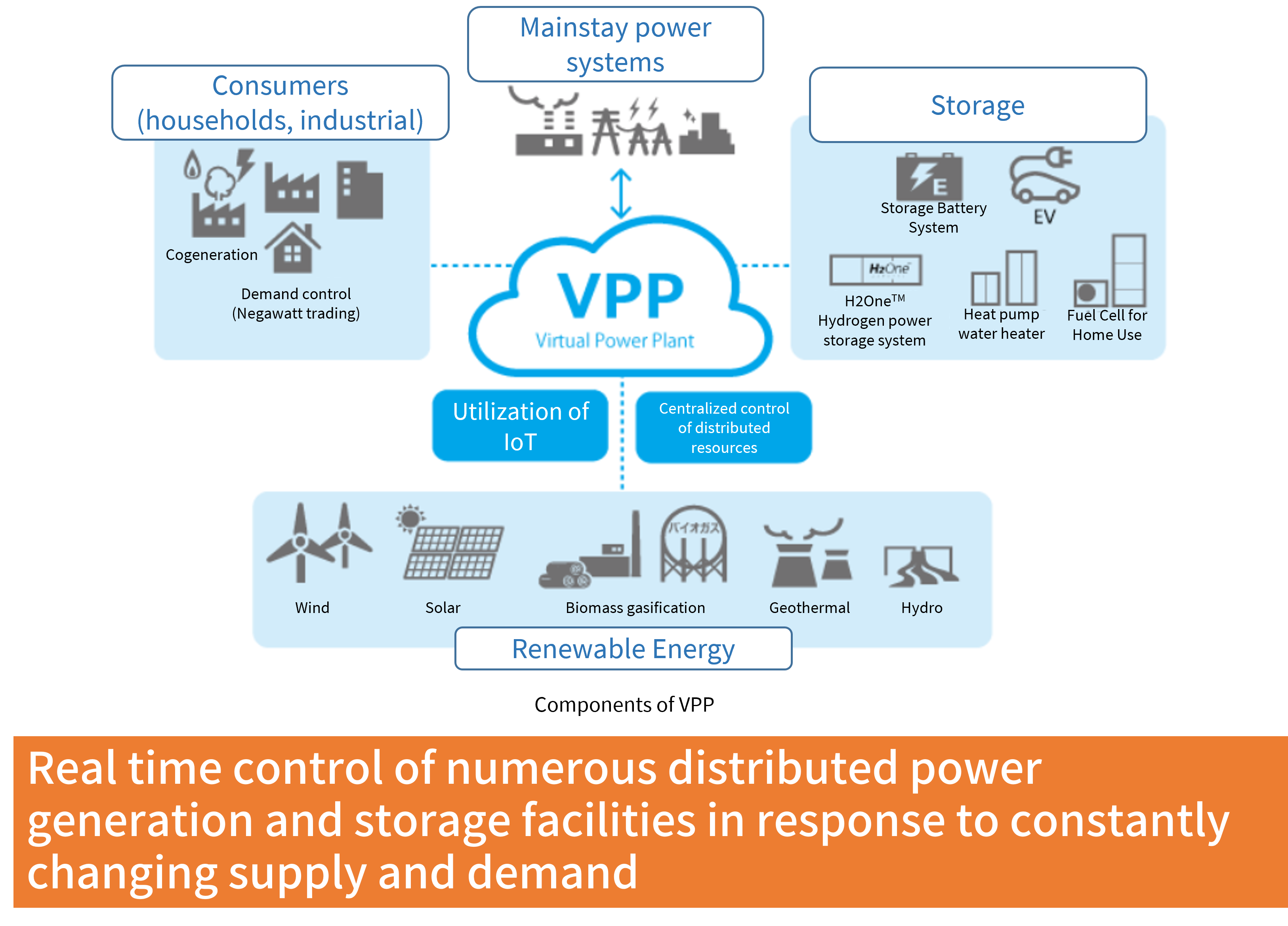 Storage: Power to Gas converts electricity to hydrogen
The large fluctuations in solar and wind power output caused by weather conditions make power management difficult. There are also issues with grid stability, notably imbalances in supply and demand due to sudden output fluctuations. Overcoming these problems requires supply and demand adjustment in response to fluctuating power generation levels, and one route to this is the conversion of electricity into hydrogen, allowing use when and where it is needed, without waste. We have developed Power to Gas technology (P2G) for the storage of electricity, which is difficult to store in large volumes.
The P2G process converts renewable energy into hydrogen that can be used in various fields, including fuel for fuel-cell vehicles and industrial processes, and directly contributes to lower CO₂ emissions.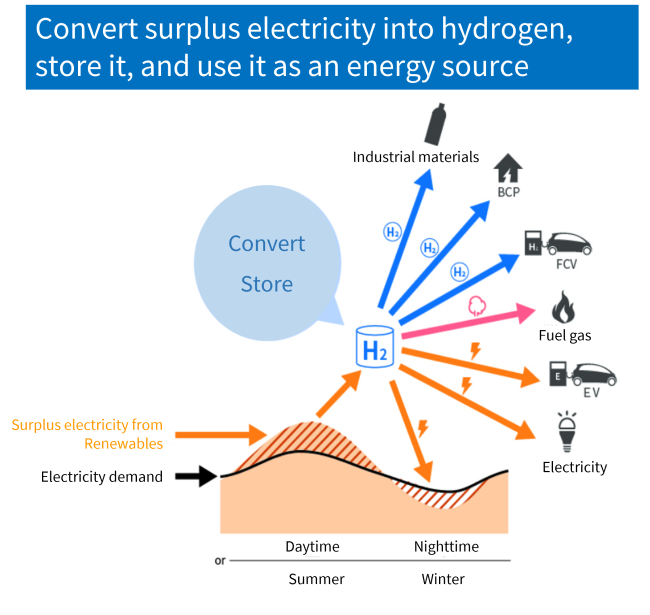 Toshiba provided overall project supervision and the hydrogen management system for Fukushima Hydrogen Energy Research Field (FH2R), the world's largest P2G system, which started operation in March 2020 in Namie, in Fukushima Prefecture. A project promoted by the Japanese government's New Energy and Industrial Technology Development Organization (NEDO), and realized in partnership with Iwatani Corporation, Tohoku Electric Power Co., Ltd., Tohoku Electric Power Network Co., Ltd., and Asahi Kasei Corporation, FH2R in a center of P2G innovation, where we are currently conducting demonstration experiments* to verify optimal operation based on supply and demand balance adjustment and hydrogen demand forecasts. The work at FH2R is advancing technologies that bring new value to power system stabilization and hydrogen production and supply, and also reduce hydrogen production costs.
*Projects include, Technology Development Project for Building a Hydrogen Society; Hydrogen Energy System Technology Development; and Construction of Business Model for Hydrogen System Using Renewable Energy and Technology Development for Large-scale Demonstration.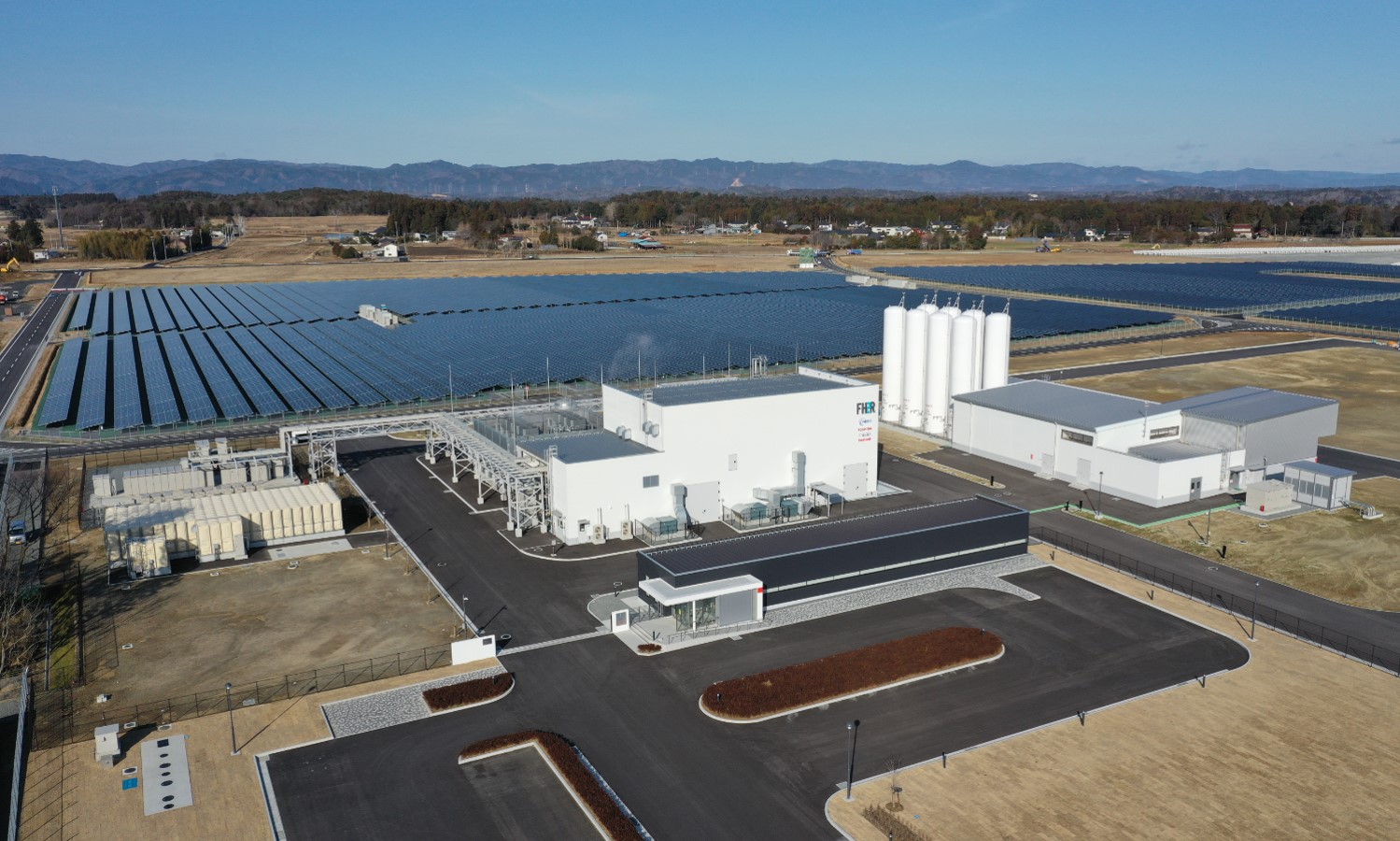 Fukushima Hydrogen Energy Research Field (FH2R)
A CO₂-free new technology: carbon recycling through Power to Chemicals
We will close with an example of a method that does not increase CO₂ emissions, Power to Chemicals, P2C. Thermal power plants and heat-producing industrial facilities emit CO₂, P2C overcomes this in a 4-step process: recover emitted CO₂; use electrolysis to convert it to CO, an intermediate chemical that can be used in industrial processes; synthesizing organic materials from the CO and hydrogen; and, finally, use them to produce final products, such as jet fuel. It is a technology that converting CO₂ into a resource.
Except for some recycled items, the final products of the P2C process are burned as fuel or incinerated as waste, and finally released into the atmosphere as CO₂. These CO₂ emissions can be captured by Direct Air Capture (DAC), which takes CO₂ from the atmosphere, or with Bioenergy with Carbon Capture (BECC), which captures CO₂ in the flue gas of biomass combustion. Recycling CO₂ like this contributes to carbon neutrality.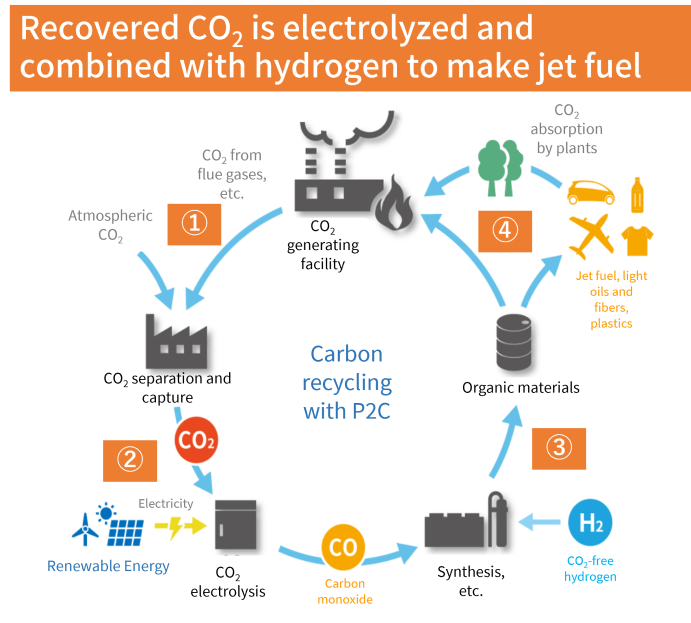 This article introduces some of Toshiba's efforts to realize a carbon-neutral society. Carbon neutrality cannot be achieved by individuals or companies alone; it's an issue for all of us who use energy. Toshiba understands that there are many obstacles, but overcoming them and moving forward is our reason for being: "We turn on the promise of a new day." We aim to provide technologies and solutions that can be used safely and with peace of mind.
Related Contents