AI Coordinators Hold the Key to Introducing AI, Part 2 -What Future Do AI Coordinators Envisage?
2022/11/22 Toshiba Clip Team
What skills do the AI professionals introducing AI in business need?
Quality evaluation and return on investment hold the key to introducing AI.
The first step in AI's future map leading to a circular economy.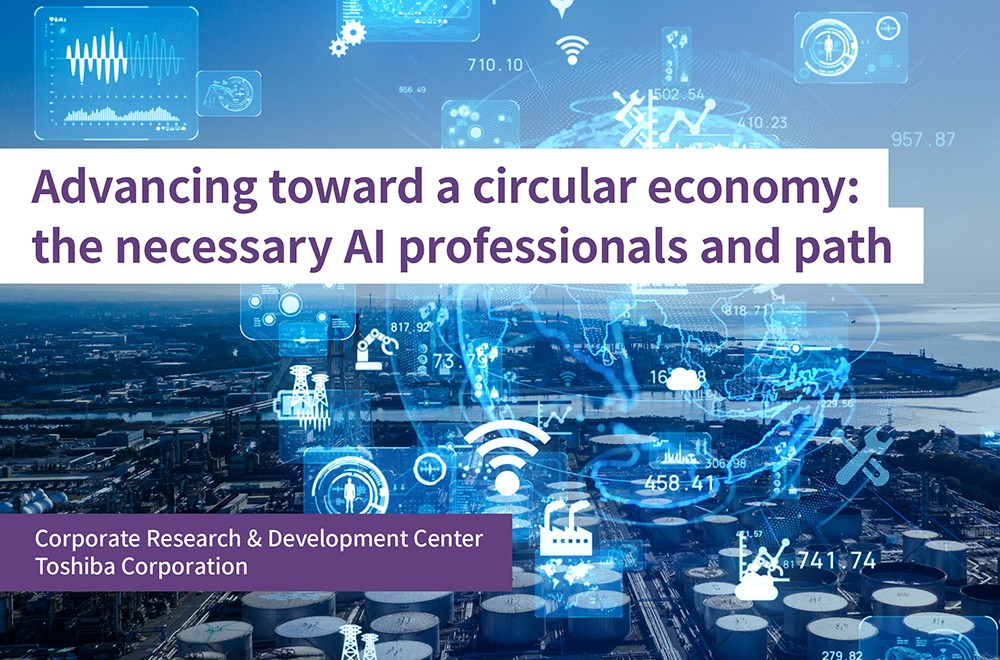 A circular economy emphasizes the repair, refurbishment, reuse and recycling of materials and products to the fullest extent possible, to promote sustainability. To promote this, the Ellen MacArthur Foundation, established in 2010, published "Artificial Intelligence and the Circular Economy" with Google and McKinsey in 2019. The report advocates for the introduction of AI in business, saying that AI will encourage a transition to a circular economy, particularly by demonstrating its capabilities in (1) product design, (2) operations, and (3) infrastructure optimization.
However, introducing AI in business is not straightforward. The previous article presented the role of Toshiba's AI Application Dept. a group of experts who promote the use of AI in business. This article summarizes how those specialists are trained, how they acquire the abilities they need, and how they promote AI introduction. It also provides a map of the future envisaged for AI. Kosuke Haruki, the head of the AI Application Dept., also gave his commentary for this article.
What is the human resources training for Toshiba's group of AI professionals?
Demonstrating results corresponding to the investment of introducing AI takes its own kind of expertise. Toshiba's AI is compatible with fields that are essential and widespread in society, like image, voice and sound recognition, as well as chronological and text data analysis. This is accomplished thanks to the ample AI expertise Toshiba has built in more than 50 years of research and development. Haruki, leader of the group of AI application experts, underscores the importance of human resources.
"The ability of human resources is the common denominator of success in projects introducing AI in business. There's an increase in AI engineers and researchers, but not many professionals can solve problems by connecting business issues with technology. Societal implementation of AI requires ascertaining the necessary data, verifying the return on investment, and evaluating AI quality. Doing these things necessitates expertise in rapidly advancing AI and a business sense. These AI professionals can't be trained in a short period, so the technology and onsite know-how we've accumulated as a company go a long way.
Of course, it's important that they have AI literacy, but at the same time, business skills are about equally important. Then they can properly discuss issues based on diverse values and take action with an understanding of those issues. There's demand for professionals with that flexibility, enthusiasm, and logical thinking."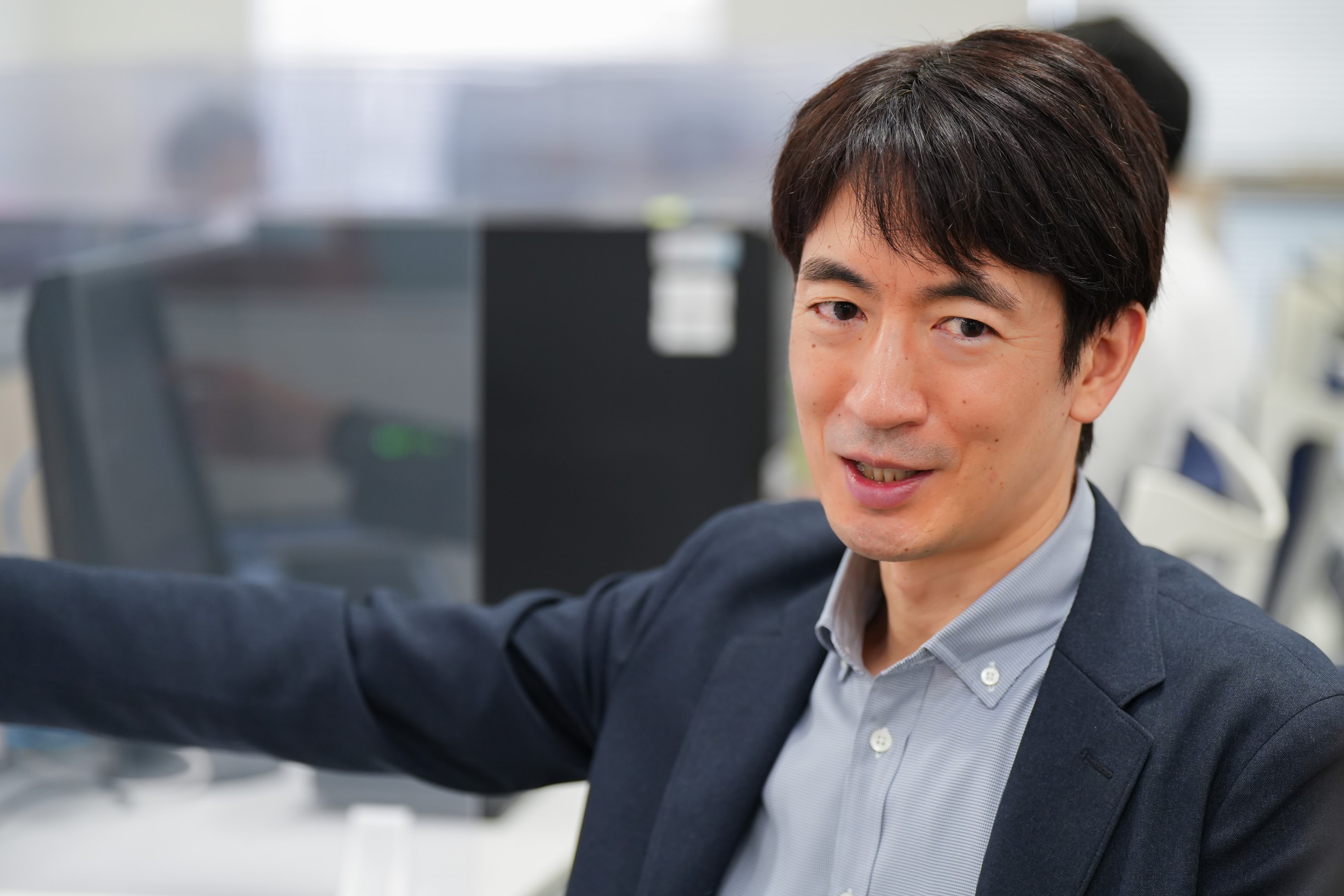 Kosuke Haruki, Senior Manager, AI Application Dept., Advanced Intelligent Systems Technology Center, Corporate Research & Development Center, Toshiba Corporation
The department trains employees in the AI literacy needed for AI introduction by providing a wide range of classes and in-house study based on rotation through Toshiba's various AI laboratories. Since business skills are cultivated on the job, employees are assigned to projects and receive practical on the job training that is reinforced through discussions with customers.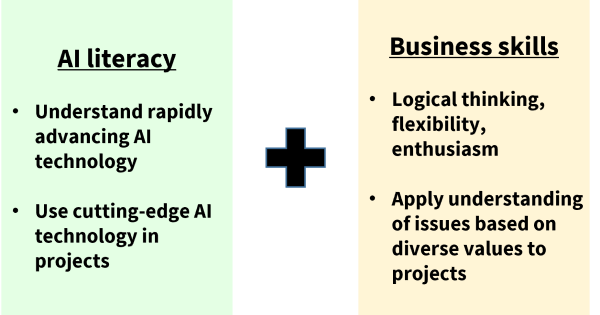 Requirements for professionals introducing AI in business
Mistaking humans for animals: AI quality evaluation technology is common sense
Now to hear about important points for advancing AI. Haruki is also an expert in AI development, and he analyzes the first point, AI quality evaluation, like this,
"The fact is that advanced companies, including GAFAM*1, make large-scale investments in AI research and development and enjoy significant returns from products and services using AI. But their position is not set in stone. For example, I think there are opportunities in the AI business using physical data. Among them, one key factor in promoting AI introduction is the establishment of AI quality evaluation technology: something we're concentrating on."
*1: From the first letters in Google, Apple, Facebook (now Meta), Amazon, and Microsoft
Part 1 touched on this, but here is a simple explanation of the context requiring AI quality evaluation. AI may act in ways we don't expect in the process of learning from data. For example, an AI service that automatically assigns tags to pictures might have cases where it labels a human as an animal. Also, malfunctions in automatic-driving features are something that concerns everyone. Taking this into account, a movement has emerged to decide standards for AI use, mainly in Europe.
It's in this context that the AI Application Dept. is focusing on AI quality evaluation. Clear AI quality standards are needed to promote AI around the world, especially in a safety-conscious Japan. In addition to developing evaluation technology, Haruki helped formulate Toshiba's own QA guidelines for AI-equipped systems, and the technology follows these guidelines.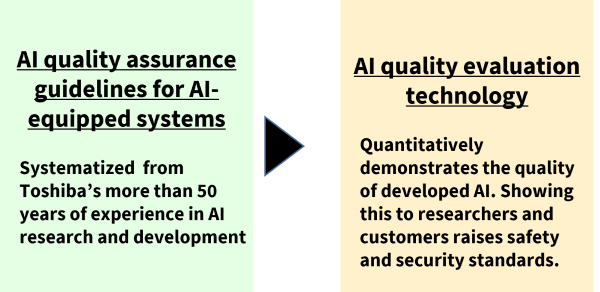 AI quality assurance technology will be established based on Toshiba's own quality assurance guidelines for AI-equipped systems.
What are we doing to achieve "explainable AI"?
"Explainable technology" that envisages the practical use of AI after it is introduced is one type of AI quality evaluation technology Haruki's team is developing. Results produced by machine-learning algorithm emerge from a "black box" that hides the algorithm's working, but explainable technology describes how and why the results were generated.
Take the example of defective goods that AI detects on a factory production line. The AI judges whether items in an input image are good or defective with a fixed degree of certainty. However, users can be bothered by the hidden nature of the decision-making process. That is why Toshiba concentrates on technology that visualizes what part was the deciding factor in differentiating a good product from a defective one. Indicating the point focused on by AI improves user satisfaction.
The approach to AI's return on investment
AI introduction will not be promoted through technological development alone. Next, we want to think about the reasons AI is hard to implement. One problem is the difficulty of establishing the return on investment. To begin with, AI contains various elements such as technology, processes, and functions, and establishing indices is complex and challenging. To consider AI's return on investment, broadly, we should understand two things. The first is defensive territory, including operational efficiency, improvement of productivity, cost reduction, and risk reduction. The second is innovation in products and services, creating new customer experiences, and improving profit structure, which can be called offensive territory.
Companies that have implemented AI in their business are starting to experience the results of AI for themselves in both the offensive and defensive aspects. However, it is also apparent from the prolongation of feasibility studies, leading to whispers about losing out because of not moving beyond PoC*2, that some companies will not take the field. Haruki says the following about the current situation: "The first way to improve the return on investment is to make sure of AI compatibility in the consideration stage. In other words, determining as quickly as possible whether AI can demonstrate sufficient performance. As part of that, the Advanced Intelligent Systems Technology Center is developing tools to operate AI in intuitive ways that people in technology sales can also use.
*2 PoC: An abbreviation for "proof of concept." A test of the feasibility of a new idea.
"Another point of view is that it's sometimes necessary to break from the crowd, taking the plunge to introduce AI even if other companies aren't doing it. Discuss the significance of introducing AI, then build a hypothesis on the return on investment based on reducing labor costs and optimizing facilities operation. Quickly and repeatedly verify the hypothesis by starting small, and being swift in your considerations. This is the approach needed in the digital age."
The first step in a map AI's future is disease risk prediction and inspection information management
What can the introduction of AI achieve in the future, anyway? The Ellen MacArthur Foundation article argues that the introduction of AI in business will encourage the transition to a circular economy. Haruki is also aware of the same issues. He says: "I feel that fields like the circular economy, carbon neutrality, and infrastructure resilience hold a lot of latent potential for social change through the use of AI. I'd like to contribute, using AI to create value by integrating all kinds of data with people and things."
The AI Application Dept. expands coordination between business sites and technology. AI for disease risk prediction and inspection information management are technologies they developed by envisaging a map of the future of AI: "The COVID-19 pandemic has greatly changed people's consciousness of their health. Working from home and not going out are conducive to obesity and a lack of exercise, and there is concern that the risk of lifestyle-related diseases will increase.
"To respond to this issue, disease risk prediction AI quantifies someone's risk of developing a lifestyle-related disease and is equipped with features that help them improve their habits according to their individual lifestyle. Applying AI to healthcare is expected to reduce medical expenses. Safeguarding employees' health so they can work energetically is also a big management issue for companies.

Predicting the risk of future disease from current medical examination data
"Inspection information management AI can recognize the location as well as any signs of deterioration in equipment, including the size of any crack, simply by analyzing a single photo taken with a general-purpose camera. The system uses position-recognition AI and 3D-recognition AI to do this.
"With infrastructure continuing to deteriorate, introducing this AI makes facility patrol as well as maintenance and inspection work substantially more efficient. Collecting information will also be simpler, so making efforts to strengthen infrastructure will be easier."
To make people and the Earth sustainable, social and business issues will be synchronized, and the necessary AI will be introduced along with quality assurance and the return on investment. As an evangelist and coordinator of AI introduction, the AI Application Dept. wears many hats. Its people are surely a group to keep our eye on when talking about a map of the future of AI.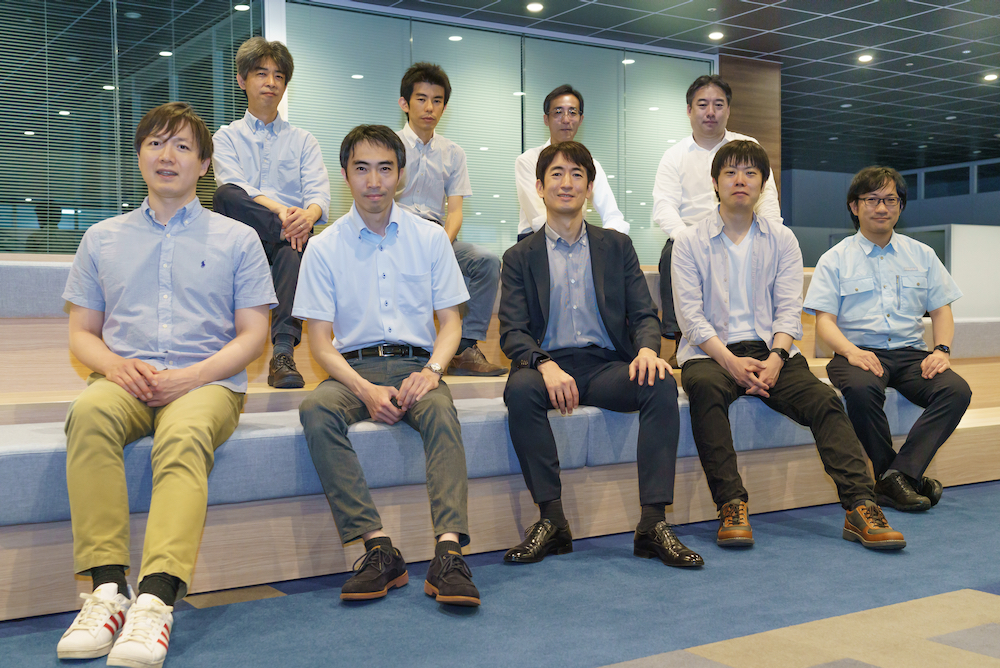 Haruki and his team of AI professionals in the AI Application Department
Related Contents