Toshiba's Microwave technology and it's Macro impact on the sustainability of dining and the environment, Part 1 -How does quality manufacturing transcend national borders as a part of Toshiba's DNA ?
2022/11/25 Toshiba Clip Team
What are magnetrons, a core component of the microwave ovens we relied on during the COVID-19 pandemic?
Television cathode-ray tube technology lies at the heart of microwave ovens?!
An evolving approach to quality manufacturing is embedded in Toshiba's DNA and shared between Japan and Thailand.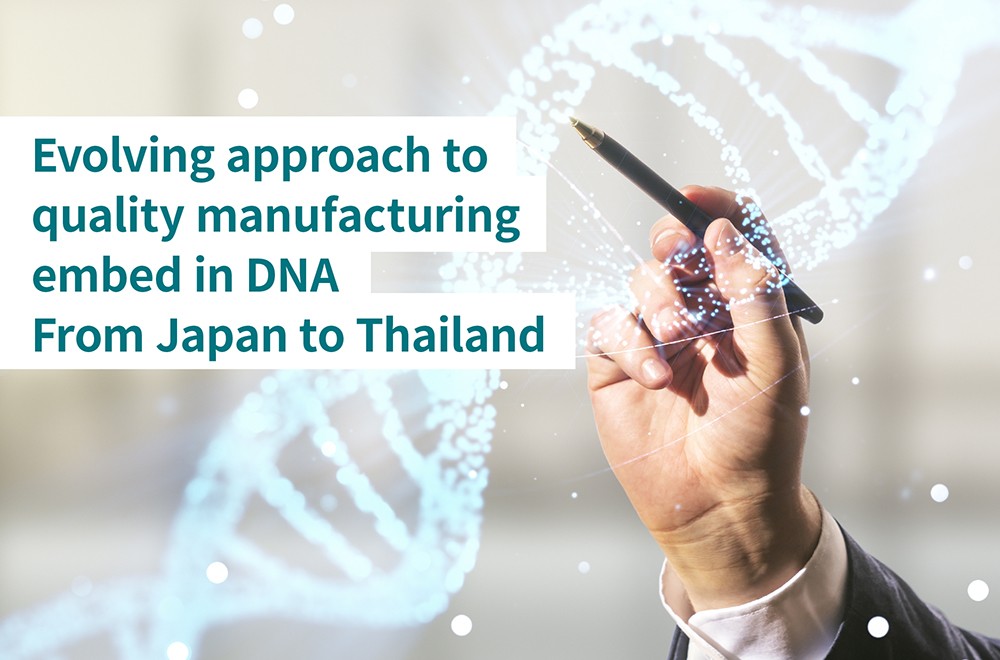 Microwave ovens have become a standard appliance in many homes. During the COVID-19 pandemic, they played a key role in enriching our inevitably monotonous diets while under stay-at-home orders. Thanks to the pandemic, people around the world gained a newfound appreciation for microwave ovens.
On the other hand, since microwave ovens are used so often, their environmental impact (in terms of power consumption) poses a concern. According to a 2018 report in the journal Science of The Total Environment, the electricity used by microwave ovens in Europe alone resulted in the emission of 7.7 million metric tons of CO₂.
Toshiba plays a role in manufacturing the magnetrons that lie at the heart of microwave ovens. In this article, we will explore how quality manufacturing has become embedded in the company's DNA in Japan and Thailand and manifests in the production of energy-efficient, high-quality magnetrons.
Toshiba developed the first industrial microwave ovens in Japan
Magnetrons are vacuum tubes that convert direct-current power into microwaves, a type of radio waves. Originally invented in the United States in the 1920s, they were studied extensively during World War II for use in radar systems.
The technology was then adapted to create microwave ovens. Microwave ovens utilize microwaves to vibrate the water molecules in food at high velocity, heating the food with frictional energy. Magnetrons that generate these microwaves are core components at the heart of microwave ovens.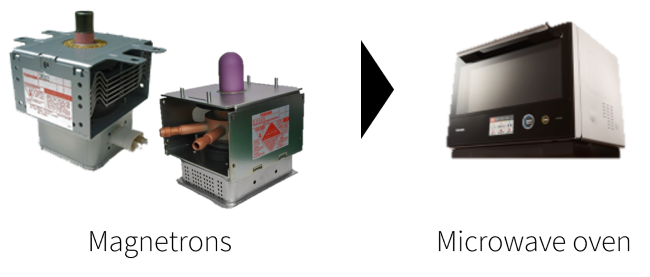 Magnetrons are a core component of microwave ovens
Toshiba developed the first industrial microwave ovens in Japan and has a long history as a magnetron manufacturer. Today, Toshiba Hokuto Electronics Corporation, based in Asahikawa, Hokkaido, is responsible for the research and development of magnetrons within the Toshiba Group. The microwave oven magnetrons that they develop are then manufactured by Toshiba Hokuto Electronic Devices (Thailand) Co., Ltd. (THDT). After years of pursuing high quality and high efficiency, Toshiba magnetrons are still highly regarded by many of its customers who are microwave oven manufacturers.
The COVID-19 pandemic raised demand for microwave ovens and magnetrons
As mentioned earlier, the COVID-19 pandemic led to the implementation of lockdowns in numerous countries around the world, and many people ended up spending more time at home than before the pandemic. Due to these circumstances, microwave ovens gained renewed attention for their convenience as cooking appliances, and demand grew worldwide. The result has been a corresponding increase in demand for magnetrons, as well. Satit Wongchompoo, director of magnetron manufacturing, technology, and quality at THDT, put it this way:
"Since the beginning of the pandemic, many people in Thailand have been spending more time at home. To enjoy a hot meal for lunch or dinner, all they have to do is put a frozen meal or other prepared food into the microwave oven, wait a few minutes, and then it's ready to eat in no time. During the pandemic, our products and technology supported people's quality of life. It was a great feeling to realize the extent of the impact that we were having.
But that's not all. Toshiba's magnetrons for microwave ovens are highly energy-efficient, and their low power consumption is another way in which Toshiba is contributing towards a sustainable society. The energy situation is changing dramatically with respect to sustainability. I strongly believe that our magnetrons can contribute to a sustainable society and I take pride in being a part of this!"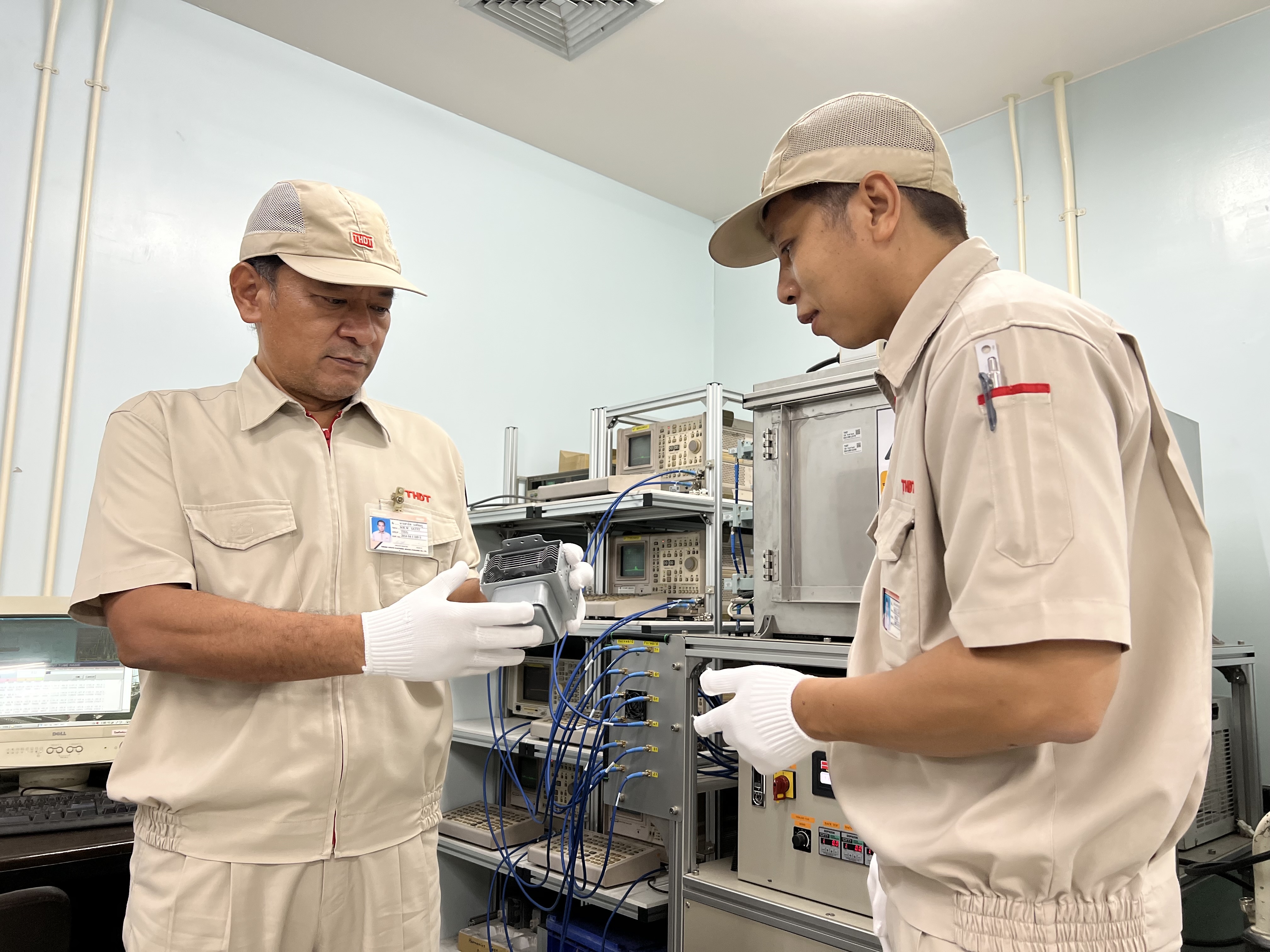 Satit Wongchompoo (Left), Director, Toshiba Hokuto Electronic Devices (Thailand) Co., Ltd.
In fact, Thailand is one of the top countries in Southeast Asia in terms of how often people eat out. Yet during the COVID-19 pandemic, people were forced to abstain from eating out. In this context, microwave ovens also helped to sustain the country's food culture.
Applying Toshiba's expertise in television cathode-ray tube manufacturing to a core component in microwave ovens
To develop and manufacture high-quality, high-efficiency magnetrons, Satit emphasizes the importance of Toshiba's research and development history and accumulated knowledge over many years. More specifically, Toshiba's knowledge of vacuum tubes, once utilized in cathode-ray tube televisions, has played a key role in the manufacture of magnetrons. However, because it is a mature technology, nowadays it is rare for universities and other institutions to teach about vacuum tubes from the ground up. It is therefore extremely important for actual manufacturing sites to keep passing on the knowledge of this technology.
Toshiba Hokuto Electronics Corporation in Japan's track record of manufacturing cathode-ray tubes for black-and-white television sets dates back to the 1960s. From the 1990s, the company began manufacturing magnetrons for microwave ovens. Then, in the 2000s, manufacturing was transferred to THDT, and the technology was passed down in an unbroken line to Toshiba's members in Thailand.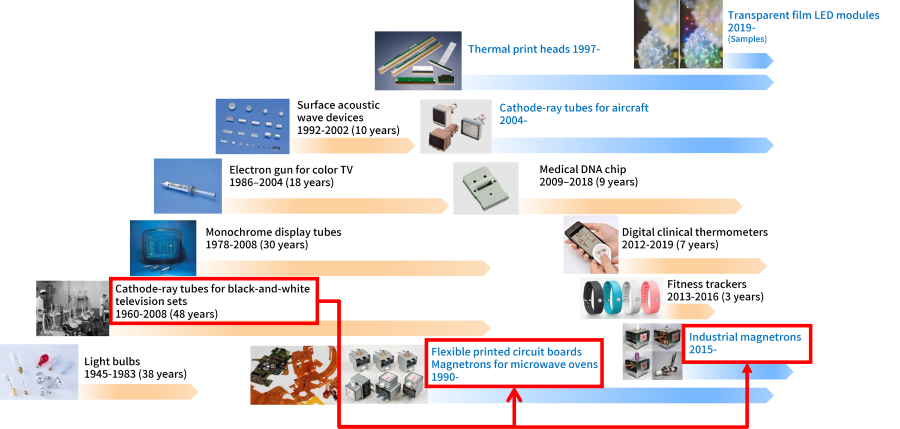 The technology acquired in the development and manufacture of television cathode-ray tubes continues to be used in magnetrons
Satit continues: "The knowledge we have inherited has been a major strength for THDT in the development and manufacture of magnetrons. In order to consistently produce energy-efficient, high-quality magnetrons, we need to draw on a wide range of knowledge in addition to vacuum tube manufacturing technology, including electrical and mechanical knowledge. This is why we, too, have gained more knowledge from our experiences in the field than we have ever learned in college.
Toshiba's accumulated knowledge of magnetron manufacturing is extremely valuable and unique. In this regard, it is critical that we also pass on what we have gained to the next generation through on-the-job training."
Trust in the Toshiba brand in Thailand
About 700 employees work at THDT (as of August 2022). The majority of them are locally hired Thai engineers and technicians. The Toshiba brand is highly trusted in Thailand, and the company attracts talented people from all over the country. Satit is one of those people who were drawn to Toshiba because of its presence.
"I joined the company in March 1992. Since back then, Toshiba has been recognized in Thailand as one of the best electronics manufacturers in the world. Everyone knew Toshiba. I too wanted to work for Toshiba, so I applied to THDT.
I was interviewed by a Japanese engineering manager. Through the conversations we had, I intuitively knew that my knowledge of electricity and engineering, ability to quickly acquire diverse knowledge and skills, and flexibility made me a good fit for Toshiba. My interviewer apparently had the same impression of me. I chose Toshiba and my interviewer also chose me, and I officially joined the company."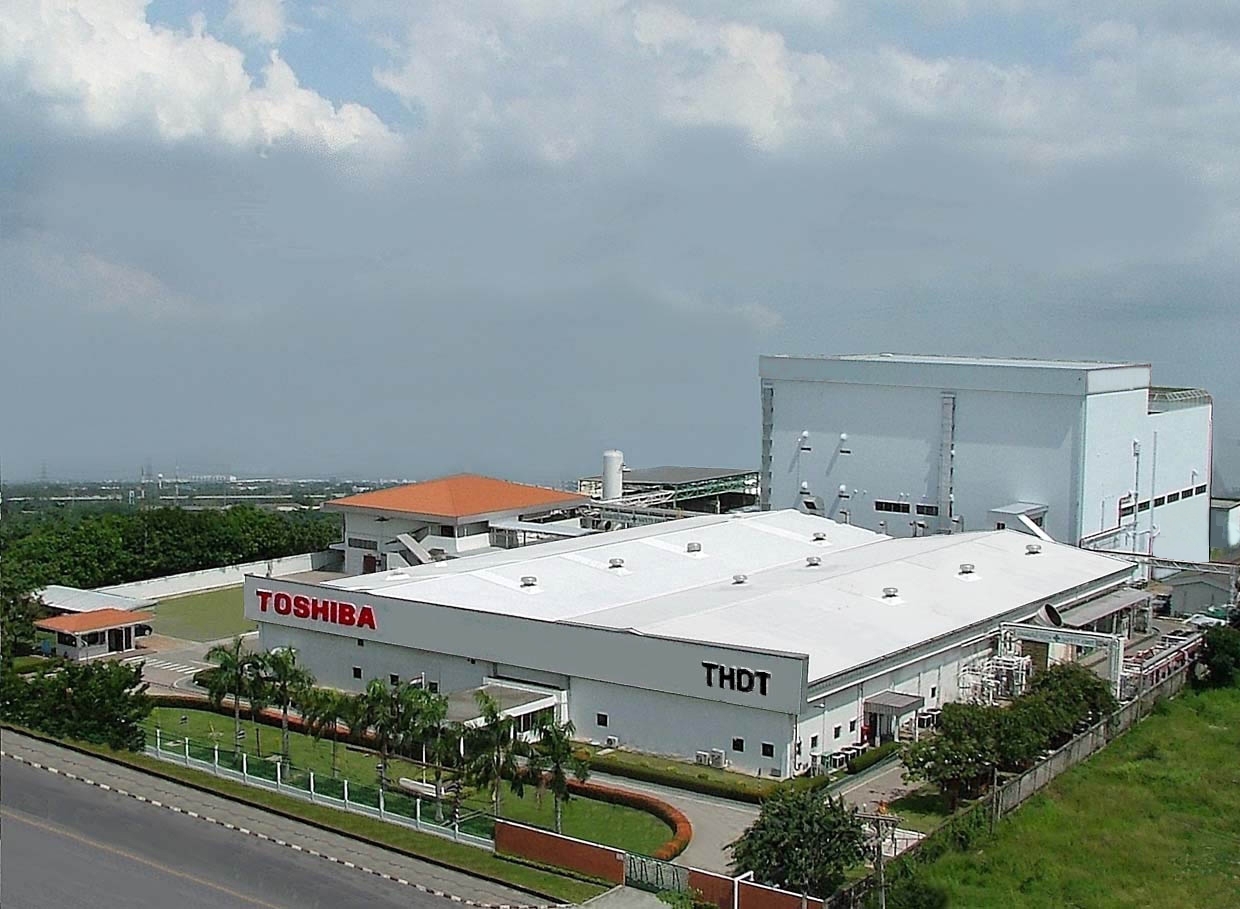 Exterior view of Toshiba Hokuto Electronic Devices (Thailand) Co., Ltd.
Recognition of Toshiba spans all generations in Thailand. Even Sarawut Krueganok, a mid-level process engineer at THDT, says, "I have been familiar with Toshiba since I was a child."
"I'm currently 45 years old. Toshiba's products have been a part of my life since I was little. I grew up hearing the slogan "Toshiba brings good things to life," which was used in Thailand back then. Later, when I entered the engineering department at my university, I became interested in Toshiba again as a potential employer.
Toshiba is constantly developing new technologies to enrich people's lives through high-quality, engaging products. I joined THDT because I wanted to do that kind of work, too. As a process engineer, today I am involved in controlling and improving the manufacturing process, while incorporating and refining what I have learned with my own perspective to produce the highest quality products."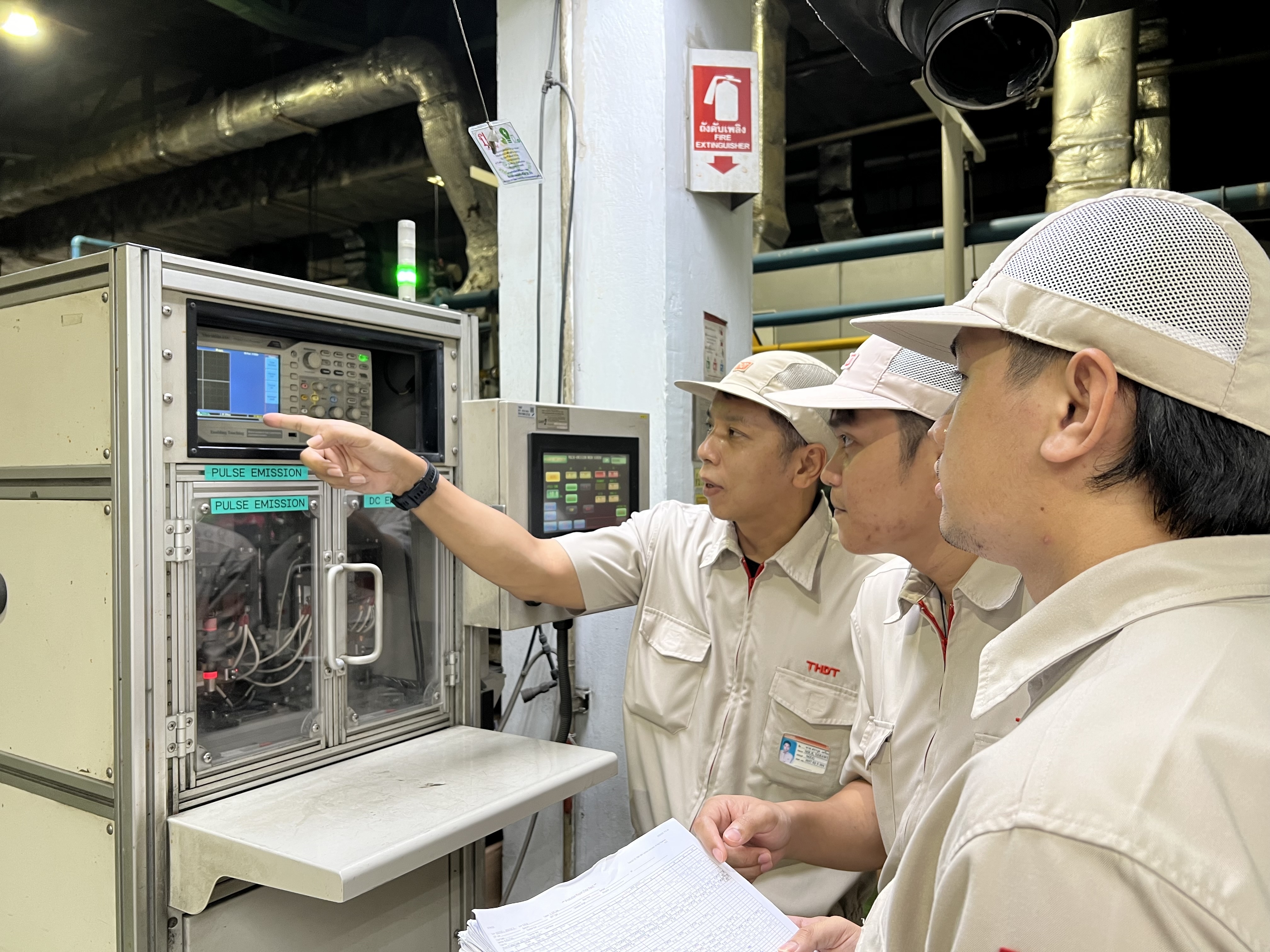 Sarawut Krueganok (Left), Group Manager, Magnetron Manufacturing Engineering Group, Toshiba Hokuto Electronic Devices (Thailand) Co., Ltd.
In Thailand, Toshiba's products are known for their high quality and reliability. Both Toshiba veteran Satit and mid-level engineer Sarawut have been focused on quality and safety ever since they joined the company.
Quality manufacturing seems to be in Toshiba's DNA. "I am not the only one who thinks this way. It's an attitude that employees have cultivated generation after generation," notes Sarawut. Every time they see Toshiba products being utilized in the real world or use them themselves, THDT members feel a sense of pride in the high quality of the company's products. How has this attitude toward quality manufacturing, which is embedded in Toshiba's DNA and connects Japan and Thailand, permeated the company culture? In Part 2, we will take a deeper look into Toshiba's approach to human resource development in Thailand.
Related Contents