We Are Toshiba: Connecting Customers with Toshiba to Raise the Quality of Life
2020/11/18 Toshiba Clip Team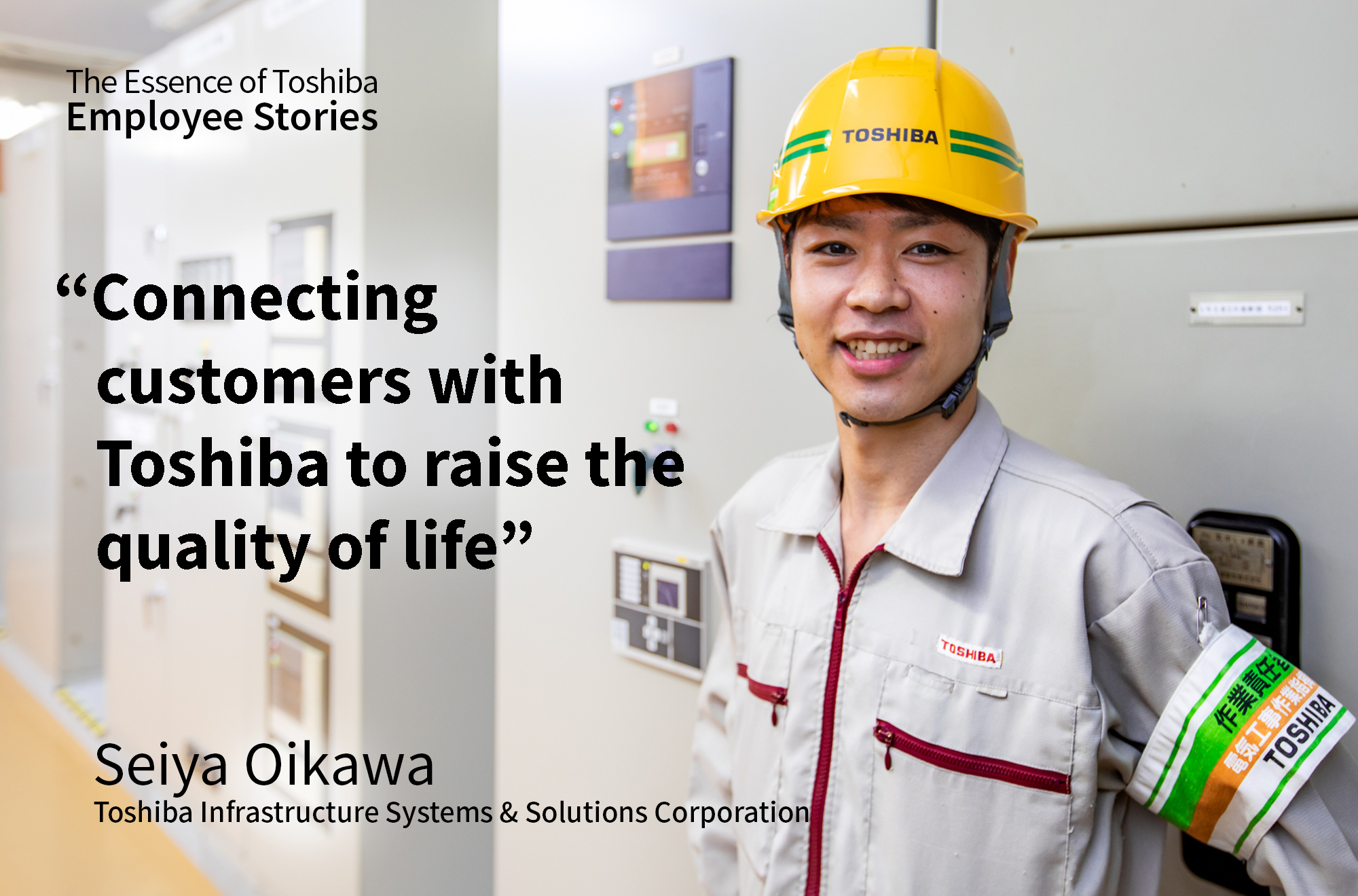 What is a corporate philosophy? It may seem difficult to understand, but it encompasses the shared beliefs that every employee values and practices at work every day. Here, we introduce the thoughts and shared values of our colleagues, cultivating the Toshiba brand. This time, we interviewed Mr. Seiya Oikawa, who provides inspection services at Toshiba Infrastructure Systems & Solutions Corporation, and how his dedication to his work builds trust from customers.
Discovering the purpose of work
— What is your motivation to work at Toshiba?
When I was looking for a job, it was during an economic downturn, so I did not consider a long-term career plan and instead wanted to secure a job as quickly as possible. One day, my senior from my university days reminded me that work is about contributing back to society as well. This helped to ease my anxiety and focus my attention on finding jobs that are aligned with my values and aspirations. At that time, I associated Toshiba as a home appliance manufacturer. However, I soon discovered that Toshiba supports people's lives through the social infrastructure business and upholds the Basic Commitment, "Committed to People, Committed to the Future.", a powerful statement that attracted me to join the company.
–What are your responsibilities since joining the company?
I was assigned to Toshiba's Fuchu Complex and have been involved in the inspection of social infrastructure equipment, using the knowledge on electronic engineering that I acquired during my university days. This involves going to the worksites to inspect transmission and distribution systems, power generation systems, and monitoring and instrumentation systems for water supply and sewerage systems. This is an indispensable task to maintain a stable operation of buildings and facilities. My group provides approximately 1,200 inspections and services annually. Inspections are often carried out during public holidays and at night because systems need to be shut down for a long time for extensive checks. However, I am undeterred by these working hours as I recognize that my job contributes to the smooth running of businesses and people's lives.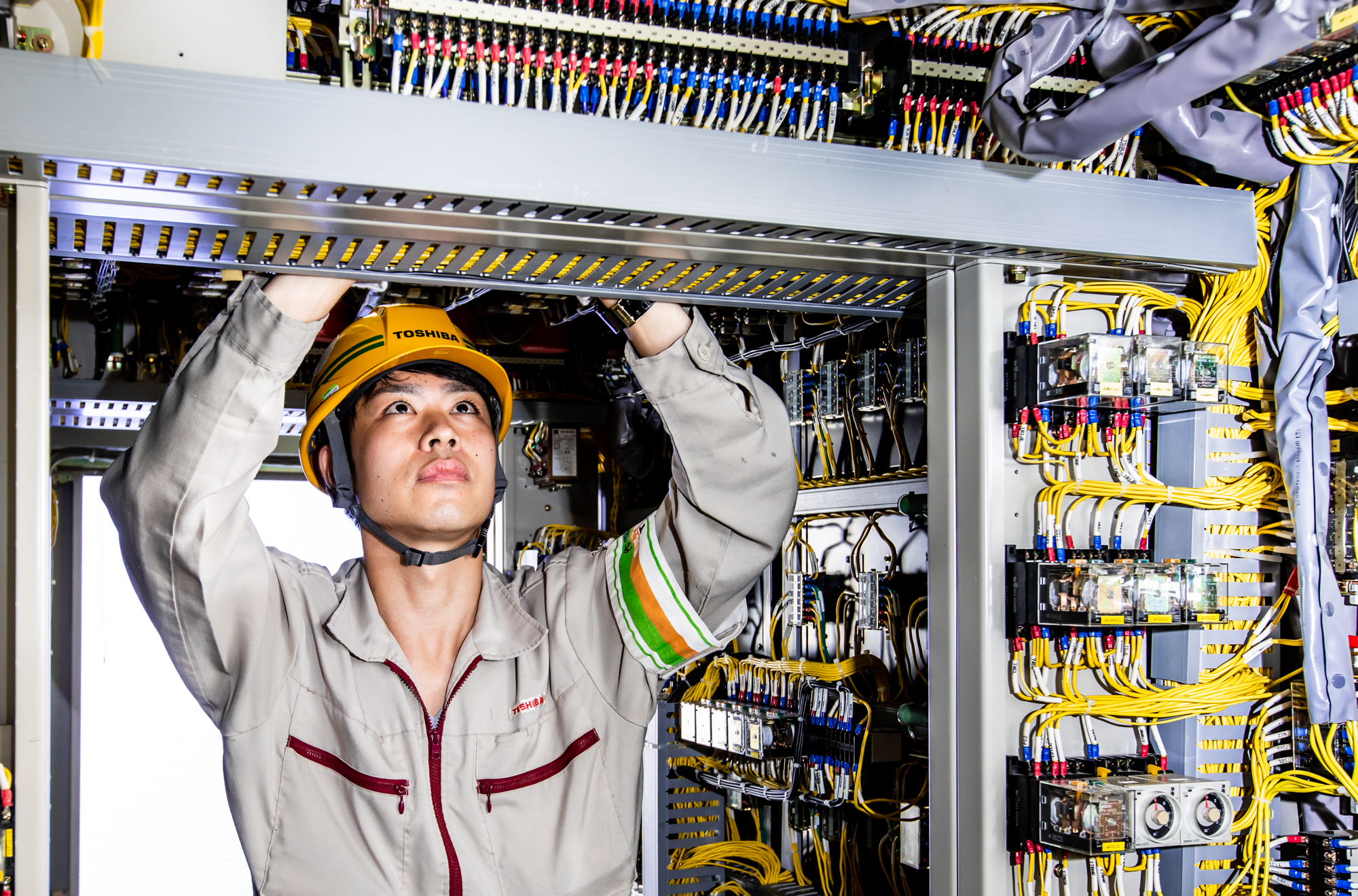 Seiya Oikawa, Electric Service Center, Toshiba Infrastructure Systems & Solutions Corporation
Harnessing the benefits of youth and experience
–What is your most memorable experience at Toshiba?
During my fifth year with the company, I was assigned to lead of a team of experienced technical personnel on a 80-days inspection onsite. I was very nervous and couldn't sleep well because it was very unusual that a young employee like me would be given this role. At that time, my customer also doubted that I would be able to complete this job as a leader of the team. However, I was determined to work hard to gain the confidence of my customer. As a young leader, I felt the need to listen more intently and respond sincerely to customer's requests and feedback. This helped to perform quality inspection work that required a meticulous effort to check the functions of systems and provide maintenance works to ensure optimal performance. After the inspection work was completed successfully, my customer praised me for my good work performance and requested that I would be placed in-charge of this project again in the following year. I was very surprised as I did not expect to be recognized this way. It is such words of affirmation that motivate me to do what I do every day. I have also learnt to consider people's perspectives and provide solutions for win-win outcomes.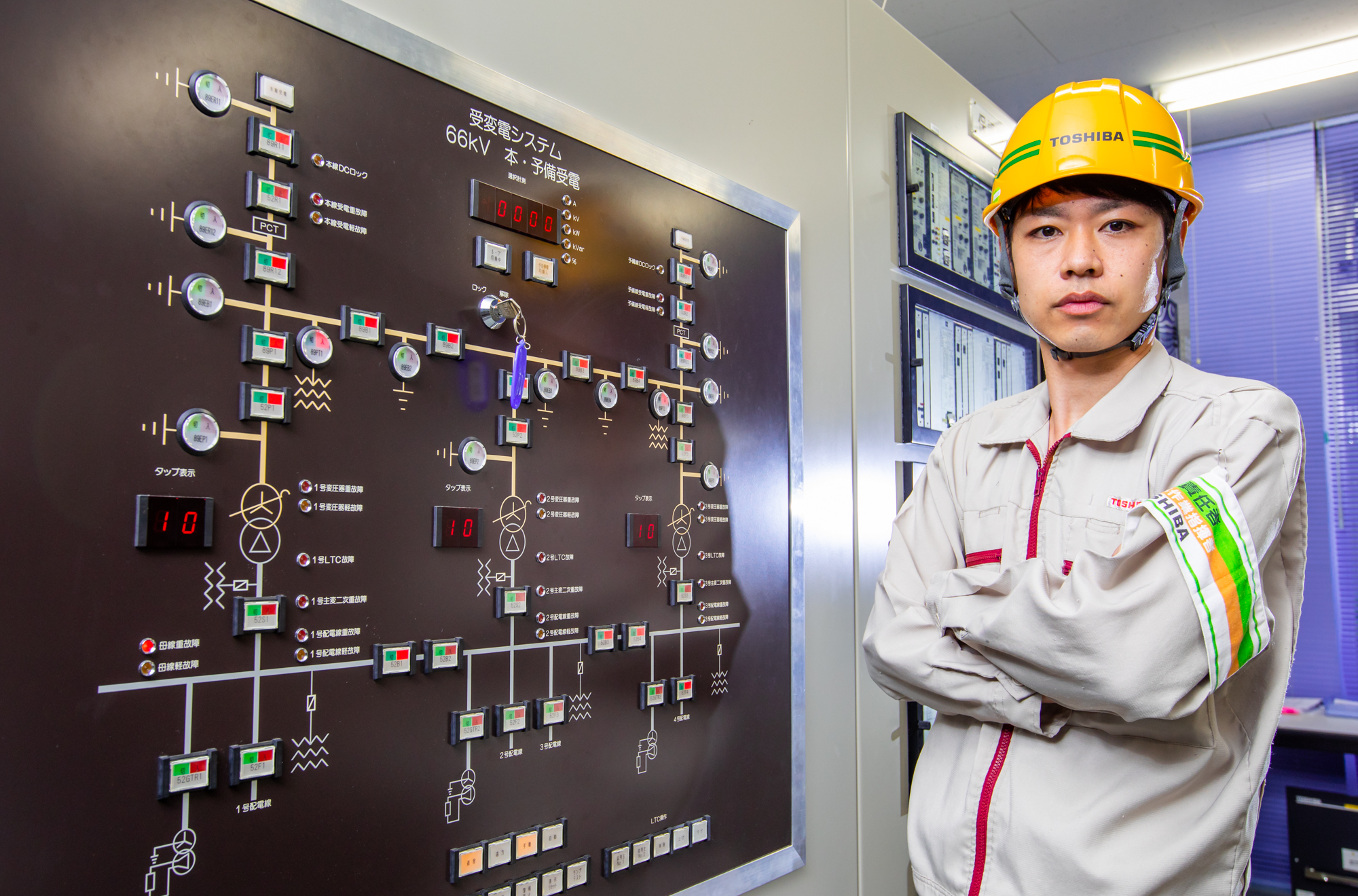 –What are your most valuable lessons as a leader of the team?
Quality inspections require the work of many hands, and close communication with team members is important to complete the task efficiently. Initially, I did not know how to build a good relationship with senior technicians with extensive experience. I tried to communicate actively with them by talking about casual topics even though they were not related to the job. I also asked them to teach me about new technical skills. While interacting with customers, it is important to proactively understand their pain points and challenges to offer effective solutions instead just waiting for their instruction of what to do. I believe that the accumulation of such daily communications with customers and providing honest responses to their requests helped to gain their trust.
In addition, maintaining the safety of our employees is our top priority. Currently, I have a team of about 50 people onsite. As a team leader, I always work with a strong responsibility towards my members' safety.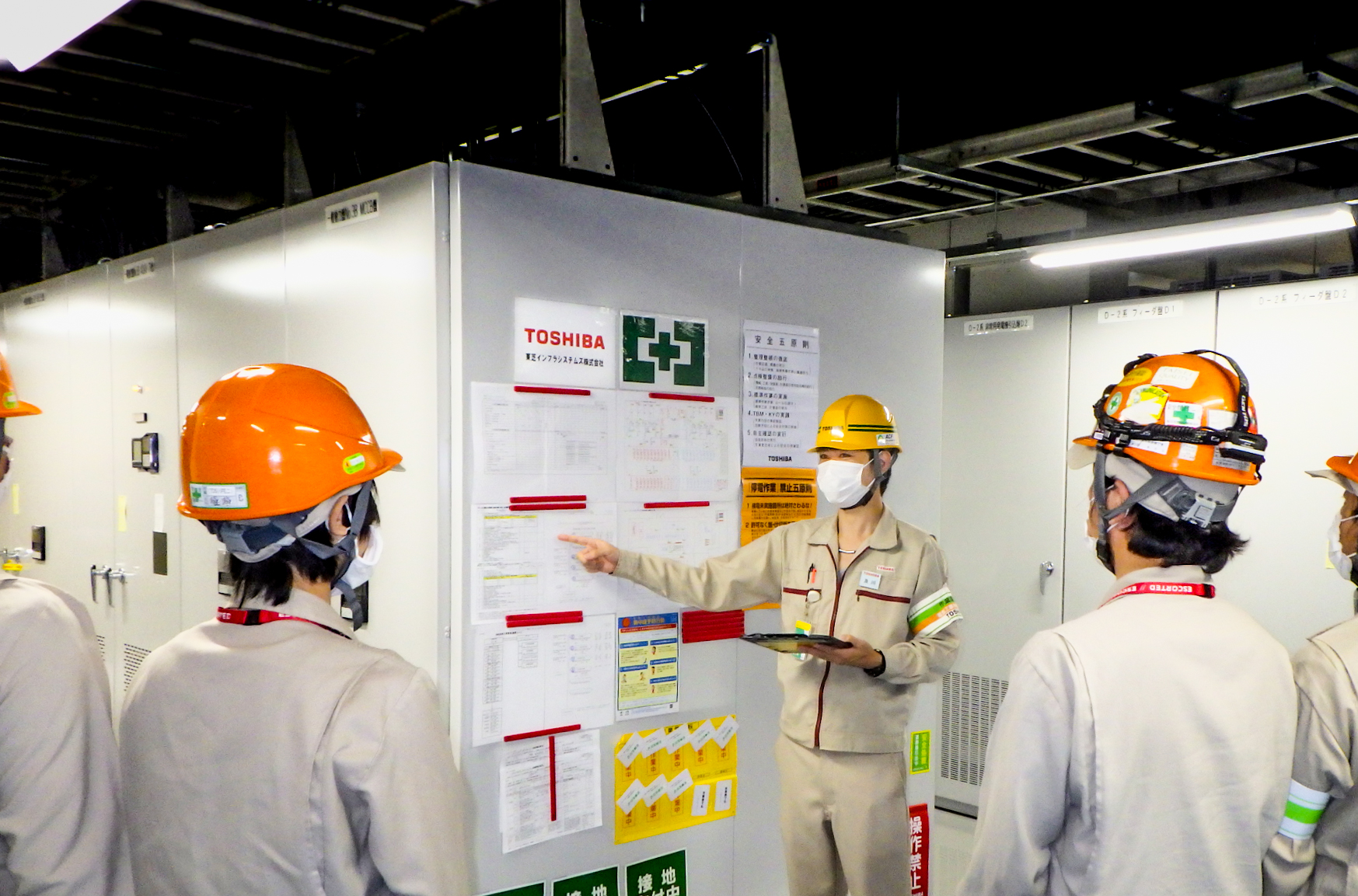 Mr. Oikawa conducts a briefing session before work commences
Strengths lie in the invisible value
–What do you value most in your work?
The most important thing is to connect customers with Toshiba. When a system is delivered, the next major overhaul is about 30 years later. We place great importance on every inspection visit that our service engineers make to keep in direct contact with our customers. Customer retention is important to our business and we will always like to have our customers look to us for the next system upgrade. Maintaining quality service delivery is vital for our business and I hope our customer will continue to choose Toshiba for the next system upgrade. In our area of business, inspection works are not necessarily carried out by original brand owners. It can be done by customers independently or they may assign other companies to carry out the work. This situation motivates us to demonstrate real value for our customers by living out our core values and working in a sincere manner. Our actions and attitude towards our work reaffirm our commitment to build a better world.
In the Essence of Toshiba, we highlighted the statement of Basic Commitment, "At Toshiba, we commit to raising the quality of life for people around the world, ensuring progress that is in harmony with our planet." When the inspection work is completed safely, we share our customer's relief and it seems that our customers welcome this invisible sense of security. I believe that every inspection work adds to our commitment to make our lives safe, comfortable and secure.
–Which value in the Essence of Toshiba resonates most with you?
It's "Create together." Our mission is to address our customers' requirements sincerely. To do this, we need to accurately understand what our customers want. We have to go beyond fulfilling orders and instead, develop close partnerships with our customers to respond to an ever-changing business landscape.
In the past, there was a demand for durable products even though at higher prices. However, customer needs have been shifting to lower costs and yet still maintaining high safety standards. What is important is to quickly identify such changes and create new solutions together in response to changes. We are committed to creating a new future together with our customers through partnerships, rather than just being a supplier.
— What was the best takeaway about working in Toshiba?
Toshiba provides opportunities for employees to develop their career according to their strengths, interests and passion. With the opportunity, I was given a leadership role. The responsibilities given shape our learning curves and it is important that the company believes in entrusting employees to complete the job well.
I believe that Toshiba promotes this corporate culture because it has the advanced technologies that it has cultivated over many years, the environment in which young employees like me can receive guidance directly from experienced professionals, and the organizational and collective strengths to conduct its business operations efficiently.
–What are your future goals?
I would like to place more importance in creating invisible value as well as tangible ones. The sense of security is built on a strong foundation of delivering quality systems and service. It is not dependent on an individual's effort, rather a collective effort made of dedicated individuals. In our work, it's important that customers feel this invisible value of security through our inspection services. It is crucial that we inherit the technology and continue to improve on it while listening to our customers' feedback and requests regarding the system, even if changes are applied years later in the next update. By providing such a sense of security, we strive to build a strong following of the Toshiba brand by creating meaningful partnerships together.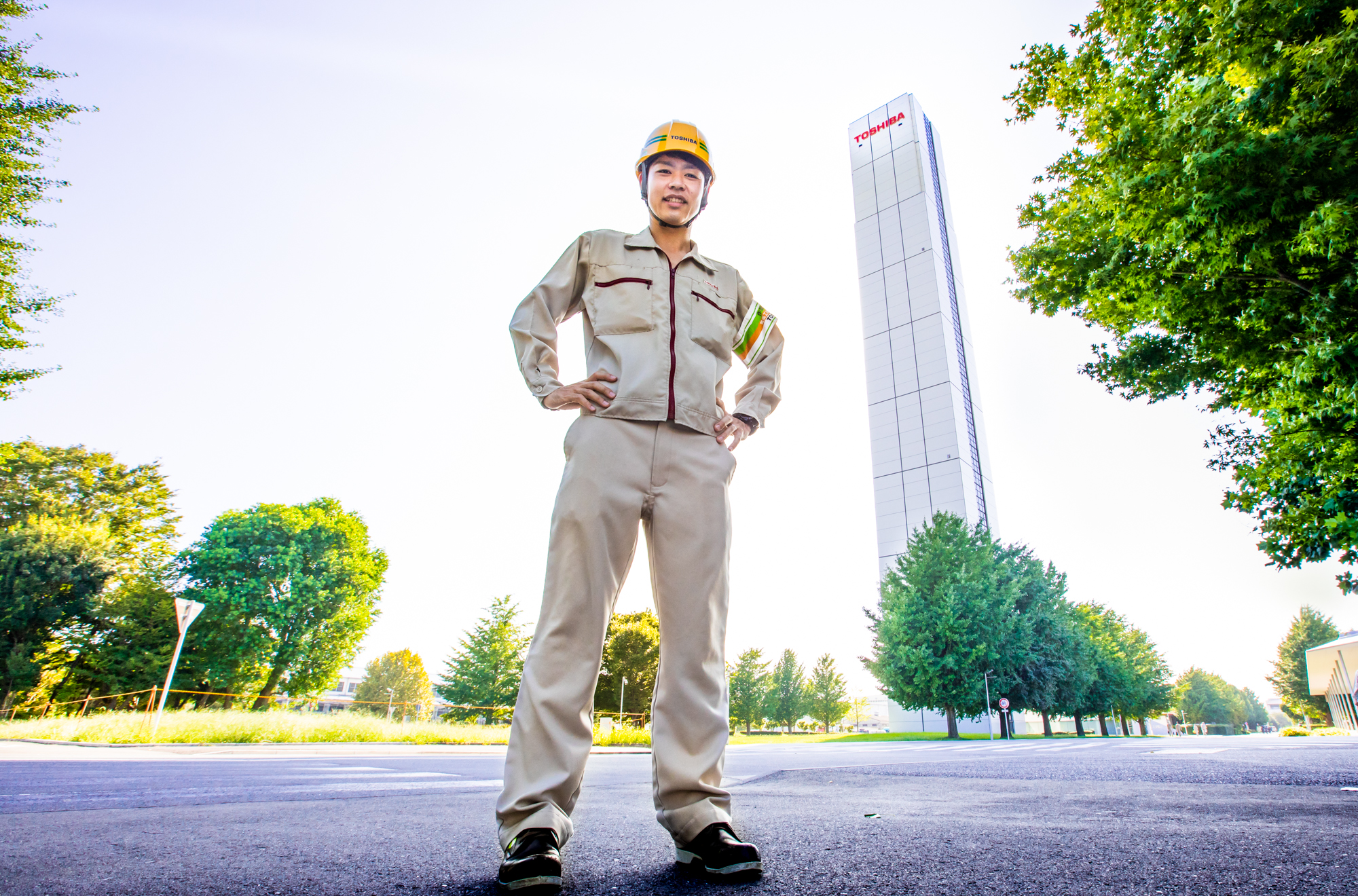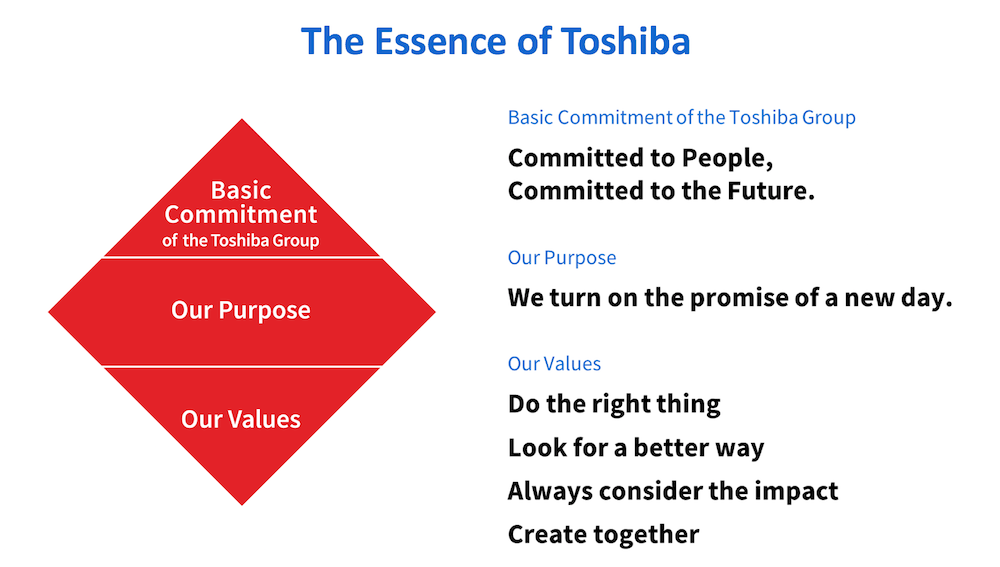 Related Contents