We Are Toshiba: Grit is the Fuel to Drive Change
2020/11/04 Toshiba Clip Team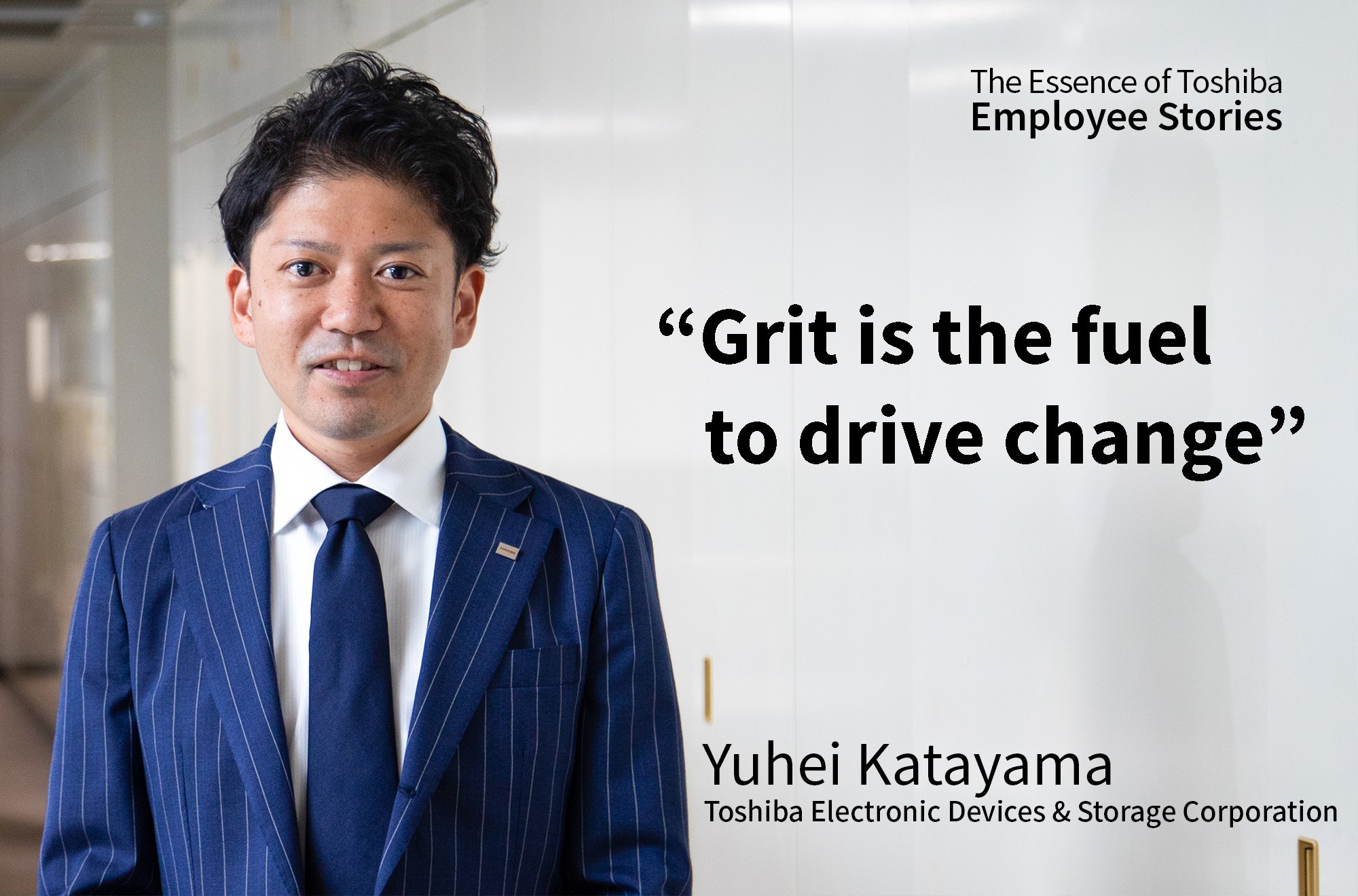 Toshiba employees around the world are living out the shared values of the Essence of Toshiba through their active involvement across many vital industry sectors. Mr. Yuhei Katayama, in charge of sales of semiconductors since joining the company, shares his experience and the values he upholds in carrying out his work responsibilities while working at Toshiba in Japan and Singapore.
Persevere through challenges
— What is your motivation to work at Toshiba?
I enjoy interacting with people and consider my outgoing personality as suitable for sales roles. I was attracted to the job of a salesperson, who works as a coordinator to connect Toshiba's technology with customers' end products. Toshiba has a diverse range of technologies and expertise across many business domains and I see my job as a challenging yet rewarding experience. The people at Toshiba were a great source of motivation to join the company and I was attracted to the company's culture as I could relate with the interviewers' experiences.
–What was your first task in the company?
I was assigned to Toshiba Kansai branch office in Osaka as a salesperson for semiconductors. The main task was to visit factories of a major LCD manufacturer and negotiate with their development and purchasing staff. It was a steep learning for me as I had to understand the business nature and technical requirements. As I had no technical background, I could only understand meeting details briefly as the discussion was surrounded with technical terms that I didn't know. However, I would look up unfamiliar words by myself or ask my seniors for guidance. I worked very hard and it helped me retain the energy and motivation to engage my customers.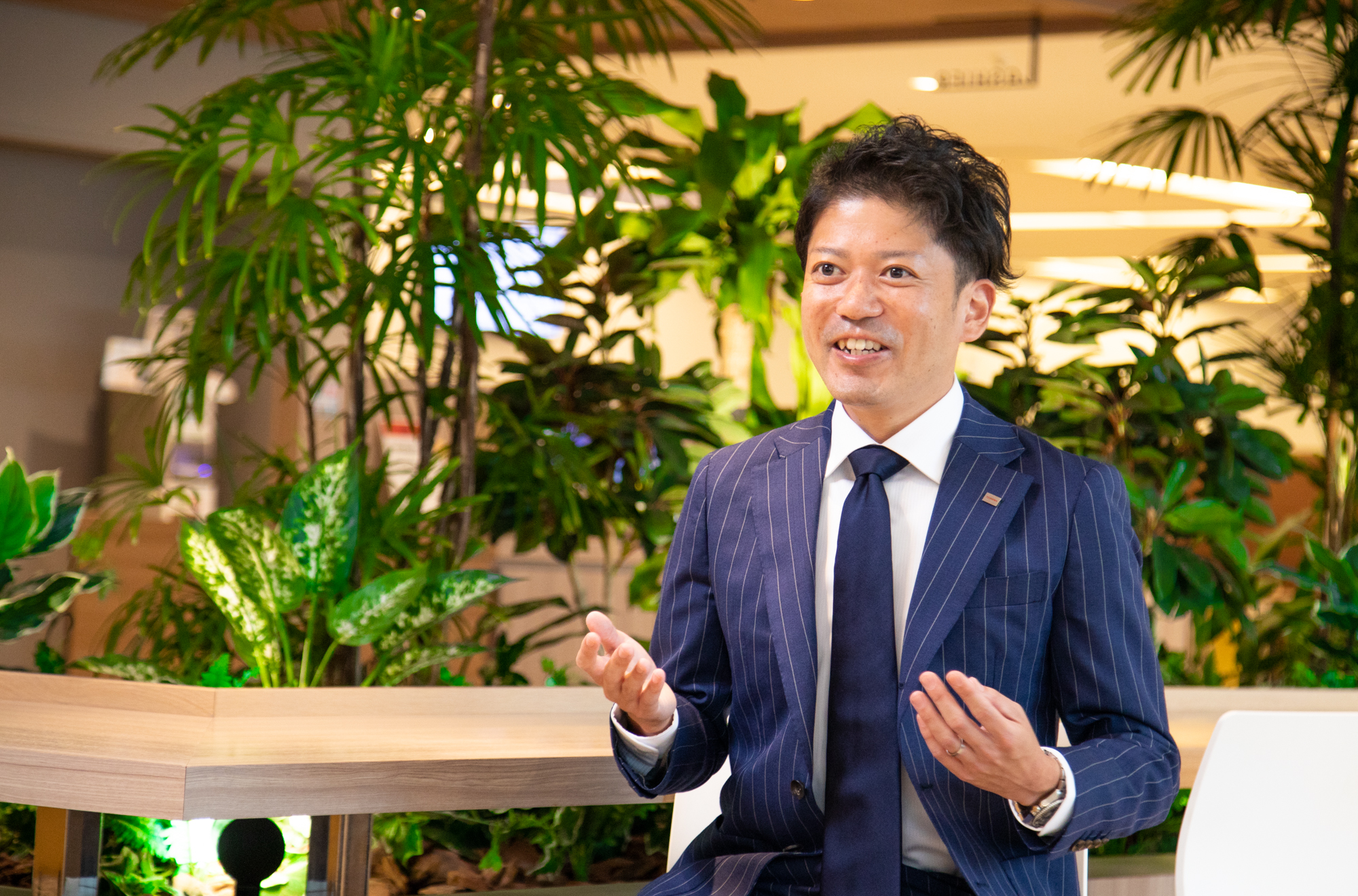 Yuhei Katayama, Semiconductor Sales Center Focus Account Dept. Group I, Toshiba Electronic Devices & Storage Corporation
–What were your challenges at work?
While semiconductors are an essential component of electronic devices, there are demand fluctuations due to the volatile electronics market. Due to the fluctuating nature of the semiconductor industry, it can be a challenging task to manage customers' demands and company's expectations. Sometimes, I would be caught between the customer and the company's manufacturing department, and sometimes, I felt like escaping. However, a salesperson's job is to be on the front lines of the company, and to manage customers. To customers, I am the image of Toshiba. Through this experience, I learned the importance of "Do the right thing" and set realistic expectations to maintain the trust of our customers.
I've learned that in sales work, it is necessary to communicate clearly to achieve win-win outcomes. A sales person plays an important role in bridging our company to customers. While understanding customer requirements clearly, we constantly strive to resolve issues through active communication, and consider questions like "what should I do to make it easier for colleagues to move?" I enjoy my role very much as it gives me many opportunities to provide solutions to needs.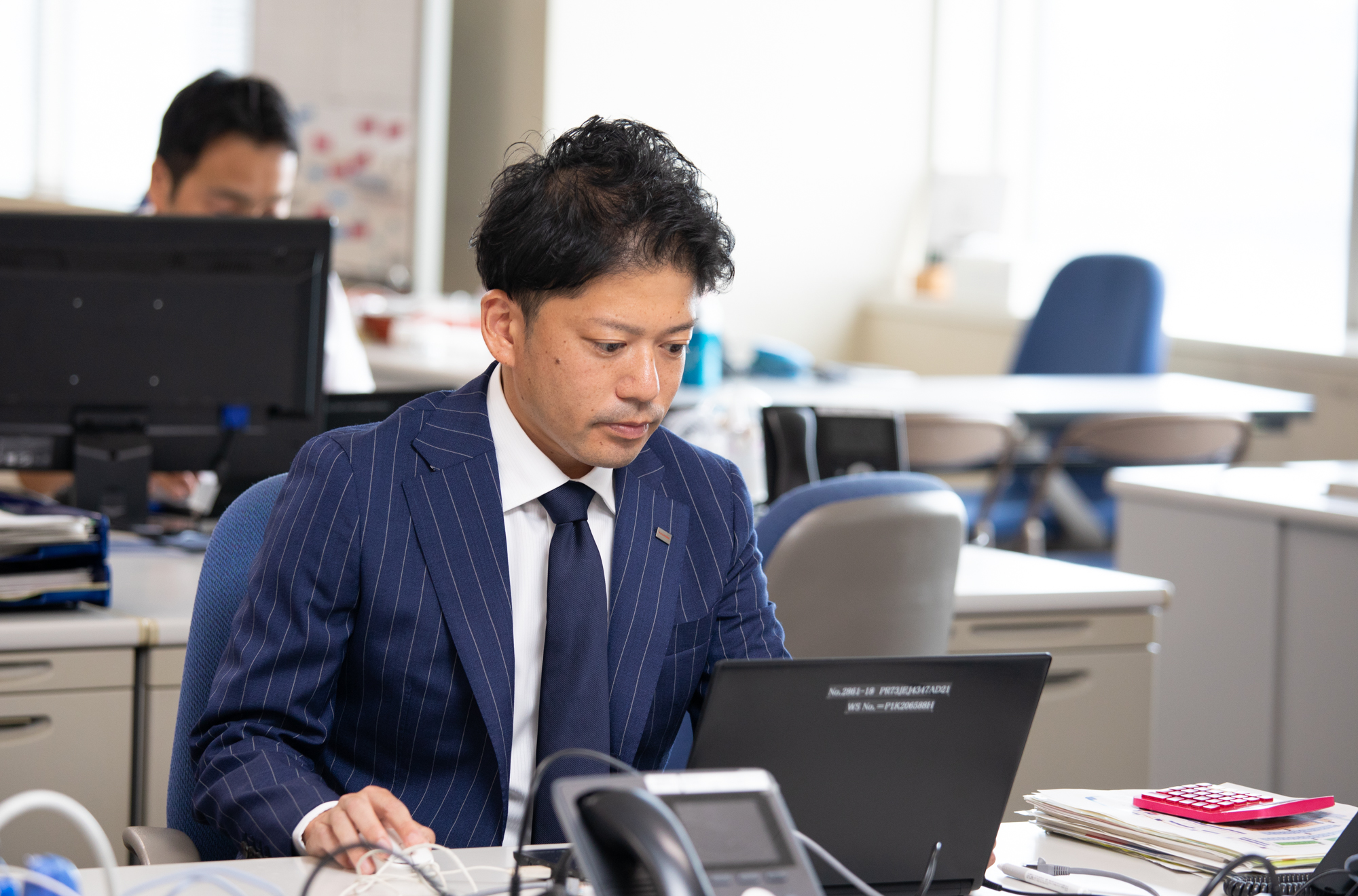 Overcoming communication barriers and a widened worldview.
—Could you share about your working experience in Singapore?
Toshiba Electronic Devices & Storage Corporation promotes overseas assignments for trainees to broaden their working experience. I opted for this opportunity in hope of expanding my career. I am surprised that my superiors accepted my request even though I could not speak English very well. I was initially handling the sales of semiconductors for Japanese companies while collaborating with the head offices and local staffs in Singapore. After six months of supporting the operations in Singapore, I was given the opportunity to work in Singapore as an expatriate.
At the beginning, there were many occasions when I could not communicate smoothly with my local colleagues. However, I tried to explain in different ways to bring across my message and through active listening and constant discussions, we were able to bridge our differences and form a common understanding to make meaningful decisions. For example, if I thought the other person's perception was wrong, I would clearly tell him or her that it wasn't so, and I explained in different ways till they understood. Through this process, I gradually became familiar with the local work culture, and communication became smoother. The attitude of "not escaping" that I learned at the Kansai branch office was also useful here. Singapore is home to regional headquarters of many international companies, and I was given the opportunity to interact with customers in various industries outside of Japan, and this experience widened my knowledge and worldview.
–What is the current role in Toshiba?
I am currently in charge of expanding sales of SiC (silicon carbide) semiconductors used in trains to a Toshiba Group company. I was previously involved in sales of semiconductors to the consumer electronics industry, so this is a new industry for me. With this role, I am reminded of Toshiba's extensive range of business once again.
During this COVID-19 period, most of our communication with our customers are primarily over phone and electronic mails. Previously, we would have face to face interactions with our customers, and it has greatly helped to foster closer working relationships and improve sales activities. For example, during my time at Kansai branch office, I brought oranges to my customers in Mie, Central Japan. While distributing the oranges, I talked with the customers about various topics, and this helped in building trust and working relationships. Face-to-face meetings helped us to pick up non-verbal cues and build closer working ties. It's more challenging do so now, but it's also because of times like these that I want to explore new forms of communication for sales.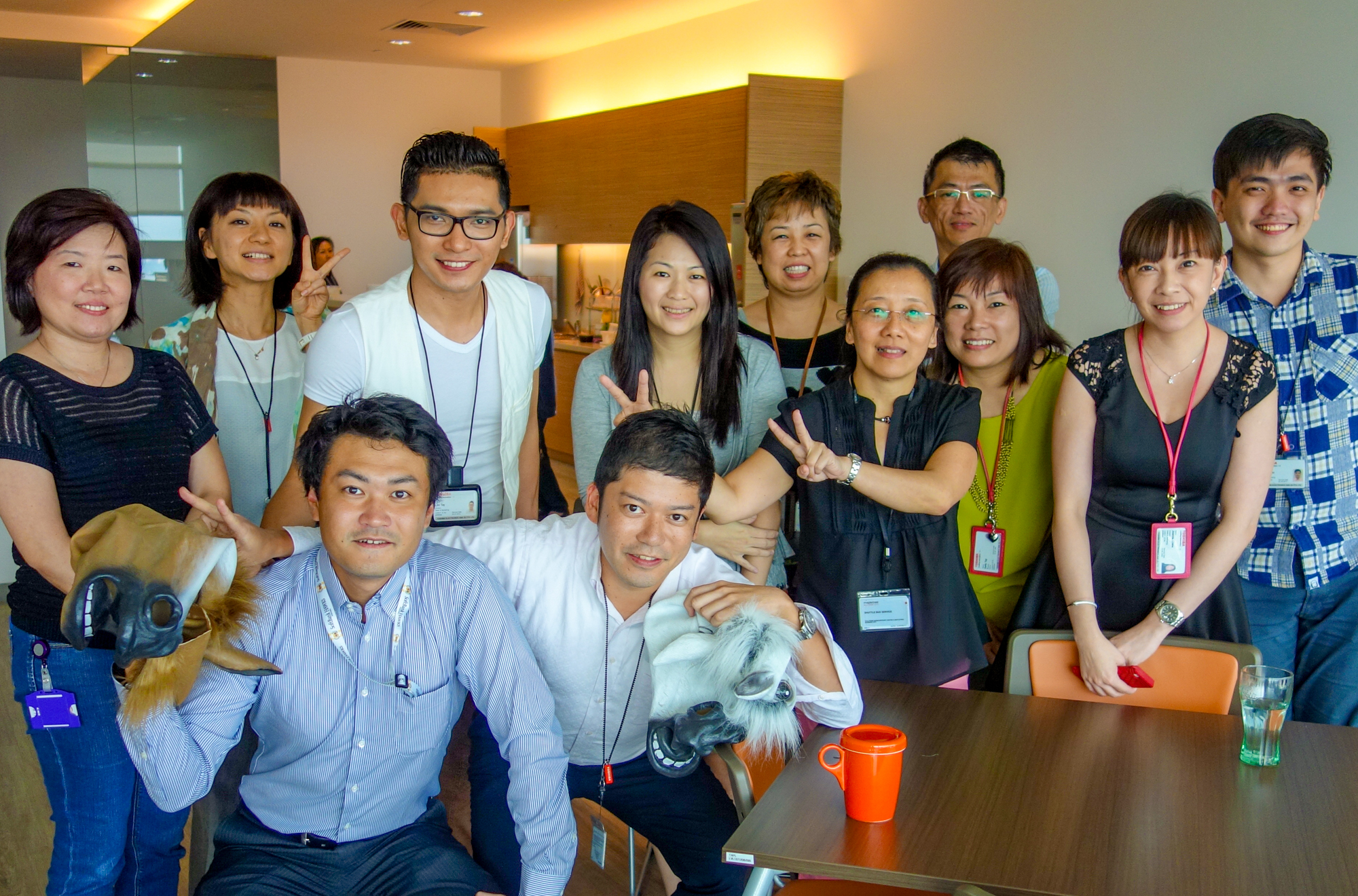 Mr. Katayama (second from the left of the front row) with colleagues from Singapore in 2014.
Company aspiring to be a large company with a strong venture spirit
— What do you consider as the most important in your area of work?
To communicate clearly what you think is right and necessary and stick to it, no matter who you're talking to. I think the worst thing you can do is not to say anything because you are afraid that someone might not like what you have to say. Nothing will come of it and nothing will change. I think it is very important to try even if you fail. I always say exactly what I should say to someone in any position. This takes a lot of energy, but I believe that change is born of this kind of energy and passion. One of our values of the Essence of Toshiba is "Look for a better way" which is exactly what I believe in.
–What kind of company do you want Toshiba to become in the future?
Toshiba has a wide range of businesses, from electronic devices to social infrastructure, and high-level technological capabilities that support them. We are engaged in such a wide range of businesses and we should take advantage of these strengths. We need to propose new ideas that go beyond hierarchical and organizational barriers. It would be great if we could "Create together" in this way, bearing the fruits of a venture spirit.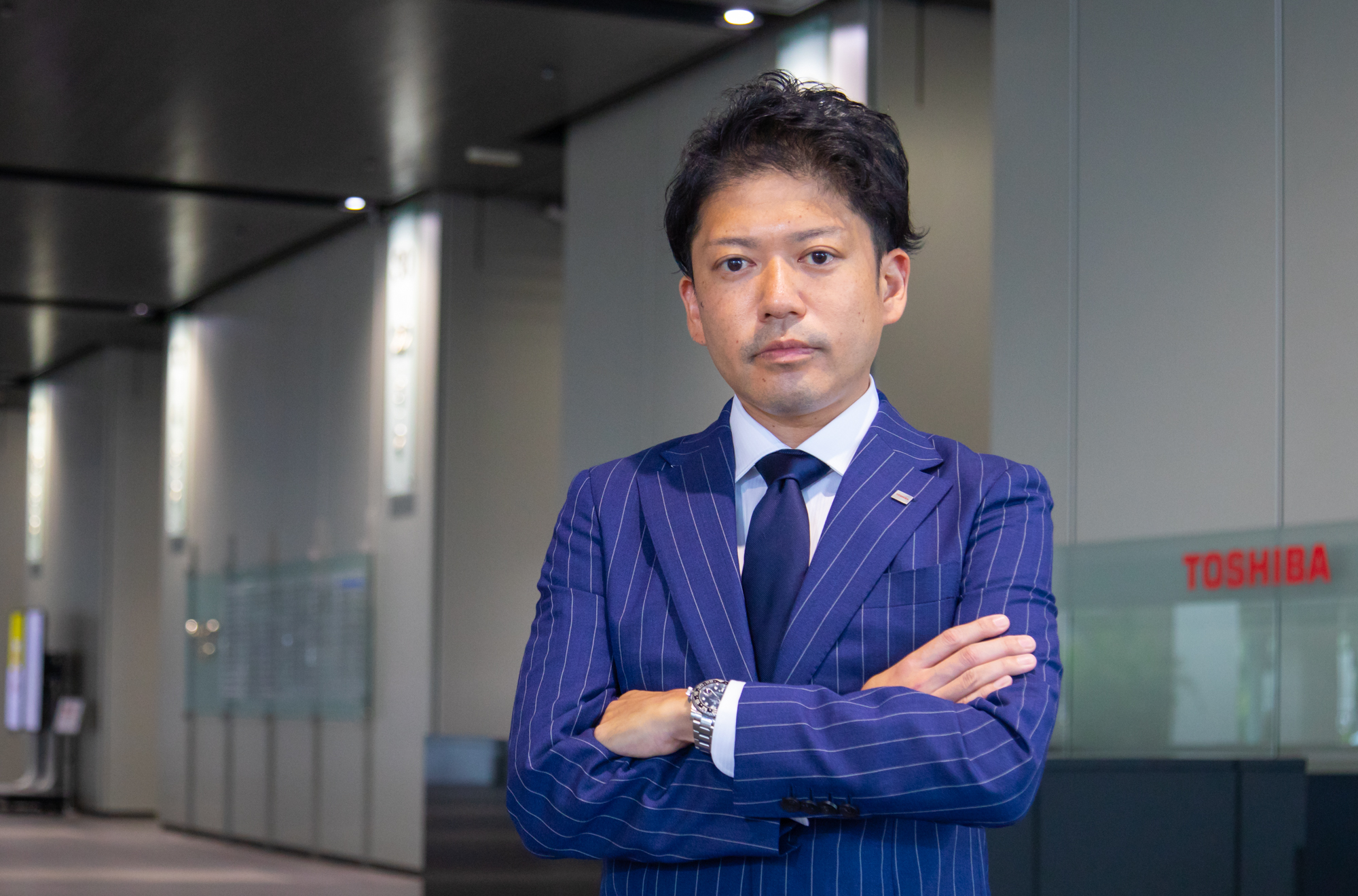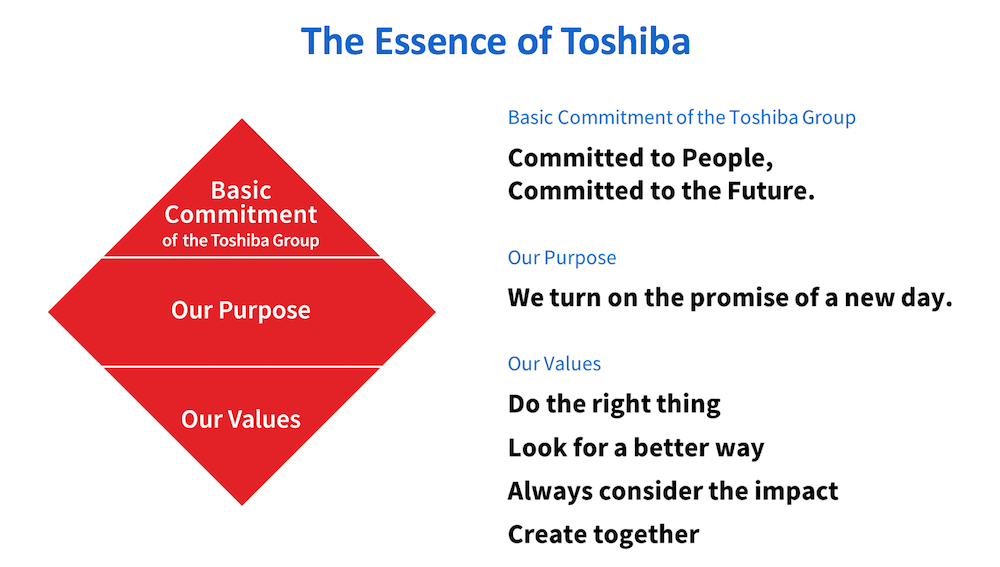 Related Contents