We Are Toshiba: Create Together to Experience the Power of Multiplication
2020/10/21 toshiba Clip Team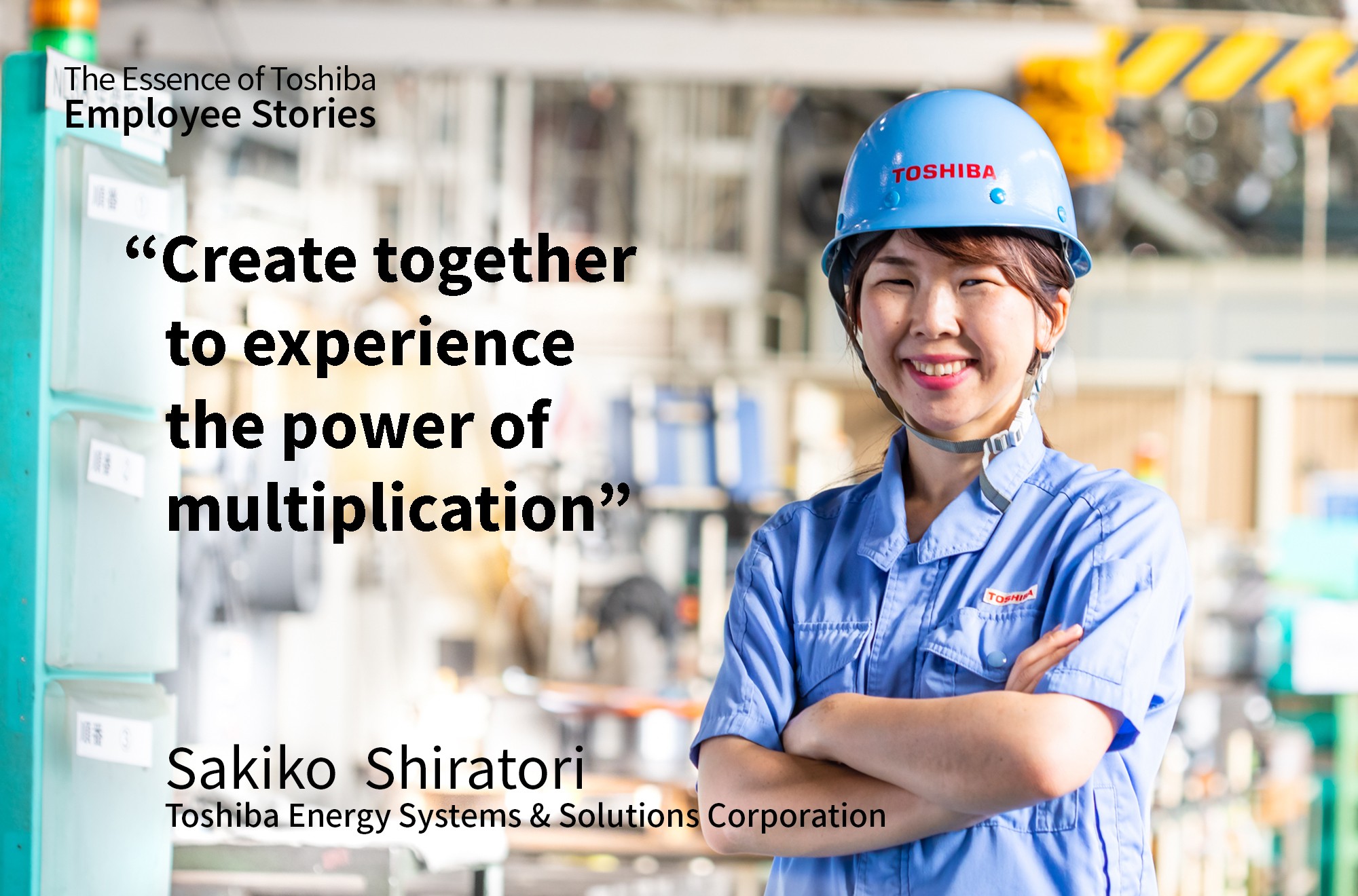 Toshiba employees around the world are living out the shared values of the Essence of Toshiba through their active involvement across many vital industry sectors. This time, the stage is set at Toshiba Energy Systems & Solutions Corporation's Hamakawasaki Operations, the facility which designs and manufactures energy-related products such as power transformers, switchgears, and lightning arresters. We interviewed Ms. Sakiko Shiratori, who is involved in manufacturing technologies for parts processing and welding, and she shares about her thoughts on work and vision for the future.
Attracted by Toshiba's Large-Scale Operations in Hamakawasaki
— What is your major in the university and why did you choose it?
I majored in mechanical engineering. My faculty was primarily a male-dominated environment, and there were only two women among 80 students. Since I was a child, I picked up electronics as a hobby and enjoyed dismantling hardware. I would often tinker with radio cassettes and I didn't give up even though there were failed attempts to restore them which bothered my parents. (laughs)
— Why did you join Toshiba?
I have always wanted to join a manufacturing company since I was a child because of my interest in machines and electronics parts. One particular area is social infrastructure because it is an important foundation to support the quality of life. I knew that Toshiba was involved in infrastructure on the news. When I joined the plant tour of Toshiba's Hamakawasaki Operations, I was impressed by the massive size of it. I was excited to hone my interest in machining in this highly sophisticated manufacturing facility. I was also drawn to the company's culture and shared belief of employees on-site that "we aim to supply electricity globally and create facilities for safe and secure living."
— What were your learning experiences at Toshiba's Hamakawasaki Operations?
I was initially nervous because there were many experienced professionals in the workplace. However, there was a strong focus on manufacturing fundamentals and their willingness to impart knowledge to everyone helped me to integrate quickly in the company. They would provide solutions in a seemingly easy manner, however, I learnt that this skill came with experience gained over the years. I found that they have gained absolute confidence in their own skill and also they were involved in manufacturing with great pride. Each of us had a deep sense of pride, regardless of the type of work in the process, such as machining and welding, and a strong purpose to make better quality products. It was a big lesson for me as a new joiner. Now, I always keep in mind how I involved with people on-site and support them.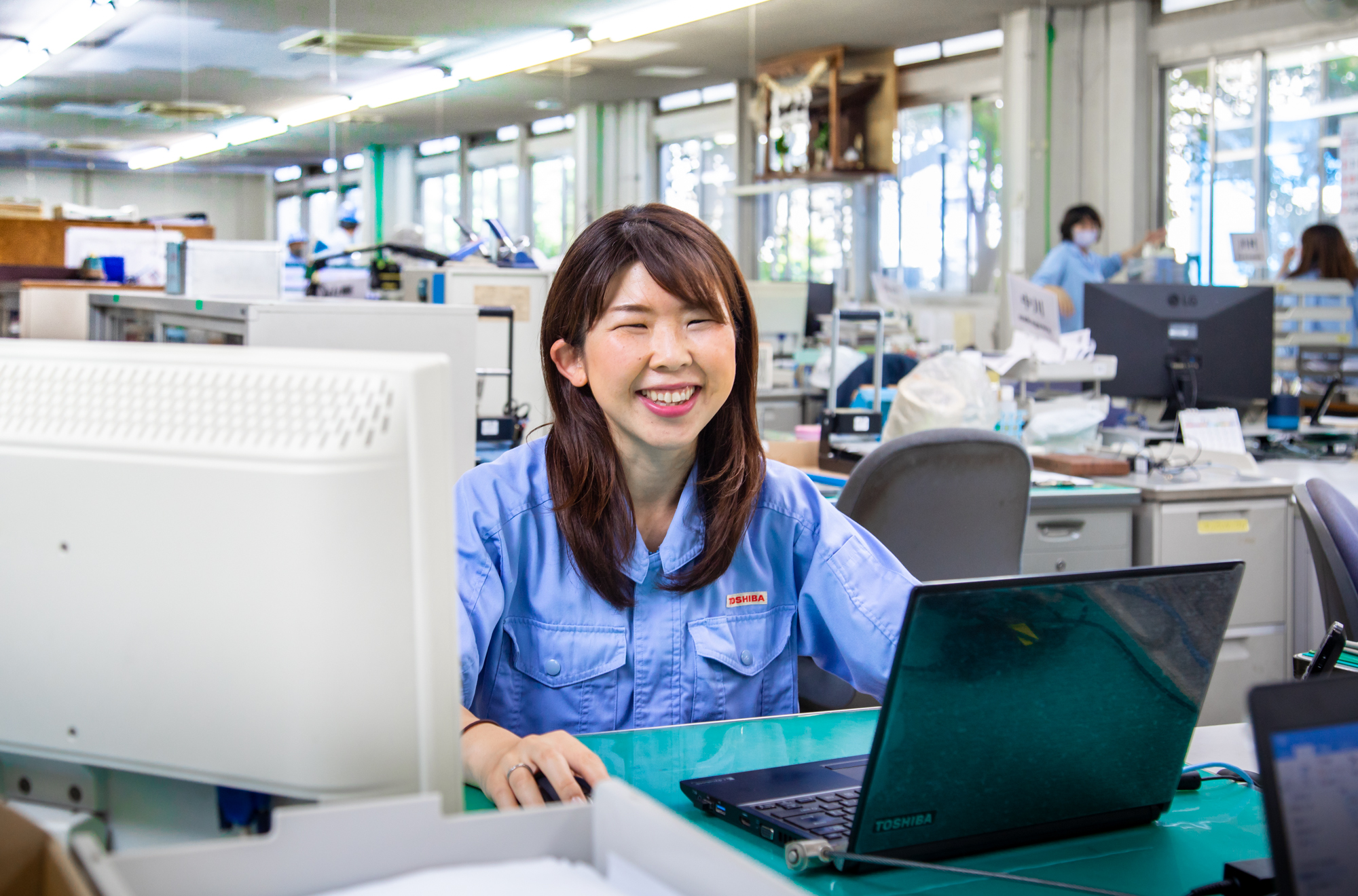 Sakiko Shiratori, High Voltage Switchgear Department, Hamakawasaki Operations, Toshiba Energy Systems & Solutions Corporation
Listening with Empathy on the front lines
— What is your role at the site?
My division makes switchgears used in substations and power plants. This device cuts off abnormal currents caused by lightning strikes and returns the currents to a normal circuit. Simply put, it acts like a circuit breaker in a home. I am in charge of manufacturing technologies for processing parts and welding. My job is to consider the best way to produce new parts and provide technical support to our colleagues on the front lines to make better products at lower costs through improving existing manufacturing lines.
— Is there anything in particular that you have tried to be conscious about in your work life?
I think it is important to listen to the voices of people on-site and understand their real intentions. It is through constant active listening that we understand better about the challenges and pain points to provide an effective solution. Conversely, if you insist only on what you want to do on a desk, we will not be able to gain an understanding from the front lines, and as a result, process improvement would not progress. A direct interaction with my colleagues helped to establish a common ground to promote stability and continuity in our manufacturing processes.
In addition, it is also important to watch and analyze data to improve manufacturing processes. From the data gathered from production planning, industrial engineering, manufacturing/process engineering, and quality assurance, this will guide our decisions and improve our factory as a whole.
–Is there a time when you are proud of your work?
It's living with the everyday's knowledge that we are supporting people's lives. During the COVID-19 pandemic, there were disruptions in our regular way of working, but we were determined to look beyond these inconveniences and see the importance of bringing electricity to everyone.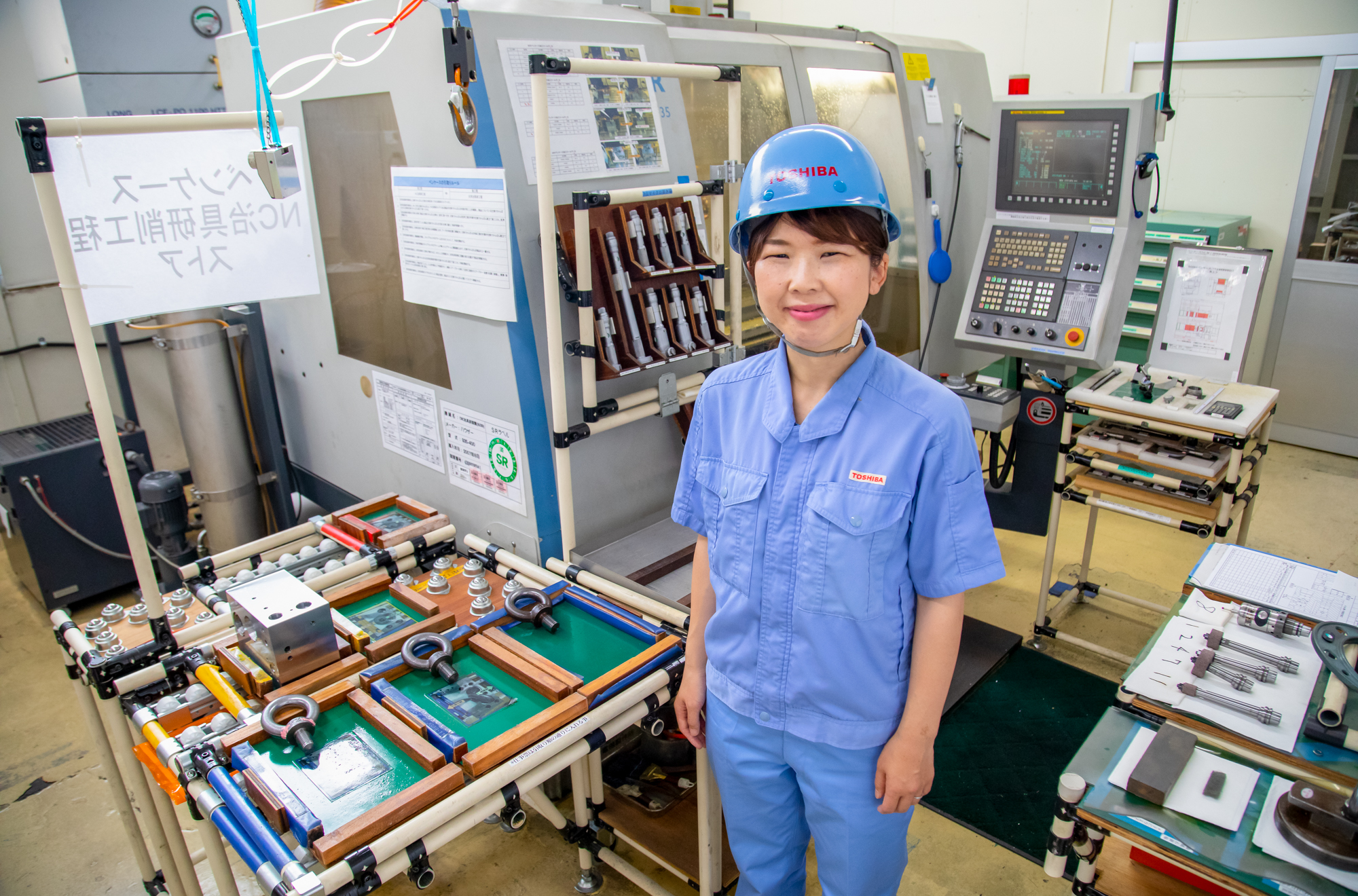 Manufacturing parts for switchgears in the precision grinding processing room
Building a Corporate Legacy for the Next Generation
–Are there any words in the Essence of Toshiba that resonates with you?
It's "Create together" as seen in our core values proposition. During the manufacturing process, our opinions may clash and it's important to highlight our concerns which will help us make better decisions. I am pleased whenever people say, "This is a good improvement point". As long as we see improvements along the way, this will be worth our effort. I recognize that a strong interdependence within a company will deliver optimal results. Combining our strengths in design, manufacturing and quality assurance, we will be able to tap on our expertise and experience to bring positive outcomes. Welcoming a diverse range of opinions will sharpen our thought process and decision-making, prompting improvements in our manufacturing processes
I also like the phrase "We have an unwavering drive to make and do things that lead to a better world" in "Our Purpose" statement which is very much aligned with my values. In Japan, electricity is mostly supplied without interruptions. However, there are countries that do not have easy access to a stable supply of electricity. We believe our infrastructure facilities can make a meaningful difference and improve the lives of the communities around us.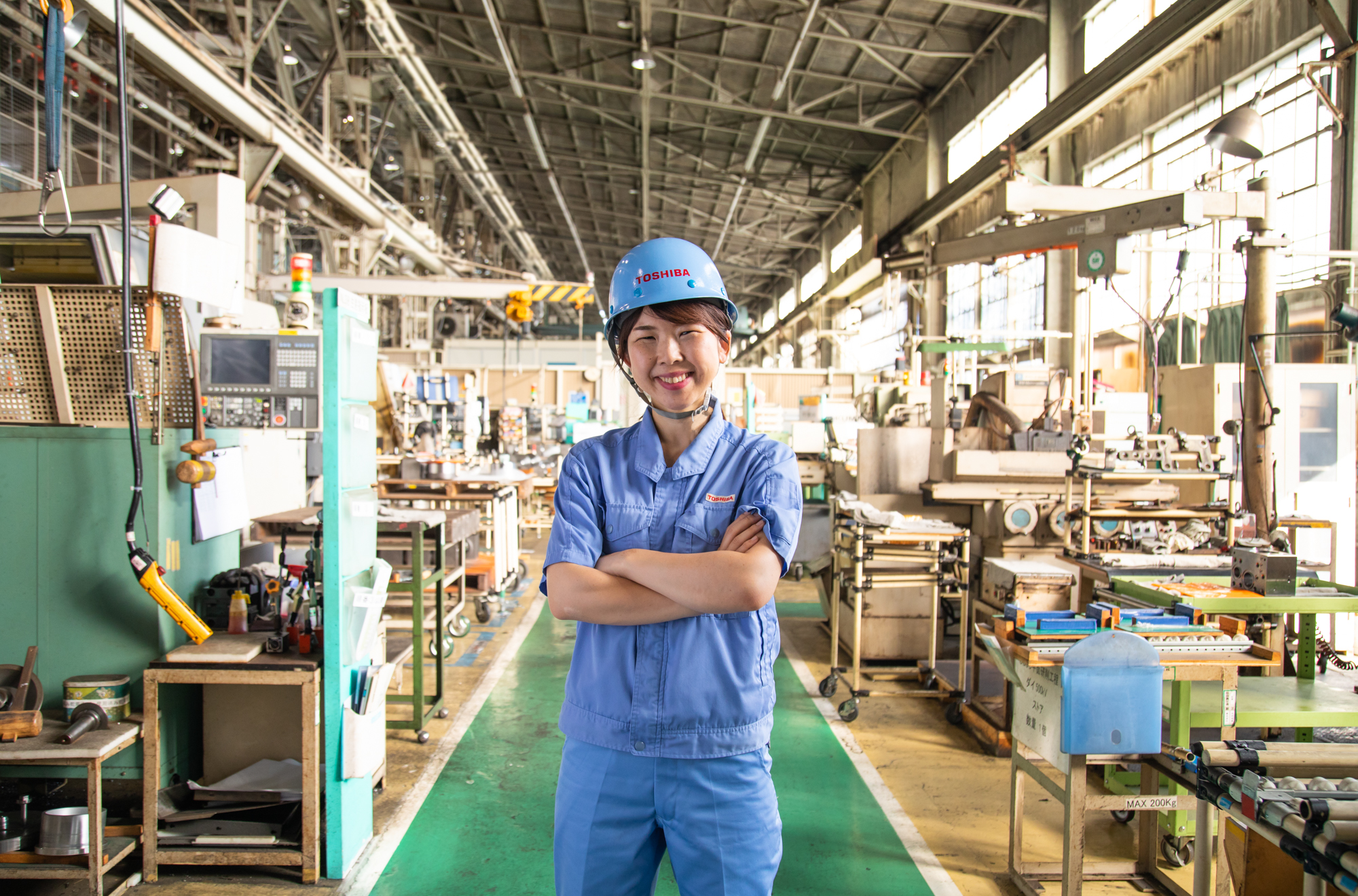 –What are your personal goals?
I hope to contribute to the improvements in our manufacturing processes through sound capital investments. Some of the facilities at the Hamakawasaki Operations have been in operation for more than 30 years. Our goal is to improve the efficiency of the entire manufacturing line by considering how we use and upgrade our technologies to improve our production capabilities and create corporate value.
— How do you juggle your roles as a parent and an employee?
As a working mother, I often strive to strike a balance between family and work. I also have an understanding and supportive team that understands my challenges. I am very grateful to have the people in my workplace support me when I have to attend to urgent family matters. We will put in our best effort to support one another while recognizing different personalities and working styles.
–What do you think Toshiba should be like in the future?
During work, sometimes opinions may clash and during these times, I would like to promote a corporate culture in which everyone freely exchanges opinions and aims toward our goals while helping one other. I experience the strong camaraderie among my colleagues and feel grateful to be working in this environment. In addition, the spirit of teamwork should also be encouraged to spur progress and I would share these values proudly to my children. When my children are older, I would like to have them visit this factory and say with pride, "My mother works here."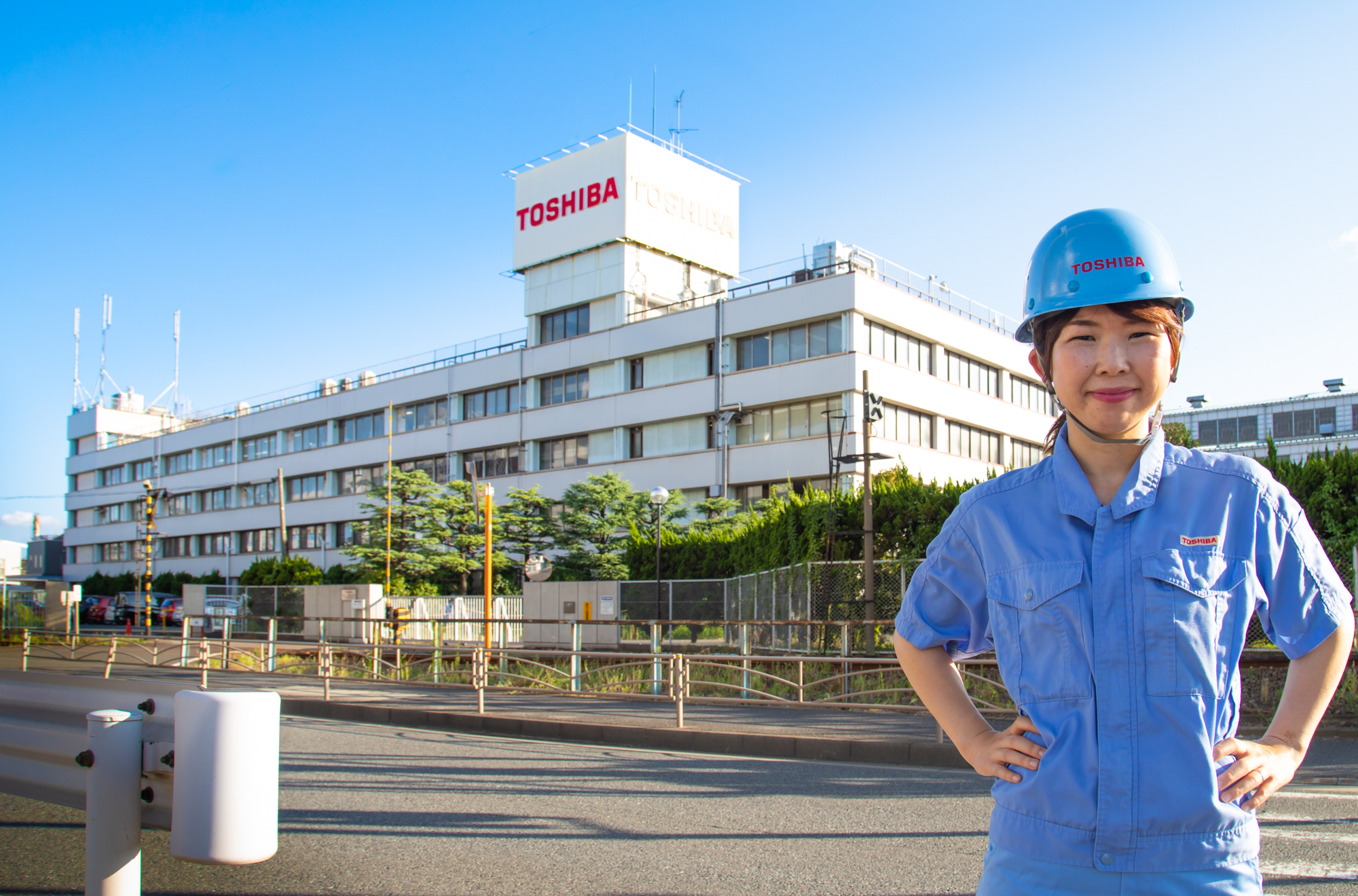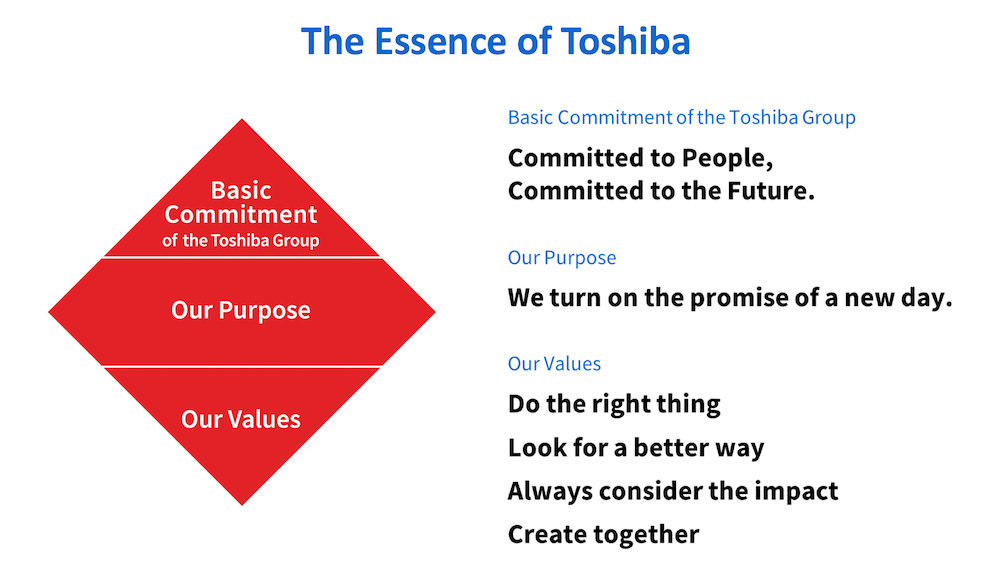 Related Contents