We Are Toshiba: Enabling Digital Technology to Turn on the Promise of a New Day
2020/10/07 Toshiba Clip Team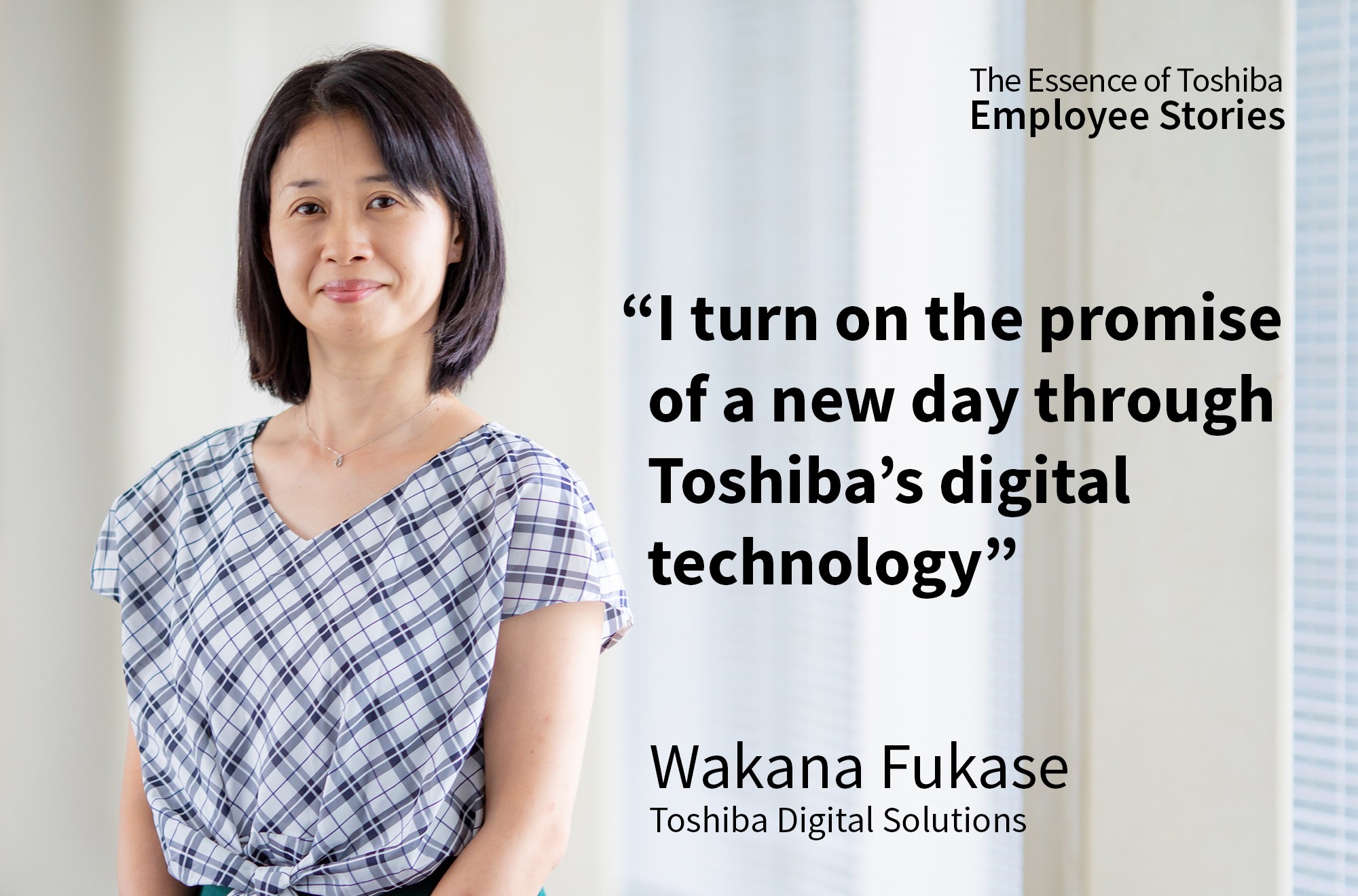 Toshiba employees around the world are living out the shared values of the Essence of Toshiba through their active involvement across many vital industry sectors. Ms. Wakana Fukase, manager at Toshiba Digital Solutions' (TDSL) ICT solutions division, and a project member involved in redefining Toshiba's corporate philosophy, shares her perspectives and success stories.
Realizing the Basic Commitment "Committed to People, Committed to the Future."
–What is your role at TDSL?
I am responsible for the design and implementation of IT infrastructure, services and applications for a wide customer base including the public sector and private enterprises. This involves selecting and deploying technologies including middleware, servers, networks, storage to run applications in operating systems for various users and devices with minimal disruption to the computing environment. At the same time, I am involved in the technical compilation when designing and building the system configuration. It's like laying the foundation and providing essential utilities such as water and gas when building a house.
–What were your motivations to join Toshiba?
I have been interested in the global environment since I was a child, and majored in geo-environmental mechanics in university. My thesis for my master's degree was an analysis of ocean-atmosphere fluctuations and mechanisms. While looking for a job, I was inspired by Toshiba's basic commitment, "Committed to People, Committed to the Future." I felt that this purposeful statement was aligned with my personal goals and aspirations and so I decided to join Toshiba.
Although the work is not directly related to the global environment, I can feel that I am "Committed to People, Committed to the Future." by contributing to society through my work in building service applications.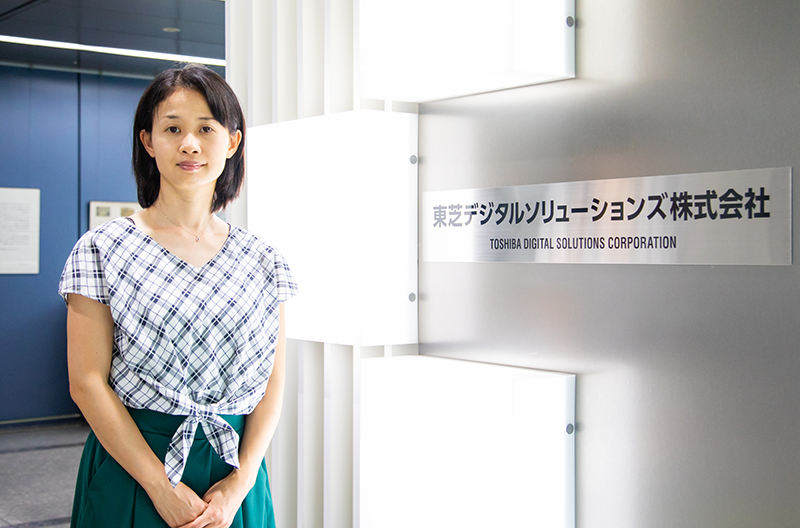 Wakana Fukase, ICT Solutions Division, Toshiba Digital Solutions Corporation
Stay Focus and Be Considerate
— What were your challenges at work?
As a new joiner armed with a master's degree in geo-environmental mechanics, I did not have the domain knowledge in IT. However, with close guidance from my line managers and colleagues coupled with sheer grit and determination, I scaled the steep learning curve and acquired on-the-job expertise and experience about designing and deploying information systems. It is possible to thrive in a new industry if you exercise discipline and determination. I was also thankful to be given access to information, opportunities to develop new ideas and versatility in the workplace.
During my course of work, I realized the importance of empathy in the workplace. While working, sometimes we are required to work with people from various divisions. In the process, opinions clashed and we fell into a state where we held onto our opinions, and could not move forward. Our opinions towards a single subject were different because we were looking at it from different vantage points. At that time, I still remembered the words "What's important is to consider others" as told by my senior.
To think about each person's situation from another point of view becomes quite difficult in challenging times. We need to be considerate even in these hard times to enable us to make meaningful decisions.
In addition, we should still stay focused in our goals. The goal in my work is to provide a better system that satisfies customers. With a clear goal, we will be able to be open to new ideas and fresh perspectives, and align our decisions to deliver positive outcomes.
–What do you value in your work?
I appreciate designing from the standpoint of the other party. I think it is important to design the system based on the considerations of how it will be easier for the end-users and operators. I would be happy if my colleagues and customers who work with me said, "It's very good choice of design."
I also placed importance on the spirit of "just trying." Even when trying out new systems, we would be open-minded about exploring their features and subsequently improving their functions. Recently, we see changes in working styles due to the global COVID-19 pandemic. The Toshiba Group is introducing new work styles, including teleworking, to keep our business operations optimal during this challenging period and I believe that there are opportunities even during a crisis. A small change can bring huge benefits during this "new normal."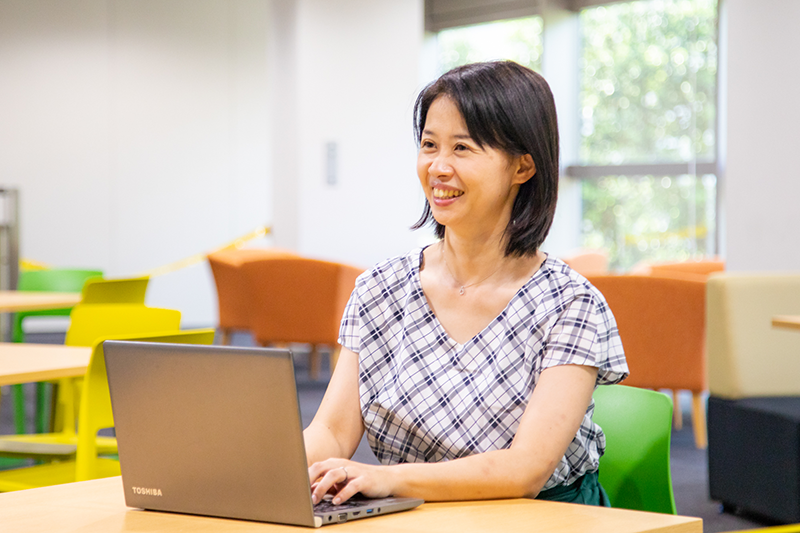 Making a positive impact in society
–How did you feel when you were selected as a project member to redefine Toshiba's corporate philosophy?
At that time, we were going through a difficult period to restore our stakeholders' confidence. However, I was encouraged by all the members who believed that we have the potential to be an attractive brand once again by building on our heritage and traditional strengths cultivated over 140 years. With a shared goal, we were determined to rise above our situation to earn the reputation as a respectable company once again.
Toshiba is often said to be a technology company, but I believe that technology is just a tool for us to realize a better society. We are inventing and delivering technologies that make a positive impact in society. The continued belief that technology is a powerful enabler to improve lives is motivated by our basic commitment to be "Committed to People, Committed to the Future." I was very happy to find that all the members had the same idea. No matter how wonderful the technology may be, it will not be beneficial unless it is made for our society.
–What aspects of the Essence of Toshiba resonate more with you?
I value "Always consider the impact." I think it is important to imagine what future we will create by harnessing data with the use of technologies. In addition, I also value "We turn on the promise of a new day." in our purpose statement that expresses my desire to create an exciting future for our families and communities. I myself would like to work with excitement.
Like a jigsaw puzzle, we each hold an important piece to build a complete picture. We are also like pieces that are in uneven shapes and sizes, we have to recognize our uniqueness and interdependency within our team to deliver success. When a project is handed over to our customers and they are pleased with the outcomes, I feel a great sense of satisfaction, fun, and pleasure in this work.
— Tell us more about your involvement in developing TDSL's vision.
After the Essence of Toshiba was defined, as members of TDSL, we discussed about what TDSL should look like in the next 10 years. The discussion reaffirmed our belief that our company should be "Committed to People, Committed to the Future." When we distilled this idea and made it more relevant to TDSL, we envisioned the future as "Making society better with Kind and People-friendly Digital Solutions." Our goal is to empower every individual with the access and ability to harness the benefits of digitalization through active collaborations.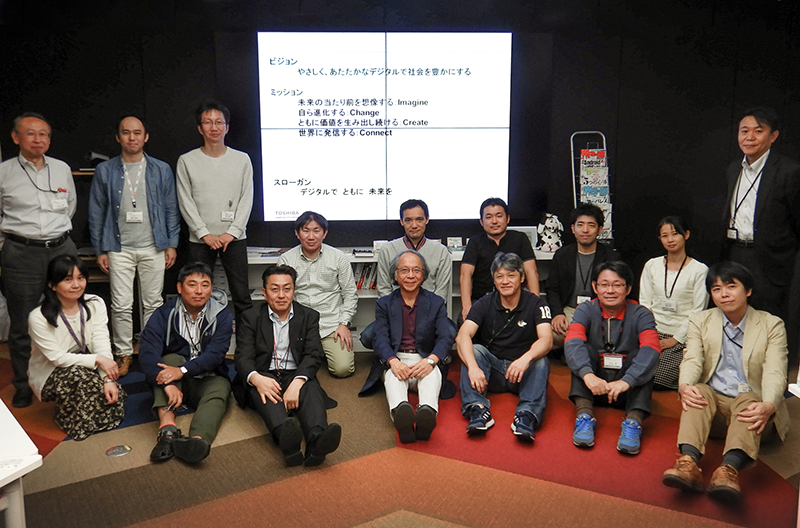 A taskforce committee formed to define TDSL's vision in October 2018. Ms. Fukase is second from the right in the back row.
–Tell us more about Toshiba's working environment.
At TDSL, we have a vibrant and flexible working environment. We believe in promoting work-life balance and as a mother, I am able to adjust my time in office when the need at home arises. We are given the flexibility to do the work in the way we like, regardless of gender or whether we have children. Toshiba embraces diversity and I think Toshiba's strongest appeal is recognizing that people are behind every organization and the company is committed to recognize and groom talents. We are building a diverse workforce through active engagement among our employees, promoting cross-functional strengths and diversity. For example, some employees are able to share technical insights about our core technologies, others have excellent interpersonal skills and a few of us have an innate ability to create new initiatives. I myself have had a lot of help from my colleagues, and I feel our company's potential to be even better. I would like to turn on the promise of a new day with members of the Toshiba Group.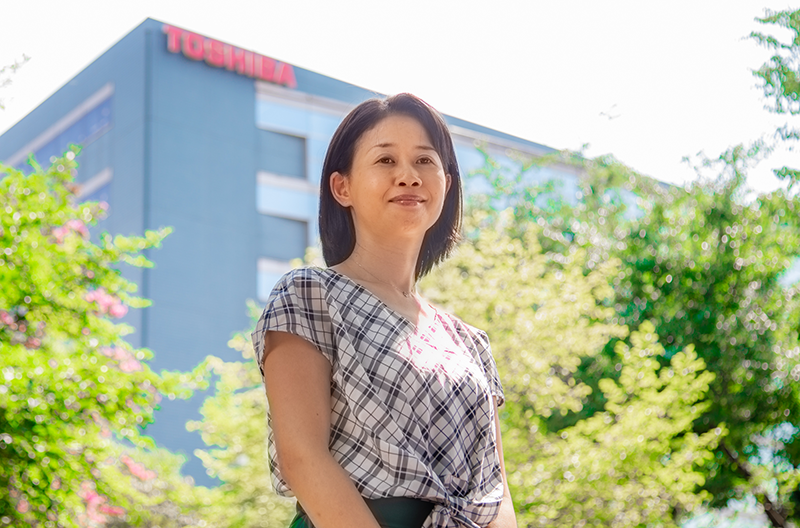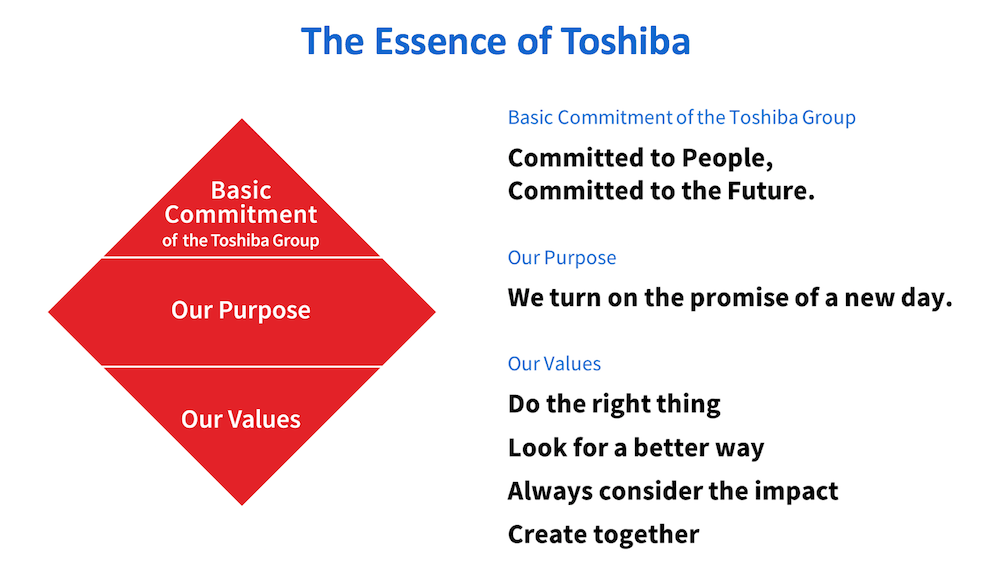 Related Contents