The First Steps into Uncharted 5G Territory with Excitement, Dedication and Perseverance
2021/01/27 Toshiba Clip Team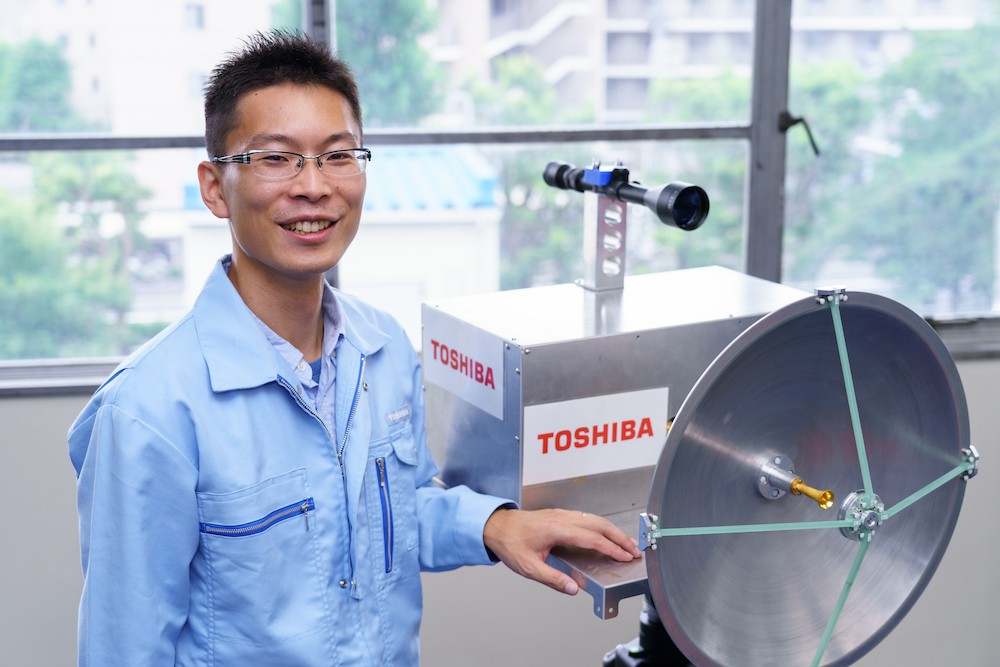 Are you ready for 5G? Because this next generation of mobile networks is going to change all aspects of our lives. It'll impact everything from mobility, medicine and healthcare to manufacturing and many other industries. Toshiba, too, is moving forward with various research and development initiatives to create new values with 5G technologies.
In our previous article, The Unsung Heroes of 5G: How Toshiba's Technologies Take High-Speed Wireless Networks to the Next Level, we took a look at backhaul communication technologies and how they support high-speed wireless 5G networks. In this article, we'll feature the efforts that went into searching for undiscovered technologies that will support the next generation of mobile networks. Let's take a look at one engineer's passion and dedication to reform.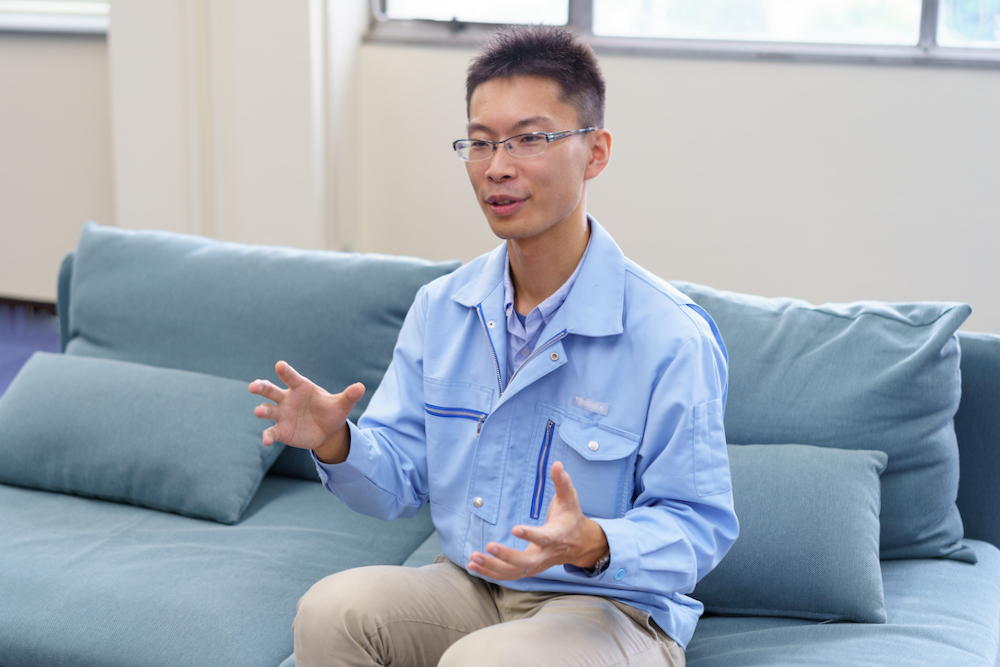 Daisuke Uchida
Wireless System Laboratory, Information and Communication Platform Laboratories,
Corporate Research & Development Center, Toshiba Corporation
Stepping up to the challenge of developing brand new 5G technologies
The goals of this project were twofold: 1) to eliminate physical cables in the 5G communication system, which will reduce expenses, and 2) to develop new technologies that will enable high-speed and high-capacity network communications. This project was led by Daisuke Uchida, a member of the Wireless System Lab at the Corporate Research & Development Center of Toshiba Corporation. Since joining the company in 2012, Dr. Uchida has been involved in the R&D of some of the most advanced technologies, such as physiological sensing, MRI equipment, power electronics, and 5G.
As Dr. Uchida put it, "I wanted to be a researcher from back when I was in university. In my mind, researchers are the creators of new things. I've always kept that core aspiration close to my heart as I work on researching and developing new technologies. From the beginning of my career, when I worked on physiological sensing technologies, I've been privileged to participate in innovative projects. This current one on 5G technologies is no different."
When talking about the innovative nature of 5G technologies, Dr. Uchida said he was greatly intrigued by the use of the millimeter wave (mmWave). The mmWave is a band of high-frequency radio waves above 28 GHz. It's the first time the mmWave will be used for mobile communications, but the high-frequency band is ideal for the 5G's high-speed, high-capacity communications. However, the mmWave comes with a catch: it can't be transmitted over a long distance. Dr. Uchida said, "I've been interested in the mmWave for some time now, so I've been studying it, but the overwhelming consensus is that it's extremely hard to transmit. It's a struggle just to get the waves to travel one kilometer." To use the mmWave for 5G, we would need to build more base stations so that they're closer together than they are now for 4G networks. That would result in enormous construction and maintenance costs.
Dr. Uchida and his team developed ultra-high-speed wireless technologies for backhaul communications designed for 5G. These technologies make it possible to use the mmWave to transfer high-capacity data at ultra-high speeds while also transmitting the radio waves over long distances (up to five kilometers according to calculations using field test results). The team's achievements will pave the way to smoother and more widespread use of 5G.
Dr. Uchida commented that "Commercial use of 5G is already underway, but the truth is, engineers haven't been able to fully control the mmWave yet. In other words, this is uncharted territory for all the engineers working to support communications. So I thought, wouldn't it be exciting to successfully transmit the mmWave over long distances? It was a new challenge, and I'm always up for new challenges."
The 5G communication system is comprised of the access link, which connects mobile devices to the base station, and the backhaul link, which connects the base station to the core network. In 2016, when Toshiba first began working on enhancing 5G's speed, most communications engineers focused on speeding up the access link. However, the ultra-high-speed that makes 5G unique can be achieved by enhancing both the access link and backhaul link simultaneously.

Flow of 5G communication system
Our thinking was, if we could develop a wireless backhaul link while most people's attentions were still focused elsewhere, it would be a huge advantage in the development of 5G technologies. For over 20 years, Toshiba has been building up a wealth of broadcasting and communications infrastructure technologies through the R&D of digital broadcasting and wireless LANs. Dr. Uchida and his team used this technological groundwork to reach even greater heights.
"Since using cables for backhaul links was the norm, what we were trying to do was something different ," Dr. Uchida said, reflecting back to the start of the project. "If we were successful, it would definitely lead to getting ahead of our competitors, but that wasn't all. In a technological sense, this was an extremely difficult challenge. That made it all the more worth taking it on." That was how the project began, and the new technologies that came from it turned out to become the unsung heroes of 5G communications.
Tackling the long-awaited field tests in the UK
As we explained in The Unsung Heroes of 5G: How Toshiba's Technologies Take High-Speed Wireless Networks to the Next Level, the high-speed wireless backhaul link was made possible by leveraging the Multiple Input Multiple Output (MIMO) technology and broadband distortion correction technologies. As a result, the team successfully developed a new wireless technology for high-speed wireless backhaul links. They did this by drawing on Toshiba's wealth of technologies accumulated over years of working in broadcasting and communications infrastructure, including digital broadcasting, wireless LANs and Wi-Fi. Dr. Uchida reflected on the journey, from when he joined the project in 2016 to when they presented the technologies in December 2019. He said, "We achieved our goal through teamwork."
"The order of technical trials went from simulations, to lab trials in shielded rooms using prototypes, to field tests. I took the initiative from the time we were conducting tests in shielded rooms, but it was a struggle getting the signal we wanted. Many of the senior team working in the same lab are experts in digital broadcasting and wireless LAN with a great deal of research achievements. So I talked to them a lot and asked for hints and advice. It took a lot of time and effort, but we gradually managed to increase transmission speeds and move on to field tests."
Field tests for the technologies were held in the summer of 2018 and spring of 2019 near the University of Bristol in the UK. The tests were held abroad for two reasons: one was because it was planned as a joint test with Bristol Research & Innovation Laboratory, Toshiba Europe Limited; the other was because it was difficult to obtain the necessary permissions in Japan to conduct millimeter wave transmission in outdoor environments. Dr. Uchida traveled to the UK and tested the technologies for a month each time with the members of Bristol Research & Innovation Laboratory, Toshiba Europe Limited.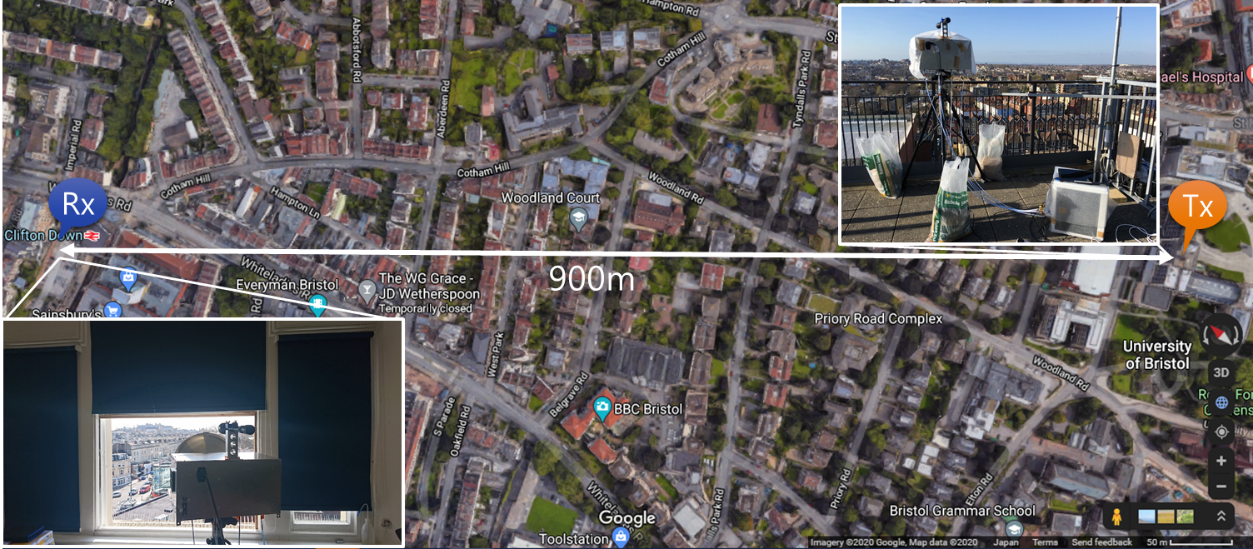 Rx : Canynge hall (Bristol Medical School), Tx : Physics Building (Univ. of Bristol)
"We held frequent telephone conferences in advance to plan things carefully, but there was still a mountain of challenges, from sending preparation equipment overseas to communicating with members on-site. Still, it was really fun. I'd always wanted to do field tests, and to think that this would lead to developing new technologies that no one has done before—I was just excited from start to finish."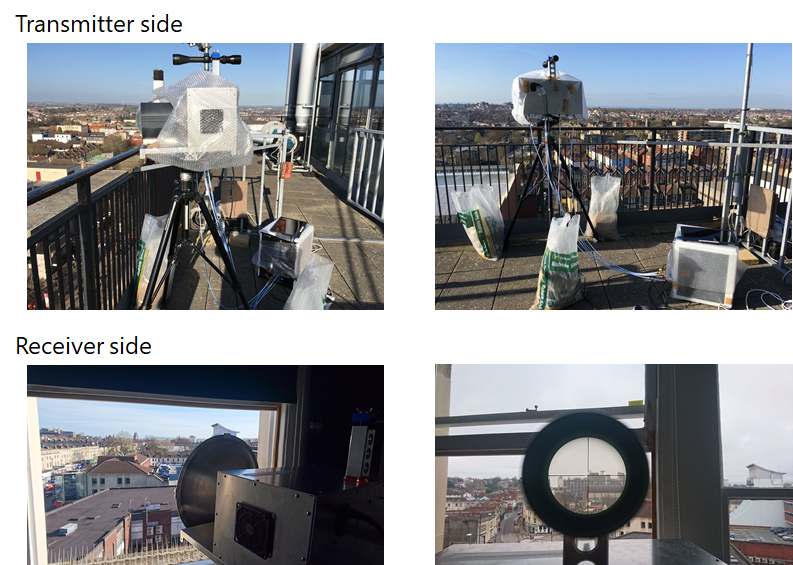 Pictures from the field test
Researchers are looking beyond 5G
The field test involved setting up a transmitter on the roof of the University of Bristol and sending radio waves to the receiver set up 900 meters away. The team installed an attenuator on the receiving end to simulate an actual distance of five kilometers. The tests depended on narrowing down the radio waves' direction before transmitting them, so they needed to peer through lenses at both ends to adjust the direction by eye. It was a difficult task, like trying to focus searchlights, except radio waves aren't visible. Every day, they set up the equipment in the morning and packed everything up in the evening. Making adjustments and measuring wave forms took up much of their time and the days flew by.
"I was stationed by the receiver, looking through the lens and trying (with a great deal of difficulty) to communicate things like 'turn it a little to my right' or 'I'm going to turn it a little to your left' in English. But I was really excited when we managed to record the wave forms. On the other hand, it was a struggle to reach the transmission speed we were aiming for, which was 20 Gbps. I was hit with the reality that, unlike in the shielded rooms at the Corporate Research & Development Center, it's much more difficult to do long-distance tests out in the open with prototypes. It was a real headache at times."
Dr. Uchida held countless discussions with the members of Toshiba's Bristol Research and Innovation Labs in the field and was also in frequent contact with his team members in Japan. He sent them the data gathered from the tests and they brainstormed ways to enhance speed. Day after day, they tested from morning to evening, but time was running out. Dr. Uchida had only three days left in the UK when finally, after making adjustments to the equipment, they achieved the coveted 20 Gbps.
"To be honest, I was nervous. But it was nothing compared to the fun of doing field tests and the excitement of being so close to establishing a new technology. I think it was the desire to successfully accomplish what no one else has done before that kept me fired up."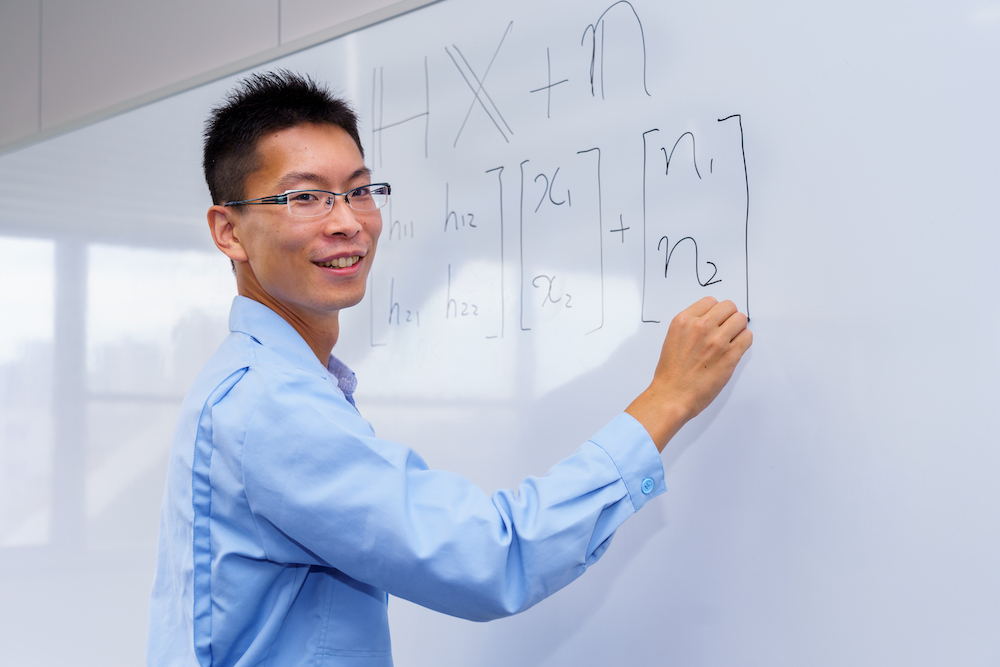 After presenting the technologies at an academic conference in December 2019, the team is now working on turning their achievements into a business. Drawing on the experiences he gained while doing field tests, Dr. Uchida said, "We have to think about how actual weather like wind and rain will come into play, which means making the equipment more robust and stable. So there are still many things we need to figure out before releasing the technologies for commercial use." His determination remains as strong as ever.
Communications infrastructure continues to evolve whether we like it or not. From 2G in the 1990s, 3G in the 2000s, 4G/LTE in the 2010s to the current 5G. The evolution of mobile wireless technologies is marching steadily forward. Engineers are already looking beyond 5G and discussing 6G for the 2030s. We asked Dr. Uchida, as a researcher involved in communications technologies, what he thinks about the new, upcoming age.
"Researchers are saying that in the 6G age of the 2030s, mobile communications coverage will reach as far as outer space. I'm really looking forward to seeing communications technologies connect new and different worlds. As a researcher, I hope to develop and present technologies to the people of the world that deliver stable and high-speed communications over long distances, no matter where you are."
Related Contents