Toshiba's young engineers: Bringing reliable railway technologies to a wider world
2021/05/31 Toshiba Clip Team
Traveling overseas for the first time to start a career
Sincerity cultivates trust—a universal rule
Bringing railway technologies to the world—and home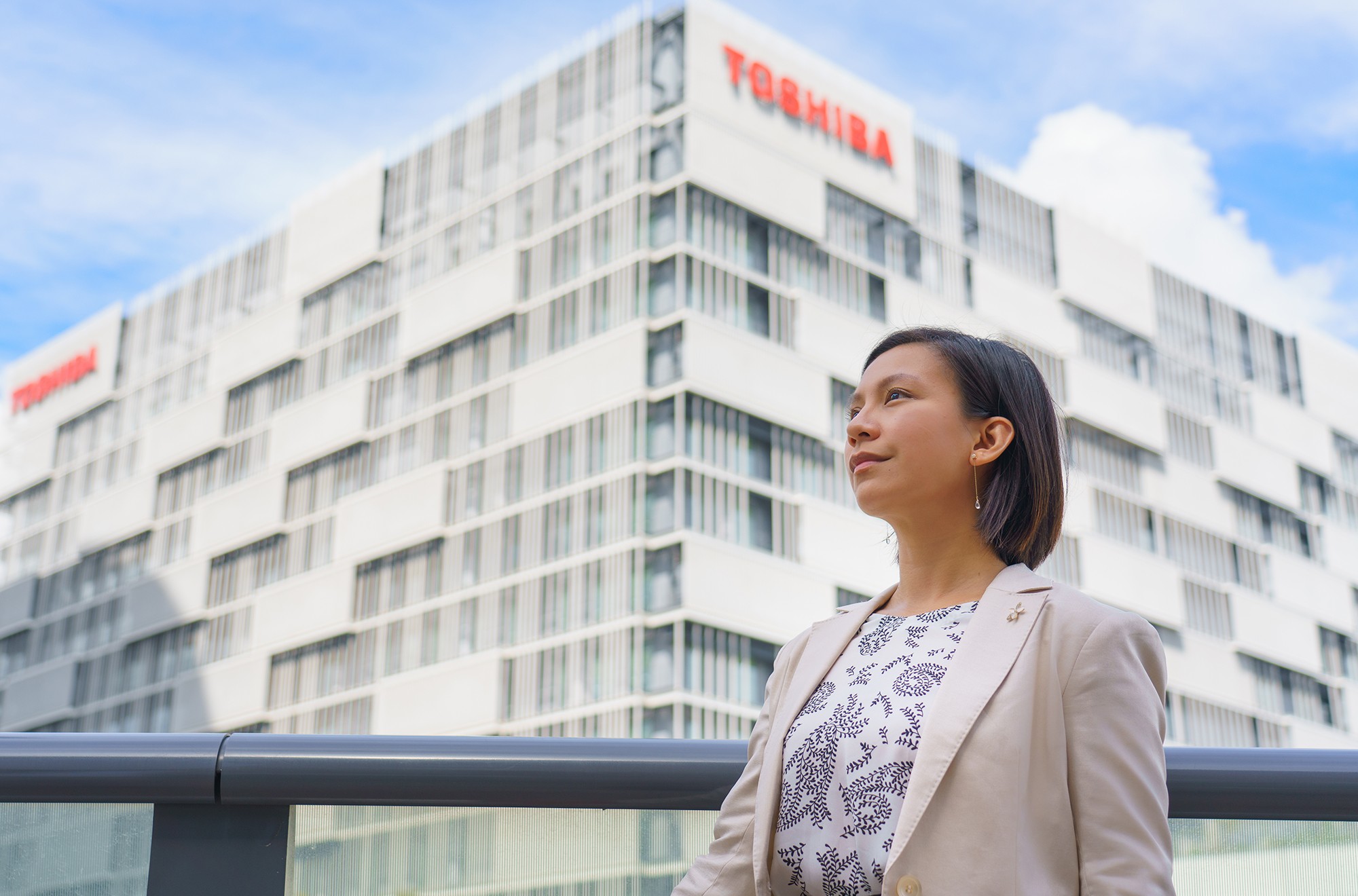 My working life started in a foreign country, now my second home
Japan has seen waves of change in recent years. In the second half of the 20th century, globalization started to influence culture and society, and in the ways people lived. With the onset of the 21st century, the term borderless came to the fore to explain the increasingly cross-border flows of people, goods and information. The word that perhaps best sums up today's Japan is diversity, an indication of a culture that has matured and accepted a more global role.
For several decades now, Toshiba has spread its wings wide and taken a broad view of the world, and infrastructure throughout the world is supported by Toshiba's technology.
Maria Regina Ildesa hails from the Philippines, and she is a sales engineer in the Railway Systems Engineering Department of the Railway Systems Division at Toshiba Infrastructure Systems & Solutions Corporation.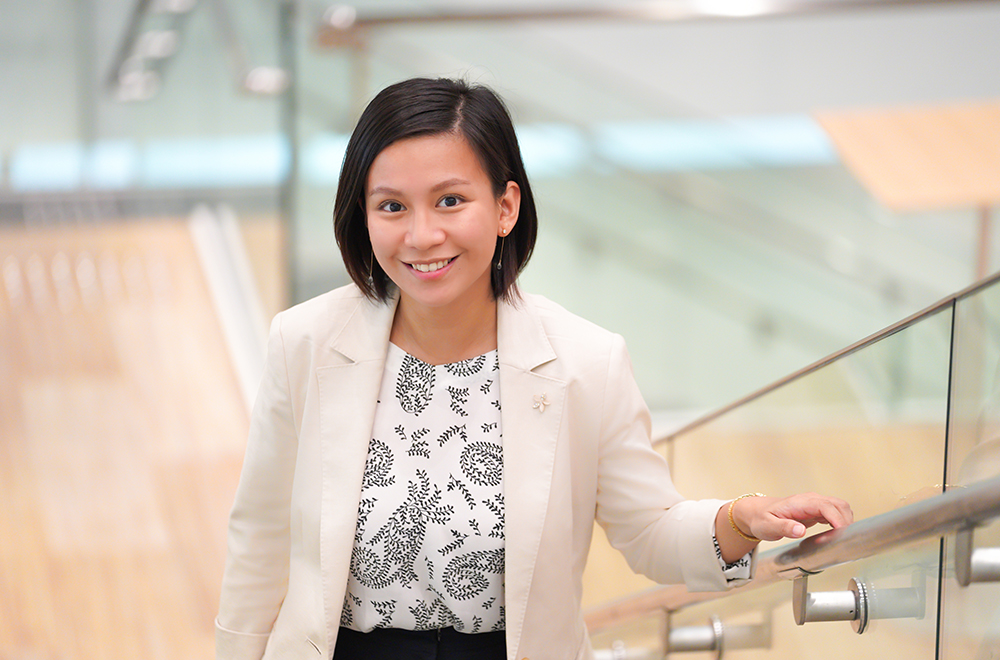 Maria Regina Ildesa, Global Railway Systems Engineering Department,
Railway Systems Division, Toshiba Infrastructure Systems & Solutions Corporation
"My interest in Toshiba started when I met with recruiters from the company at my university's career recruitment program."
Toshiba has long promoted a global recruitment program that scouted worldwide for diverse, highly capable young people, who can work beyond national borders and become next-generation leaders. Regina was recruited in this program.
"I had never left the Philippines until I came to Japan to start work at Toshiba."
Regina, who says her first overseas trip was to work in Japan, explains that she majored in materials engineering at university, where she researched how to turn water hyacinths into fiber reinforced plastic.
"The water hyacinth is an aquatic plant with beautiful flowers," says Regina. "It's native to South America, but in the Philippines and many other parts of the world it has become a real problem as an aggressive invasive species. I was researching whether a plant that would normally be exterminated and discarded, could be used for something useful."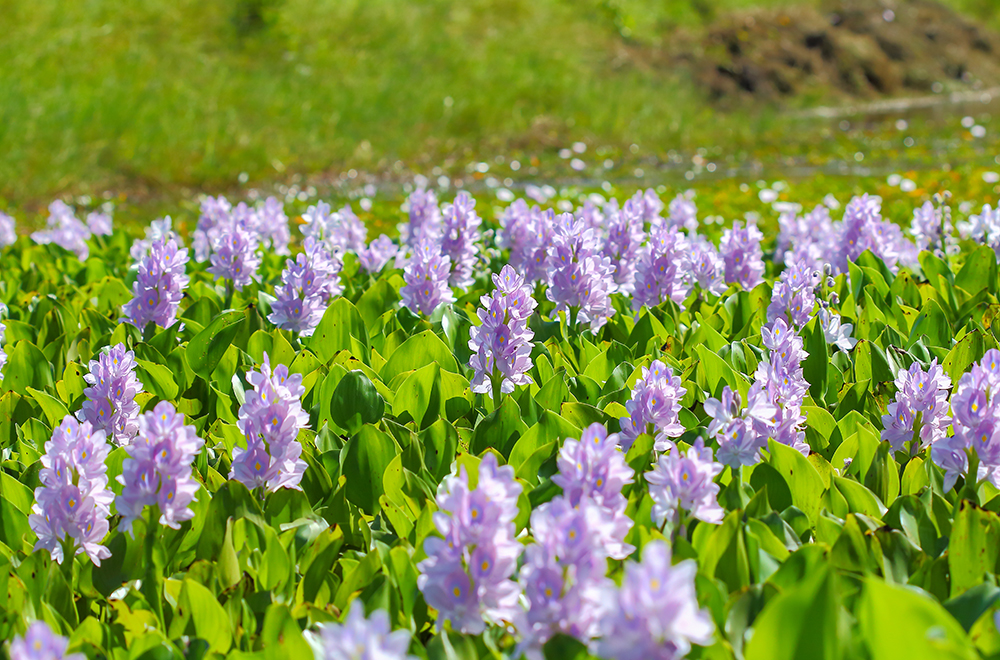 Water hyacinths grow and spread fast, and can quickly cover bodies of water.
They deprive fish and aquatic flora of oxygen, and can interfere with fishing and water transportation
Regina currently works in the Railway System Engineering Division's overseas business, mostly handling equipment for railway substations. As soon as we start to talk about her work, she breaks out into a big smile.
"Our recent focus has been on promoting regenerative power storage equipment, and we have succeeded in winning an order." Regina told us her team won an order for a Traction Energy Storage System, also known as TESS, from Bangladesh's Dhaka Mass Transit Company. At the heart of the system is the SCiB™, the highly reliable, long-life lithium-ion rechargeable battery developed by Toshiba.
TESS captures and stores energy from trains. As a train slows down when it comes into a station, its electric motors function like a generator, and the electric energy produced can be captured and stored in a stationary battery storage system. It is essentially the railway version of regenerative energy systems made familiar by hybrid and electric vehicles.

Image of how TESS works
Regina says that, regenerative power in railways has been transmitted from one train to another via the overhead power lines. However, if there is no nearby train that needs and can consume this energy, it is wasted as heat through regenerative resistors or it may cause regenerative braking failure in the train system.
"At Toshiba Infrastructure Systems & Solutions, we developed TESS as a system to capture and store the energy, and prevent energy waste. Stored energy can then be used by trains when they need it. It can also be used as power supply during emergency power failure scenarios."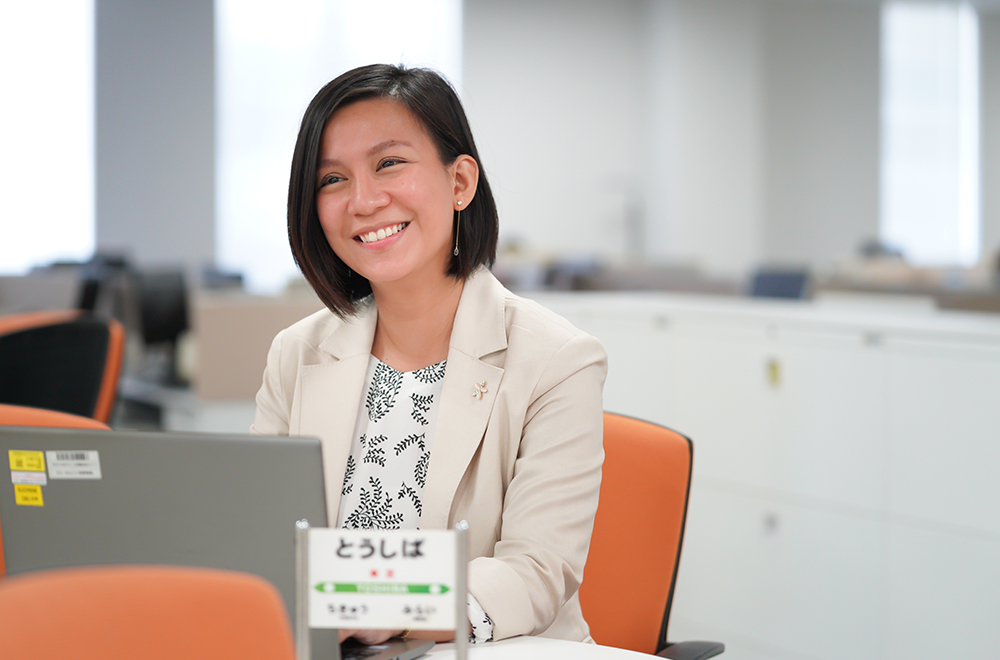 "TESS is a new system for our customers, and we have had difficulty getting them to understand the nuts and bolts of how it works. However, in winning the Bangladesh order, we found that if we explain it fully and properly, customers can understand it and we can win their trust."
Maintaining your own identity is the way to success in an unfamiliar country
"When I started living and working in Japan everything was new to me, and there were many times when I just felt like giving up," recalls Regina. Happily, that all seems to be behind her, and she says she now enjoys her life in Japan, and no longer has trouble speaking Japanese. But she does have memories of tough times when she joined the company.
"In my assignment, I needed to know about electrical engineering, something I have not studied in any great depth at university. So in my initial training, I had to study it from a point pretty close to zero. Of course, this was also when I started to learn Japanese from absolute zero, so in the beginning it was all really tough. Now I think I got through it all with the Japanese language classes provided by Toshiba and with the help of my colleagues and seniors."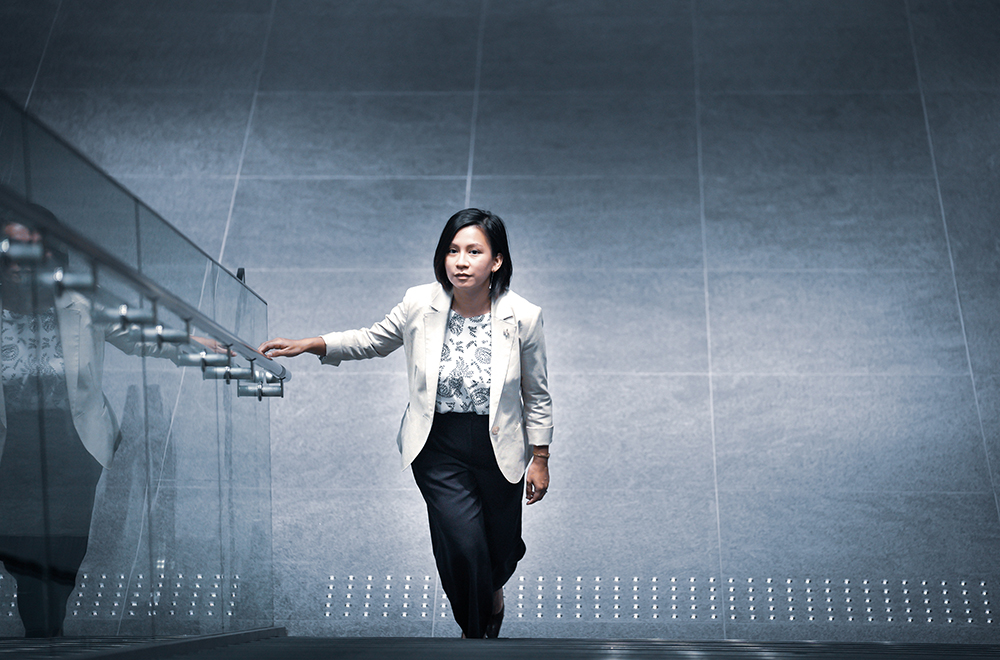 Nearly 30 people from the Philippines are employed by Toshiba Group in Japan, and they have formed a thriving community.
"When I first came to Japan, the Filipino community at Toshiba supported me with everything. I can still remember the relief I felt at being able to speak my own language. Being able to talk and consult with people who had been here longer and have gone through the same experiences helped me in navigating my life in Japan."
Now, with the intention of repaying the kindness of my seniors, I share my own experiences at that time with my juniors."
Ivan Anthony Geronimo, a co-worker in the same Railway System Engineering Division, is one such junior.
"When I see some of Ivan's troubles and worries, it is like looking at myself. I am sure the senior colleagues who helped me felt the same way too."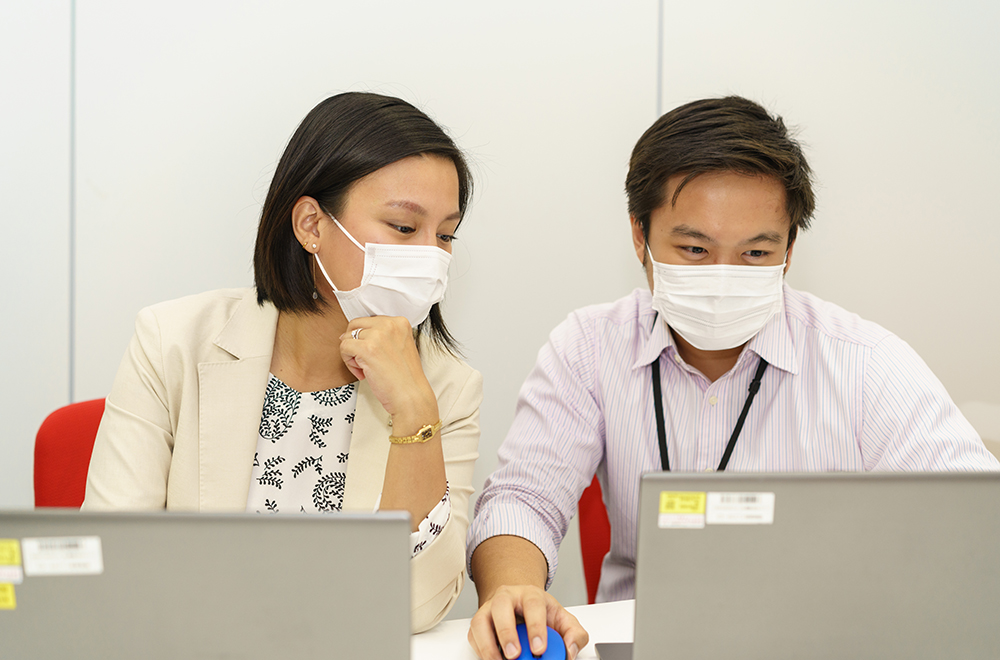 Regina chats with Ivan, her junior colleague in the same department
Ivan joined TISS recently, and for him Regina is not only a senior colleague, but someone from his own country whom he can trust—time will come when he will also be in a position to support his juniors. Regina says that this system of supporting juniors from the same country is nothing new, it has been running in Toshiba continuously, for a long time now. Of course, this doesn't just apply to people from the Philippines, it's also true for people from other countries; within the diversity that humankind aims for, there are mutual aid circles that cross borders, including in Japan.
Engineers from the Philippines will contribute to infrastructure development in Bangladesh as employees of a Japanese company. It's an example of something where you can feel the global scale just by writing down the words. Even so, Regina, firmly positioned at the center of it all, says that it is her identity as a Filipino that always shows her the path she should take.
"My division, Railway Power Systems, handles a very wide range of products. So what I want to do is to work with more products, to get a deeper understanding of a wider range of technologies, and become a world-class railway substation technology expert."
But even in the midst of this, Regina hasn't forgotten her home country.
"The Philippines has chronic traffic jams, and railways are really growing in importance. My dream is to be able to contribute to the Philippines in the near future through Toshiba's solutions, including railway technologies. This is how I felt since joining the company, and looking ahead to the next generation, this is the kind of future I still envision."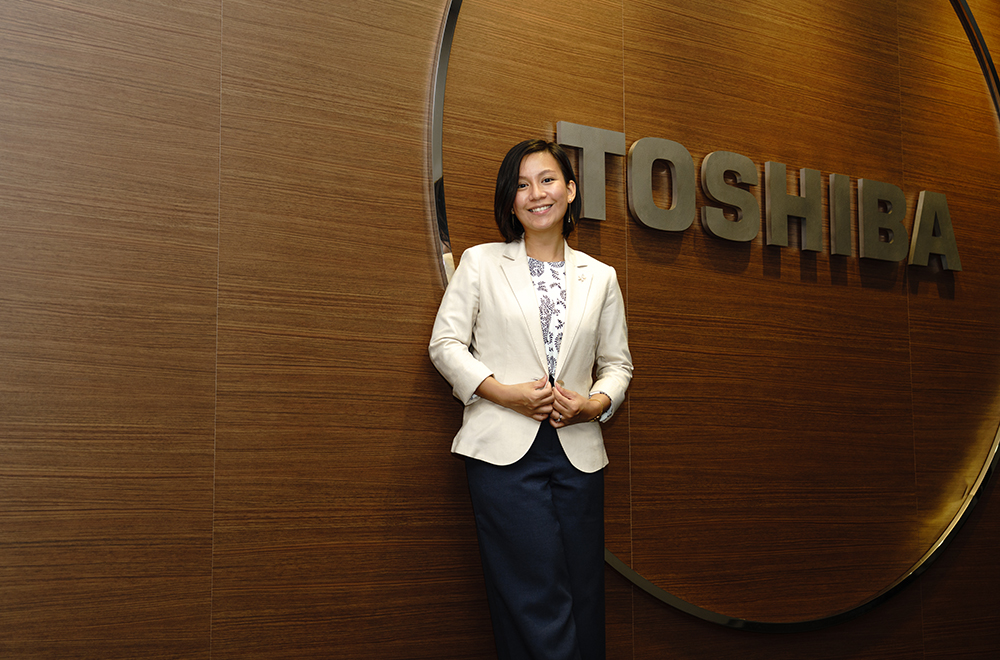 Since the time she was a student involved in research to reuse water hyacinth plant fibers as plastic reinforcement material to help alleviate its environmental impact in the Philippines, the future she envisions has not changed despite the change in her career path.
"Before joining Toshiba, I had never been abroad, but by working on overseas projects I have now been able to expand my world. As long as there are people in the world in need of Toshiba technologies, I am happy to deliver them. In the spirit of the Essence of Toshiba, and with a passion for change, I want to contribute to people and the planet."
Related Contents