Toshiba's young engineers: Shining a new light on the world
2021/06/28 Toshiba Clip Team
UV light offers a measure of hope for Covid suppression
Toshiba Lighting & Technology pioneers a new frontier - the ceiling
Explore light's unknown possibilities and contribute to society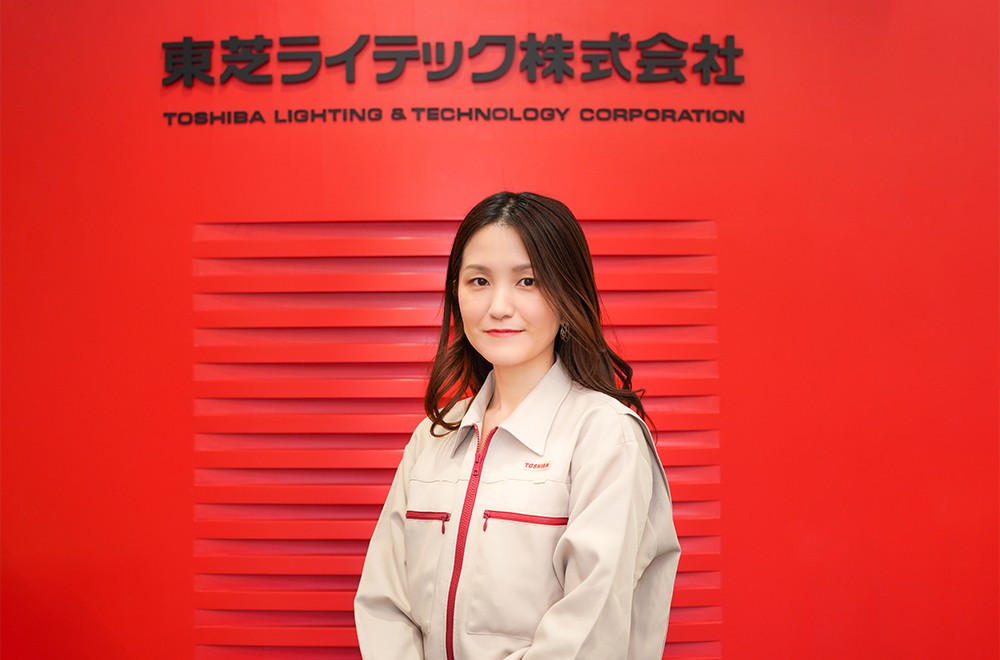 It's about 150 years now since electric lights started to illuminate the night. In our modern world, where all the light and brightness we want is only a switch away, the feel of the sun on our skin still tells us that the sun is a source of good health. That's why there are engineers who are taking on big social issues by using science and technology to reproduce the power of sunlight.
Can "UVee" be decisive among measures to counter Covid-19?
It has long been known that ultraviolet rays can sterilize bacteria and inactivate viruses. That may also explain why slipping between clean sheets dried under the sun are so inviting and comfortable.
"Ultraviolet light is powerful," says Nagisa Ide, an engineer at Toshiba Lighting & Technology Corporation (TLT), "In fact, we can use it to irradiate and suppress the novel coronavirus, though it has to be at the right frequency."
Ide doesn't have to look far to prove her point. The company she works for, TLT released "UVee," a UV lighting fixture that can also inactivate viruses and bacteria, in January 2021. Co-developed with Ushio, Inc., its big plus is that it can be used in populated environments. It integrates a Care222® UV light source module manufactured by Ushio, Inc., which irradiates only in the 200 to 230-nanometer band. That's a wavelength that has minimal impact on the human body, but that is very effective against viruses and bacteria. TLT's contribution is in the lighting design and the control technology that ensures effective irradiation.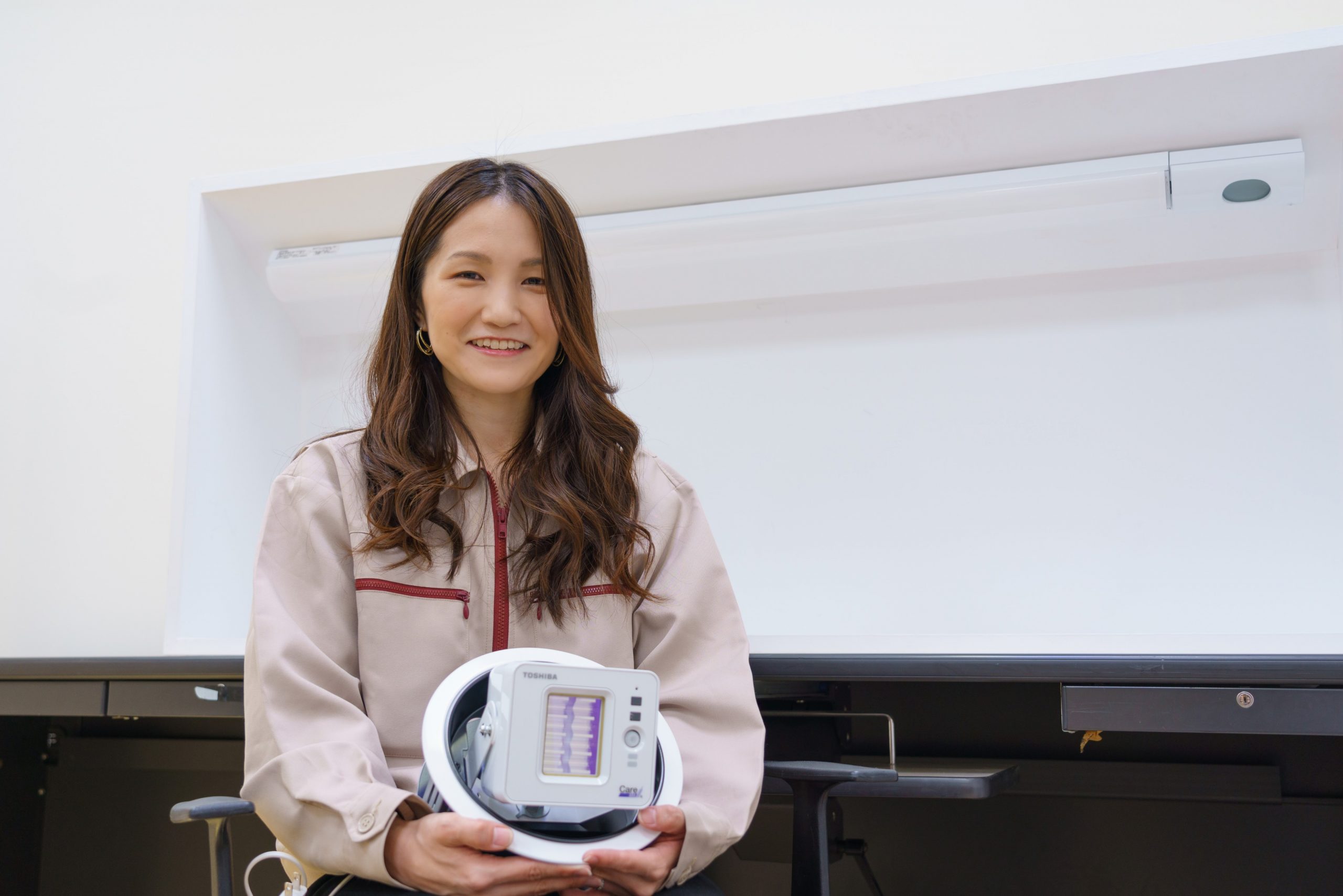 Nagisa Ide, UVL CPS Promotion Department, Toshiba Lighting & Technology Corporation
"UVee is a product that utilizes TLT's knowledge in lighting fixtures to provide an installation environment where Care222® can effectively inactivate viruses."
As Ide explains it, until now, disinfecting with ultraviolet light has typically been done by putting what you want to disinfect in a dedicated device and irradiating it, or installing a UV light source in or near the ceiling to disinfect the air. However, with the introduction of light source modules like Care222®, which has a very limited impact on the human body, it's now possible to disinfect spaces that are used by people. From the perspective of a countermeasure against the novel coronavirus, this is something that meets the desire for something that can be used in places where people gather.
"My job is to propose the products that our customers need," says Ide. "To do that, we need to know exactly what our customers want."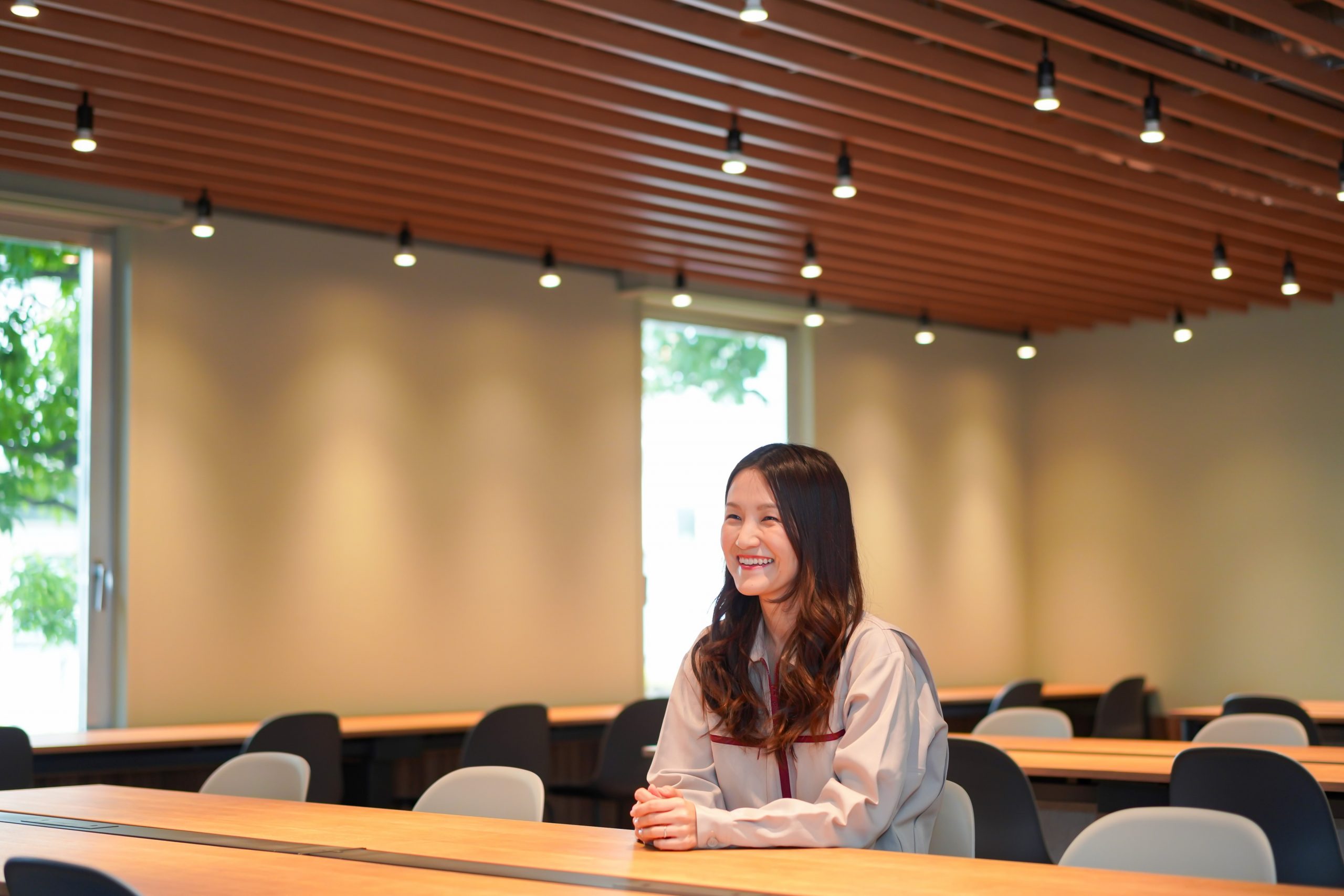 Ide says that she really respects something a senior colleague told her when she was doing the same work, that there are two things to bear in mind: "think from the customer's perspective" and "customer's requests are not always a language that it's easy for us to understand." Guided by this, she says that she always aims to listen very carefully to what customers need now, and to make proposals that can realize it.
"During the development of Uvee we repeatedly asked ourselves, 'Where do customers want to sterilize?' The answers led us to a ceiling-mounted, adjustable universal downlight type product that can sterilize targeted locations. UV light and its effects are not visible, so I explain it to customers in an easy-to-understand way using simulation results, such as how distance from the light source affects sterilization, how long it takes and how effective it is, and how it compares to other methods."
Ide says that TLT's strength lies in the ceiling. While things like lighting, air conditioning equipment, and disaster prevention related equipment are all embedded in the ceiling, it is, she says, still underutilized, a future frontier.
"The way networks have evolved so far, the ceiling has been left behind, but it has real potential. TLT has focused on the ceiling for lighting, and there are ways of using it that can only be done by us."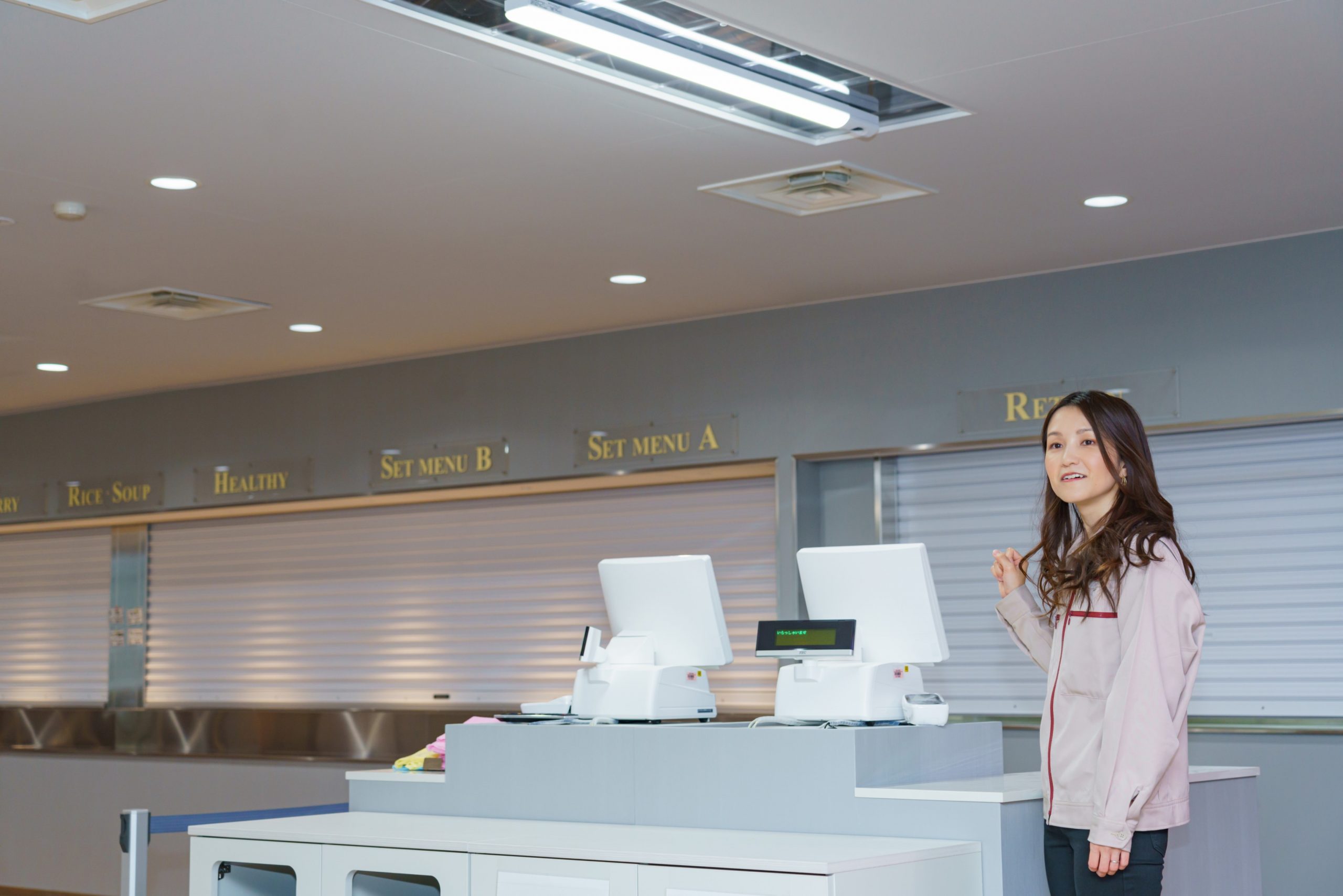 View LED installed in the ceiling of the cafeteria at TLT's headquarters
A real-world example of this is "ViewLED," released in 2019, a ceiling-embedded LED lighting fixture that also integrates a camera. In recent years, more and more applications have made use of video recording, and "ViewLED" solves multiple problems related to installation location by mounting the camera in the lighting. Ide says that ceiling installation has a lot of advantages, including a position that can cover large indoor spaces, and easy connection to power supply.
In her current assignment, Ide is working on a project to build on ViewLED and commercialize cyber-physical systems in the lighting field. "We are focused on the ceiling where the lighting is installed, and working on products and services that directly solve customers' problems. We are developing technologies and building a network environment to support this and realize possibilities."
Researchers in the private sector engaging with the world
In university, Ide's major was architecture, and in graduate school her research work centered on the effects of light on biological rhythms —a subject matter that sound closer to medicine than architecture.
"My work was a little different from what most people would associate with a Department of Architecture," agrees Ide. "I was looking at different light wavelengths, and how they affect living things, by irradiating laboratory mice with light and examining the effects on their brain cells. However, I think that work also helped me to contribute to the development of Care222®-equipped products, which inactivate viruses and bacteria with UV light in places used by people. It wouldn't make much sense if the UV light we use to get peace of mind threatened people's health."
The path that led Ide to Toshiba started overseas, at an international conference she participated in while in here fourth year at university. While there, she met a Toshiba researcher—who would later become her boss.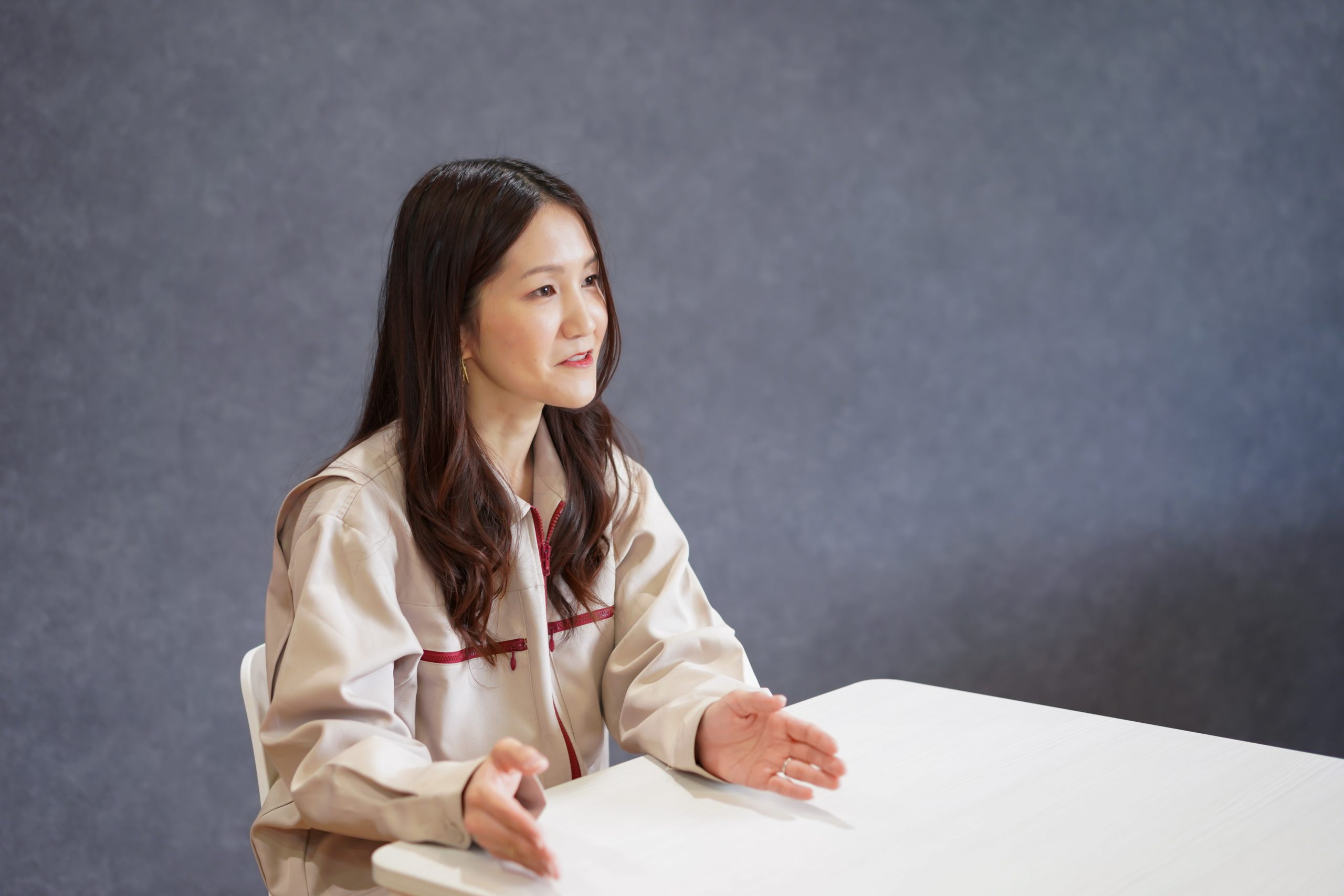 "I had this idea that the only researchers who participated in overseas meetings of academic societies belonged to universities or government-affiliated institutions, so a company that sent an engineer abroad to make an announcement really caught my interest."
The researcher kept in touch with Ide, who gradually found herself becoming interested in Toshiba, and in the way it made a profit by balancing research with the development of technologies of immediate use to people. On top of that, the fact that the researcher was also a mother with children followed the same map as the ideal future Ide envisioned for herself.
"The impression I got of Toshiba Group at that time was correct. Now as a mother of a child myself, I feel lucky to be in an environment that enables me to take care of both work and my family."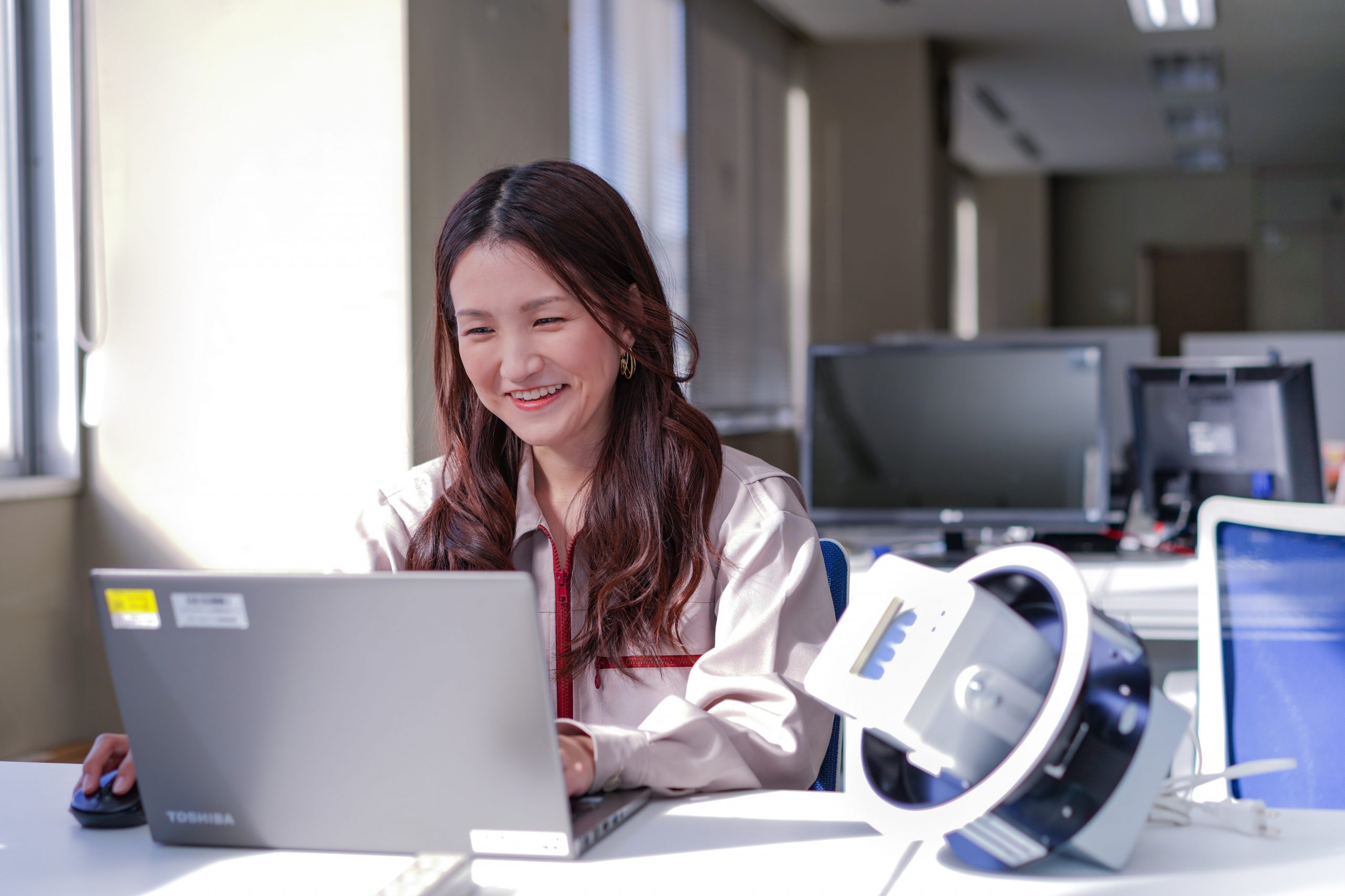 Ide says that sunlight streaming through a window is the model for illumination
As she speaks, it soon becomes clear that Ide is dedicated to her work, and captivated by the properties of light. "Even now, light has powers that are unknown to us. It's not just that it can be harmful to the body, depending on how it is used, it can have many and different effects, including improving work efficiency. Lighting should change accordingly to reflect intended use, the place, and the people.
Even if you only look at it in terms of its power to inactivate viruses, light has immense potential. Winning the fight against Covid will not be the end; other viruses will emerge, and pose new threats. I want to continue to contribute to society from the field of lighting, by demonstrating the great power that light can exert."
Related Contents