Toshiba's young engineers: Lithium-ion Batteries Will Build the Future
2021/06/14 Toshiba Clip Team
Developing a key technology for a sustainable future
Growing as an engineer by interacting with others
A time for change, a chance to demonstrate creativity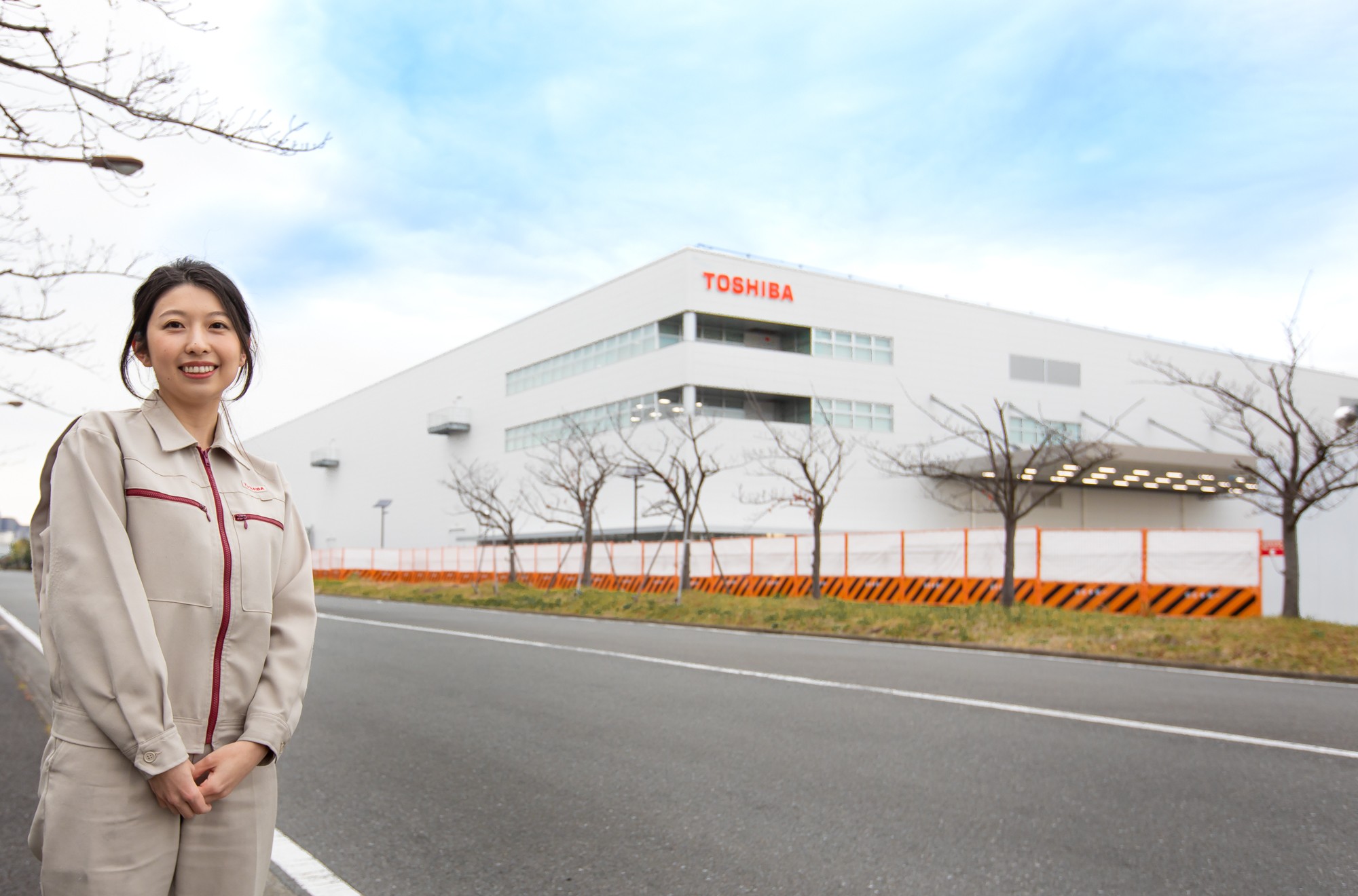 Progress in batteries is a driving force for realizing the 21st century that people envisioned in the last century. The arrival of lithium-ion batteries that are more compact and efficient, with a longer life, has immensely widened battery use, and today they power everything from portable personal products to vehicles, and on to industrial equipment. Advances in battery technology continue, and they will continue to change our world. In this article, we meet a young engineer who researched a next-generation lithium-ion battery at university, who is now making full use of that knowledge at Toshiba, and who continues to grow through experience.
Working with cutting-edge science is a chance to change the world
Natsuki Nakamura, who works in the Cell Development Department of Toshiba Corporation's Battery Division, is very aware of the potential of lithium-ion batteries, both as a technology and a forward-looking tool to fight climate change. "Electrification of cars is making progress and that will reduce emissions and help fight the problem, and that is good for all of us." But she also notes that batteries are only as good as their technology. "Our SCiB™ uses lithium titanate for the anode, the negative electrode, and that ensures safety, a long life, low temperature operation, fast charging, high input and output densities, and a wide SOC*1 effective range. The SCiB™ is already used in numerous areas, and our development work will further expand that potential."
* 1 SOC (State of Charge): The SCiB™ can be used with an SOC of 0 to 100% because it has high input and output characteristics over a wide SOC range.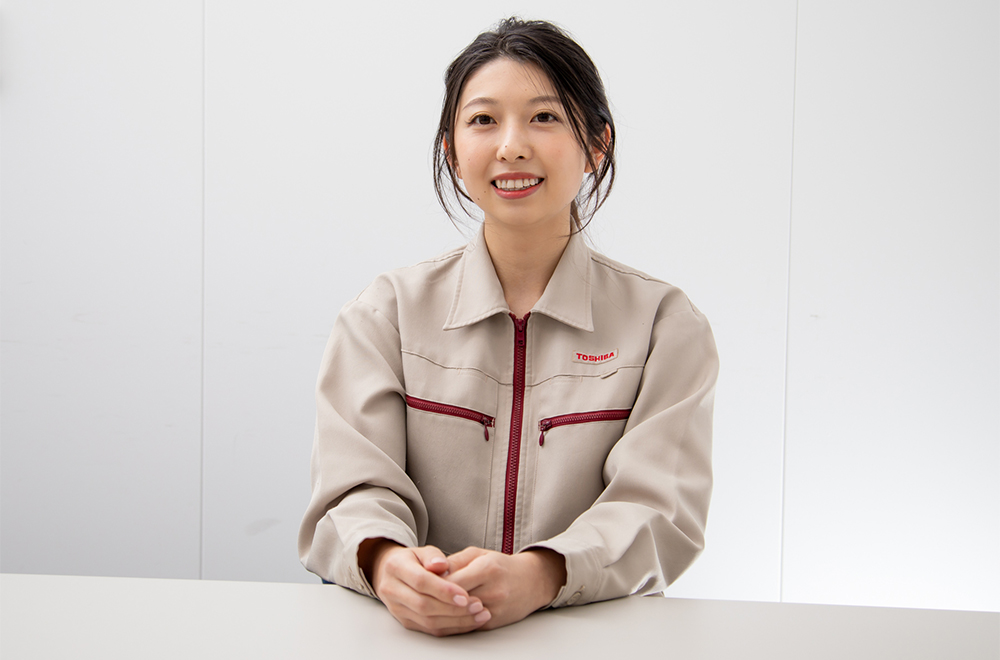 Natsuki Nakamura, Cell Development 2nd Section, Cell Development Division, Battery Division, Toshiba Corporation
Nakamura goes about her daily work with the aim of contributing to a sustainable economy. For instance, renewable energy produces fewer emissions, but when it is introduced into the power grid there is greater potential for frequency fluctuations when demand rises. Lithium-ion batteries can flatten these fluctuations and solve the problem almost instantaneously. The batteries that are used for this have to be resilient to frequent charging and discharging, but that is no problem for the long-life SCiB™, which is also safer and more reliable than typical batteries. Nakamura explains that her mission is to make the SCiB™ even better, by developing next-generation technologies that further enhance its capabilities.
The scope of her work covers selection of electrode materials, structural design, and process development. Though we think of batteries as being compact and light, large-scale experiments in development labs sometimes involve materials that weigh tens and as many as hundreds of kilograms. But Nakamura has no objection to working with heavy materials if they produce reliable results.
"We often work with hazardous materials that are dangerous to handle," Nakamura explains, making safety first is the order of the day. "We wear protective clothing, solvent- and dust-proof face masks, and double gloves so that we can carry materials. Batteries produce some really complex reactions, and there are still a lot of unexplained phenomena. Even small levels of an impurity and differences in electrodes can cause large differences in reactions, and unlikely material combinations can dramatically improve properties. With all of this to consider, we have to do a lot of verification."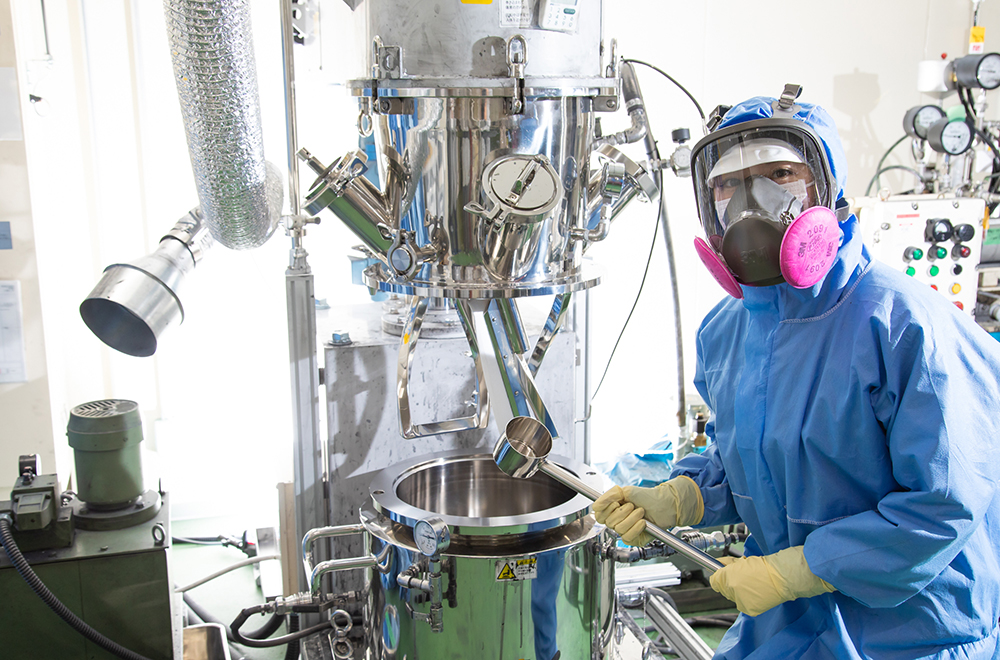 In battery material selection many tasks require physical strength
At high school, Nakamura was exposed to many different aspect of science, including quantum mechanics and astrophysics, and this had a major impact on how she came to see the world; she increasingly wanted a job related to the development of products that support society. Eventually she decided to major in applied physical chemistry, a field that suited her, with the aim of contributing to society. When she joined Toshiba, Nakamura was surprised at the scale of materials handled, much larger than anything used in her research at the university, and also by the stringency of the data requirements—but she soon came to enjoy seeing products being used by the public.
Her work on batteries dates from graduate school. "That was a time when next-generation lithium-ion batteries were attracting attention all over the world, and I wanted to improve as a researcher by challenging myself in a cutting-edge field. So I decided to focus on lithium rechargeable batteries that use sulfur in the positive electrode. I set myself a high hurdle, but it was a lot of fun, and I got a lot of valuable experience that you can't normally come by."
That experience certainly paid off. While still a graduate student, Nakamura submitted two papers as lead author to international academic journals, including the Journal of Power Sources, which at that time, 2015, has an Impact Factor*2 of 7.073. She says that it was the first time in several decades that anyone in the master's program at the research lab with which she was affiliated was published in an international journal, so it was quite an achievement. Why then did Nakamura choose Toshiba, and what kind of career and did she expect to cultivate?
* 2 Impact factor: An index to evaluate the degree of influence of academic journals, calculated from the number of citations of articles published in the previous two years.
Growing as an engineer through in-house exchanges
As a student, Nakamura's image of Toshiba was of a company that created many Japan and world firsts. She imagined the existence of engineers working behind the scenes, taking on unprecedented challenges to continually release groundbreaking products. "There are many challenges and difficulties to overcome in the process of creating new things. In my mind's eye I saw many engineers and researchers determined to commercialize them, working hard, their eyes shining with spirit and determination. I thought to myself, 'I want to be a part of that.'"
Today, she is very much a part of the team. Innovations she has brought about include reducing the man hours required to assemble SCiB™ cells by 90%, and a material evaluation method that increases the reliability of long-term evaluation, something previously difficult to do. In fact, it also made it possible to feed evaluation results back to suppliers quickly, and has accelerated new product development. When she first proposed the method there were some questions about how reliable the data was, but after correlation with the results of other evaluation methods, and clarifying its advantages and disadvantages, its power was recognized. From now on, it will also be applied to managing electrode quality at factories. One young engineer's passion for change is creating new value within Toshiba and for society.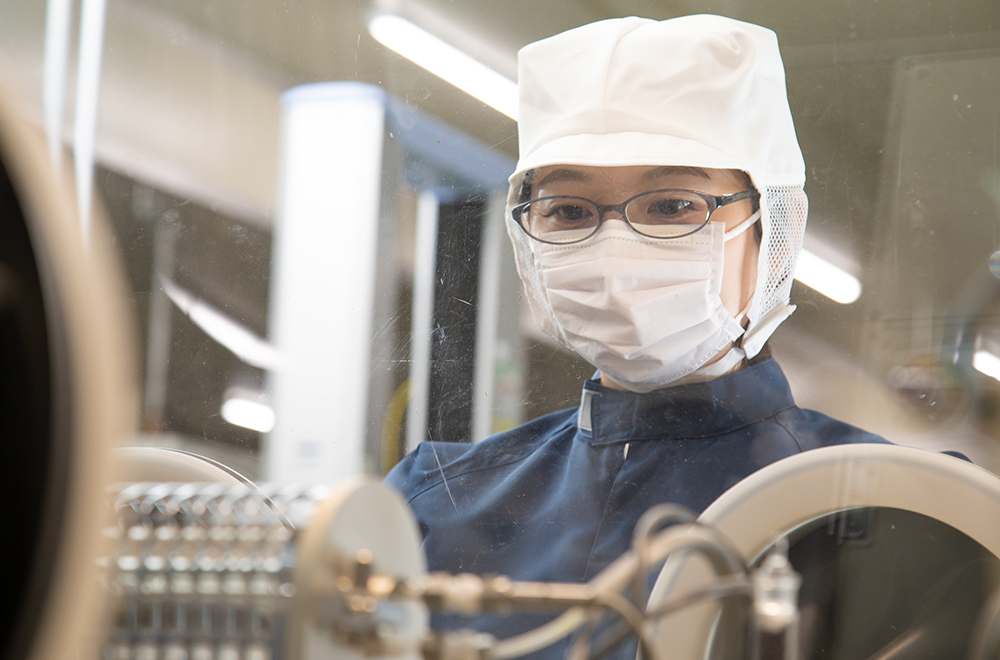 Asked about how she was able to come up with these innovations, Nakamura says that her perspective as an engineer was cultivated and influenced through in-house exchanges. She recalls working on niobium-titanium oxide, the next-generation negative electrode material used in SCiB™, at Toshiba's corporate R&D Center.
"I was surprised by just how strong the driving force was in each stage of the process, from planning experiments to considering the results. I saw how researchers looked to the decades beyond commercialization, and how there were things they would not concede. That opened up my horizons, and I wanted to be the same, and to create value with a long-term perspective. So now I am enrolled in a doctoral course, where I am researching next-generation lithium-ion batteries."
Nakamura's team is constantly busy preparing for the launch of a new product. However, she says it still possible to have casual conversations, to just chat, and she really values working in an atmosphere where it's easy to talk, even about trivial things.
"During product commercialization, it is important to cooperate with the factory, not just with developers like us. I remember back to when I joined the company, working on prototypes alongside workers in the factory. We sweated together, and that helped deepen our friendships, and contributed to our total success in reaching the mass production stage. Even now, it makes me feel really happy when I go the plant and say, 'Hi Natsuki, it's been a long time.'"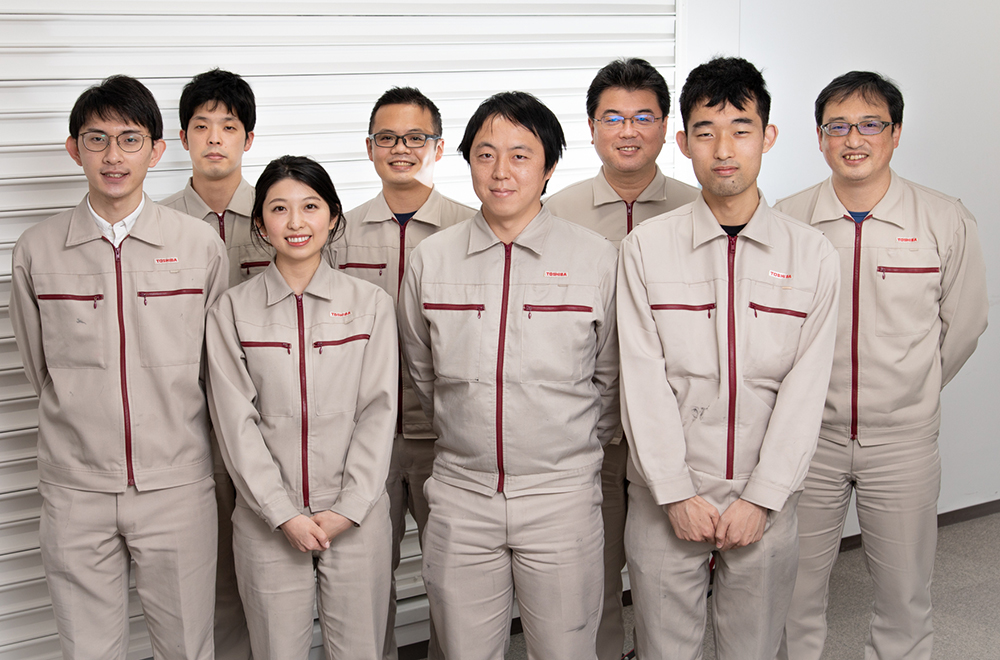 Nakamura and the team looking to the future of batteries
Nakamura firmly believes that connecting people who can envision the future, and then adding technology into the mix, makes it possible to make high value proposals. What kind of people does she want to work with to hone her skills, and what kind of work does she want to do?
"The core message of The Essence of Toshiba is "Committed to people, committed to the future." This is a company that has innovative technologies that will change society, and I want to work with people who also want to make big, wide ranging contributions to society. When I joined Toshiba, the company was in crisis, but has recovered and is moving forward as an infrastructure services company. At a time of change like this, it's exciting for the younger generation to be able to create new trends."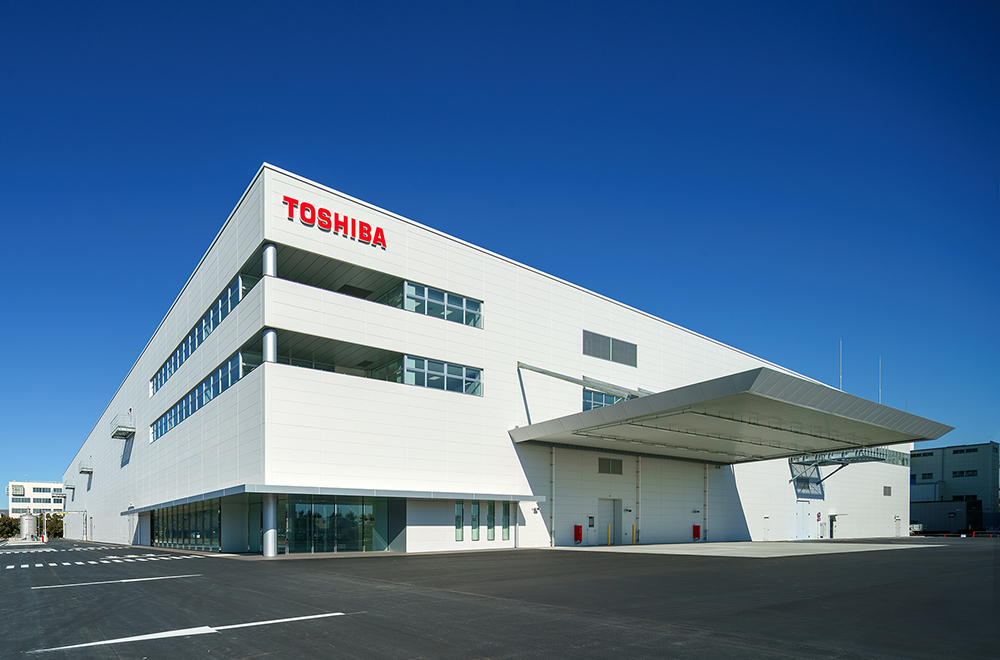 The new SCiB™ facility at Toshiba's Yokohama Complex, completed in January 2021
Related Contents