We are Toshiba: A "brave wolf samurai" spirit nurtures Toshiba's rugby team as it turns on the promise of a new day
2023/09/28 Toshiba Clip Team
With different roles for different position, rugby teams value diversity.
Energizing the team by boosting the morale of K9, players who do not get to play in games.
We open up the promise of a new day. Beliefs and actions constantly renew the team.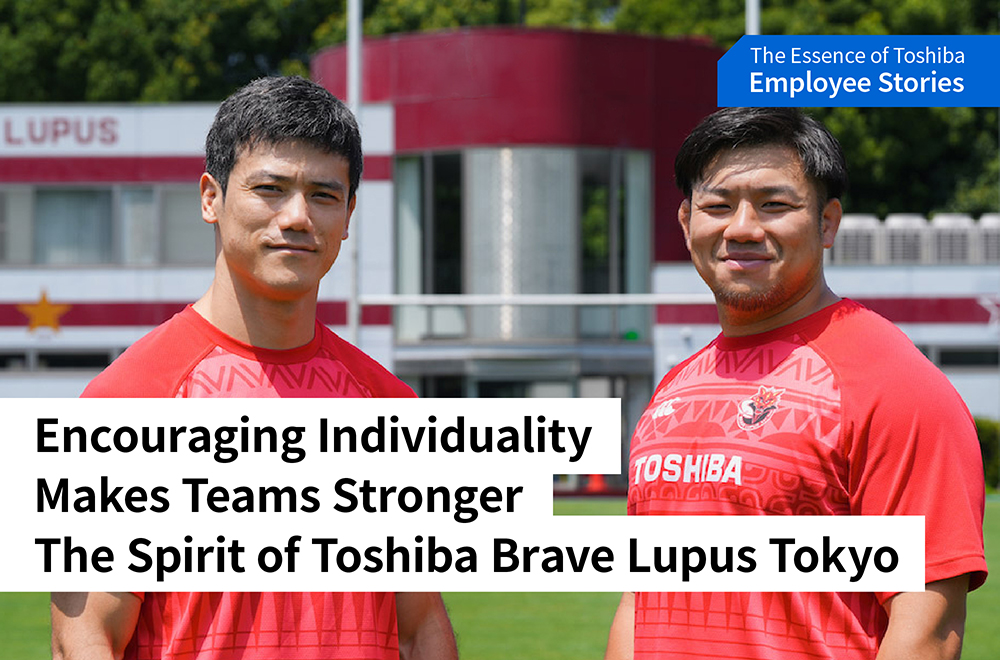 The "We are Toshiba" series looks at the individuals who embody Toshiba Group's philosophy, the "Essence of Toshiba," and its three elements: the "Basic Commitment of the Toshiba Group," "Our Purpose" and "Our Values." In this article, we hear the thoughts and feelings of Daigo Hashimoto and Shohei Toyoshima, players on the Toshiba Brave Lupus Tokyo rugby team. As mainstays of the team, powerful presences on the field, they are men who have tasted the bitterness of struggle and the joys of victory. How will they realize Toshiba Group's purpose and help to 'turn on the promise of a new day?' They tell us about K9 and how it motivates the squad, and about a team spirit embodied in the phrase "brave wolf samurai"—a story grounded in physicality.
Individuals with different body shapes and types create the best organization
Clip: To get things started, please tell us about the position you play and your role in the team.
Daigo Hashimoto (DH): My position is hooker, one of the front row forwards. During scrums, when the two teams lean low and lock bodies against each other, I am one of three people on the front row, in the middle, in direct contact with the opposing players. My job is to control the scrum to my team's advantage, and I also throw the ball into play at lineouts, so it's a position where I come into contact with quite a number of other players. One thing I always keep in mind is the need for active communication with everyone in a positive manner.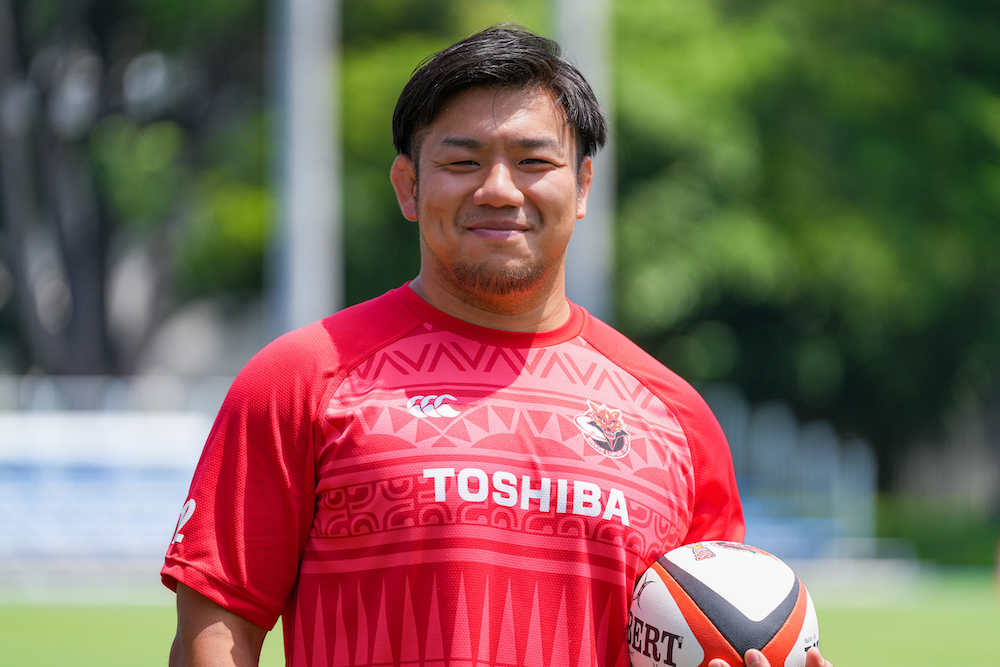 Daigo Hashimoto, the hooker on Toshiba Brave Lupus Tokyo
Shohei Toyoshima (ST): I'm the fullback, one of the seven people who play on the backline. The fullback is the last line of defense, positioned at the back of the team. My role is to adjust the defense line to stop any attacks by the opposition. If they break through, we have to tackle and block them. You need to have a bird's eye view of what's happening, make accurate judgments, and sometimes make decisions from behind the team. I'm the oldest of our backs and the second oldest player on the team. I always keep an eye on the rest of the players and constantly talk to them. I also like to take the initiative in tough training sessions. As a senior player, I think that this kind of attitude is important and valuable for the team.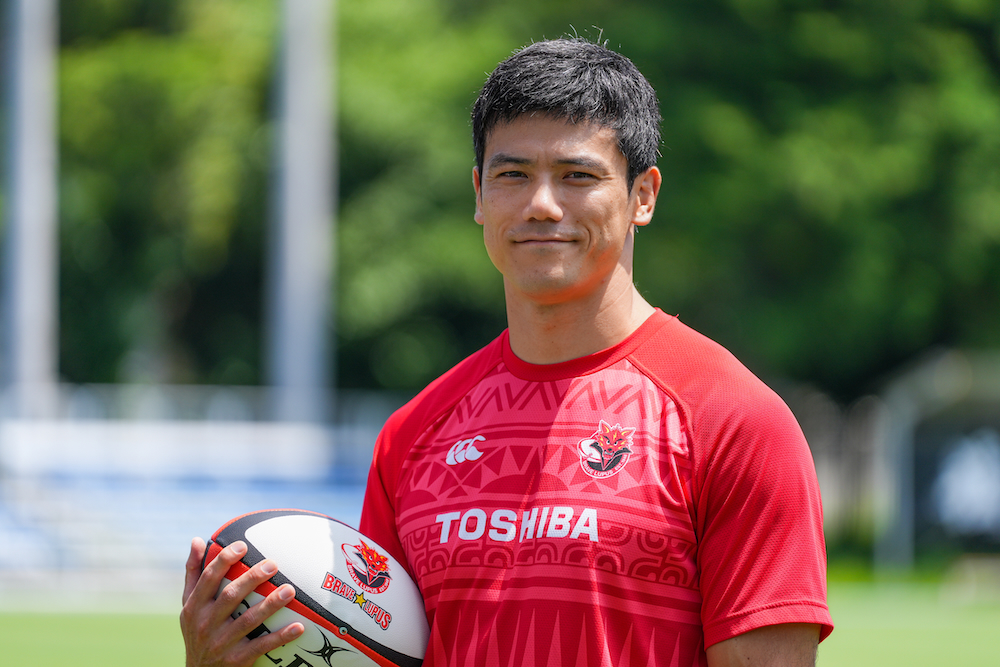 Shohei Toyoshima, the fullback on Toshiba Brave Lupus Tokyo
Clip: What do you find attractive about rugby?
DH: In rugby, people with different body types and individual characteristics come together and function as a team. That's part of the attraction of the game. On our team we have a 202cm forward, and our scrum half, one of the backs, is just under 170 cm. Everyone has different strengths.
ST: In fact, Daigo and I are both 175cm tall, but our physiques are very different. The requirements for backs, like me, and for forwards like Daigo, are so different that it's like players in two different sports. We differ physically and as individuals, but we work as one to achieve victory. This is how you create a one-of-a-kind team.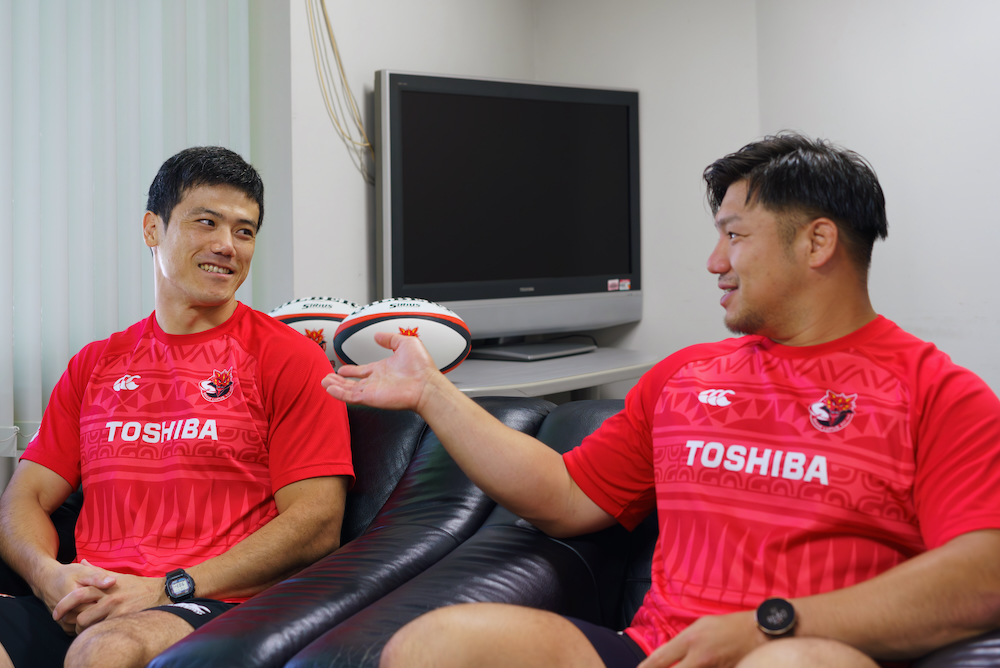 The role of K9 in changing the team culture
Clip: One of Toshiba Group's "Our Values" is "Create Together" What kind of team is Toshiba Brave Lupus Tokyo building to get results?
DH: Before I joined the team in 2016, Toshiba Brave Lupus Tokyo had won the Top League five times and had never been out of the top four. However, we then went into a four-year slump where we performed poorly and did not win many games. It was also a frustrating time for me, as I could not make the team. This changed, almost immediately, with a new culture called K9. It was introduced by Todd Blackadder when he was appointed head coach in 2019, along with other changes he brought to the team.
Once the season starts, not everyone gets to play in games. In the 2022-23 season, Toshiba Brave Lupus Tokyo had 46 players, but only 23 get to play in games, 15 regulars and 8 substitutes. Players who do not get to play in games form another team that takes on the role of opponents during practice sessions with the members who do play.
One of the reasons for the team's loss of form was that a lot of players, those who could not play in matches, could not play the style of rugby they wanted to, and this impacted on their mental attitude. K9 was a move to end this situation, and the name refers to squad members who are not on the team.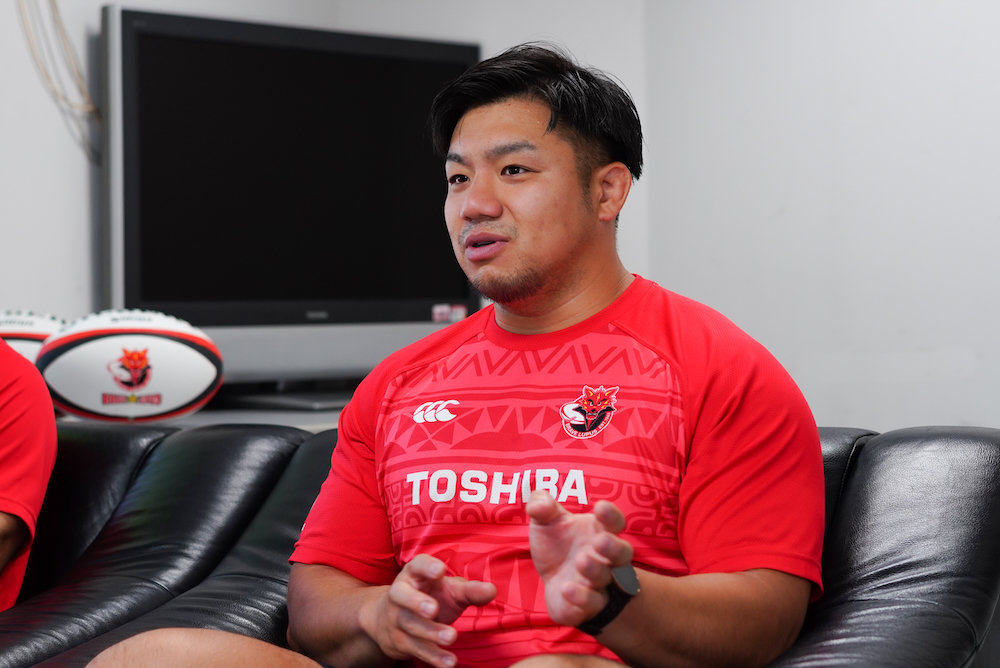 Clip: K9. That is a very intriguing name.
DH: Its etymology is based on the English pronunciation of the canine tooth, the dogtooth that gives wolves their fangs; the sharpest and most important of all teeth. K9 members also give pressure in the training, and that means they have to go at it with their fangs, with all their might. This approach brought about a change within the squad and created more fluidity. Friendly rivalry and drawing out each other's individual talents make the sport of rugby more interesting.
ST: I think it was really good that coach Todd gave a lot of thought to how to introduce a culture that would suit Toshiba Brave Lupus Tokyo's history and culture. I guess it was a very difficult thing to do it in a foreign country with a different culture and language, but because of his personality, we accepted it as natural. And due to that, I think we have become a team with restored self-confidence.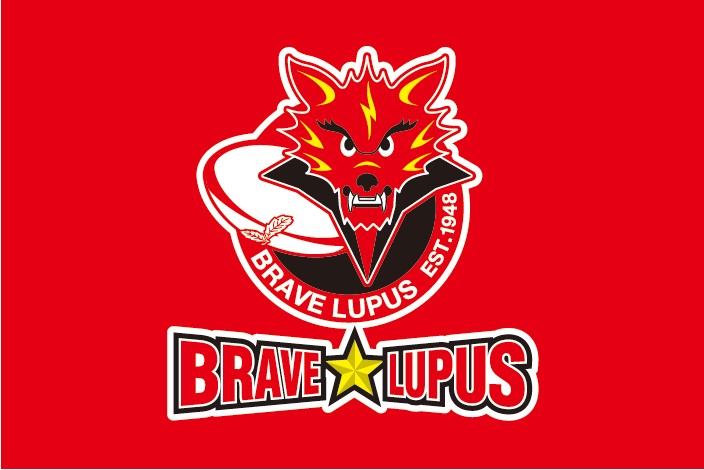 LUPUS, is a constellation of the mid-Southern sky, means "wolf" in Latin.
On the field, the team is as organized as a pack of wolves, known for precision and wildness that demoralizes opponents, and for brave play. The name K9 comes from the canine teeth of the wolf.
Clip: Rugby is a sport where diversity is important, but has there been anything where you felt that you had to make the most of your own individuality?
DH: I am now playing hooker. That was something I always wanted to do, but I have poor dexterity, and until my student days nobody said I had any particular strength in that area. In fact, I played in a number of positions. But I always really wanted to play hooker, so I learned from my seniors and completely crushed my problems.
ST: The team has a term, 'unrivalled contacts,' which is about how we make contact with opponents when we tackle them and the like. It's really a tradition of the team, and one of its strengths. But I was not very good with this kind of thinking, and it started to worry me. I thought carefully about "what my own way of contact is," and by using my own strengths of stepping and speed in addition to the strengths of the team, I think I have broadened and improved my performance.
It is important to work for the team, but you also have to trust your own intuition, and do things without any fear of change. I think that making the most of your individuality also means believing in your own strengths.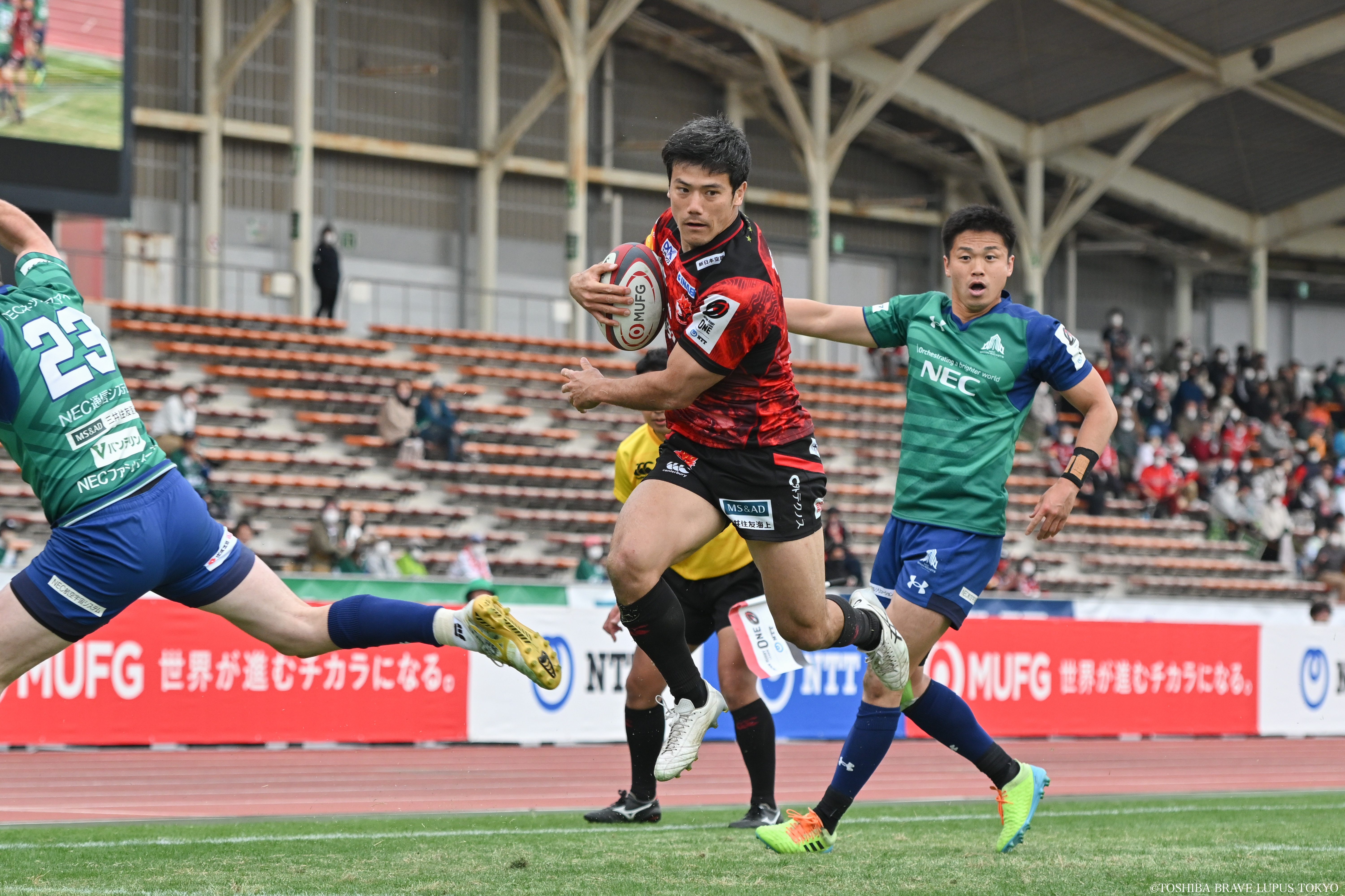 In tough times, the team spirit returns to its origins
Clip: The statement of the team's spirit is "Brave wolf samurai, gentlemen of unrivalled contact and fierce in attack and defense." What is the meaning that lies behind this phrase?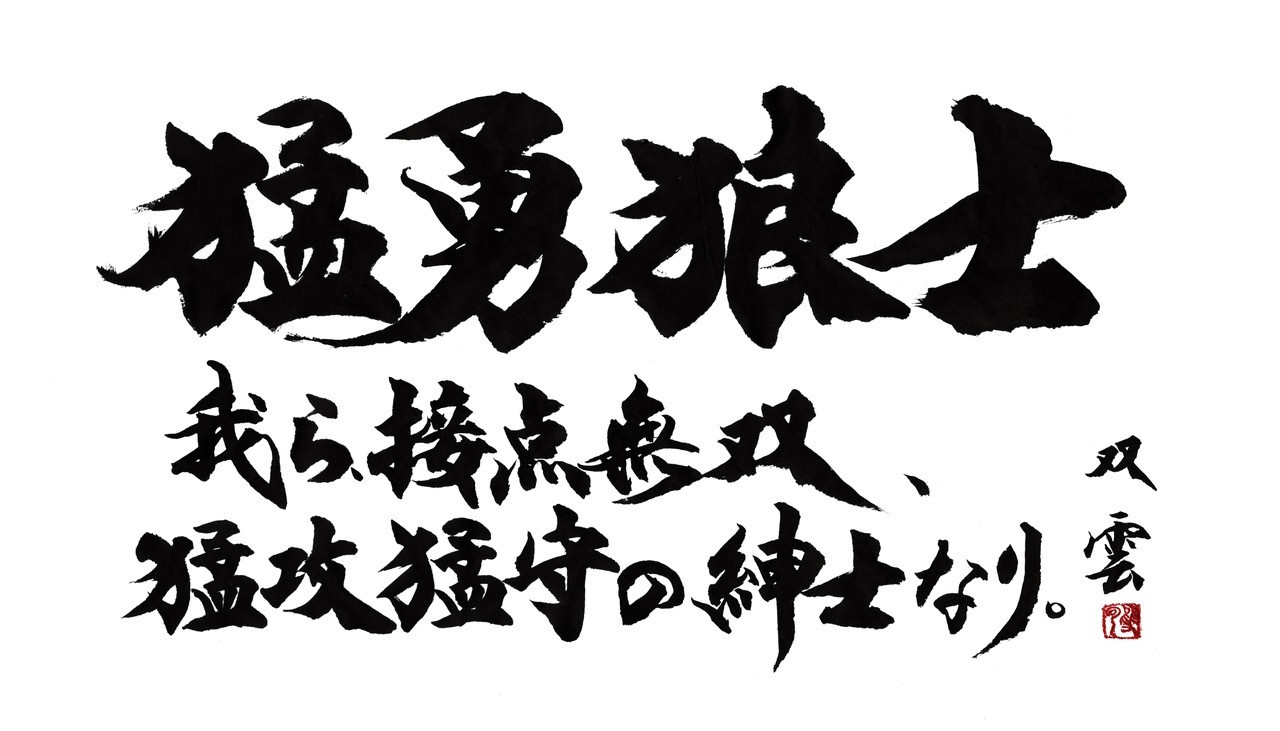 The team spirit of Toshiba Brave Lupus Tokyo. "Yūrō" (勇狼) means brave wolves, "shi" (士) represents the spirit of a samurai, or a gentleman, while (接点) shows that this is a one-of-a-kind team unrivalled at the point of contact.
DH: As a forward, I have always emphasized the point of contact. That is also true for the team as a whole, and is expressed in our key phrase, 'unrivalled contact.' While we are a diverse group of specialists, in rugby the point of contact is where players come into physical contact with one another, like when tackling a player who has the ball. Pursuing excellence at the point of contact and improving the quality of play—this is the spirit that we have chosen, and brings into view our ideal style of play.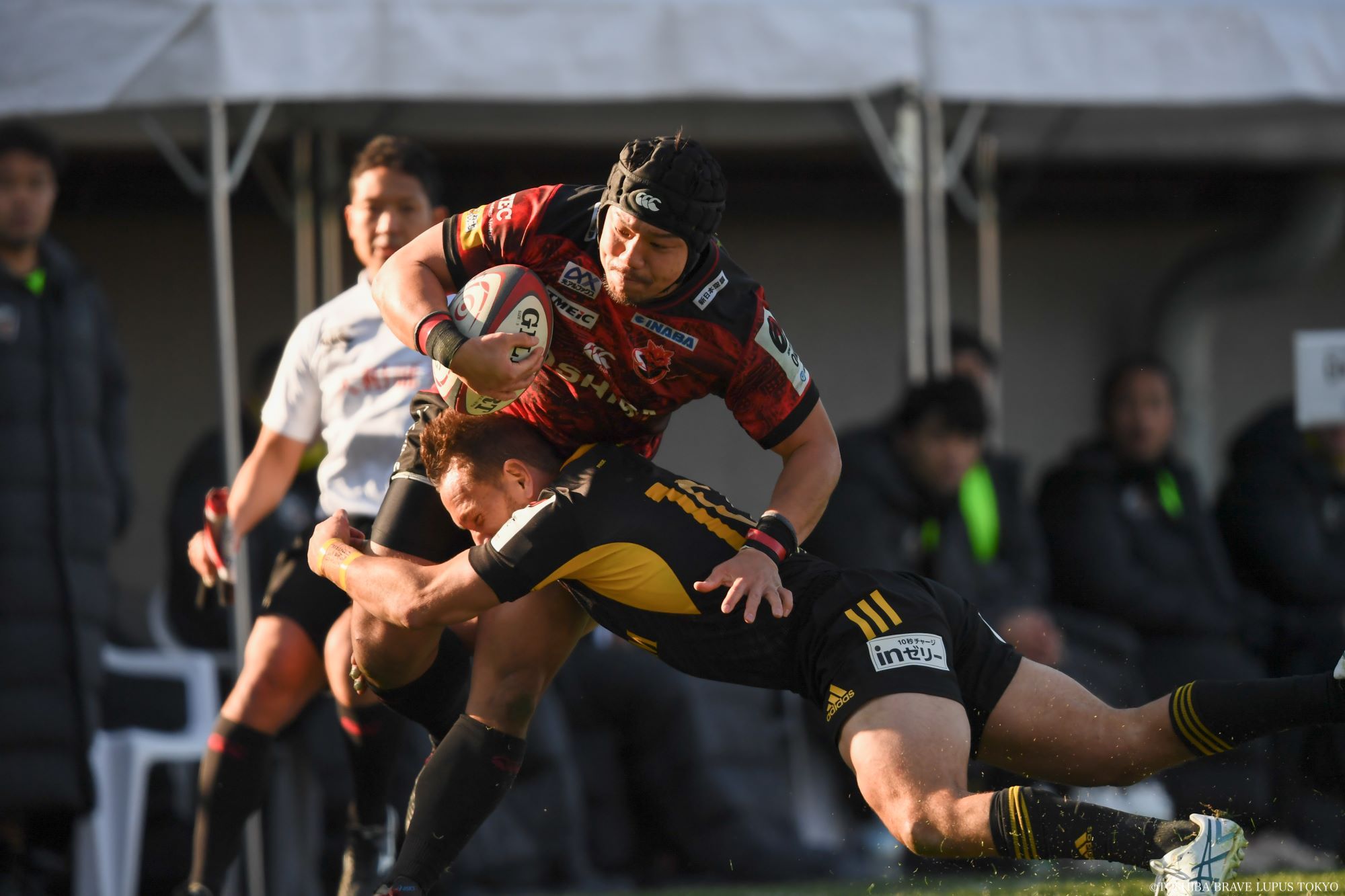 ST: We have put the idea of the team spirit into words as yūrōshi, which we arrived at with input of former players. "Yūrō" comes from the team's name, brave wolves, and "shi" means gentleman or samurai. This verbalization of the team spirit means that even if we get lost or hit a wall in a game, the players realize we have a base we can return to.
I mentioned that the appeal of rugby is that different kinds of people come together to form a team, but another characteristic is that it is a contact sport where there is hard physical contact. Because everybody on the field take it seriously, we sometimes get violent clashes, not just physical but also verbal. Still, when no side is called and we are off the field, we put all that behind us and get on with each other. The players grow together, and strong bonds are made. This is one of the splendid things about rugby, it values both physical contact and the spirit of the gentleman.
When we reached the finals of Japan's 2016 Top League tournament, we were sure we wouldn't lose, that we could beat any team—we were full of confidence that the team was moving forward. Ever since then, we have been practicing hard to get closer to winning again.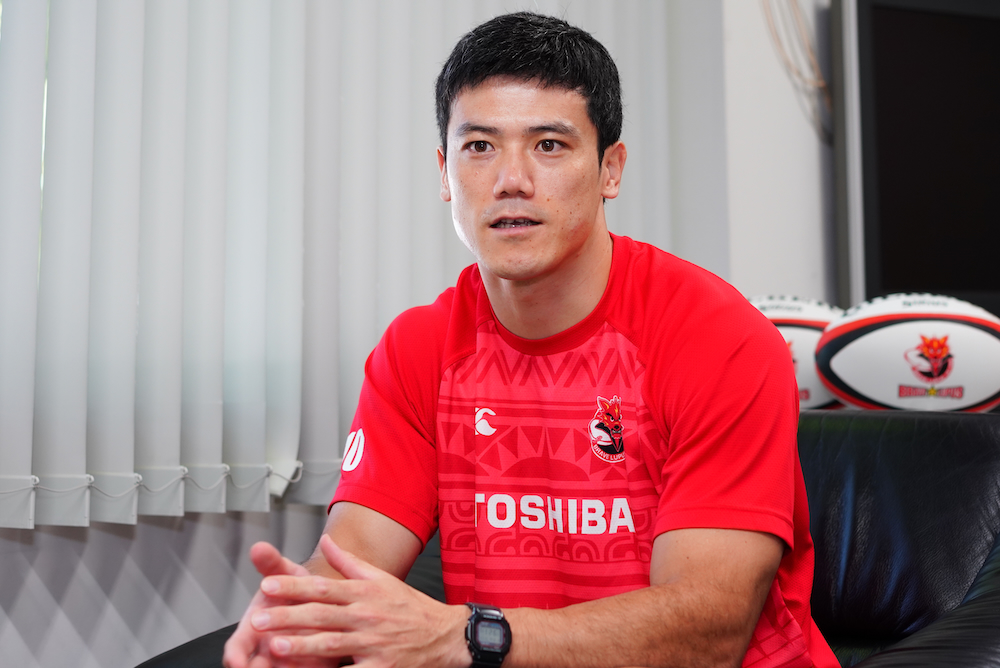 Clip: I am sure that while being involved in rugby as long as you have, you have developed certain beliefs that you value. Do these have anything in common with the "Our Values" of the "Essence of Toshiba?"
DH: "Look for a better way." Ever since I was a student, I have embraced 'challenge' as a theme in my life. My motive force is the desire to grow even a little more than I did yesterday. To stay as I am will only lead to a decline. Something one of my high school teachers said to me really influenced my thinking: "The words of a person who does not do things wholeheartedly do not resonate." You can't trust people who are all talk. That is why I am happy to push myself. This also overlaps with my style of play and the spirit of the team, with its emphasis on the point of contact.
One thing that really had a big impact on my rugby after I joined Toshiba Brave Lupus Tokyo was the presence of senior players. I had always been blessed with a good physique and speed, but the team had some great hookers, representative of the world of Japanese rugby. I was constantly overwhelmed by the amazing displays they produced in the Top League; they shattered my pride in a spectacular way.
To put that in a nutshell, it was my first major setback. From there, I really wanted to beat them; I was desperate to do it, so I worked hard to improve my skills and physicality. In the end, it took me about five years before I could compete on a consistent basis, but I believe that period of really being absorbed in training helped me to grow a lot.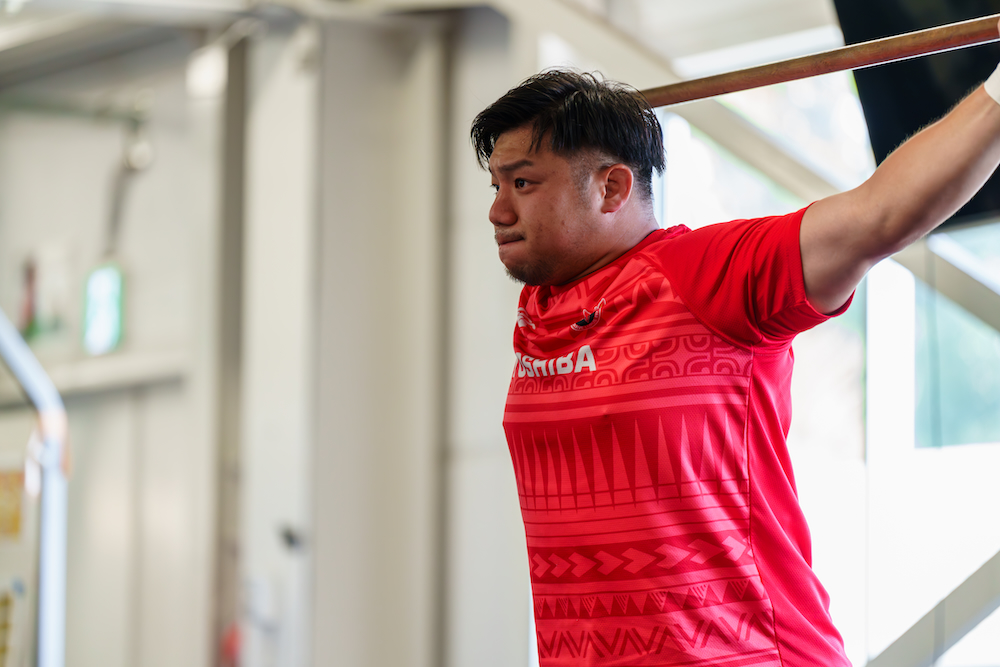 ST: For me, it's "Do the right thing." That was also the reason why I chose Toshiba Brave Lupus Tokyo. What drew me to the team was that all the players feel a real attachment to the team and work hard for victory. That value is also the basis for my style of play.
During the 2016 Olympics in Rio de Janeiro, there was a point when my selection for the national team was in jeopardy. I almost lost confidence in myself as an athlete, so it was a difficult time. At that time, I recalled something a classmate in high school told me: "When you are not good at something, do it at the level you can." Back then, I was less skilled than he was, but I didn't make any effort to improve my skills. What he said was annoying, but that's why it stuck in my mind.
If you are not good at something, do what you can do to get better. Believe in yourself and work on it. In the month leading up to the final selection, practicing really hard and proactively to survive as a player. In the end, I was fortunate enough to be selected for the national team, but without those words to guide me, I might not be who I am today.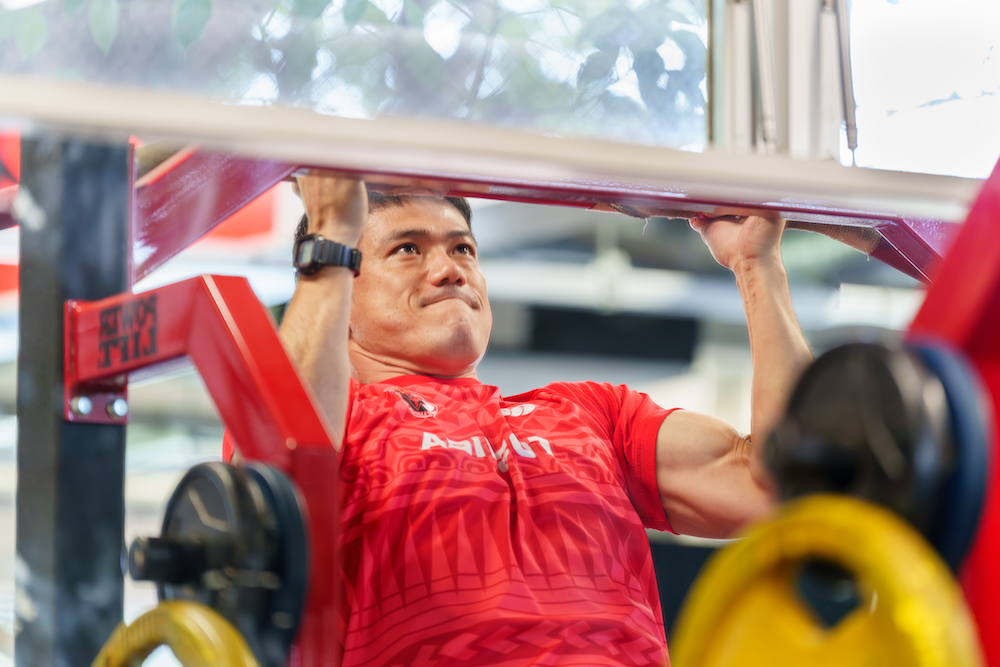 Clip: You said there was a long time when you did not make the team. How did you keep up your motivation?
DH: That was a really tough time. It is easy to look for reasons outside of yourself. But in the end, I was the cause of it all. That left me with no choice but to keep on trying until I was selected. In the end, all results come back to what we do.
Clip: I know that you value what you have built, and that you will continue to build and rebuild the team and its individuals. How do you want to realize Toshiba Group's "Our purpose," of "We turn on the promise of a new day?"
ST: Tactics continue to become more sophisticated, and there are new rules. If we are to continue to win at rugby, we cannot be afraid of change, and we need to value the approach of constantly continuing to learn. I will continue to make every effort to learn, and to update what I know by involving the teammates around me. And beyond that, like our predecessors before us, we will continue to develop a team that we are attached to. Beyond that, I believe that a new future lies ahead for Toshiba Brave Lupus Tokyo.
I also want to have a positive influence on kids, as they are the one who will be responsible for the future. As a rugby player, I sometimes give talks to children, and I tell them 'In rugby, we value individuality, especially our own and that of the people surrounding us, and you should do the same.' It makes me happy to hear that more and more kids are confident in their own ideas."
TH: The first thing I want is for the team to be a winner and the best in Japan. I also want to show on the field that I have grown since last year, even if only a little. That is my credo. Both as a team and as individuals, players with different personalities give their all, overcome at the point of contact, and surpass their past selves. By doing this, I want the crowd to think, "This is Toshiba Brave Lupus Tokyo's rugby." If our rugby we create now is attractive, people who join the team in future will also create an attractive team. I believe that we can set up a continuous chain of events. That's why I will continue to do all I can to embody "Toshiba Brave Lupus Tokyo's rugby."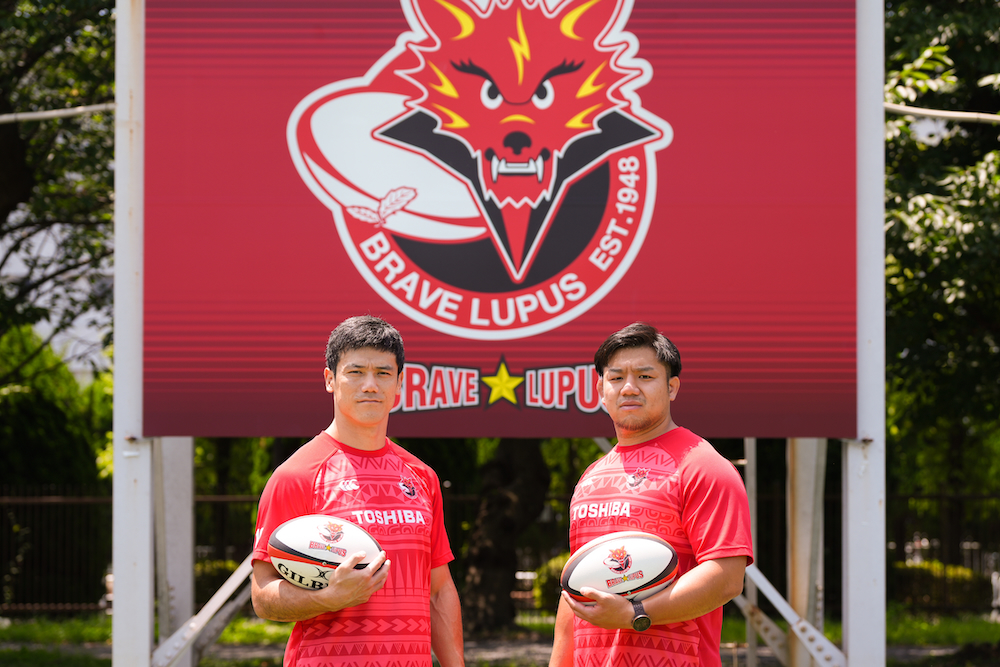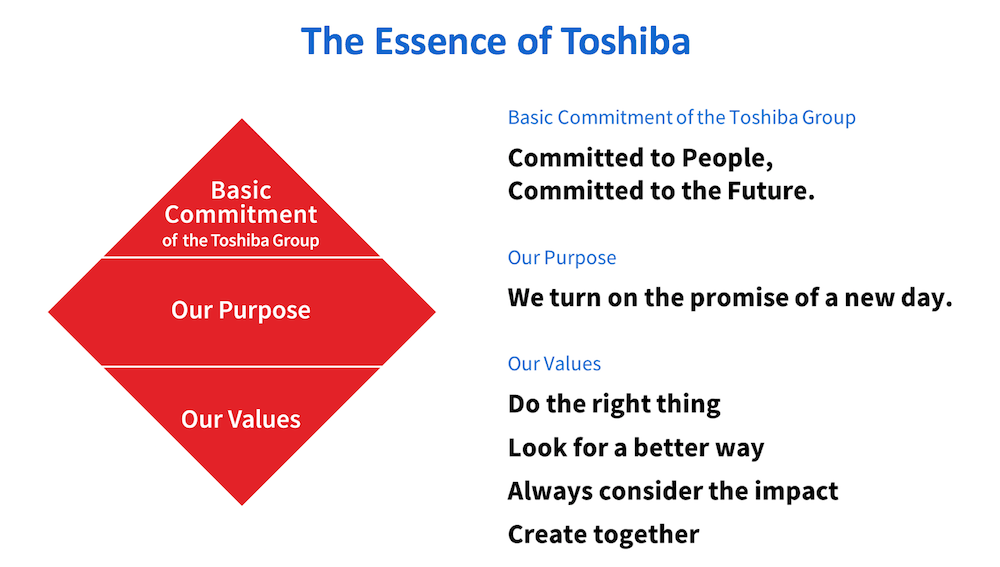 Related Contents