Stepping Up for STEM: Preparing the Next Generation of Tech Leaders
2020/08/05 Toshiba Clip Team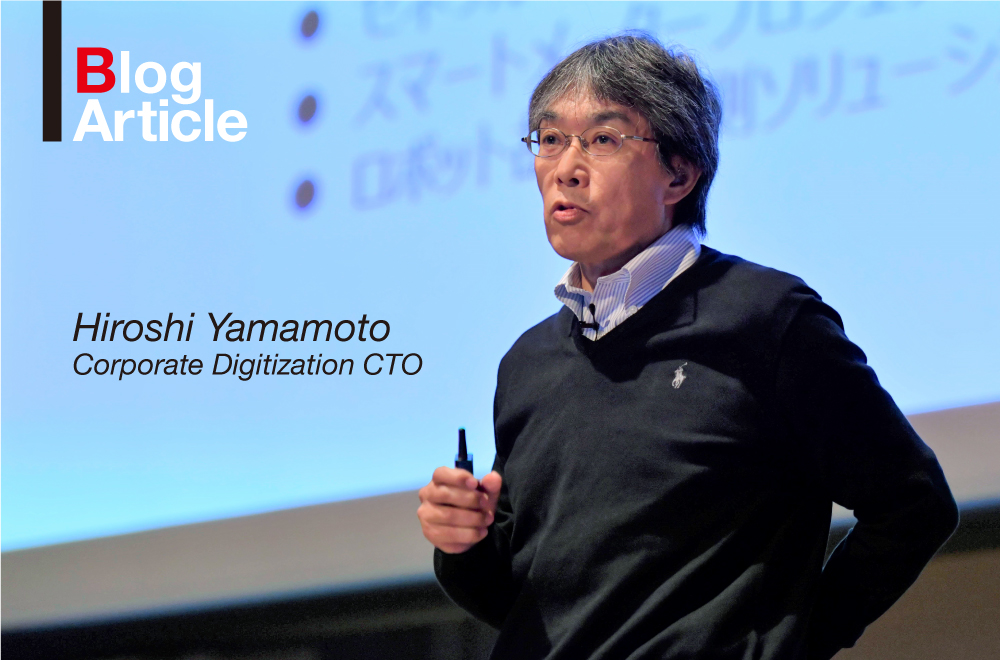 Advancements in technology are vastly improving the quality of human life, in countless ways.
And the next generation of scientists and engineers will take us to even greater heights. In my opinion, tomorrow's technology leaders will make discoveries that will transform our world through inventions and innovations that we can't even fathom today.
I can't imagine a more exciting or critical time to pursue a career in STEM (science, technology, engineering and math). Of course, I felt similarly as I embarked on a career in technology nearly 40 years ago, but the emergence of the Internet of Things, artificial intelligence (AI) and cyber-physical systems (CPS) infrastructure are opening the doors for even greater advancements for good.
Opportunities are abundant for anyone interested in STEM. The global shortage for AI engineers, data analysts and other tech-centric occupations is fierce; in fact, in Japan alone, the Ministry of Economy, Trade and Industry estimates a shortage of about 48,000 STEM specialists in 2020.
For students ready to ride the STEM wave, as well as those just beginning their work lives, I have some advice based on my own experience that may help jumpstart a technology-based career.
• Embrace your curiosity. STEM careers can be quite fascinating, because they enable you to satisfy your intellectual curiosity. In my case, having delved deeply into three phases of technology: embedded systems and device driver development; distributed computing design and architecture for enterprise systems; and machine-to-machine and IoT development and design; has kept my mind stimulated and curious for decades.
• Save the world. While "save the world" may sound like a stretch, think of how STEM-based innovators, from Einstein to Salk, Hawking to Gates, have transformed countless lives. We see it now, as researchers work tirelessly—and at a breakneck speed—to find vaccines or treatments to ward off COVID-19. Those who are open-minded, flexible and courageous are most likely to achieve positive change.
• Seek out a like-minded mentor. We can all learn from those who have gone before us. In my case, I have benefitted substantially from the insights and advice of Iwao Tohgo, who retired as an IBM Distinguished Engineer. Iwao guided and encouraged me to develop a broad range of skills—technical, industry and personal—that have served me well throughout my career.
• Value variety. While it is important to go deep into a technology discipline, once you feel you have mastered it, consider taking on another technology challenge. Then, you will understand that all forms of technology are related to some degree, which will help you connect the dots. Conversely, if you stick to one specific area of technology, you may become an outdated victim of a paradigm shift away from your specialty—as the speed of evolution is so fast.
• Seize opportunities. Like many other technology companies, Toshiba is embarking on numerous efforts to fill critical STEM shortages. One is our ongoing program with the University of Tokyo to groom more AI engineers, as we hope to triple the number we have to 2,000 by March 2023. These efforts showcase the importance of emerging technologies in securing future growth, and we need smart and talented, fearless and passionate STEM workers to make it happen.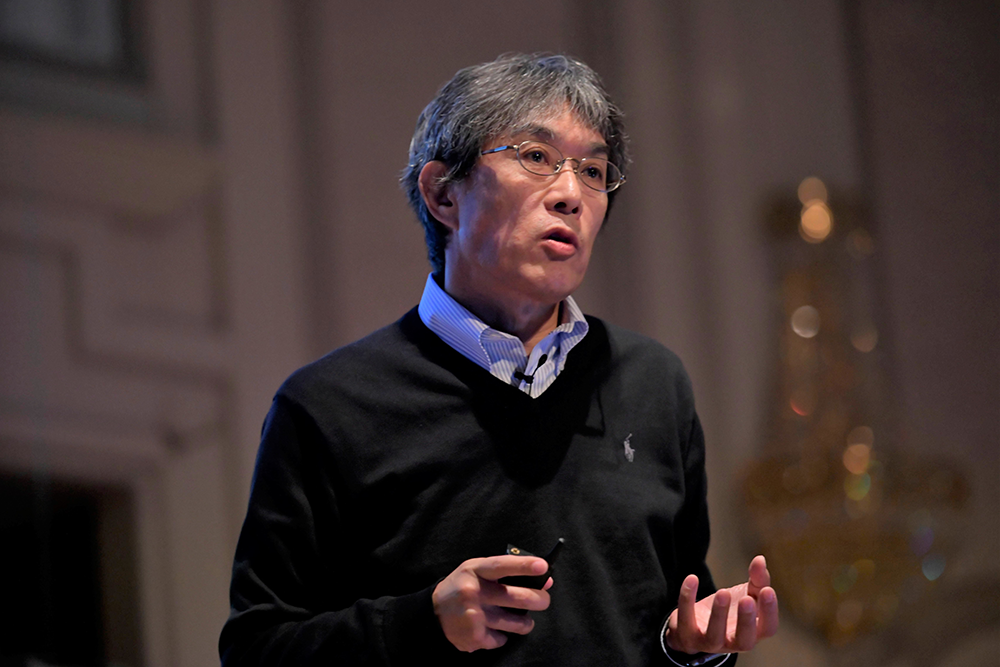 While there are countless paths to choose for a STEM career, the one that has captured my attention and kept me eager and fascinated to discover more is CPS (and not simply because it is the foundation of Toshiba's corporate technology strategy).
Our CPS framework is designed to create value by collecting data from product operations and systems in the physical world, recognizing and analyzing them with digital technologies like AI, and giving feedback to the physical world. This blending of digital and physical components through integrated physics and logic produces a repetitive cycle that will engineer new products and services that will transform how people work and live.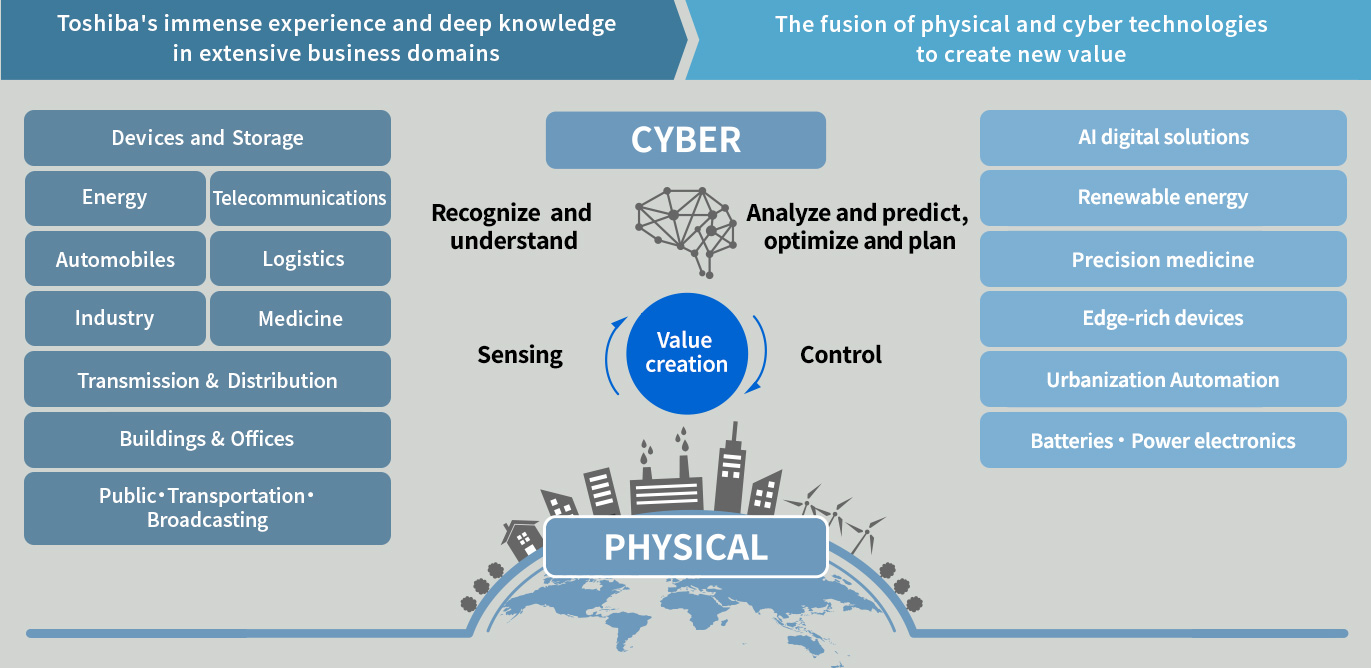 A CPS is a system in which you take real-world data, analyze it in cyberspace, then feed it back into the real world in the form of easily-digestible information and knowledge, to create new value
Consequently, Toshiba's CPS infrastructure helps form the basis of emerging and future smart services in manufacturing, energy, social Infrastructure, logistics and other fields vital to our very existence. Furthermore, CPS is a cornerstone of our commitment to contribute to the development of society through business activities consistent with the United Nations Sustainable Development Goals (SDGs). "Committed to People, Committed to the Future," the guiding principle of the Basic Commitment of the Toshiba Group, expresses our commitment to solve social issues around the world through our business activities. With our CPS technologies, Toshiba will contribute to the achievement of the SDGs through businesses directly connected to solving increasingly urgent social issues, such as climate change, energy and resource constraints.
There's nothing more exciting than being on the ground floor of this technological transformation that will change the world. For the next generation of technology leaders, I welcome you to join us.

Related Contents