We Are Toshiba: Be Sincere with Customers and Create Together Toward a Single Goal
2021/01/29 Toshiba Clip Team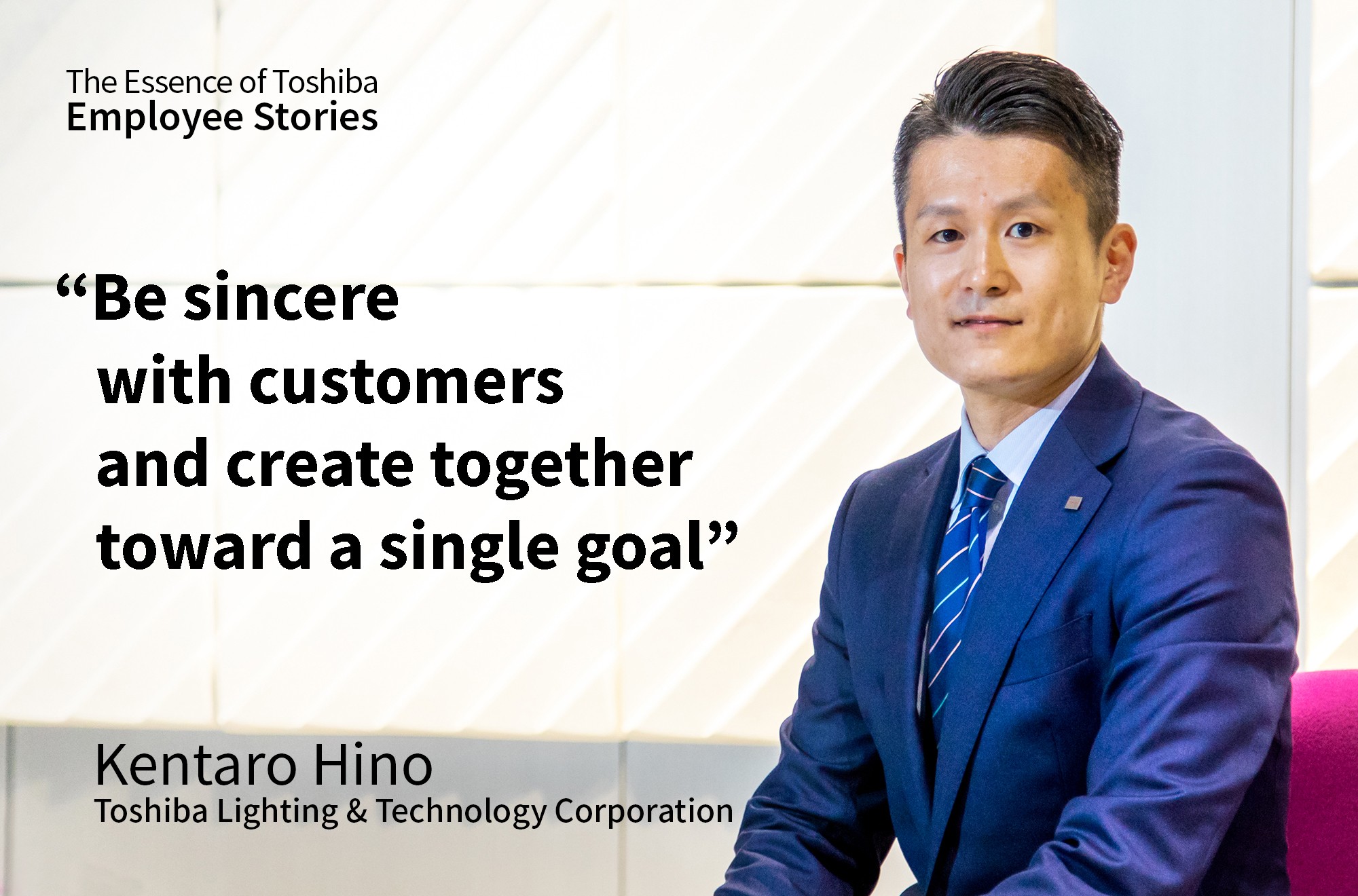 What is a corporate philosophy? It may seem difficult to understand, but it encompasses the shared beliefs that every employee values and practices at work every day. Here, we introduce the thoughts and shared values of our colleagues, cultivating the Toshiba brand. Year 2020 marks the 130th anniversary of Toshiba's start in the lighting business. Mr. Kentaro Hino, a sales representative of Toshiba Lighting and Technology Corporation (TLT), shares about what he values in his daily work.
Making Toshiba Lighting and Technology a preferred choice for customers
–Why did you decide to work for TLT?
One of the reasons was that TLT's branch office was in Ehime (western part of Japan), my hometown and I was interested in manufacturers of home appliances. TLT's flagship product had the largest share of the global market at the time, supported by excellent technical and sales capabilities. I was also attracted to the company's presence in many countries. I studied abroad in South Korea, and I wanted an opportunity to be involved in overseas business.
I worked for four and a half years in TLT's Industrial Devices Division, where I was involved in driving the sales activities of lighting components commonly used in copier machines. I gained invaluable experience through my interactions with my colleagues in overseas factories and customers in Thailand and South Korea. This proved to build the foundation of successful sales.
–You are currently in charge of corporate sales, what exactly do you do?
As a corporate sales representative, my role is to promote sales activities of Toshiba's lighting and lighting systems to building owners including those in the insurance, banking, real estate, manufacturing, and transportation industries. It is important for us to invest in customer relationships, understand their business needs and help to guide them towards using our products to achieve their goals. We are always thinking proactively about how we can make our customers happy. As we interact with people from various departments such as sales or building management, we have to be open to listen and identify their requirements, so that tailor-made solutions are given to achieve customer satisfaction.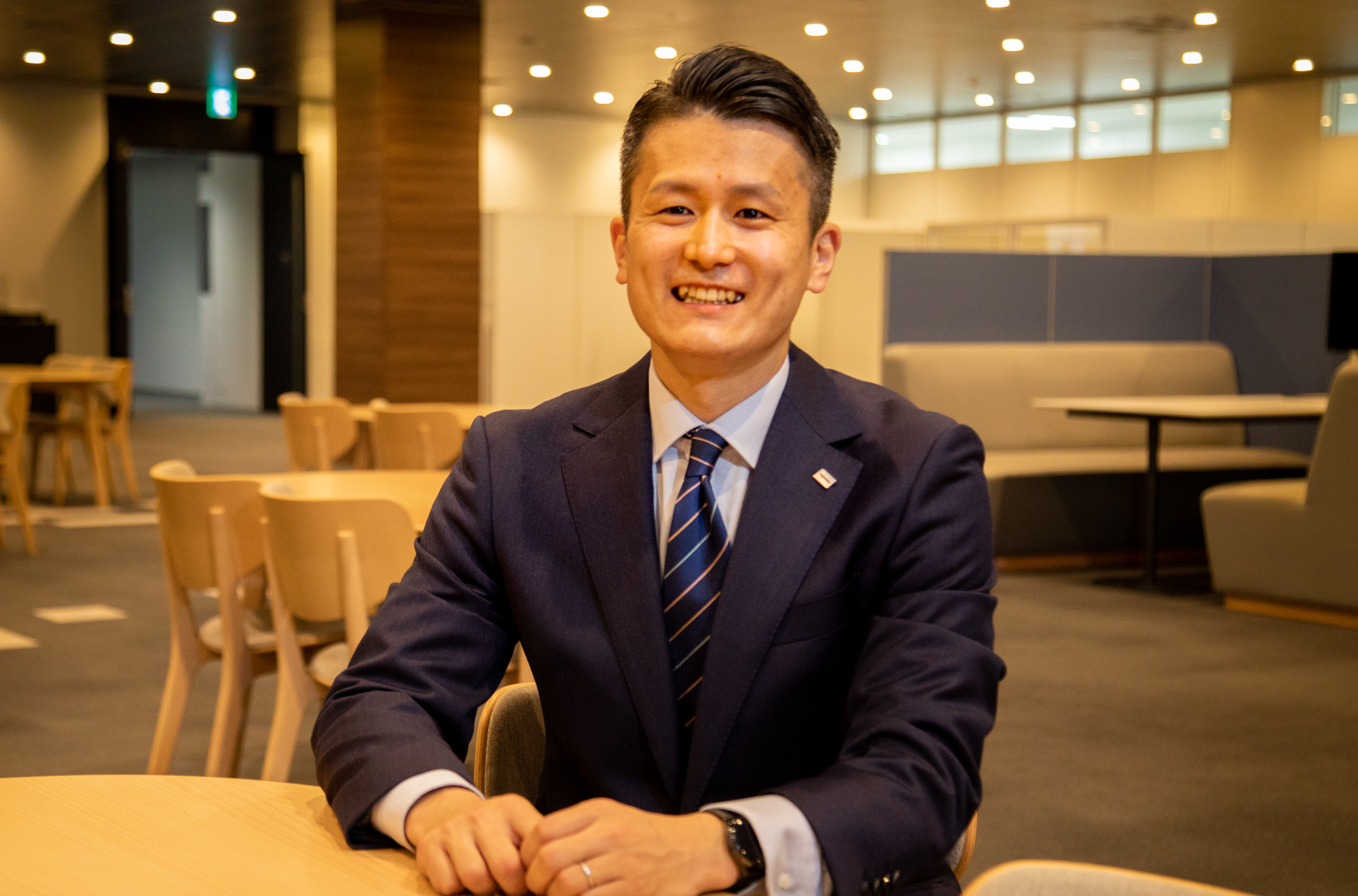 Kentaro Hino, Corporate Sales Department, Toshiba Lighting and Technology Corporation
If you do the right thing, trust is gained and opportunities will come your way
–What are the important factors for success sales?
Sales is not just about introducing a new product to the customer. It is important to anticipate our customers' needs, present scenarios to make our products relevant and convince them that these features will benefit them in a significant way, provide value-added services and ultimately deliver great customer value. For example, if a customer says, "We would like to change the lighting to LED in our factory, but cost is a concern. "We would provide them with information about reasonable leasing schemes and government subsidies. At that time, there were few people familiar with the subsidies available, so I studied and increased my knowledge of the system to understand and establish a scheme to acquire subsidized projects for organizations by building a pipeline with the company that provide support for subsidy projects.. As a salesperson, there are many ways to market a product. It is important not only convey the merits of the product, but also to put yourself in the customer's shoes and provide a suitable proposal. I think the interesting point about sales is that proposals are not limited to one method, and that is also where you can show your skills.
— Is this what differentiates us from other companies?
Yes, it does. When I was assigned to the corporate sales department, one of my seniors told me, "As a salesperson, we have a set goal, but the path to that goal is for you to create. Try to think about what you can do to make your customers happy." I think that was the turning point of my engagement style and this became my source of motivation.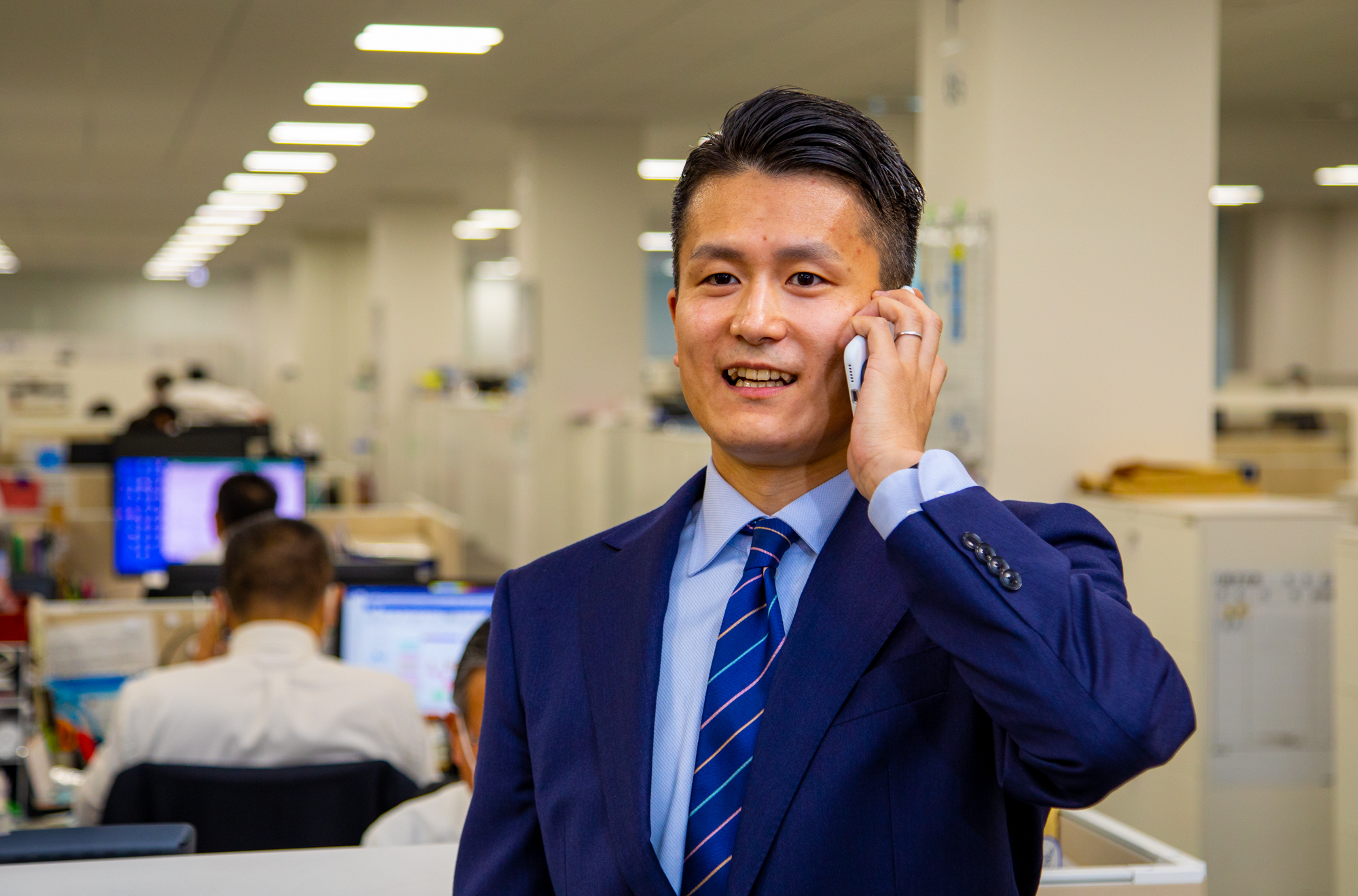 — What aspects of "Our Values" do you demonstrate in your work?
It's to "Do the right thing". To gain the trust of our customers is crucial so that we can carry out our work well. Apart from having product knowledge, it is important to do the right thing and respond sincerely to our customers. Relationship building involves trust, rapport, and a genuine desire to help other people. It's always nice to receive positive feedback. One of my customers remarked, "Mr. Hino, you always respond well to us, so I would like you to make a proposal for this project next time." At that time, I was so happy that he trusted me. I went to the site immediately and spent many days to understand and propose solutions. I was glad that we eventually managed to close the sales deal.
Furthermore, "Create together" also resonates with me. I recognize that teamwork is essential for collective success, so I try to ask for opinions and professional help from various departments. I would consult with the department specializing in lighting design about the placement of lights and product features, or general affairs department about matters related to the company's insurance systems, and leasing companies for up-to-date advice, with the aim to make my business proposals more appealing to customers. When I consulted with these specialists and my superiors, they gave me advice from different vantage points, which were insightful and encouraging. I feel that if we are committed to create together by harnessing our unique experiences and knowledge to achieve a single goal, we will achieve success. After the project was successfully completed, the client said, "I'm glad I consulted you and I look forward to working with you again," I felt a deep sense of satisfaction that we have built brand loyalty.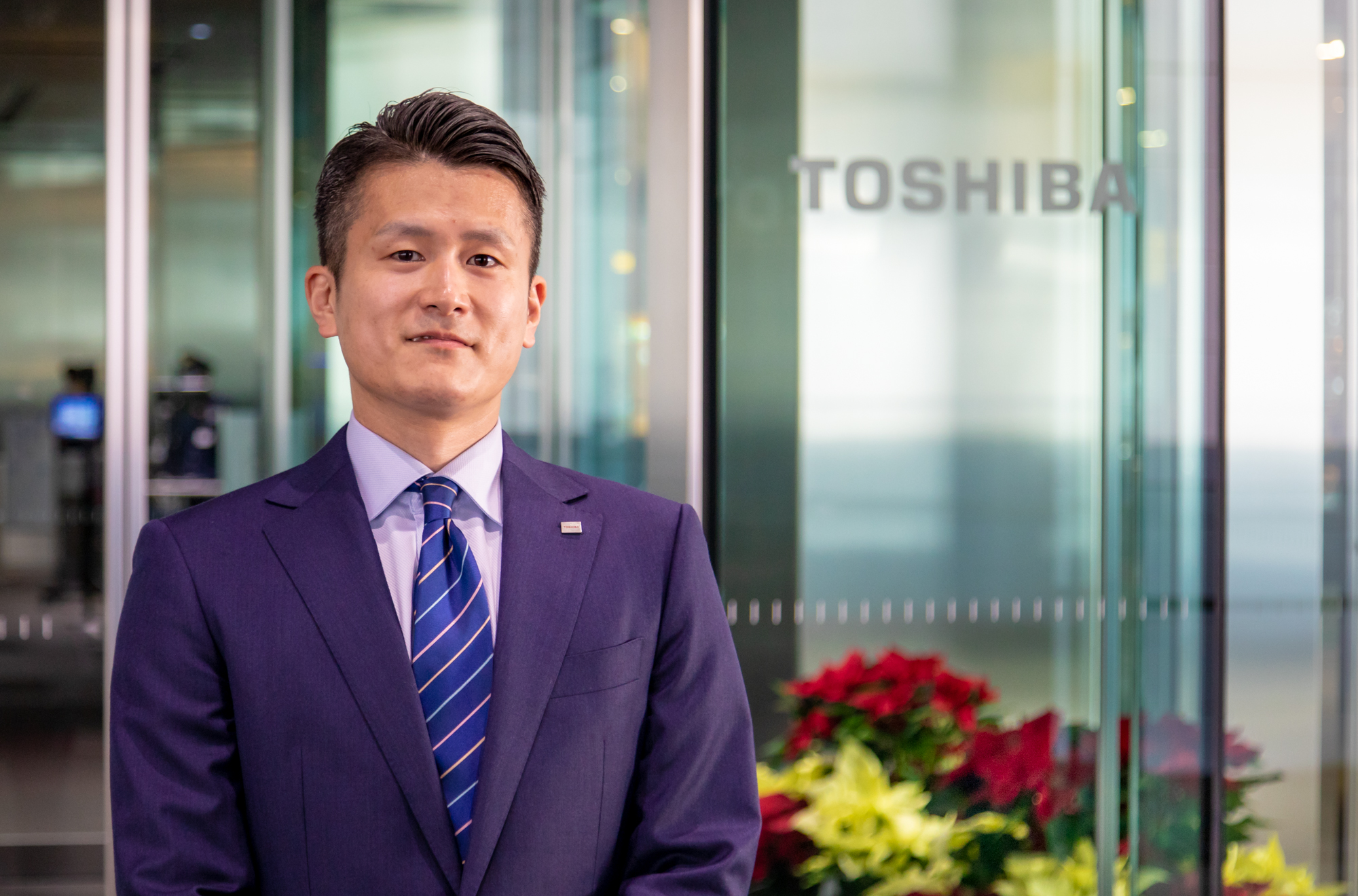 "Committed to People, Committed to the Future." is to be a company that maintains trust
— You also are a member of Toshiba's badminton club and participated in national tournaments.
I have been playing badminton since I was a student, and joined the badminton club at the Komukai Operations of Toshiba Corporation because one of the members happened to be working at my training site. Our club, consisting of 45 members, has participated in the national championships for 10 consecutive years. Since I am the captain of this team, I would make time to attend team practice sessions on Wednesday nights. On days when I don't have practice sessions, I try to find activities that I can do in the limited time I have, such as running after I put my child to bed. I make a conscientious effort to encourage my team members and instill a sense of purpose in the things we do. I want them to not only practice, but to practice passionately toward the same goal. I apply the same values at work and try to have a good grasp of the customer's needs and cascade information clearly to other departments to plan objectives, set clear expectations and deliver positive business outcomes.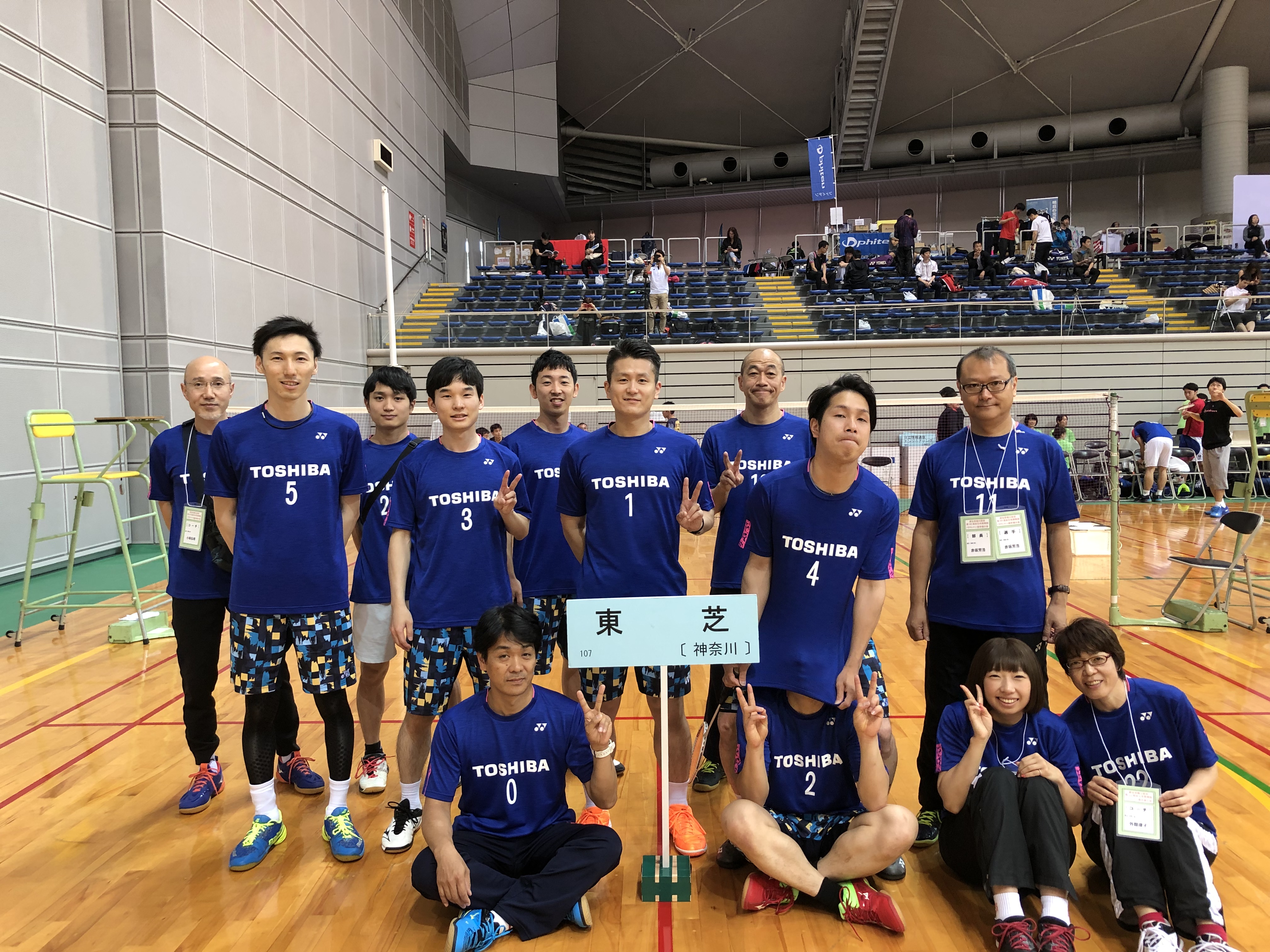 Mr. Hino, donned the number 1 uniform, with members of the Toshiba Badminton Club.
— Tell us about your ambition and goals
I would like to hone my expertise in sales and marketing and strive to connect customer needs to the best solutions available. In addition, I would like to challenge our younger employees to work not only on the tasks assigned to them, but also to take initiative to assume new responsibilities while communicating proactively with various departments to build their confidence and professional growth.
The lighting business, one of Toshiba's ancestral businesses, began with the development of Japan's first incandescent light bulb in 1890, and has continued to earn the trust of people to this day. TLT aims to be a company that keeps to the trust that our products will be there for people to live, work, and play. TLT plays a major role in the Toshiba Group, which aims to become an infrastructure service company. Our Basic Commitment, "Committed to People, Committed to the Future." remains to be the heart of everything that we do, and I would like to contribute to building the company's brand equity and presence.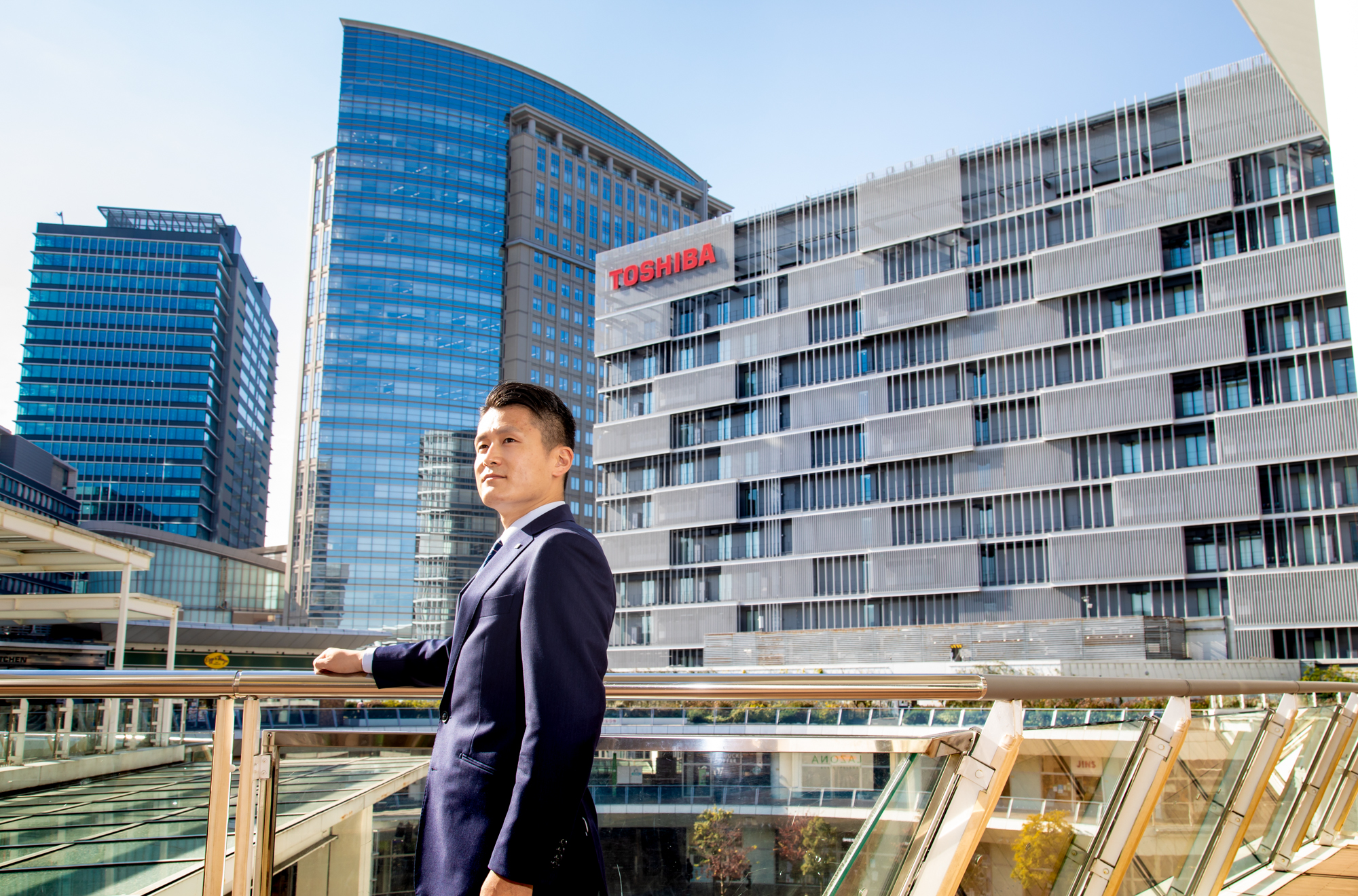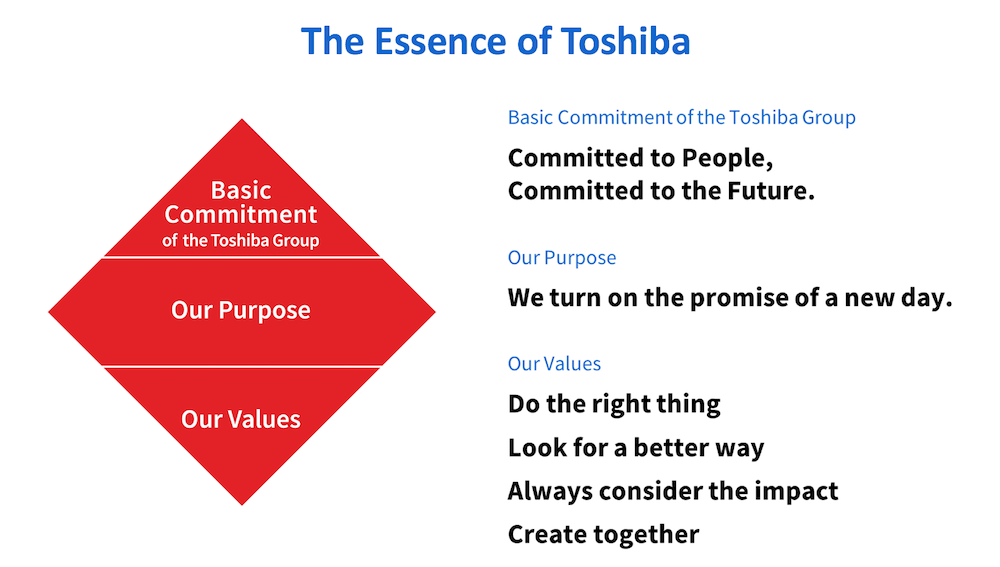 Related Contents